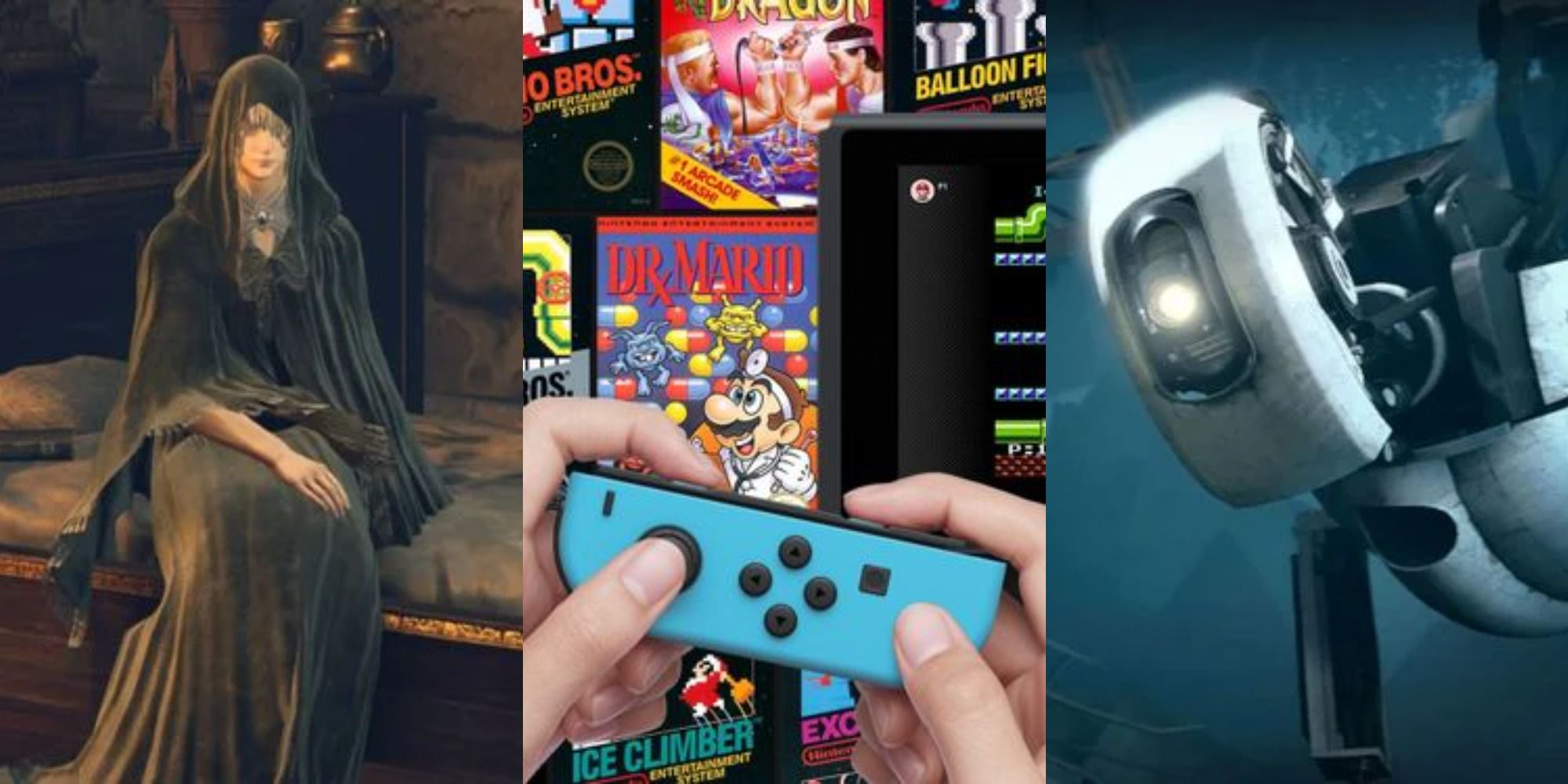 The Biggest Gaming News For April 18, 2022
Elden Ring players exchange underpants, Nintendo Switch Online might be getting a bigger library, and the writer behind Portal wants to make a sequel.
The weekend is finally over. All good things must come to an end as they say. The upshot is that you've probably gotten behind on everything going on in the world of gaming, but don't worry because we've got this news roundup to get you back up to speed. Today, we heard that Elden Ring players have been getting banned for picking up some hacked underpants, Game Boy and Game Boy Advance titles might be coming to Nintendo Switch Online, and the writer behind Portal wants to make another sequel. These are just our top stories and so read on for the rest.
RELATED: Forget Cal Kestis, Finn Deserves A Star Wars Game
Portal Writer Wants To Make Sequel As He's "Not Getting Any Younger"
The writer behind Portal, Erik Wolpaw, dropped the news that he wants to make another sequel. This comes from a podcast called Kiwi Talkz that dove into the details of this famous franchise. "We've got to start Portal 3," Wolpaw said. "That's my message to… whoever." The writer went on to say that "I am not getting any younger. We are reaching the point where it's crazy to think I'm literally going to be too old to work on Portal 3, so we should just do it." Wolpaw pointed out that making the game would be a lot harder than anyone thinks, but he sure seems adamant about trying.
Square Enix President Wants Its Japanese Studios To Avoid "Only Developing" For Western Audiences
President at Square Enix Yosuke Matsuda recently said that he wants to focus on making games which feel distinctly Japanese. While the executive noted that "you are not in business" if you aren't marketing products in China and America, Matsuda still believes that in order to make great games, Square Enix has to double down on what makes the company special. "Nowadays, the games market is globalized," Matsuda said. "The domestic market used to be big, but now it is behind China and the US. If you are not recognized globally, you are not in business. But interestingly, if Japanese developers try to imitate Western games, they cannot make good ones."
Hacked Underpants Gettng Elden Ring Players Soft Banned For 180 Days
Elden Ring players have been shocked to discover that a lot of them are getting soft banned for picking up a pair of underpants. The trick here is that someone hacked these and then went around invading people and leaving the underpants for players to put on. "Anyone else get this message? For clarification, I picked up Deathbed Smalls," the user Spirital_Row_9258 said on Reddit after having been told that "unauthorized tampering with the game has been detected" and "a quarantine penalty of 180 days will be imposed." So, if you find any dirty laundry lying around, you might as well just leave it alone.
Shareholder Calls On Fellow Investors To Vote Against The Activision Blizzard Merger With Microsoft
SOC Investment Group is a big shareholder in Activision Blizzard. The company has also been outspoken in its opposition to the board of directors. Today, the organization published an open letter calling on other shareholders to oppose the merger with Microsoft at an upcoming meeting. "In overseeing the merger negotiations, the Activision Blizzard board went above and beyond in its fecklessness. The board approved the Microsoft merger proposal without taking such standard steps as forming a special committee of independent directors to vet the proposal or having the independent directors meet without management present to approve the merger," the open letter notes. This goes on to describe the "incompotent handling" of the ongoing "sexual harrassment crisis" by the board of directors.
Game Boy And Game Boy Advance Emulators For Nintendo Switch Online Have Been Leaked
Reports indicate that Nintendo Switch Online might just be getting some titles that were developed for Game Boy and Game Boy Advance. The news comes from a bunch of leaked files that contain emulators for the two consoles. "Nintendo's official Game Boy Advance emulator for the Nintendo Switch just leaked," Trashbandatcoot said on Twitter after having uploaded some screenshots of the emulators. "Now it's just a matter of waiting for Nintendo Switch Online to add Game Boy Advance."
NEXT: Starfield Needs To Make Sci-Fi Games Good Again
"I Quit The Game Immediately": Trans Players Respond To Forza Horizon 5's Deadnaming
Read Next
About The Author