Silicon valediction? Our road trip to tech industry hotspots as the sector cools | Silicon Valley
If you read the news, you'd think that San Francisco is dead. If you try to drive there during rush hour, you'd find that hard to believe.
On a sunny Wednesday morning this month, I found myself on the Bay Bridge, en route to inspect the alleged demise of San Francisco and the reports that Silicon Valley's golden age is coming to a halt.
Predictions of San Francisco's decline are almost cyclical, the national spotlight turning to challenges like inequality and homelessness. But a fresh era is undeniably underway for the tech world. The industry has changed massively in the past years, hitting a wall after a long run of impressive growth that was bolstered by the shift to online life that was forced by the Covid-19 pandemic.
Hiring sprees shifted to hiring freezes, tech giants have cut costs, Facebook is now Meta and Twitter is Elon's. Disastrous earnings have raised new fears of a further crash.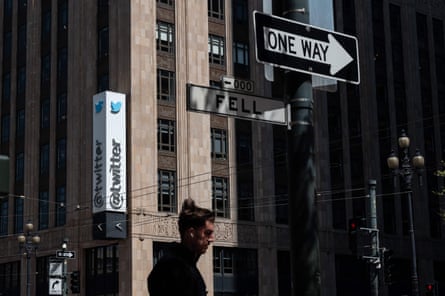 But does this ballooning crisis really mean the end of Silicon Valley as we know it? As someone who has been covering tech for nearly a decade and lived in the Bay Area for the past four years, I wanted to see for myself. And so there I was, bumper to bumper, making my way from my apartment in East Oakland to downtown San Francisco.
Although the traffic was back to its pre-pandemic normal, the scene in San Francisco was more aligned with the recent "doom loop" narrative, when a city gets stuck in a negative cycle wherein various financial struggles fuel one another. What has been called "the most empty downtown in America" was indeed desolate – with visible signs of homelessness and crime, and very few workers on its empty sidewalks.
The financial district was once a bustling center of high-earning workers enjoying $17 salads for lunch and synergizing over coffee meetings – with headquarters for companies like Uber, Twitter and Salesforce centralized in the hub. Today, the streets were nearly silent.
I stopped for coffee at the market below the headquarters of Twitter and previously Uber, once a popular morning coffee spot for many tech workers. But there was none to be had – the shop closed three months ago due to lack of demand, a worker told me. "The workers left during Covid, and they never came back," she said.
I hopped in my car and headed to the South Bay, the birthplace of tech giants like Apple, HP, Adobe, Paypal and Google, to see if the prospects were less bleak.
At Google's corporate headquarters in Mountain View, the parking lot was packed with a large number of Teslas. Despite some layoffs in the past year, workers appeared to be back in the office in full force. A Googler I spoke to off the record said employees are still going into its Mountain View and San Bruno offices in high numbers even given more flexible remote work policies and – controversially – diminishing perks.
On the drive over to the campus of Stanford, where so many tech workers have started their careers, the scenes began to resemble what we have come to associate with Silicon Valley cliches. Palo Alto is, on average, about 10 degrees warmer than San Francisco and the climate – both the weather and the mood of the downtown area – already looked sunnier. The campus looked typical for this time of year, with students biking to class and studying on the grass.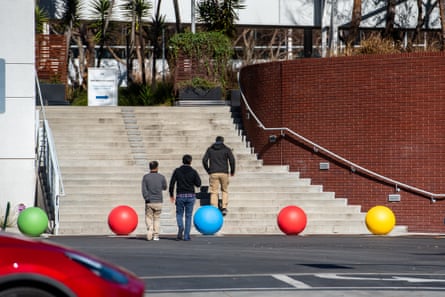 After spending months covering the trial of Theranos founder Elizabeth Holmes, I would have been remiss not to visit the fallen biotech firm's former headquarters. The building, which has been conscripted as part of the Stanford campus, was relatively empty – a departure from the days when it was valued at $9bn and Holmes was stationed there with her green juices and beloved pet husky.
I continued to the main drag of Palo Alto, which was bustling at lunchtime with people in the classic startup uniform – zip-up company-branded fleece vests, khaki pants, Allbirds shoes. On my way to Coupa Cafe – the site where Theranos founder Elizabeth Holmes famously did much of her initial work on the blood-testing company – I witnessed a woman wearing a black turtleneck making a business deal for her startup over lunch. Some things never change.
I ordered a matcha latte and sat amid more than a dozen patrons deeply engrossed in their laptops, many discussing the tech space with their lunch companions. In the heyday of Silicon Valley it was nearly impossible to snag a table here.
Around me was talk of "optimization" and "controlling investment". "Is China equipped for that scalability?" one patron asked another. "I can't do that for less than $50 grand," said another.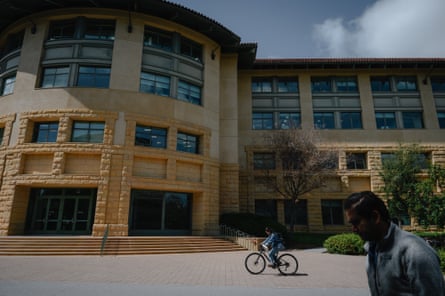 A tech executive sitting next to me, who declined to be quoted by name as he did not want to speak on behalf of his company, said he had been working from the tables of Coupa Cafe since its founding in 2004. It seemed about "20-30% less busy" than it was at its peak, he said, but the South Bay in general was seeing much less of a slump than what was being observed in San Francisco, he argued. He manages rental properties in Cupertino and is still seeing massive demand for housing, he added.
Another patron – Anthony Francis Jr, a roboticist who was recently laid off from Google – said he relocated from Silicon Valley to South Carolina when remote work became a possibility and the fires in the Bay Area became untenable. Still, he said he flew back to visit frequently for the networking opportunities.
"I was here the other day discussing robotics with someone, and around us there were five or six people doing the same thing," he said. "Even though the market is challenging right now, I am always encouraged when I come out here. There is something special about being surrounded by people doing the same thing."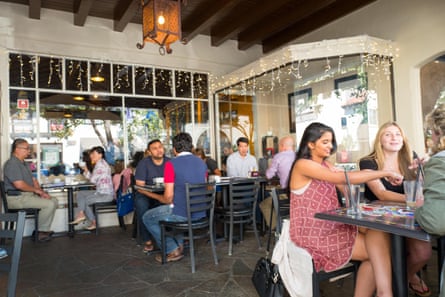 Twitter has recently taken the cake for tech drama, but it's arguable that no company has had a rougher few years than Meta. The company lost $80bn in value overnight in late 2022, with profits struggling as CEO Mark Zuckerberg devotes a massive push in resources to its struggling virtual reality project. Thousands of jobs have been cut and remaining workers, Zuckerberg announced, would see their perks (free laundry!) go.
The campus of Meta at 1 Hacker Way in Menlo Park looked idyllic and peaceful – perhaps too peaceful.
The parking lots were nearly empty mid-workday. Shuttle buses had begun cycling in to return workers to San Francisco, but all was fairly quiet. On the rear side of campus, some employees climbed the Meta-provided rock climbing walls and others practiced soccer on the campus's built-in fields – even as tech stumbles, some campus perks persist. I continued on to happy hour.
When I asked around where to grab a drink, Steins Beer Garden & Restaurant was a popular answer. Indeed, the recently laid-off Googler I spoke to at Coupa Cafe told me that is where he and his colleagues had gone to commiserate after job cuts. I ordered a drink and sat outside, where work teams were seemingly meeting for company happy hours. A waitress told me that business typically dips in the winter, but had been relatively stable despite layoffs, especially with the added business of newer tech firms like the online therapy company BetterHelp opening down the street in recent years. Still, she said fewer companies had been renting out the space for corporate events and that the bar has been advertising such deals more recently to boost business.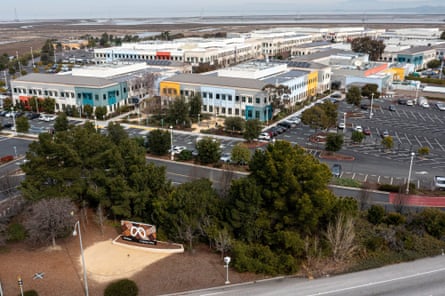 For high-end business deals, I was told that many go to Quattro – the fine dining establishment at the Palo Alto Four Seasons, where rooms go for anywhere from $450 to upwards of $5,000 per night. The floor of the restaurant was relatively empty, but a handful of diners around me discussed business, company mergers and expensive wine. Four men next to me debated their favorite brands of private jets, and another patron wore a visitor sticker from a tech office. The valet parking attendant told me the restaurant had remained steadily busy despite the tech downturn, especially at lunch hours.
At several tables, artificial intelligence was the center of conversation. I had heard it several times earlier that day: the classic Silicon Valleyisms – "deliverables", "scalability", "innovation" – applied to a new space, portending as always in this city another cycle of boom and bust.
As I signed the check for my dinner, I overheard some tech workers next to me talking about other cities they had visited to do business – a hot topic as companies like Tesla and Oracle relocate to Texas. "I don't know," one said. "It's not Silicon Valley."