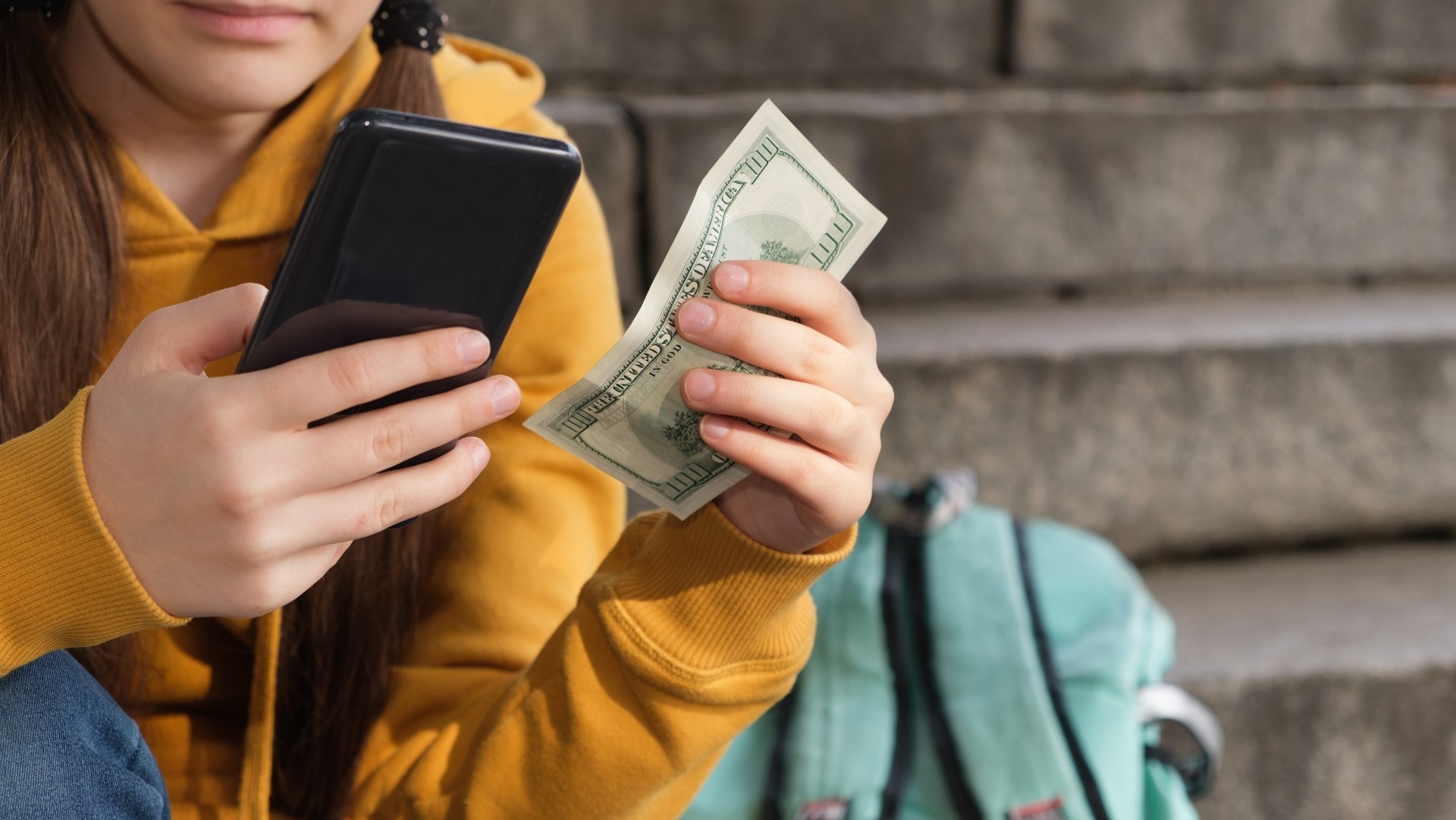 Legitimate Game Apps That Pay Real Money in 2023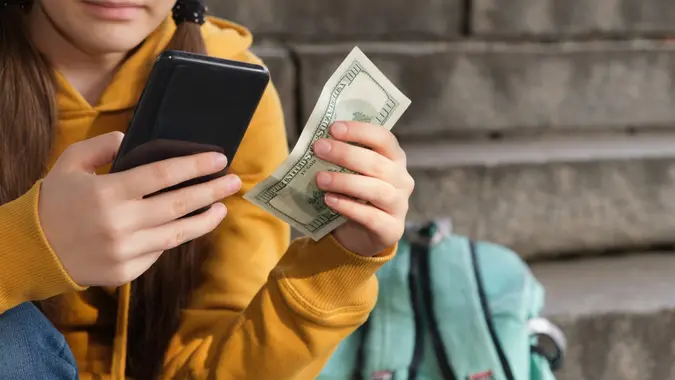 Zarina Lukash / iStock.com
With millions of people around the world spending lots of time on their smartphones, game apps have become a popular way to pass the time. But did you know you can even earn money — actual cash deposits into your bank account or money in your PayPal account — by playing games on your phone and computer? Keep reading to learn more about the game apps that will pay you money.
Learn: How to Guard Your Wealth From a Potential Banking Crisis With Gold
18 Games and Apps That Pay Money
Here is a look at 18 of the best games and apps that pay you real money.
Bubble Cash
Mistplay
8 Ball Strike
Swagbucks
Rewarded Play
Cash'em All
Pool Payday
AppStation
InboxDollars
Fruit Frenzy 
Long Game
Solitaire Cash
Solitaire for Cash
Draft Kings Fantasy Football
Blackout Bingo
Block Blitz
Strike! By Bowlero
Wealth Words
1. Bubble Cash 
Bubble Cash is downloadable for free from the Apple App Store. This game involves matching three bubbles of the same color until none remain, much like other bubble puzzle games. While the game itself is free, most cash competitions require an entry fee that can only be paid with real money, with the exception of a few competitions that accept in-game gems.
Once you win a cash prize, you can redeem it through PayPal or Apple Pay.
2. Mistplay
Mistplay is a free app that enables users to earn rewards for playing games. Players collect "units" that can be redeemed for gift cards to major retailers like Amazon, PlayStation and Visa. The app is free to join, and users can play their favorite games to accumulate points that can be redeemed for gift cards. The longer you play, the more units you can earn.
3. 8 Ball Strike
If you're a pool enthusiast seeking a new way to enjoy your favorite game, consider 8 Ball Strike. This game offers a unique way to play billiards or pool, and the skill-based rule system ensures that every match is fair and accurate.
Players can compete against themselves and earn diamonds, which can be used to pay entry fees for higher-level games with cash prizes. Additionally, 5- to 10-player matches are available for players who want to test their skills against others. The higher your rank, the greater your potential earnings for cash rewards and bonuses.
4. Swagbucks 
Swagbucks is an app and website that rewards you for activities like playing games, searching the web, watching videos, taking polls and using coupons. Swagbucks provides a range of earning opportunities, so you aren't limited to just playing games.
5. Rewarded Play
Rewarded Play is an Android-only app that provides gift cards from retailers like Amazon and Walmart for playing popular mobile games. To begin earning rewards, download the app, play games and choose your desired reward.
Once you've earned rewards, you should receive your gift cards within 48 hours.
6. Cash'em All 
The Cash'em All app rewards users with gift cards and cash for playing games on their Android devices. The app offers a wide selection of games, each with a different coin payout that can be redeemed for rewards. You can earn extra rewards by referring your friends.
The app is free to download but is currently only available on Android devices.
7. Pool Payday 
Pool Payday is a mobile app that offers a chance for players to earn money by competing with others at their skill level in a game of pool. Players accumulate Z tokens they can use to enter tournaments with significant cash prizes. Some tournaments pay out more than $10,000.
To play, users must be 17 years or older and live in one of the 38 states where the game is legally available.
8. AppStation
AppStation is an Android app that lets you earn money every minute you spend playing games, taking surveys or referring friends. When you accumulate $10 in earnings, you can cash out for gift cards or PayPal cash. It won't make you rich, but the app may be a fun, easy way to earn a little extra money.
9. InboxDollars
InboxDollars offers various ways to earn cash rewards for activities you already do online. You can play arcade games, participate in surveys, watch videos and complete other simple tasks to earn cash. The website also features a network of games, such as Solitaire and World of Words, where you can compete against other players to win cash prizes. 
The platform pays out via PayPal and has a minimum cashout of $30. With over $60 million in rewards paid out to members since 2000, InboxDollars may be a good option for earning money online.
10. Fruit Frenzy 
Fruit Frenzy is a game that can be played through the Pocket7Games app by AviaGames. This game is best for mobile gamers who enjoy matching fruit. Your objective is to match fruit pieces together to clear the board as fast as possible.
Players are matched by skill level to compete for prize pools ranging from $1 to $1,000.
11. Long Game
Long Game rewards you for saving money with relatively high interest rates through an online savings account and a chance to earn both money and cryptocurrency by playing fun games. First, you earn points or coins by saving money in the app, and then you use those coins to play games ranging from spin the wheel and slot machines to a fun Candy Crush-like game or a Fruit Ninja clone.
You can earn more coins or cash — up to $15,000. The best thing about the game is you don't have to pay to play; you earn coins to play by depositing money into a savings account, and you can access those funds at any time via bank transfer or a debit card.
12. Solitaire Cash
You might remember the 1990s, when office workers passed the time by playing solitaire on Windows computers. Now, you can slack off on company time while earning extra cash with Papaya Gaming's Solitaire Cash!
The game is free to download, but you can pay money to enter tournaments and win cash prizes. The game offers multiple versions of solitaire, so you're sure to find one you love. Or you can go retro with the classic Klondike Solitaire and party — with your winnings — like it's 1999.
13. Solitaire for Cash
Solitaire for Cash by Skillz gives Android users an opportunity to play a highly rated, free solitaire game for cash prizes. The app has 4.5 stars in the Google Play store and 4.8 for the iOS version in Apple's App Store. Play for free or pay cash to compete in tournaments for big prizes.
14. DraftKings Fantasy Football
Fantasy football is a draw for many people. DraftKings brings the experience to your mobile device with an opportunity to win cash prizes. Right now, the game developer — which also offers Sportsbook, an online casino and other opportunities to win cash or NFTs — is offering a deposit bonus of up to $500.
You can play private games against your friends or compete for millions of dollars in prizes. Entry fees can range from $15 up to $4,444 for a draft that's capped at 634 players, giving you good odds of winning.
15. Blackout Bingo
Blackout Bingo, available for Android or iOS devices, is free to play and delivers a choice of cash — through PayPal — or fun merch if you win. The Skillz version of this classic game plays just like regular bingo, with bonuses available for speed completion. You can pay to enter tournaments for cash prizes of $3,000 or more.
16. Block Blitz
If you like Tetris, you'll spend hours wasting time playing Block Blitz. But the good news is you can earn cash while you're stacking little colored blocks on your screen, so you're not really wasting time at all!
This game from Skillz is available for Android or iOS, with an average 4.6 rating across both platforms. When you make it to the Pro League, you can compete for up to $1,000 in prizes, with payouts of $200 per winner or higher.
17. Strike! By Bowlero
If you like bowling — virtually or at your local lanes — you may love the opportunity to earn cash or rewards you can cash in at your local Bowlero, AMF or Bowlmor bowling alleys.
Available for both Android and iOS, the game garnered a 4.7-star rating in Apple's App Store. Users like the easy, intuitive interface, realistic handling and the choice of blacklight or classic bowling to keep things interesting. It is played on the Skillz platform, and you can compete against players all over the world. Players who play the most games each month can earn $250 off a private event at a Bowlero Corp. bowling alley.
18. Wealth Words
Are you hooked on the New York Times' daily Wordle game? Why not try earning cash through Wealth Words? Available on Android, iOS and computers, this cash game offers clues to help you solve word puzzles.
Pay between $1 and $5 to compete for cash prizes as the fastest to solve crossword puzzles and more. There is a Wordle-type game, Wordoku and more.
Winning Real Money Based on the Real World
Many of the highest-paying gaming apps are modeled after real-world games or cash tournaments, such as bingo, solitaire or pool. If you're skilled in a certain card game, you might find competitive app versions that allow you to play much as you would at a traditional betting table.
However, these games often have a buy-in you put on your credit card, so if you're on a losing streak, it's not exactly free money. Other, simpler games may have smaller payouts, but there's less risk involved, too.
Final Take
Always research the app you're considering playing to check whether other users complain about not receiving payouts. Some app providers can be unreliable, so while playing games for a possible payout can be fun, don't count your money before you've received it.
FAQ
Here are the answers to some of the most frequently asked questions regarding gaming apps that pay money.
Are games for cash legitimate?

There are many legitimate cash games you can play for money, such as:

– Cash'em All
– Pool Payday
– AppStation
– InboxDollars
– Fruit Frenzy
– Long Game
– Solitaire Cash
– Solitaire for Cash
– Draft Kings Fantasy Football
– Blackout Bingo
– Block Blitz
– Strike! By Bowlero
– Wealth Words

However, it is important to be cautious and do your research before downloading and using any app. Look for reviews and ratings from other users, and make sure the app comes from a reputable developer.

What games actually pay money instantly?

There are many games and apps that pay you real money when you play them, such as the following:

– Bubble Cash
– Mistplay
– 8 Ball Strike
– Swagbucks
– Rewarded Play
– Solitaire Cube
– Dominoes Gold
– 21 Blitz

How can you get $100 on Cash App fast?

While Cash App is a popular mobile payment app, it doesn't offer ways to earn money directly. However, there are game apps that pay real money that you can play to potentially earn $100 or more. Keep in mind that earning $100 fast is not guaranteed and requires time and effort. It's important to read reviews and understand the terms and conditions before playing any game that pays real money.

How do you win money on Cash App?

There are many ways to get free money on Cash App, such as referring friends, sign-up bonuses, cash card boosts, Bitcoin boost, sweepstakes and giveaways.

Do PayPal games pay real money?

Many games pay real money into your PayPal account, including Blackout Bingo, InboxDollars and Bubble Cash.
Cynthia Measom, Dawn Allcot and Caitlyn Moorhead contributed to the reporting for this article.
Information is accurate as of March 31, 2023.