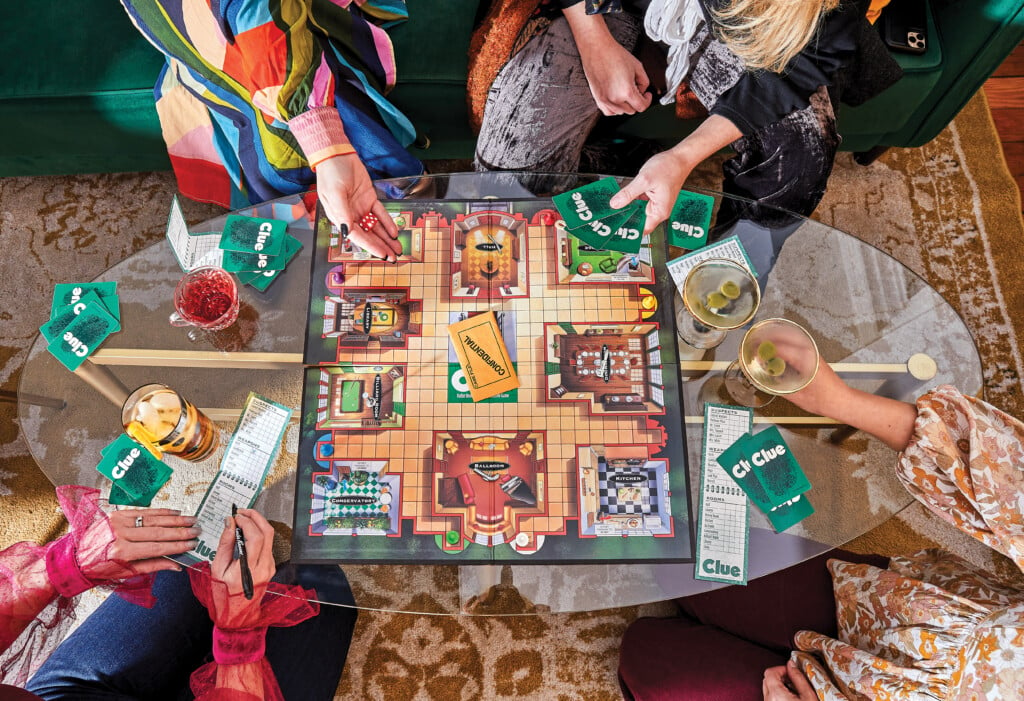 Turn Back Time with a Retro Game Night
Who says kids get to have all the fun?
Throw it back to the good old days by hosting a '50s, '60s, '70s or '80s retro game night (or you can go back even further and channel your inner flapper). Pull out all the stops with vintage serving ware, decorations, snacks, libations and — of course — quirky outfits. We've done (most of) the hard work and rounded up some local shops where you can source decor, clothing, games and more. We're also providing recipes for nibbles and noshes and cocktails that will help you channel your inner Austin Powers.
Retro Recipes
Inspired by vintage bites and featuring some Rhode Island ingredients, these simple recipes will ensure no guest plays hungry. But if you're feeling crunched for time, a few jars of pickles from the Backyard Food Company, some salty potato chips and a few tubs of Hunky Dory's pimento cheese served with crackers will satisfy in a pinch.  thebackyardfoodcompany.com; hunkydoryri.com
Maple Cranberry Glazed Cocktail Meatballs
If you don't feel like making your own meatballs from scratch (we don't blame you!), you can also buy premade meatballs and simmer them in this sauce. 
makes 35 meatballs
Meatballs 
½ cup breadcrumbs 
¼ cup milk 
1¼ lb ground pork
1/8 tsp ground cloves
½ tsp garlic powder
¼ tsp smoked paprika 
1 tsp Morton's kosher salt (use 1½ tsp if using Diamond brand)
¼ tsp black pepper 
Heat the oven to 450 degrees with a rack set in the center. 
Mix breadcrumbs and milk together in a large bowl. Let sit for 5 minutes. 
Add pork, spices, salt and pepper and mix gently.
Use 1 tbsp measuring spoon to scoop and shape meatballs and place on a half sheet pan.
Bake meatballs for 15 minutes, flipping with a metal spatula halfway through cooking time. 
Once done, remove from oven and set aside. 
Maple Cranberry Glaze
½ cup cranberry juice
¾ cup cranberry sauce
½ tbsp soy sauce
1 tbsp maple syrup
½ tbsp Dijon mustard
1 tbsp cider vinegar
Pinch salt 
Generous pinch black pepper
1 tbsp cornstarch
Microwave cranberry juice in a microwave-safe bowl or glass measuring cup for 90 seconds. 
In a medium bowl, whisk together cranberry sauce with warmed cranberry juice until mostly dissolved (it's OK if there are bits left). Add soy sauce, maple syrup, Dijon, vinegar and salt and pepper. 
Pour half of the mixture into a Dutch oven set over medium-high heat. Add the meatballs and bring to a simmer. Reduce heat to low and cook with lid removed, stirring occasionally, until sauce is reduced by half, about 3 minutes. 
Meanwhile, whisk cornstarch into the remaining sauce. Add to the meatball mixture, stirring well, then cook for another minute. Serve warm. You can also pour the mixture into a slow cooker to keep it warm, adding a splash of water here and there to keep it moist.
Maple Mustard Chouriço Pigs in a Blanket
Pigs in a blanket are always a winner at parties — the little bites always seem to be the first snack to go. We gave the traditional recipe a Rhode Island makeover, using chouriço in place of little wieners and giving the puff pastry a brush of spicy Dijon balanced out by a dash of maple syrup. 
1 tbsp maple syrup 
½ tbsp Dijon mustard
1 package of puff pastry, thawed 
2 packs of small chouriço, each link cut in half lengthwise, then cut into 1-inch pieces 
1 egg
1 tbsp heavy cream 
Poppy seeds 
Heat oven to 400 degrees with a rack in the middle of the oven. Line two half sheet trays with parchment paper and set aside. 
In a small bowl, mix together the maple syrup and Dijon. 
On a lightly floured clean surface, roll out one sheet of puff pastry into a roughly 9-by-12 inch rectangle, and brush with maple Dijon mixture. 
Use a pizza cutter to cut into 8 or 9 1-inch-wide vertical strips. Working horizontally, cut dough into 3-inch long pieces. 
Place a piece of sausage at the top of each strip of puff pastry and roll downward, sealing on the bottom. Place on prepared sheet trays about one inch apart. 
Whisk together egg and heavy cream, then use a pastry brush to lightly brush each chouriço in a blanket. 
Sprinkle lightly with poppy seeds, then bake for twenty minutes. 
Serve with more mustard. 
Charred Scallion Dip with Masago Roe and Chips
This high-low riff on French onion dip gets its oniony taste from charred sweet scallions and quick-caramelized onions. It's then lushed up with a scattering of masago roe for a slightly sweet, briny pop (this can be omitted and will still be delicious). Serve with your favorite potato chips (we're partial to ruffled ones, since the crags readily scoop up dip). 
6 scallions, green parts finely sliced and white parts left whole 
1 tsp olive oil
1 tbsp olive oil 
1 tbsp butter
1 large onion, finely chopped
Salt to taste
Pepper
1 medium clove garlic, grated
1 cup sour cream
1 cup mayonnaise 
1 small shallot, minced 
1 tsp lemon juice 
Masago roe (optional, available at Fearless Fish in Providence) 
Potato chips to serve
Prepare baking sheet by lining it with parchment paper. Toss white parts of scallions lightly in 1 tsp of olive oil and place on baking sheet. Set oven to broil, and broil white parts on high for a few minutes, watching intently until lightly charred. Let cool. 
Meanwhile, heat 1 tbsp oil and butter in a large nonstick skillet over medium heat. Add chopped onion, a pinch of salt and pepper and saute for about 10-15 minutes, stirring frequently, until translucent and lightly golden. Add the grated garlic and saute for 1 minute, until fragrant. Set mixture aside to cool. 
Roughly chop the white scallion parts and place them in a large mixing bowl along with the onion/garlic mixture, green scallion tops, sour cream, mayonnaise, shallot and lemon juice. Mix together, adding salt to taste, as well as a generous pinch of freshly ground black pepper. 
To serve, place in a glass bowl and scatter the top with roe. Serve with potato chips.
French Cream Cheese Dip with Caramel and Toffee
This dessert is born from the classic French dish couer a la creme (aka cream heart). But instead of going heart-shaped, we used a vintage mold in the form of a fish that we found at Savers. The base is a mixture of whipped cream, sugar and cream cheese, paired with dulce de leche spread on the bottom (or you can drizzle caramel sauce on top), and a scattering of toffee bits. Serve with crisp apple wedges to scoop up each cheesecake-like bite.
16 oz cream cheese, at room temperature 
1 cup powdered sugar
1 tsp pure vanilla extract
¼ tsp cinnamon 
2 cups cold heavy cream
1 tsp bourbon or rum (optional) 
1 can of dulce de leche or your favorite caramel syrup 
1 bag of Heath bar toffee bits (or 5 Heath bars, placed in a plastic bag and crushed with a rolling pin)
5 apples, cored and sliced  
Place softened cream cheese and powdered sugar in a large bowl, then use a hand mixer to beat until completely integrated, about one minute. Add vanilla extract and cinnamon and beat again. 
Add 2 cups of heavy cream and beat until stiff peaks form. Add bourbon or rum (if using). Line mold with cheesecloth, fill with mixture, then fold cheesecloth over on top. Refrigerate for four hours. 
To serve, spread dulce de leche onto a serving dish before unmolding cream cheese mixture by placing a plate on top, then flipping it over so it slides out onto the plate. Alternatively, unmold, then drizzle caramel sauce on top. 
Sprinkle with a coating of Heath bar toffee bits. Arrange apple slices around dip and serve. 
VINTAGE
VIBES
Places where you can score retro decor and attire.
Rocket to Mars: Stocked with vintage men's and women's clothing from the 1920s all the way to the '50s, '60s, '70s, '80s, and everything in between, Rocket to Mars is a great place to find the get-up you need to channel any character. If you're going for a '50s vibe, they carry quite the collection of retro aprons. If you're looking for a few trinkets to adorn the table, or in search of some retro furniture or art (or maybe even a vintage bar cart or barware), the store has a great selection. You can also shop some items through Etsy. 144 Broadway, Providence, 274-0905,instagram.com/rocket_to_mars_vintage
Savers, East Providence: Savers is a goldmine for vintage serving ware and decor like metal platters, candelabras, glass punch bowls and coupe glasses — you'll likely walk away with some great finds that you can use for game night and beyond. We're partial to the East Providence location, which has the largest collection of serving ware and decor we've seen, and this location is also great for finding vintage clothing if you don't mind sifting through the racks. It also has a well-stocked selection of games, including some vintage (think circa-1990 Trivial Pursuit). 1925 Pawtucket Ave., East Providence, 438-1955, stores.savers.com
Space Cadets Vintage: This otherworldly shop in downtown Warren specializes in kitsch. From quirky toys, board games and pop culture posters to retro loafers and old-school advertisements, the collections here will inspire any themed get-together from 1980s-inspired sitcoms to a party complete with platform shoes and go-go dancers. Browse more than twenty-five racks of clothing to discover that perfect turn-back-the-clock transformation. 450 Main St., Warren, 338-8163,instagram.com/spacecadetsvintage
The Lady Next Door Vintage: If you really want to get into character, the Lady Next Door has a fantastic selection of one-of-a-kind vintage clothing items; you could go with a glam old Hollywood soiree, a '60s "Jetsons" mod theme, or turn back the clock even further for a Victorian look. The cute shop also has tons of serving pieces and dishes, knickknacks and ephemera, including unusual touches that will delight guests and no doubt inspire conversation. 196 Water St., Warren, 903-2380,ladynextdoorvintage.com
The Vault Collective: Located in the heart of downtown Providence, the Vault is a treasure trove filled with '50s swing skirts, '60s shift dresses, '80s shoulder-padded jackets and more. Pick your game night theme and have fun finding a one-of-a-kind outfit to match. 235 Westminster St., Providence, 250-2587, thevaultcollective.com
Nostalgia Antiques and Collectibles: Nostalgia specializes in quirky objects, furniture and trinkets that are great for setting the mood at your game night. Peruse the store's three floors full of curiosities from more than 200 dealers for vintage clothing, decor, art, glassware (or maybe even a vintage '70s-era blender you can use to serve cocktails), rugs and more. 236 Wickenden St., Providence, 400-5810,nostalgiaprovidence.com
Carmen and Ginger: Scope out all kinds of nostalgic clothing, accessories and costume jewelry for theme nights. Sorting through the shelves of vintage housewares and linens at the shop — coming soon to downtown Warren this spring — is like going on a time-traveling treasure hunt: We never know what we're going to find, but it's always good. carmenandginger.com
Martini Bar
Nothing screams retro — but modern — like a make-your-own martini bar. We like to give guests options beyond just vodka or gin and dry vermouth, allowing them to turn their martinis dirty or briny, or lean more into bubbles and make more of a spritz. Here's a list of bottles and garnishes to grab, as well as some combinations to get you and your guests started. 
Bottle of Industrious Spirit Company Patina gin

Bottle of ISCO vodka

Bottle of ISCO Ostreida vodka

A few bottles of cava, prosecco or other dry sparkling wine

 

Dry vermouth

Sweet vermouth

 

Otto's Athens vermouth (or other

vermouths)

 

Tonic (go local with a six-pack from North Providence-based Yacht Club Soda)

 

A bottle of fino sherry

 

A bowl of lemon peels

A bowl of orange peels

 

Orange wedges

 

Grapefruit wedges

 

Castelvetrano or Cerignola olives

 

Your favorite gherkins, pickled onions,

pickled shallots, and any other pickles

you like

 

A few jiggers

 

Crushed ice
The Sparkling 50/50
While this isn't "technically" a martini, it is a celebration of vermouth and might make you think differently about this underrated bar staple. 
1 oz dry vermouth 
1 oz sweet vermouth 
Yacht Club Soda quinine tonic (or plain tonic)
Orange slice
2 olives  
Place a few cubes of ice in a glass and add the vermouths, stirring well. Top with tonic and garnish with a slice of orange and a few olives on a cocktail skewer. I also like to add a splash of olive brine; it gives the drink a slight saline edge and round mouthfeel. 
A Beach in Greece Spritz
Otto's Athens vermouth is one of my favorite vermouths. It has notes of rose petals (without being cloying), orange and a slight savory note from olive leaves. The addition of fino sherry gives
it nuttiness and depth, while grapefruit and a splash of bubbly brightens it up. The key, however, is to use dry fino sherry; sweet sherry will make the drink saccharine. While an olive leaf would make a fine addition here, a fresh bay leaf is a worthy stand-in. 
1 oz Otto's Athens vermouth 
¼ oz fino sherry 
1 oz fresh grapefruit juice 
Splash of bubbly
Grapefruit wedge 
1 fresh bay leaf 
Fill a Collins glass with ice. Add the vermouth, sherry and grapefruit juice, and top with sparkling wine. Garnish with
a wedge of grapefruit and a fresh bay leaf. 
A Dirty Ocean State Martini
You want this drink cold, so we recommend chilling your glasses in the freezer for a few hours before serving. You can also make it in batches, bottle it with the vodka or gin, and place in the freezer until it's time to serve. Serve with an array of salty garnishes. 
1 oz dry vermouth 
1 oz ISCO Ostreida vodka (Sub ISCO Patina gin for a less briny, but equally savory, drink) 
1 bar spoon olive brine 
Olives, lemon peels, pickled shallots and an oyster shooter 
To make to order, fill a shaker tin with ice and add the vermouth, vodka and 1 bar spoon of olive brine. Stir well with the bar spoon until sides of shaker are cold and frosty. Strain into a chilled martini glass (a coupe glass would also look chic), and garnish with a lemon peel, skewer of olives and a few rings of vibrant pink pickled shallots. Want to really go all out? Serve the martini with an oyster shooter on the side. 
GAME
ON
Where to track down retro board and video games.
The Time Capsule: Game night can also mean retro video games. Break out some snacks, a few comfy gamer chairs (a couple of rocking thrones, perhaps?), and watch your friends' thumbs fly. Stock up on some fantastic retro finds, including comics, toys, records and video games in the stacks at Time Capsule for a nostalgic evening of gaming (Tetris, anyone?). 537 Pontiac Ave., Cranston, 781-5017, timecapsulecomics.com
Untapped Games: Whether you want to go deep and get your friends into a role-player game like Dungeons and Dragons or keep it simple with Monopoly, Untapped Games might make it difficult to pick just one. 545 Pawtucket Ave., Suite A205, Pawtucket, 368-1619, untappedgames.com
Reality A Games: If you're already a seasoned gamer, this shop in Warwick has a great selection of expansion packs, dice (why are they so easy to lose?) and more
to help round out your board game collection. 297 Providence St., West Warwick, 500-1545, realityagames.com