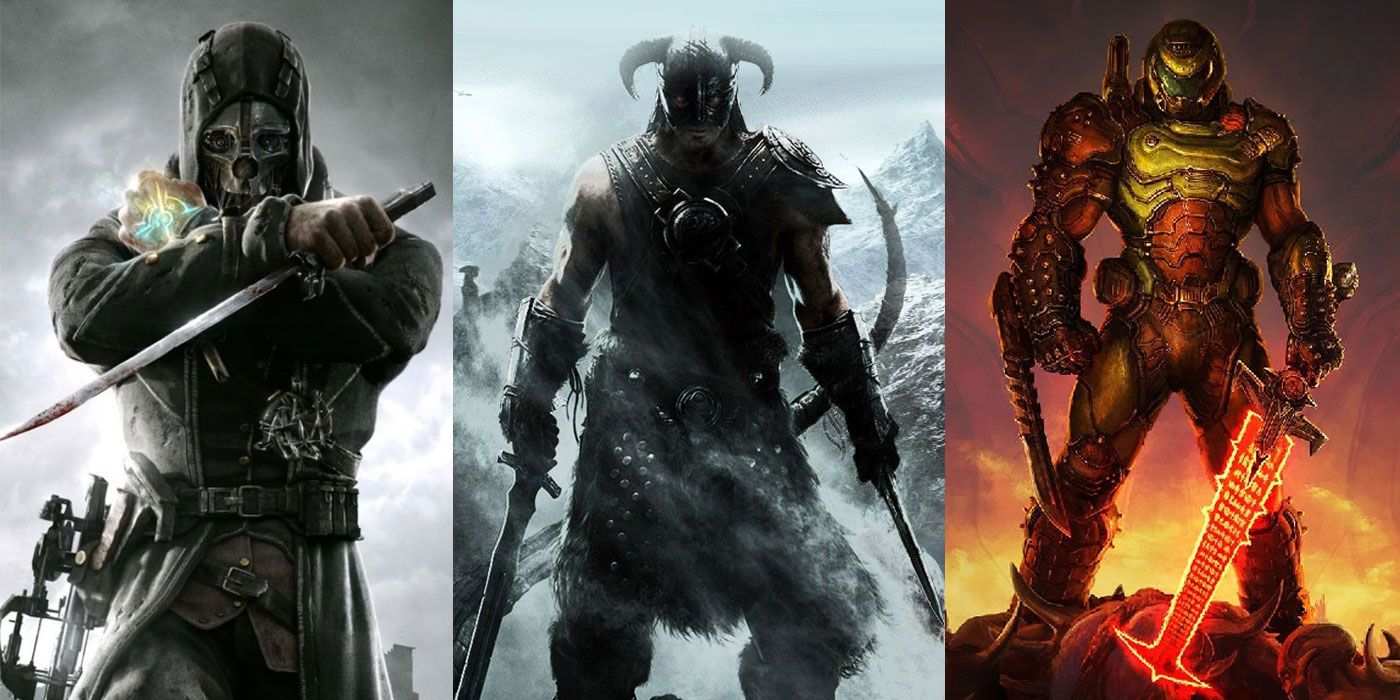 Top 12 Bethesda Games, Ranked Worst to Best
Fans were crushed when Bethesda confirmed Starfield and Redfall's release had been officially delayed until the first trimester of 2023. The very much-awaited games of the company were said to be delayed because of the title's ambitious gameplay which has developers still working and perfecting some aspects. It seems every team in Bethesda is doing its best to deliver an unmatched game quality that players have not seen in any of the company's previous games.
Bethesda has been glorified for its numerous RPGs and first-person shooters that have gained very high scores and positive game reviews. Needless to say, it has one of the biggest fan bases for so many prolific and successful game titles and is still considered one of the most relevant videogame companies of all time. When it comes to innovative maps, gameplays, visuals, and storylines, Bethesda is the place to go for a lot of players.
12

Quake Champions
Gamers better learn how to jump around, shoot effectively and move fast in huge and interactive scenarios in this first-person arena shooter, as it requires the most alert and agile players to win brutal battle rounds.
RELATED: 10 Best Space Video Games To Play Before Starfield, According To Reddit
Despite it being very entertaining, some gameplay issues and unfair status differences between characters have made the Quake Champions series, for most fans, one of the least enjoyable of the company.
11

Call of Cthulhu: Dark Corners Of The Earth
This first-person horror game begins with a flash-forward of the protagonist, Jack Walters, committing suicide inside a mental asylum. As in most well-done narratives, players stay to discover the intriguing events that lead to such a tragic conclusion.
Call of Cthulhu must not be missed by any gamer who loves H.P Lovecraft, very challenging missions, absorbing creepy atmospheres, and complex storylines. Although, it's the same high difficulty, plus annoying bugs, that lead a lot of gamers to stop playing it.
10

Wolfenstein
Most of the Wolfestein franchise's titles have been considered some of the best first-person shooters and have reached really high scores in videogame reviews, but some of them like Wolfenstein: Youngblood and Wolfenstein: Cyberpilot have not been appreciated by many.
The mixed critics point out some redeemable aspects of the games like their compelling plot, smooth controllers, and their game mechanics, but there are still many things to improve when it comes to map exploration, mission development, and good-looking graphics.
9

Rage
The first-person shooter provides plenty of spectacular visuals, some of the scariest video game monsters ever, and effective combat. Maps vary from close combat encounters to open-world sites that even need cars to travel through.
When it comes to gameplay value, Rage achieves a high score and general approval from players and critics, but it's also pointed out how the story fails to deliver memorable characters or an interesting plot.
8

Ghostwire: Tokyo
Ghostwire: Tokyo is an open-world game that has one of Bethesda's most impressive graphics and visual designs. Players will inevitably become mesmerized by the city's lights, colors, buildings, and landscapes, among other things.
Although this is outstanding enough to recommend the game to any player, it is a common opinion that combat can become quite disappointing and missions can feel a bit dull. But overall, the endless references to Japan's folklore and culture make the whole experience very immersive, pleasant, and educational.
7

Deadloop
Most critics have praised the game and given it very high scores for its uniqueness, spectacular combat, and its never-ending source of entertainment through multiple exploring missions, fun shooting mechanics and original gameplay.v
RELATED: 10 Horror Video Games You Probably Forgot Ever Existed
Although the acclamation also came from various players who reviewed Deathloop as a masterpiece, some others pointed out that the game can become monotonous and boring. The mixed opinions make Deathloop a different experience depending on each player's taste, but overall, it is perceived as a very good game.
6

The Evil Within
When it comes to the best survival horror games, The Evil Within's difficulty and realism make the player feel like his or her life is threatened every step of the way. Imminent death is around every corner about to be delivered by terrifying monsters that lurk in chilling scenarios.
Visual design is especially outstanding and memorable, and every exploration and encounter has the player trembling in fear. This is one of the best horror games of the past decade, and therefore, one of the best games of the company.
5

Prey
Prey is a perfect fusion of great first-person shooter sci-fi visuals, weapons, and plotlines, mixed with amazing RPG mechanics and gameplay. The game is action-packed and full of suspense for players to enjoy some entertaining shooting combats and jumpscares when exploring astonishing and well-developed map areas.
Most players celebrate the game's immersive story, interesting maps, and outstanding mobility.
4

Dishonored
Dishonored and Dishonored II have made their way into the gamers' favorites of all time with their unforgettable rich scenarios, intriguing plots, fun superpowers, and compelling set of skills. However, what is most outstanding for most players and critics is the game's playthrough design which allows multiple ways to complete the game.
RELATED: The Greatest Open-World Video Games, According To Ranker
Whether the players decide to finish the game violently, or without any kills at all, Dishonored gives unprecedented liberty when it comes to choosing how to play.
3

Doom
All the games of the Doom franchise have reached high scores in various video game reviews. On top of that, the series has gained the following and praise of thousands of fans all over the world, making the franchise one of Bethesda's most successful titles.
It is not only challenging and fun but it has also been referred to as one of the most important games in first-person shooter games history. Its combat style, multiple weapons, difficult enemies, and chaotic nature are truly unforgettable and have influenced many generations of fps.
2

Fallout
Not all the games of the Fallout franchise have gained high scores, but when it comes to Fallout 3, Fallout: New Vegas, and Fallout 4, it is safe to say that the titles have the highest scores of Bethesda.
The post-apocalyptic open-world offers amazing maps, character customization, weapon upgrades, challenging missions, compelling stories, superb player choices, and effective game mechanics that incline gamers to spend many hours on it.
1

The Elder Scrolls
Just as in Fallout, the first titles of The Elder Scrolls franchise didn't receive much attention, but after the exceptional release of Morrowind, Oblivion, and Skyrim, Bethesda became the company that changed the history of RPGs forever. Its most important game, Skyrim, has the highest score on multiple platforms and the biggest fanbase that plays the game to this day.
With hundreds of hours worth of gameplay, unmatchable combat mechanics, fun missions, and complex historical background, it is safe to say that Skyrim is not only the best game of Bethesda, but it is one of the best games of all time.
NEXT: Skyrim: 10 Most Important Choices Players Make In The Game

Next
10 Best Nintendo DS RPGs Ever, According To Ranker