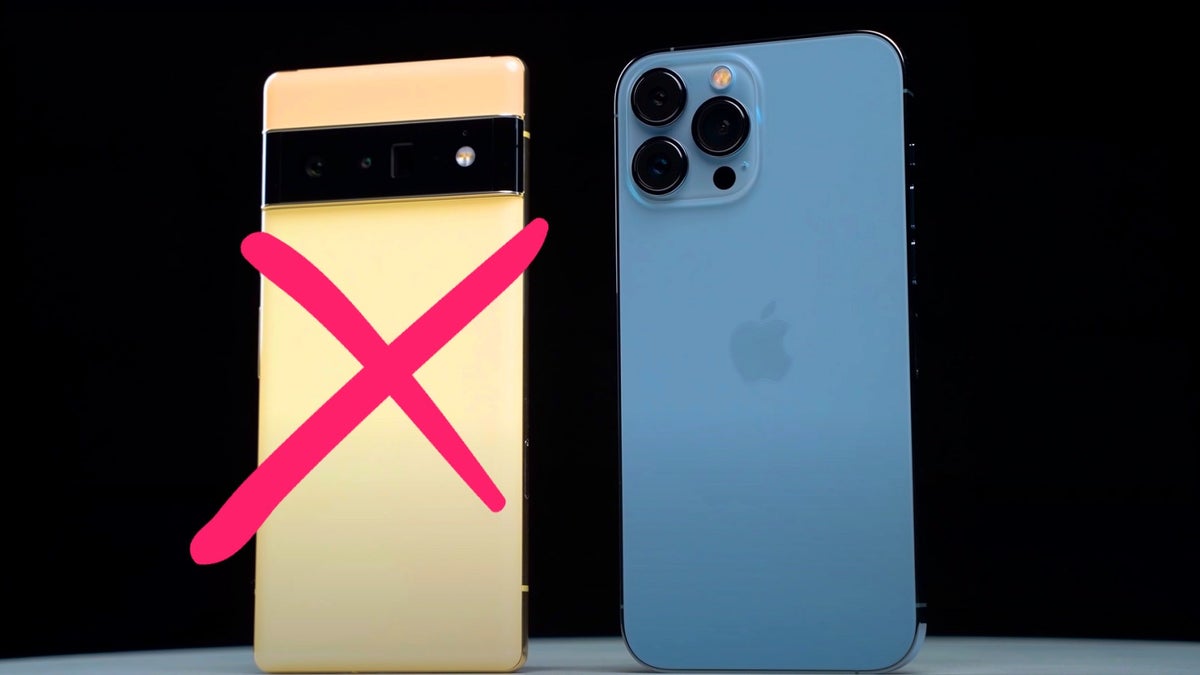 The "boring" iPhone won! Not buying an Android phone ever again – unless it can fold in half
In case the title doesn't make it clear, I think the Pixel 6 Pro might very well be the very last conventional Android phone I've ever spent money on.
Now, that's not entirely due to the poor and buggy experience with my Pixel 6 Pro but also thanks to a few other factors, one of which (ironically) is the fact that Android is getting some things right, and those things are… foldable phones!Just take a look at Samsung's first attempt at a foldable (pictured below)… The 2019 Galaxy Fold looks like a working prototype that shouldn't have seen the light of day. In fact, the very first Galaxy Fold had to be recalled due to hardware flaws. But that's not the point… The point is that the first foldable phones walked so today's foldables can run!
A quick inspection of the market today shows foldable phones have come a very long way, in a relatively short timespan. We're talking hardware that's leaps and bounds ahead of that first Galaxy Fold and software that's more than ready to rival Apple's iPad, taking full advantage of the bigger displays that hide inside folding phones.
So, I know this might sound harsh, but if I'm going to risk having another buggy experience with another Android device, I'd prefer it if this phone was… "worth the hustle". But here's a little bit more…
Pixel 6 Pro is probably my last Android flagship (that doesn't fold); iPhone 13 is the most reliable phone I've used in a while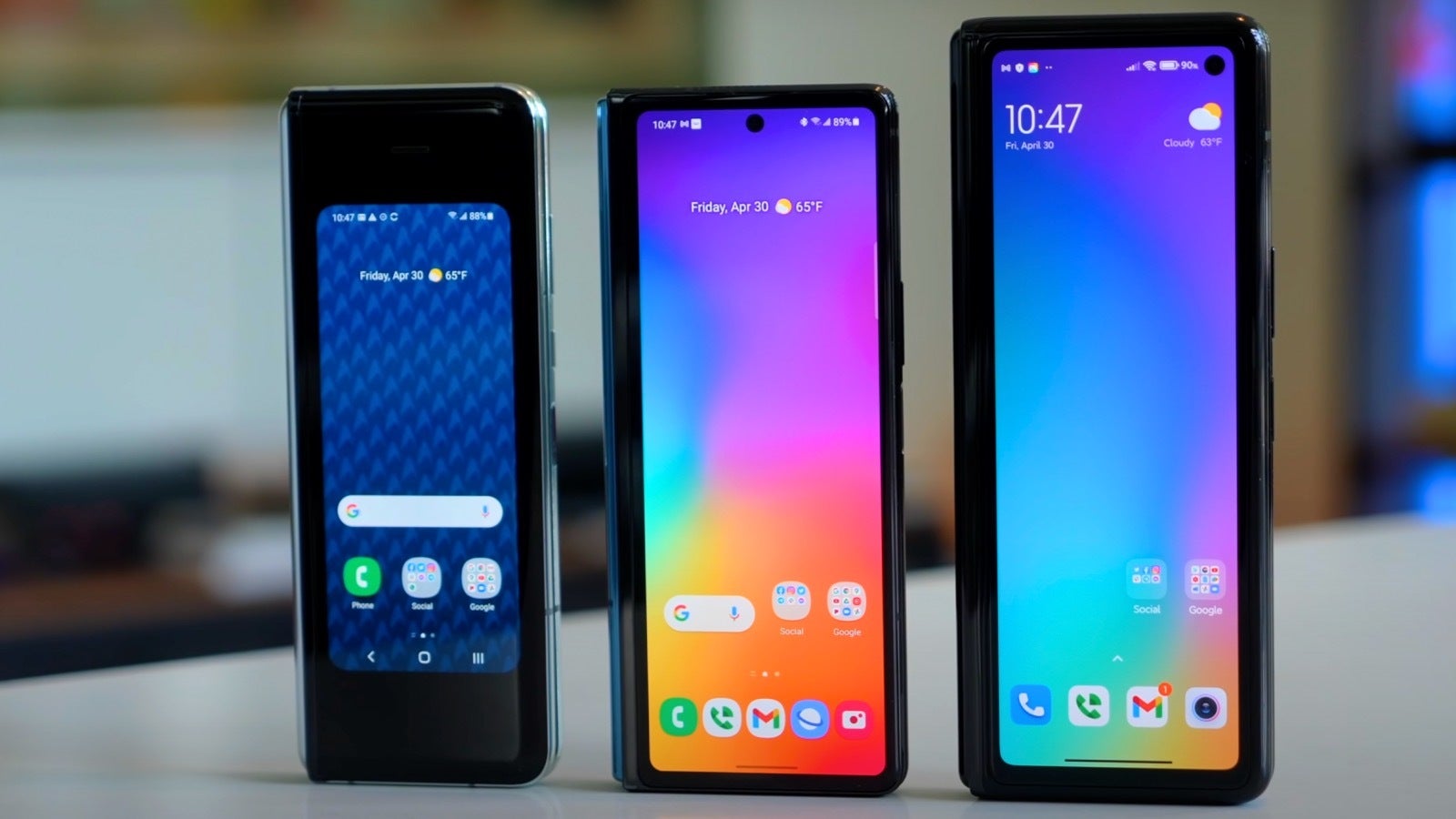 From left to right – Galaxy Fold, Galaxy Z Fold 2, Xiaomi Mix Fold. Image courtesy of Michael Fisher.
To be clear, I actually prefer the way (most) Android slabs look, feel, and even work compared to the iPhone, which is the only alternative out there… However, Iam a MacBook user (which is far from the main reason I have an iPhone), but also – my recent experience with Android (as a whole) has been a hit-or-miss, to say the least…
I loved my Huawei P30 Pro, which I used for about a year and a half, but I simply couldn't upgrade to the Huawei P40 Pro (which I really liked), because this one literally couldn't run Google apps; sure, not Huawei or Android's fault at all, but still a big disappointment
My Pixel 6 Pro, which to this day is the best-looking phone I've ever had, simply wasn't a reliable phone due to a number of obvious bugs that Google took nearly a year to fix; the Pixel 7 Pro, which I've been testing for a while, also fails to deliver the consistency I expect from a $900 phone (though it's far more reliable than the Pixel 6 ever was)
I already knew but recently (re)discovered that unlike Apple's iPhone, Android flagship phones (like my Pixel 6 Pro) have

terrible

resale

value

, which simply isn't great for someone who likes switching phones slightly more often than the average user
My "escape" from what was a buggy and unreliable Pixel 6 Pro was the iPhone 13 mini and I haven't looked back!
So, yes – I pulled the trigger and bought an iPhone 13 mini, which I had my eye on for a while… Long story short, I ended up appreciating Apple's tiny flagship not just because it was a far more reliable phone, but also because of the size.
I've decided to keep the tiny iPhone 13 mini as my primary phone (for now), as nothing else comes close in terms of form-factor and performance (also, a used but new-looking iPhone 13 mini set me back only €450, or half as much as my Pixel 6 Pro). The 13 mini has been my primary phone for a while now, and it seems like I'll be sticking to Apple when it comes to the device that's always in my pocket and the one I have to rely on to get things done…
Android phones (and iPhones) are nearing their peak now
But there's something else that's slowly but steadily pushing me away from conventional phones, and that's the fact that they seem to be nearing their peak now.
Just take a look at the upcoming Galaxy S23 series – how much better can the conventional Android phone (or iPhone) get from here on? Slab phones have amazing displays (far better than your TV), exceptional camera systems for social media use, and good battery life (most phones will last you a full day of use).
Sure, there might be a few "final touches" left that would make for an even more "perfect" slab phone… Under-display cameras for that "full" full screen look; a more sophisticated camera system, which feels more like a "real" camera, and two-day battery life would be appreciated, but some phones already check at least one of those boxes…
Food for thought: Apple's iPhone might be at an advantage here, thanks to the fact that Cupertino likes to play the long game, taking longer to implement certain features compared to Android. Technically, that makes it likely that the iPhone will end up reaching its "peak" later than the Android competition.
Foldable phones might not be "the future" but they are getting good; Google, Xiaomi are challenging Samsung on the global market (hopefully with competitive prices too)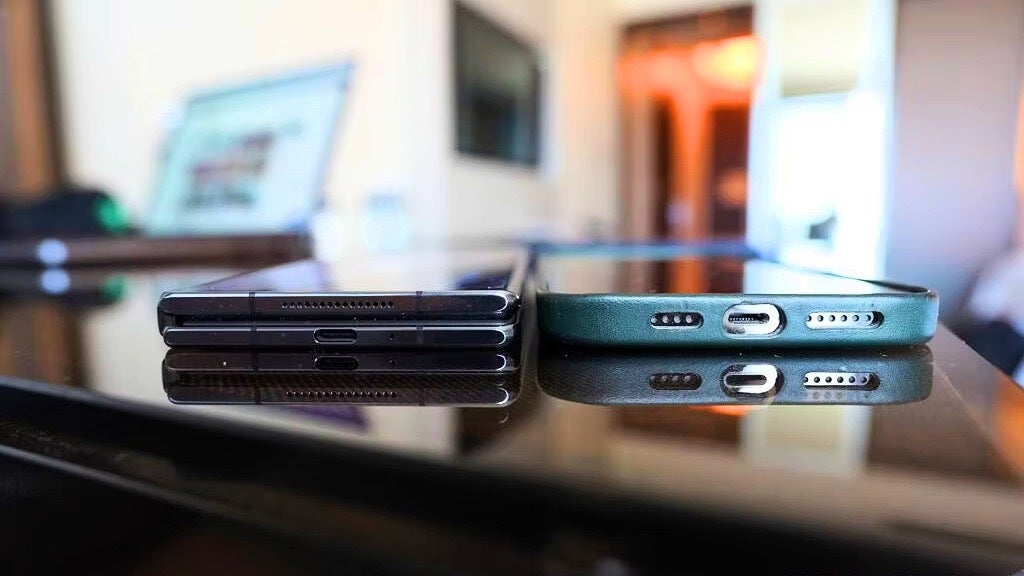 The Xiaomi Mix Fold 2 (which isn't much thicker than an iPhone with a case on) won't be sold globally but the Mix Fold 3 will!
I've said it before and I'll say it again – I don't believe foldable phones are "the future" of what we know as a "phone". The whole foldable form-factor seems to be better suited for a laptop (Google the Lenovo ThinkPad X1 Fold), while the future of "phones" could very well be the rollabledesign.
That being said, as conventional phones are getting more and more boring, or closer to reaching their peak (at least from a tech enthusiast's POV), I don't see why foldable phones can't be something that nerds and "regular people" benefit from. And I'm now going to circle back to the beginning of the story, when I started telling you how far foldable phones have come compared to the Galaxy Fold from 2019…
The Galaxy Fold wasn't water-resistant, which isn't the case with Samsung's newer foldable phones (that makes them far easier to recommend)
The 2019 Galaxy Fold was nearly 16mm thick when folded; today, the thinnest foldable phones (Xiaomi Mix Fold 2, Huawei Mate Xs 2) are 11mm thick, or should I say… 11mm thin
Samsung's first foldable phone weighed 263g, which is almost as heavy as an iPad mini 6; the new Oppo Find N2 weights just 233g, which makes it lighter than the iPhone 14 Pro Max and just as heavy/light as the upcoming Galaxy S23 Ultra (according to leaked info)
The three-year-old Galaxy Fold came with a mid-range camera system, while new foldable phones like the Oppo Find N2, Xiaomi Mix Fold 2, and to an extent, the Galaxy Z Fold 4, now have far more powerful and versatile flagship-grade set of cameras (with larger sensors, and far more advanced image processing)
As you can tell by this quick "progress check", the key to it must be the fact that Samsung finally has some competition. There are indeed better-looking foldable phones than the Galaxy Z Fold 4 out there but they aren't sold globally… yet. However, this won't be the case for much longer!
Pixel Fold, Xiaomi Mix Fold 3, Galaxy Z Fold 5 – picking a new foldable Android phone might be more difficult than ever (and that's great news)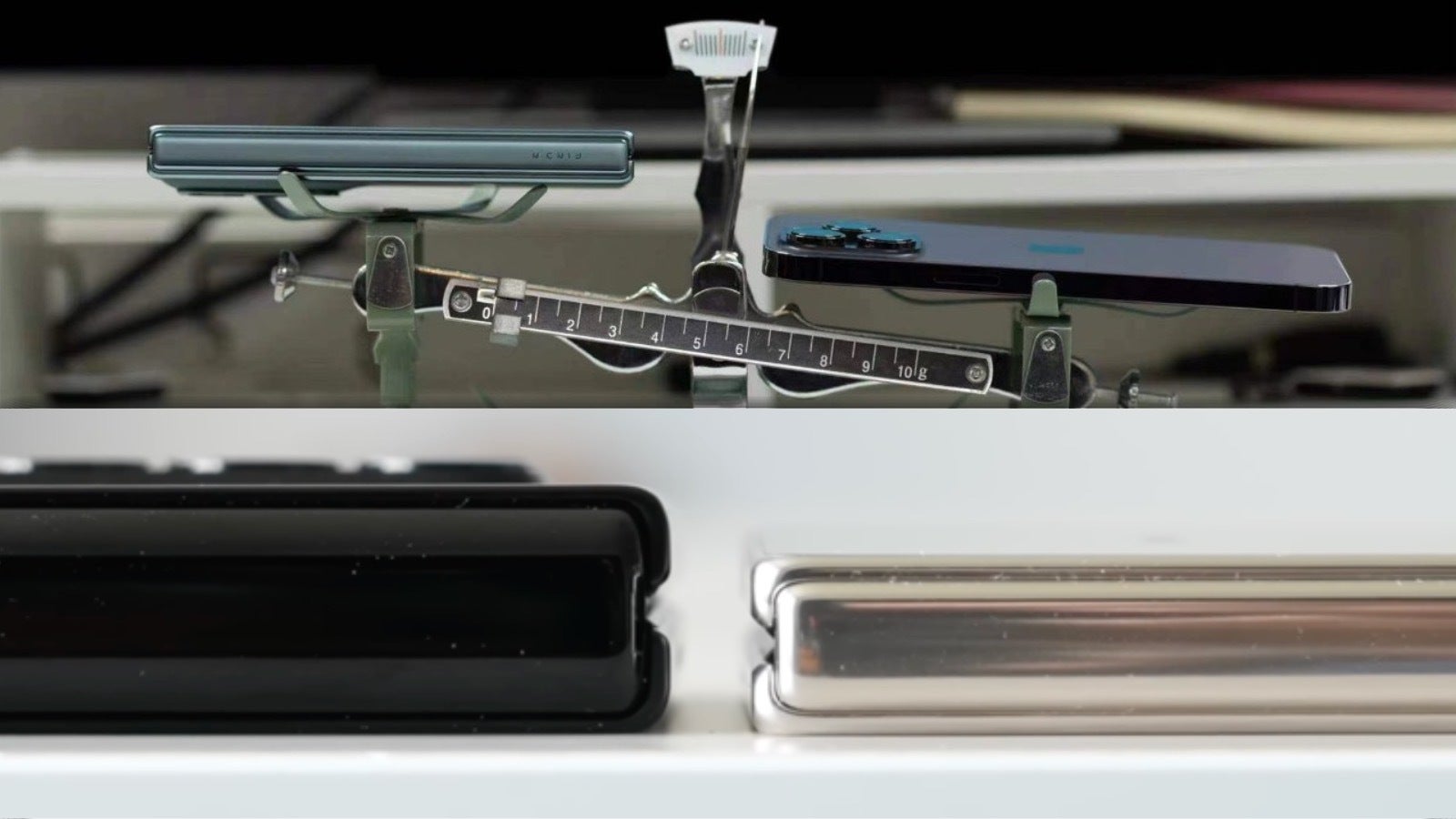 Again, foldable phones have come a very long way! The Oppo Find N2 is lighter than an iPhone 14 Pro Max and so much thinner than the Galaxy Z Fold 3 (pictured)!
The Google Pixel Fold is expected to launch before the Galaxy Z Fold 5, while the Xiaomi Mix Fold 3 will likely be the first Xiaomi-made foldable phone that makes it outside of China. Unfortunately, it doesn't look like the excellent Oppo Find N2 will be sold globally, but some competition is better than none! Right?

So, yes, having decided not to buy another conventional Android flagship phone, I can now move my focus towards the upcoming foldable phones in 2023! I do believe at least one of the upcoming foldable phones this year could end up being good enough to be worth my attention (and cash). As mentioned, the Pixel Fold and Xiaomi Mix Fold 3 are first in line, followed by the Galaxy Z Fold 5, which is expected to arrive later.
Personally, as someone who has a preference for Google's version of Android and the Pixel's camera, I do hope the Pixel Fold will be as good as the leaks indicate. Speaking of leaks, those say the Pixel Fold will cost as much as the Galaxy Z Fold 4 ($1,800), but I'll only believe that when I see it. Google's Pixel 7 flagships are noticeably cheaper than their Samsung counterparts (in all markets where they are sold), and therefore I expect the Pixel Fold to undercut the new Galaxy Z Fold 5. Or at least I hope so!Of course, if Google delivers another buggy phone (like the Pixel 6) and decides to price the Pixel Fold as high as the Galaxy Z Fold 5, I might need to look elsewhere, and that's where the Xiaomi Mix Fold 3 and Galaxy Z Fold 5 might come into the picture.
Regardless, unless there's an extraordinary deal in place, it's quite likely I'll be buying my next foldable phone from eBay, which is exactly how I got the Galaxy Z Fold 3 at half the price (I ended up returning it), in like-new condition. Of course, as far as the average user is concerned, that's another great reason to try a foldable phone – they aren't simply getting good, but also more affordable (if you shop smartly).
Would you like your next Android phone to be a foldable?