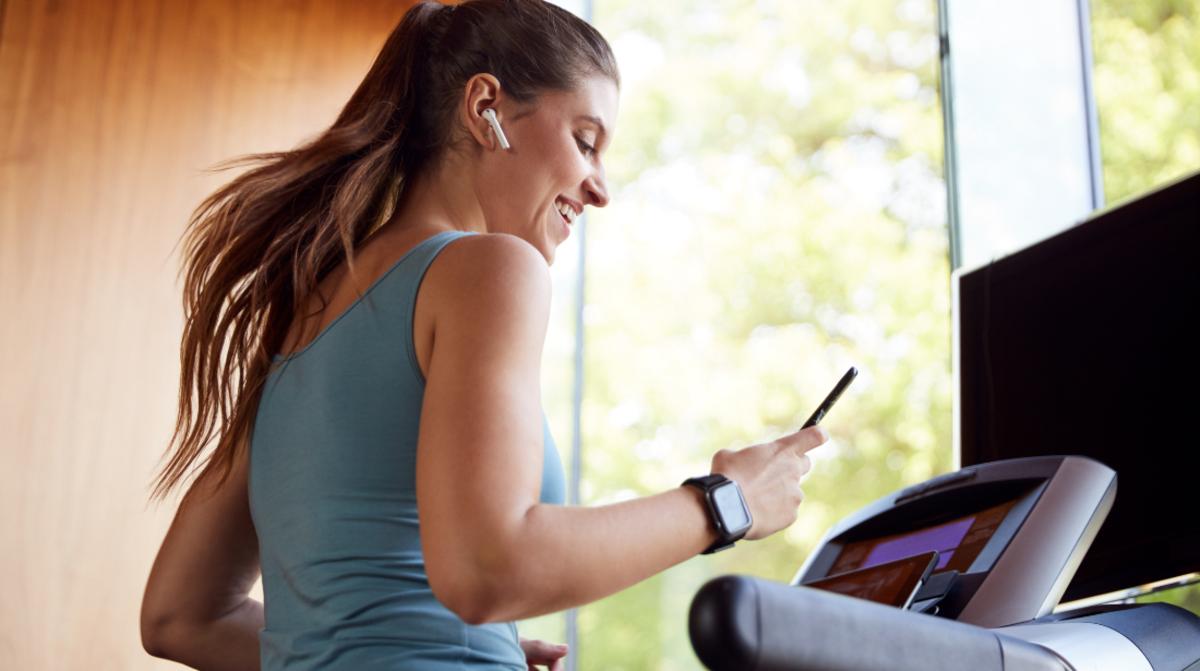 The Best Treadmill Apps to Make Indoor Workouts Fun – SI Showcase
The products featured in this article have been independently reviewed. When you buy something through the retail links on this page, we may earn commission at no cost to you, the reader. The Sports Illustrated editorial team is not involved in the creation of this content. Learn more here.
Most runners will agree that nothing beats the feeling of a good outdoor run. However, it's not always possible to run outside. Running on the treadmill can be a great alternative to running outdoors during inclement weather, when it's too dark out or when you need the convenience of being able to do a quick at-home workout or some cardio at the gym to supplement your strength training routine. One of the best ways to decrease the boredom and monotony of running on a treadmill, and have a more engaging workout is to use a treadmill running app. There are a variety of treadmill workout apps for running and walking, with different types of features, functions, price points and intended uses.
In this article, we share our picks for the best treadmill running apps, along with a comprehensive guide to how to choose the best treadmill running app for you, the types of running apps for the treadmill, why treadmill apps are beneficial, how to use them in your training and important factors to consider when selecting the best treadmill running app for you.
Our Picks for the Best Treadmill Apps of 2022:
Key info
Best for: Those looking for a fully customized training experience who prefer getting their workouts done on a treadmill
Price: $149/month
Ratings: 4.9 stars on iOS store
Phone compatibility: iPhone, iPad
Smart watch compatibility: Yes, compatible with Apple Watch
Additional gear required? No
When it comes to personalized, custom training plans, it's tough to beat the Future app. Future is designed to work for you, around your schedule and needs and even though it's not designated as a treadmill-only app, it's one of the best workout and training apps currently on the market. 
Future pairs you with a trainer who will design a fully custom workout regimen for you to follow based on your fitness level, goals and preferences. If you're looking to build your endurance while running and want to work on this goal by using a treadmill, your trainer will take that into account and adjust your plan accordingly. If you travel frequently and spend a lot of time in hotels, your Future trainer can scope out what types of treadmills your hotel has available in their gym and tweak your weekly workouts as needed. No other fitness app provides the depth of attention and customization that Future does which is why it earned our top spot on this list.
Each week, your Future trainer will send a new batch of workouts to your phone taking into account any injuries you may have in addition to the need for rest days as previously discussed with your trainer. You also have the option to intersperse your treadmill workouts with tons of different exercises that include but aren't limited to strength training, yoga, Pilates, body weight workouts and more.
If you're looking for an app that'll provide killer treadmill sessions along with a variety of other workouts, motivate you, hold you accountable to your fitness routine and provide access to expert trainers who can help you at every step of the way, Future may be the best fit for you.
Pros:
Fully customized plans mean you can tailor your workouts to your exact needs and preferences
Your trainer can easily adjust your regimen as you progress through each week
Your trainer can create workouts regardless of what model treadmill you're using
Cons:
Key info
Best for: Sunny Health & Fitness cardio equipment owners
Price: Free
Ratings: 4.3 stars on iOS store | 4.9 stars on Google Play
Phone compatibility: iPhone and Android smartphones, iPad and Android tablets
Smart watch compatibility: No
Additional gear required? Compatible with Sunny Health & FItness exercise equipment only
SunnyFit is a free fitness app designed to be used with any of the Sunny Health & Fitness cardio exercise equipment. Although you can use the workout app with a different brand of treadmill (or exercise bike or elliptical), the full functionality of the app is only available to those with the branded fitness equipment.
The SunnyFit app features over 400 free on-demand exercise videos led by expert trainers. In addition to having treadmill workouts, the app offers workout videos for equipment like indoor cycling bikes, rowing machines, elliptical trainers, dumbbells and kettlebells. The workouts include ones targeted to abs, bodyweight strength training, yoga, stretching and more. Over 150 of the on-demand workouts do not require any exercise equipment so you can easily supplement your home workouts on the treadmill with other bodyweight exercises for a more well-rounded fitness routine. In addition to guided treadmill workouts, such as HIIT workouts and distance runs, the SunnyFit app offers a "World Tour Mode" that offers scenic virtual video courses you can run, walk or cycle along to.
Users can also schedule workouts to increase consistency and engage with the SunnyFit community for motivation and support. You can plan your own workout schedule, picking workouts that appeal to you based on your workout preferences, fitness level, targeted muscle groups, workout intensity, workout duration and available exercise equipment. Alternatively, if you are a beginner and don't know how to create a training plan or workout schedule, or you would just like to take the time and energy out of the planning process, the SunnyFit app will recommend a workout program for you based on your preferences and available exercise equipment for gym or home workouts.
There are also individual and group challenges with a leaderboard to spark your competitive spirit and encourage pushing yourself or collaborating with others. There is definitely an emphasis on building community and harnessing the power of social support to improve exercise adherence and motivation. You can share your stats, achievements and before-and-after results with the SunnyFit in the app and "friend" other members like you can on Facebook and other social media sites. This allows you to send direct messages and engage in communication. You can invite your friends to join in on workouts and team challenges. The social support is great for people who like the concept of having virtual exercise buddies and you can tackle the same workouts simultaneously to cheer each other on.
If you own Sunny-branded exercise equipment, you can connect it to the SunnyFit to obtain real-time workout metrics, track your fitness progress and share workout achievements with others.
Pros:
Free
Great social support and community
Interface is easy to navigate
Lots of bodyweight workouts
Cons:
Limited functionality without a Sunny Health & Fitness treadmill or Sunny-branded fitness equipment
Less robust and high-tech than premium treadmill apps
Key info
Best for: Audio-guided running workouts
Price: Free
Ratings: 4.8 stars on iOS store | 4.2 stars on Google Play
Phone compatibility: iPhone and Android smartphones, iPad and Android tablets
Smart watch compatibility: Android Wear OS supported devices and Apple Watch
Additional gear required? No
Nike Run Club is a completely free running app that offers guided runs and detailed training plans. Although it doesn't necessarily have all of the flashy graphics and features of some premium running apps like Strava or Zwift, it does offer training plans, social leaderboards and running workout tracking all for free meaning there are no membership or subscription fees to deal with.
Certainly the best feature of the Nike Run Club app is the guided runs, which function much like a podcast. You select one at the start of your run and the coach will provide audio guidance through your run. There are a variety of guided runs to choose from, from challenging interval workouts to "mindful runs," which are recovery runs that have you tune in to your body. There are also instructional audio guided runs that provide tips for running in the cold or hot weather, among other common challenges that runners face in their training plans. You can even listen to runs guided by Olympians like Shalane Flanagan and Eliud Kipchoge.
The coaches are motivating and supportive, particularly with the guided runs for beginners. In addition to the guided run recordings, the Nike Run Club app has several in-depth training plans, geared towards different running goals. Beginners can get started with a run/walk approach, and you can train for your first 5K or even follow a training plan that will prepare you for a half marathon.
The app also allows you to set up a running goal, track your speed and distance as you run and see your workout history. You can turn on audio cues to be notified when you hit each kilometer or mile. If you use a compatible fitness tracker, the app also does heart rate monitoring and the elevation. One nice feature is that if you stop running— say to tie your shoe or to wait for a traffic light to turn—the app automatically pauses the run time so that your average pace isn't affected.
You'll also find your past jogs recorded in the activity section, with each session broken down into one kilometer time splits. The app even includes shoe tracking to help you remember when it's time to change your running shoes.
Some users note that the GPS signal can be somewhat glitchy and that the social leaderboard feature is relatively rudimentary compared to apps like Peloton and Strava. Still, Nike Running Club remains one of the best free running apps currently on the market.
Pros:
Guided treadmill runs and outdoor runs
Free training plans for different fitness levels and running goals
Running-focused app
Encouraging and instructional audio coaching
Cons:
GPS signal can be somewhat glitchy
No workout videos or classes
Key info
Best for: Owners of NordicTrack and ProForm treadmills, as well as runners looking for a comprehensive workout app
Price: Individual subscription is $15/month or $144 per year; iFIT Family subscription is $39/month or $396/year
Ratings: 4.6 stars on iOS store | 3.8 stars on Google Play
Phone compatibility: iPhone and Android smartphones, iPad and Android tablets
Additional gear required? No, but allows for interactive training with NordicTrack exercise equipment and ProForm cardio exercise machines
The iFIT app is one of the best alternatives to the Peloton Digital app in terms of offering a vast library of thousands of on-demand workout classes for all types of exercise, including treadmill running. Much in the way that the Peloton app enables interactive training if you own Peloton-branded cardio equipment, the iFIT app is designed to be compatible with NordicTrack and ProForm treadmills, ellipticals, exercise bikes and other cardio equipment.
When using iFIT-compatible exercise equipment, the machine will automatically adjust the resistance, speed and incline in accordance to the specifications of the instructor or the gradient of the virtual treadmill running course. With that said, even if you are using a different type of treadmill (or want to do any other kind of workout), you can use the iFIT app and follow all the same workouts. You will just need to control the speed and incline of the treadmill manually.
The iFIT App has all types of workouts, including treadmill running and walking, cardio workouts, indoor cycling workouts, rowing, outdoor running, strength training, HIIT, yoga, Pilates, abs, bodyweight training and meditation. One of the cool features is that the workouts are filmed in studios and outdoor locations all over the world, giving you tons of variety in the scenery that you will get to experience as you immerse yourself in the workout class.
Being able to sort and choose exercise classes from a large catalog of options will not only help you find classes that interest you and are suitable for your experience level, but will also mean that you don't necessarily need to repeat the same classes over and over due to a lack of options.
In addition to standalone workouts, there are a variety of different workout plans, ranging from a 7-minute daily workout to 30-day intensive workout programs geared towards different fitness goals such as weight loss, building endurance, running faster, increasing strength, building muscle or training for a race. There are also fitness challenges that you can participate in, performance monitoring to record your real-time workout metrics and history and world-class instructors leading workouts, including professional athletes and Olympians.
The app also offers the Global Training feature, which allows you to run or work out virtually in some of the most iconic destinations around the world, such as the actual Boston Marathon course, Central Park in New York City, the Alps or a Kenyan Elephant Safari.
You can connect your iFIT account with Apple Health, Garmin Connect, Google Fit and Strava, enabling you to keep track of all of your exercise in one place. New users can get a 30-day free trial.
Pros:
Thousands of workouts across different types of exercise
Expert coaches and personal trainers
Targeted training plans
Scenic runs and workouts filmed in global locations
Very positive user reviews
Cons:
Expensive
Requires NordicTrack or ProForm equipment for hands-free interactive training
Key info
Best for: Runners who want the feel of studio workout classes
Free Trial: 30-day free trial
Price: $12.99/month for Peloton Digital Subscription (non-Peloton treadmills and indoor cycling bikes); $44/month for Peloton All-Access Membership for the Peloton app when you do have the Peloton Tread or a Peloton Bike
Ratings: 4.9 stars on iOS store | 4.3 stars on Google Play
Phone compatibility: iPhone and Android smartphones, iPad and Android tablets, Apple TV, Android TV and Apple Watch
Smart watch compatibility: Apple Watch and Wear OS 3 smartwatches, including the Google Pixel Watch and Galaxy Watch4 and Watch5
Additional gear required? No
The Peloton app is one of the most popular fitness apps and is accessible even if you don't own Peloton-branded exercise equipment. You can download and use the Peloton app, gaining access to thousands of live and on-demand workout classes taught by the Peloton expert trainers. There are tons of treadmill workouts, ranging from beginner workouts with walking and running intervals, all the way up to advanced HIIT runs and long-distance marathon training workouts. There are even numerous running series or training plans, such as training for your first 5K or training for a marathon in the "Road to Your 26.2" program.
In addition to treadmill running workouts, the Peloton app offers tons of other types of workouts, including strength training, indoor cycling, outdoor running, bootcamp, boxing, incline walking, stretching, treadmill walking, yoga and guided meditations.
You can sort the library of on-demand exercises classes based on the length of the workout, your fitness level, the type of exercise (for example treadmill running, indoor cycling, bootcamp, HIIT, yoga, outdoor, boxing, Pilates or strength training), the exercise equipment required, the type of music and the instructor who will lead the workout class.
You can stream Peloton classes to your TV via the Apple TV app, or via AirPlay or Chromecast. For indoor runs, you can get metrics such as your pace and distance on the treadmill. If you have a Bluetooth-enabled cadence sensor or heart rate monitor, you can also view these workout metrics in real time on your app screen as you run on the treadmill. Plus, you can sync your workouts to the Apple Health app.
User reviews of Peloton Digital are overwhelmingly positive. Users rave about the world-class instructors, the awesome playlists that accompany each workout, the massive library of on-demand workout classes to choose from and the option for live classes every day.
There is a free 30-day trial for new members. Afterwards, Peloton Digital membership fees run $12.99 per month. However, if you own the Peloton Tread or Peloton Bike, you need to subscribe to the Peloton All-Access Membership, which is $44.99 per month. There is also the Peloton Guide, a newer device that can be used for interactive real-time feedback from your instructor during your workout.
Pros:
Thousands of on-demand and live workout classes
Targeted training programs
World-class instructors
Lots of app integration and technology features
Very positive user reviews
Cons:
Interactive training only available with Peloton cardio equipment
Key info
Best for: Audio guided workouts for treadmill running and 11 other activities
Free Trial: Seven-day free trial
Price: $14.99 per month or $99.99 per year
Ratings: 4.7 stars on iOS store | 4.0 stars on Google Play
Phone compatibility: iPhone and Android smartphones, iPad and Android tablets
Smart watch compatibility: No
Additional gear required? No
The Aaptiv app is more than just a treadmill running app. It's also a comprehensive workout app that offers a personalized approach to fitness. The app will tailor a training plan and specific workouts for you based on your current fitness level and primary fitness goal whether that be running faster, increasing endurance, losing weight or building muscle.
Although there are some video demonstrations of specific exercises in the app and some video workout classes, Aaptiv is primarily an audio-based workout app that features guided workout instructions from certified personal trainers layered over music.
One of the benefits of the Aaptiv fitness app is that the library of audio and video workout classes is extremely extensive. There are currently over 6,000 on-demand workouts across all the different types of exercise offered. Moreover, Aaptiv releases a minimum of 30 new classes per week to constantly refresh the workout library and prevent boredom in your fitness routine.
Aaptiv offers workout classes in 12 exercise categories, including treadmill running, outdoor running, strength training with weights, bodyweight strength training, elliptical machine, indoor cycling, stairclimber, stretching, yoga, pilates and guided meditations. There are also preset targeted training programs that you can enroll in for free with your subscription. For treadmill running, there are several race-based training programs to prepare you to run your first 5k, improve your current PR, train for a 10k etc. Within each exercise category offered in the app, there are workouts targeted for each fitness level: beginner, intermediate and advanced.
Treadmill workouts include everything from walk and run workouts for beginners to high-intensity interval training (HIIT) to help you run faster and burn more calories.
Aaptiv also features monthly challenges for members with various targeted goals including achieving a certain number of steps per day, a running or walking distance and active minutes to keep you engaged and motivated.
All Aaptiv coaches are certified personal trainers and expert fitness professionals who have not only the educational background in fitness but also personal experience as athletes themselves. Another plus? Aaptiv trainers offer modifications for beginners or those with injuries to make an exercise safer and easier to perform.
There are playlists with popular music tracks to help keep you energized and engaged that accompany the audio instruction (and during workout videos in the app). Another helpful feature is that you can download a workout class directly to your smartphone or tablet, so that you can stream it off-line if you do not have Wi-Fi or cell signal.
Aaptiv has a 7-day free trial. After that, you can purchase either a monthly or yearly subscription, both of which unlock all of the features of the app. The subscription fee is $14.99 per month or $99.99 per year, which is a 45 percent savings over the monthly fee. Both subscription plans auto-renew, so if you want to cancel your app subscription at any time, you need to do so at least 48 hours before the end of your current membership terms.
Pros:
12 different types of workouts
Over 6,000 on-demand workouts and more than 30 added per week
Workouts led by expert personal trainers and coaches
Can download workouts to listen to without wifi
Cons:
Fairly expensive subscription fees
Mostly audio workouts
Key info
Best for: Virtual courses to walk or run to
Price: $0.99 per 30-minute video download (which you get to keep)
Ratings: 4.6 stars on iOS store | 4.4 stars on Google Play
Phone compatibility: iPhone and Android smartphones, iPad and Android tablets
Smart watch compatibility: No
Additional gear required? No
The Treadmill Trails app is unique in the sense that it functions more like purchasing an HD video then a multi-functional treadmill app. Essentially, the app is a collection of high-quality 30-minute video streams you can watch while you walk or run on the treadmill (or use an exercise bike, elliptical machine, stair climber or other piece of cardio exercise equipment).
Treadmill Trails is designed to transport you out of the gym or your own living room treadmill to different parts of the world. You can stream your own music playlists or podcasts while you watch the footage in front of you of famous global destinations. There is minimal narration on some of the courses, allowing you to just tune in to whatever you prefer to listen to and allow your mind to wander as you take a trip around the world and explore a scenic route you may otherwise never get to experience.
Rather than paying a subscription fee to use the app, you pay $0.99 per trail course that you want to download and then you retain that video in your library in perpetuity, enabling you to return back to it whenever you want. Since there is no subscription plan, there isn't a free trial with this app. However, there is a free 30 minute sampler trail that you can test drive during a treadmill work out to see how you enjoy the experience.
Currently, the Treadmill Trails app has over 125 trails from destinations around the world, with new trails added every month. Examples include the Angels Landing Trail in Zion National Park, the Appalachian Trail, Peek-A-Boo Loop in Bryce Canyon, Big Sur along the California coast, numerous popular hiking trails on the different Hawaiian islands, Central Park in New York City and the Grand Canyon Rim-to-Rim Trail. There are also international hiking trails to enjoy, such as Alhambra Gardens in Spain, Mt. Kilimanjaro in Tanzania, Mont Blanc in the Alps and safari trails.
Pros:
More than 125 trails to choose from
You get to keep the video after you buy it
HD footage provides great escapism
Simple interface to navigate
Compatible with any treadmill or fitness equipment
Ability to listen to your own music, playlists or podcasts
Cons:
30-minute videos might be too short for some
No coaching provided
Price per video might add up if you want a lot of variety
Key info
Best for: Virtual running and cycling workouts, virtual group runs and virtual races
Free Trial: 14-day free trial
Price: $14.99
Ratings: 4.7 stars on iOS store | 4.2 stars on Google Play
App compatibility: iPhone and Android smartphones, iPad, Apple TV, Mac and PC
Smart watch compatibility: Garmin® Forerunner 945, Garmin® Forerunner 245 and Garmin® Forerunner 245 Music
Additional gear required? Yes. For the complete immersive Zwift experience, you'll want to use Zwift-compatible equipment like their smart treadmills, Bluetooth Low Energy (BLE) and ANT+ devices or the Zwift RunPod. For full functionality, you will need a compatible treadmill, a compatible footpod, compatible watch, smart shoes or treadmill sensor.
Zwift elevates treadmill runs to an entirely new level of fun and intensity. The popular indoor running and cycling app transforms your treadmill or exercise bike to a virtual training and racing world. You can join group runs, tackle immersive iconic courses and compete in races using a smart treadmill and/or Zwift RunPod. Zwift has many running training plans designed by world-class coaches for different running goals, race distances and experience levels. You can also create your own training plan or enjoy running workouts a la carte without following a particular training program.
The immersive virtual running courses that you can take on have video game-like graphics, and some feature more real to life courses like the famous London Marathon course or the streets of Chicago, and there are also futuristic and whimsical worlds, Mayan Ruins, underwater tunnels and other creative routes to explore as well.
The app features more than 1,000 structured indoor running and cycling workouts and training plans. When you log in each day, you can choose to do your phone treadmill running workout, or you can take part in a group run or race where there will be fellow Zwifters on the virtual course. One of the great things about Zwift is that it caters to all time zones, and there are users all around the world working out on the platform at any given time so you are never alone if you don't want to be. Plus, there are over 200 live events per day.
Zwift isn't just about having distracting virtual worlds to run in to bust the bottom of the treadmill. It is really a fitness app designed to help you become a better athlete and reach your running or cycling goals. There is a strong emphasis on performance metrics, and data collection during your workouts, so that you can track your progress over time and hone in on key areas of your fitness that need improvement (speed, endurance, strength or power).
Zwift offers a 14-day free trial and after that the subscription fee costs $14.99 per month. This running app is compatible with Apple iOS iPhones and iPads, Android phones and tablets and Mac and PC computers. If you're an Apple user, your workout data can be uploaded directly to Apple Health.
Pros:
Compatible with some smartwatches for treadmill workouts
Huge global community so there are always users logged in to virtually run with
Very immersive virtual training and racing
Targeted training plans to help you become a better runner
Fun avatar and video game interface
Cons:
Requires specialized gear or high-tech smart treadmills to take advantage of all of the functions and features of the app
Expensive subscription fee
How to Choose the Best Treadmill App for You
Choosing the best treadmill app involves considering several factors:
Workouts and features offered
The most important consideration when choosing the best treadmill app for you is the types of workouts and the style of workouts that the app offers. For example, are you mostly interested in guided workout videos with interval runs, scenic runs with virtual destinations, audio guided runs that will provide instructions while you listen to your own music playlists or podcasts or just basic metric capturing? Do you want access to detailed training plans? Lastly, are you only focused on an app for treadmill running or walking or do you want a multi-use fitness app that offers nearly all types of exercise? Think about your primary goals with the app to help you narrow down your search.
Necessary equipment
Of course, to use any treadmill app for running or walking, you will need a treadmill, but some require additional gear such as a foot pod or specific-branded treadmill to take advantage of all of the features of the app. For example, to enjoy hands-free interactive training with iFit, Peloton or SunnyFit, you will need specific types of treadmills.
You also need to consider the app compatibility with your smartphone or tablet, and if you use an Apple Watch and want the app to integrate with your watch, it's important to read the compatibility information before choosing a treadmill app. Ultimately, some, but very few, treadmill apps are compatible with smartwatches.
If you want to use the app for workouts off of your treadmill, you should consider whether you have the necessary exercise equipment, such as dumbbells, resistance bands, other cardio exercise equipment or a yoga mat. If you do not have access to a gym and plan to do only at-home workouts, you may either want to invest in some basic fitness gear essentials, like an exercise mat, resistance bands or a set of adjustable dumbbells. Otherwise, make sure the app has plenty of bodyweight workouts that require no equipment.
Coaching
Most of the best treadmill apps function like personal training apps in that they offer guided or coached workouts, led by certified personal trainers or running coaches. The quality of the trainers or coaches leading the workout matters as does their coaching style.
One of the benefits of choosing treadmill apps that have a very large platform, such as Peloton or iFIT, is that there are dozens of instructors in the lineup, allowing you to find trainers that you enjoy working with and who's instructional and motivational style suits your personality well. Some of the top running apps also have coaching offered by elite runners and Olympians such as Shalane Flanagan, giving you a unique opportunity to learn tips and training advice from the best of the best.
Taking advantage of the free trials offered by different fitness apps will help you get a sense of whether you jive with the personal trainers and can help give you a sense of what type of instruction you are looking for—positive words of encouragement, running form cues, no nonsense discipline or comprehensive instructional coaching each step of the run to improve your performance.
Additional app features and functions
As with any type of app, the features and functions of an app for treadmill running determine its value, usability and appropriateness for your fitness goals and needs.
Some basic treadmill apps offer just a rudimentary way to capture your workout data and upload it to Apple Health or some other third-party health app. There may be little in the way of guided workouts or training plans.
More comprehensive apps for treadmill running include audio or video workout classes, targeted training plans, running tips and advice. Many of the best treadmill apps are multi-purpose and function like general fitness apps or weight loss apps. These workout apps typically have a higher price point, but provide thousands of on-demand or even live workout classes or workout videos that you can stream from your own home or at the gym, and may have meal plans and recommended supplements for runners as well. A major advantage of these fitness apps is that you can use the one subscription fee for your treadmill runs as well as any off-the-treadmill workouts. Ultimately, this adds tons of value and can make the higher price point worth it. The more variety you can add into your fitness routine, in terms of the types of exercise you perform and the intensity level in which you move your body, the more well-rounded your fitness level will be.
Finally, some treadmill apps have additional features such as a workout planner where you can schedule in the classes you intend to do to increase accountability, training plans targeted to specific goals (running faster, increasing endurance, weight loss, building muscle, completing a marathon etc.), guided meditations, social support with active online communities where you can connect with other app users to share tips and achievements and technology-enhanced features that allow you to sync your workout metrics with other apps or use your Apple Watch, heart rate monitor or other device to provide additional data for your workout. You may be able to cast the workout video to your TV to better immerse yourself and watch the instructor as you move. There are also treadmill apps that allow you to use your own Spotify or Apple Music playlists and may even sync exercises to the music, as is the case with Peloton.
Depending on your experience level and the amount of guidance you are seeking with your training routine, these types of specialized features may be more or less important to you.
Cost
The cost for treadmill walking and running apps spans the gamut from completely free to premium treadmill apps with high monthly subscription fees.
In terms of the functionality and ease of use, you typically get what you pay for when it comes to treadmill running apps. Most of the free treadmill apps are quite simple, and may do little more than serve as a workout log where you record your metrics. Most free running apps will not have much in the way of on-demand workout classes that you can stream, training plans to follow, instructional guidance to help beginners learn proper running form or automatic uploading of your workout metrics. The best free treadmill apps may offer limited functionality in some of these areas, but free apps are usually ad sponsored, so you might have to deal with annoying pop-ups while you are trying to use the app during your run.
Premium apps for treadmill running and walking can have expensive ongoing subscription fees, but are still a good value, depending on how often you run on a treadmill and how serious you are about optimizing your training. Some of the best treadmill running apps are also worth it for runners and walkers who plan to buy a treadmill for their home gym and want a more engaging and motivating workout experience. Many of these apps also provide guided runs, which can help beginners improve their running form, and can be useful for experienced runners who won the benefit of coaching or having the guidance of a personal trainer at a much more affordable price point.
For example, if you buy a NordicTrack or ProForm treadmill for your home gym, investing in the iFIT subscription is an excellent way to maximize the enjoyment and effectiveness of using the exercise machine. All of the premium NordicTrack treadmills are iFIT-compatible, enabling interactive hands-free training. This means that you do not even need to adjust the speed or incline of your treadmill as you follow a guided workout or virtual destination run using Explore the World. Instead, the machine automatically changes the speed and incline in accordance to the instructor's specifications or the gradient of the course that you are following. You can also take advantage of training plans, recommended workouts and thousands of different types of live and on-demand running workout classes to follow, helping to optimize your training and better achieve your fitness goals.
In this way, while some of the best treadmill apps for running and walking are costly, when you consider the cost savings for using a treadmill in your home or garage gym rather than buying a gym membership or even just using a treadmill app at the gym instead of hiring a personal running coach, the app subscription fees can be well worth it.
Some top-of-the-line treadmill running apps offer both on-demand and live workout classes. If you like the extra motivation and accountability of being in a live class setting, it's often worth it to pay more for an app that offers this premium feature. Some also offer additional types of workout classes besides treadmill walking or running. If you want to have a more well-rounded fitness routine, choosing a workout app that not only will give you treadmill workout support, but also offers things like strength training, yoga, indoor cycling, HIIT, stretching and outdoor running workouts can be a good investment.
One helpful thing to keep in mind is that most premium treadmill running apps offer a free trial, which may be anywhere from a week to 30 days or so. The free trial period will allow you to test out how the app works with your treadmill and what the workouts are like. Take advantage of a free trial to familiarize yourself with the features and interface of the app to make sure it is a good fit for you. Especially if you are a beginner, or have never used a workout app for running on the treadmill, testing out a few treadmill apps will also help you get a better sense of what sorts of features and functions are most important to you, which can ultimately help narrow down your search and help you choose the best treadmill app.
How We Chose the Best Treadmill Apps on this List
We focused on what sort of support certain apps offered — whether guided workout videos or audio instruction, virtual training, detailed training plans or just treadmill running metrics. We considered the intended audience for the app — beginners, advanced runners, people looking for just running workouts vs. a well-rounded fitness routine that included treadmill runs — to ensure that it was one of the best treadmill apps overall or we otherwise noted who the app would be best suited for. Within that framework, we considered the range of running and walking workouts provided, the quality of the coaches, the necessary gear or technology, app compatibility, the other features of the app such as weight loss support or fitness tips and user reviews. Our goal was to find the best treadmill apps that fit different common niches, such as the need for a good free treadmill app, multipurpose workout apps and treadmill apps for walking.
Finally, we considered the cost of the app and weighed the price and subscription fees relative to the functions provided by the app to assess whether the app was a good value.
Treadmill App FAQs
How do you track running on a treadmill?
Unlike running outside, where you can use a GPS running watch to track your running distance and speed, tracking indoor runs isn't as straightforward. Some premium GPS running watches, such as the higher-end models in the Garmin Forerunner series, and the best fitness trackers do have the ability to track treadmill running. Otherwise, you will need a foot pod that is compatible with your running watch, or a treadmill running app that can connect to the treadmill via Bluetooth or other form of direct connection. For example, NordicTrack treadmills stream the iFIT workouts, and your real-time treadmill running metrics are automatically garnered by the app.
Does my phone know when I'm walking on a treadmill?
Most smartphones have an accelerometer built into the device that can detect when you are walking on a treadmill. You can see your approximate distance and step count in built-in apps, such as Apple Health, or download a specific treadmill walking or running app to capture your treadmill exercise.
What running apps work for a treadmill?
There are dozens of running apps that work for a treadmill. Choosing the best treadmill running app depends on the features and functions that matter most to you, such as recording your real-time workout stats, a large library of on-demand workout videos, the ability to play podcasts or your own music or Spotify or Apple Music playlists, a leaderboard, training plans etc. You may also need to consider the compatibility with your phone and/or smartwatch
Do I need to buy extra gear to track my treadmill runs and metrics?
While some apps, like Zwift, may require additional gear such as a treadmill sensor or the Zwift Runpod, not all treadmill running apps do. The accuracy of some basic treadmill running apps may not be as good as GPS data captured during outdoor running, but for most runners, the data capture for indoor runs is sufficient. For example, with the popular app Zombies, Run!, the app uses GPS for outdoor running but can be used via the Simulate Running mode for indoor runs with no extra gear, but uses an accelerometer rather than GPS to capture running metrics. This will likely be less accurate than outdoor GPS run tracking.
Final Thoughts
There are tons of treadmill apps for indoor running and walking to choose from. Some are very basic and just record your workout metrics while others provide expert-led audio or video workouts, training plans and different types of exercise and styles of workouts aside from indoor running. Choosing the best treadmill apps involves considering your fitness level, the type of running support you are looking for (live or on-demand workout classes, workout tracking, motivation, social support etc.), your available exercise gear and technology and your budget. Trying premium apps with free trials can help you get a sense of whether the app is a good fit for you, and free treadmill apps are a good budget-friendly place to get started.
Prices are accurate and items in stock as of publish time.