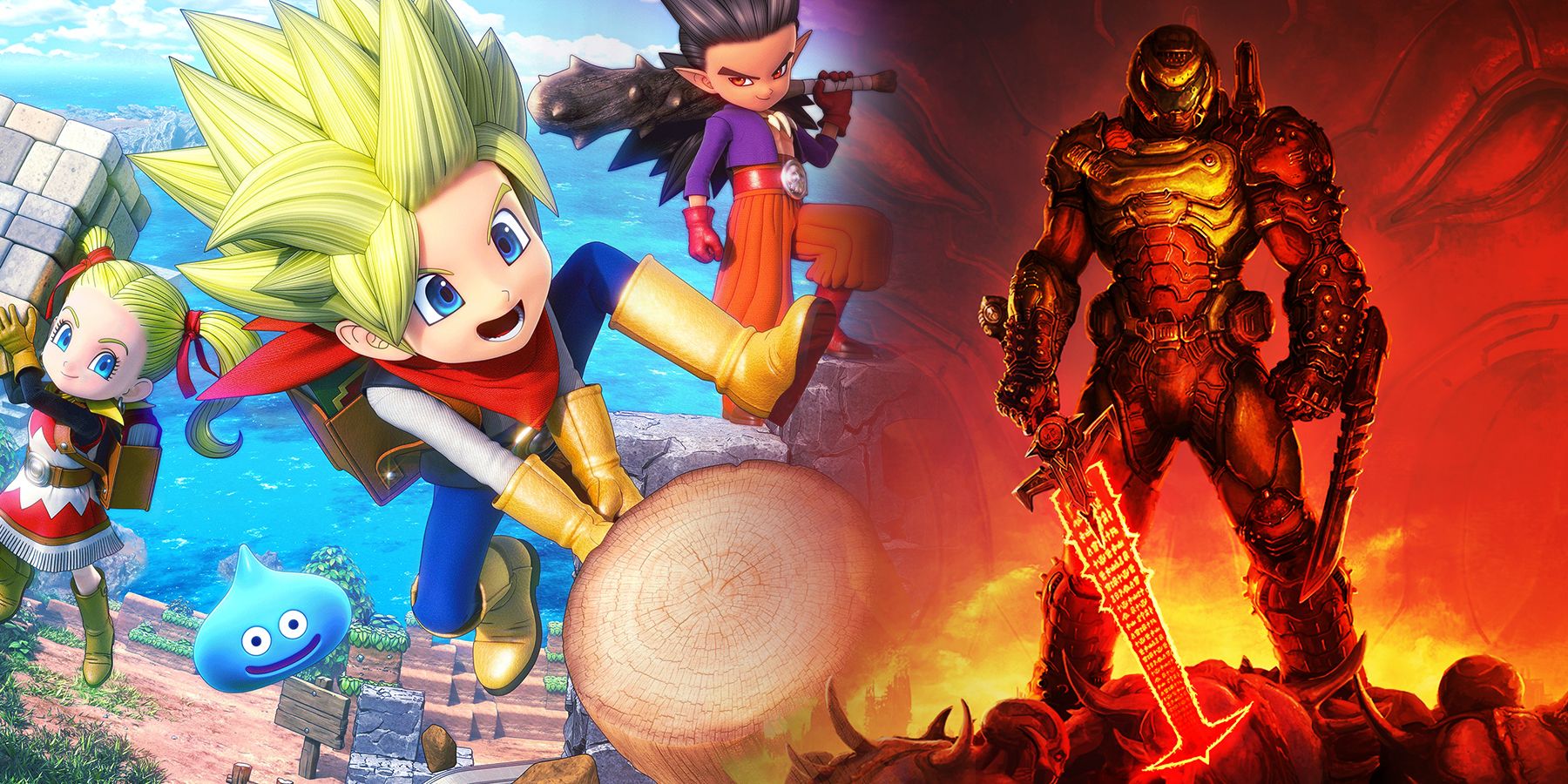 The Best Multiplayer Games on Xbox Game Pass (April 2023)
The Xbox Game Pass continues to establish its dominance in the video game subscription service world. Thanks to its impressive library of games and its commitment to providing launch releases, Game Pass has dragged the gaming industry into the digital age whether they were ready or not. Since then, competitors have looked to pull players away with their own fantastic offerings.
RELATED: 10 Xbox Games With The Best DLC
Game Pass is perfect for all players, especially those who revel in multiplayer gaming. Game Pass has plenty of games to fit any player's multiplayer needs, whether it's local/couch co-op, online co-op, MMOs, or competitive experiences. It's tough to find a weak game in Game Pass' catalog as it's full of award-winning multiplayer games. As Microsoft puts it, players can easily find their "next favorite game" with Game Pass.
Updated on March 27th, 2023, by Michael Colwander: Xbox Game Pass is easily one of the best bang-for-your-buck purchases in gaming. Game Pass has an amazing selection of multiplayer games that are sure to be the perfect way to spend time with friends near or far.
20
Age Of Empires II: Definitive Edition
Online Co-Op (2-7 Players) & Online Competitive (2-8 Players)
Age of Empires II is one of the first games players think of when the topic of real-time strategy games comes up. The historical empire-building Age of Empires II has long been a staple of school and home computers for over 20 years.
Age of Empires II: Definitive Edition was originally released for PC in 2019 to celebrate its 20-year anniversary. Four years later, the Definitive Edition is now available on Xbox One and Series X|S. Definitive Edition boasts 4K visuals, the ability to switch enemy A.I. between versions, all of the original Age of Empires II and Age of Empires II: HD Edition expansions, the ability to play with a mouse and keyboard, and a new co-op campaign mode.
19
GoldenEye 007
Local Multiplayer (2-4 Players)
Few multiplayer games can invoke a surge of nostalgia like GoldenEye 007. GoldenEye 007 was the console multiplayer game of the 1990s. Any player who enjoyed GoldenEye 007's multiplayer will probably have many stories, whether it was an intense round or debates about how overpowered Oddjob was and still is.
GoldenEye 007 was the proof concept for first-person shooters having a place on console, which opened the door for another multiplayer phenomenon in Halo. GoldenEye 007 on Game Pass doesn't feature any means to play online like its Nintendo Switch counterpart. It does feature an alternate control scheme and support for 4K resolution, which makes screen-watching that much easier.
18
No Man's Sky
Online Co-Op (2-4 Players) & Online Multiplayer (2-4 Players)
No Man's Sky has become the gift that keeps on giving. Long gone are the days when anything and everything about No Man's Sky was excessively mocked. Hello Games has gone above and beyond the initial pre-release promises made and created a one-of-a-kind experience well worth playing.
Hello Games added co-op and multiplayer to No Man's Sky in its 2016 No Man's Sky NEXT update. Players can now explore and build bases with squads of up to four players, making No Man's Sky one of the most engaging multiplayer experiences ever produced. No Man's Sky also has PVP, which is entirely optional as players can keep that option off.
17
Monster Hunter Rise
Online Co-Op (2-4 Players) & Online Multiplayer (2-4 Players)
After a year of exclusivity, Capcom's latest entry in their hit Monster Hunter franchise, Monster Hunter Rise, is out on Xbox One and Xbox Series X|S. Not only that, but it's available on Game Pass allowing players to team up to slay strong creatures.
RELATED: 10 Games Xbox Fans Can Look Forward To In 2023
Monster Hunter Rise allows players to play with anyone regardless of their system of choice thanks to crossplay, which alone makes Monster Hunter Rise an easy choice for a multiplayer game on Game Pass. Monster Hunter Rise features both PvP and co-op play, so there's something for everyone.
16
Teenage Mutant Ninja Turtles: Shredder's Revenge
Local Co-Op (2-6 Players) & Online Co-Op (2-6 Players)
Teenage Mutant Ninja Turtles: Shredder's Revenge is a love letter to the past. Not only is it inspired by the classic side-scrolling beat 'em up Teenage Mutant Ninja Turtles: Turtles in Time, but Shredder's Revenge nails the aesthetic of the 1987 Teenage Mutant Ninja Turtles animated series. To make it even better, the voice actors from that animated series reprise their roles.
Arcade beat 'em ups are always a fun option for a couch co-op game. Players don't have to worry about split screens or having to wait for someone to catch up. There's just a bunch of enemies to take out together, and few modern beat 'em ups come close to being as fun doing that as Shredder's Revenge.
15
Deathloop
Invading other player's games
Deathloop was one of the best surprises of 2022. Arkane Studios' thrilling time loop game stars Colt, a man who is tasked with assassinating the eight Visionaries on Blackreef island by midnight. Failing will cause Colt to start from the beginning, tasking players to study enemy movements and plot out their strategy.
On the opposing side is Julianna, who attempts to prevent Colt from succeeding. Typically, Julianna is a CPU enemy. However, players have the option to allow other players to invade their game and play as Julianna, which sharply increases the intensity of a run. This option can be set to only friends being allowed to join.
14
Gang Beasts
Local Co-Op and Multiplayer (2-4 Players) & Online Co-Op and Multiplayer (2-8 Players)
Some of the most memorable multiplayer games don't involve shooting or exploring. They involve a silly premise and hilarious gameplay. Gang Beasts is full of laughs as its characters flop around each stage.
RELATED: Best Single Player Games On Xbox Game Pass, Ranked
Gang Beasts is a beat 'em up game where players strive to be the last character standing. Different environments and obstacles fill each stage, making survival every bit as fun and complex as it looks. While Gang Beasts may be at its most fun locally, its online multiplayer ramps up the fun with even more players on the screen at once.
13
Sunset Overdrive
Online Co-Op (2-8 Players) & Online Multiplayer (2-8 Players)
Sunset Overdrive was one of the first major exclusives for the Xbox One when it was released in 2014. Sunset Overdrive comes from the creative minds at Insomniac Games, best known for the Ratchet & Clank series and the fantastic Marvel's Spider-Man series.
While Insomniac has since rejoined Sony, Sunset Overdrive is still exclusive to Xbox. Its colorful, explosive, and high-octane gameplay might remind new players of the Xbox's recent hit Hi-Fi Rush. Unlike Hi-Fi Rush, Sunset Overdrive includes both online co-op and competitive multiplayer that's every bit as fun as the single-player.
12
Wo Long: The Fallen Dynasty
Online Co-Op (2-3 Players) & Invading other people's games (2-5 Players)
Wo Long: The Fallen Dynasty is the latest Soulslike game from Team Ninja, the makers of Dead or Alive, the modern Ninja Gaiden games, and Nioh. Wo Long is one of the early hit games of 2023 and tells a dark, fantastical take on the classic Three Kingdoms historical period.
Wo Long features a co-op mode where players can team up to defeat difficult bosses. It also features a multiplayer mode similar to the Dark Souls series where enemies can call on players to invade, making a tough game even more difficult.
11
The Halo Series
Online Multiplayer for every game, Co-Op and Local modes vary
Halo and split-screen co-op go well together like peanut butter and jelly. Many sleepless nights have been spent frantically fighting through hoards of Covenant, all while trying to keep the noise down so as to not wake anyone up. It's those experiences that fueled the backlash 343 Industries have received for not including split-screen co-op in its recent two Halo entries.
RELATED: Every Halo Game, Ranked According To Metacritic
Thankfully, Halo: The Master Chief Collection is full of local co-op-enabled Halo goodness. Each Halo game in The Master Chief Collection, from Halo: Combat Evolved to Halo 4, is playable in co-op. While it's not local co-op in Halo 5: Guardians or Halo: Infinite, there are still plenty more sleepless nights to be had. Beyond co-op, the Halo series features a top-of-the-genre competitive experience that has defined and influenced online multiplayer for decades. Not to mention games like the Halo Wars sub-series that provide a refreshing change of pace from first-person shooting.
10
Back 4 Blood
Online Co-Op (2-4 Players) & Online Multiplayer (2-8 Players)
Left 4 Dead was an extremely popular co-op series in the late 2000s and early 2010s. Up to four players can team up to fight hoards of increasingly strong undead enemies. However, due to Valve's hesitations with releasing third entries in their popular franchises, a Left 4 Dead 3 is still missing in action.
Thankfully, a spiritual successor in Back 4 Blood was released in 2021 and carries over many of the hallmarks that made Left 4 Dead beloved while adding its own flavor. Back 4 Blood was an immediate hit and has since seen two expansions with the most recent release in August 2022. Back 4 Blood is a great game for those looking to team up and work together with numerous friends, although the lack of split-screen co-op may disappoint some.
9
Doom Eternal
Online Multiplayer (2-4 Players) & ability to Invade a player's solo campaign
Add Doom to the long list of classic video game series that has successfully been rebooted. 2016's Doom was a huge hit and completely revitalized a previously dormant franchise. Doom Eternal, set after the events of Doom (2016), amps things up to eleven with even more thrilling arcade shooting gameplay.
Doom Eternal smoothly translates its frantic gameplay to the multiplayer realm featuring the recently added Horde Mode as well as the 1v2 Battlemode. Doom Eternal also lets players invade another player's single-player campaign by taking on the role of demons with the sole purpose of killing the opposing player's Doom Slayer.
8
Star Wars Battlefront II
Local Multiplayer (2 Players) & Online Multiplayer (8-40 Players)
Star Wars Battlefront II may forever live in infamy, but the improvements it's made should not be overlooked. Long gone is the heavy grinding for characters. Players can now achieve a "sense of pride and accomplishment" on the battlefield without having to worry much about the amount of effort it takes to unlock content.
Even when Battlefront II was at the peak of its controversy, it wasn't due to the gameplay itself. Battlefront II's gameplay mechanics were always enjoyable. Now that enough time has passed, and plenty of updates have been made, Battlefront II may be worth a second chance for those who were initially put off by EA's monetization practices. Since Battlefront II is on Game Pass, players can give it a shot without spending a dime.
7
Sea Of Thieves
Online Co-Op (2-4 Players in a Crew)
There are plenty of video games that give players a pirate experience. Sailing the high seas and plundering for treasure! However, few games allow players to go on a swashbuckling adventure with their friends. That is, until Rare's Sea of Thieves.
RELATED: 14 Best Pirate-Themed Video Games, Ranked
Sea of Thieves is a service-based game that continues to develop and grow its open-world online experience. Players setting sail today will have a treasure trove of content to experience with friends old and new. Sea of Thieves has developed into a wonderful game despite its underwhelming beginnings and is well worth experiencing in 2023, whether alone or with a Crew of up to four players.
6
Guilty Gear Strive
Local Multiplayer (2 Players) & Online Multiplayer (2-9 Players)
The fighting genre boasts some of the most intense multiplayer experiences. For those interested in stepping away from the likes of Street FIghter, Tekken, and Mortal Kombat, look no further than Guilty Gear Strive.
Guilty Gear Strive is the latest installment in the long-running Guilty Gear franchise and is helmed by the masterful developers at Arc System Works, who are known for other anime fighting games such as Dragon Ball FighterZ and Granblue Fantasy Versus. Guilty Gear Strive features high-octane gameplay and some of the most gorgeous visuals in a fighting game.
5
Gears 5
Local Co-op (2-3 Players), Online Co-Op (2-5 Players), & Online Multiplayer (2-10 Players)
The Gears series keep turning with another stellar entry in Gears 5. Released in 2019, Gears 5 is the first entry to exclude "of War" in its naming, perhaps in part to avoid confusion with another "GoW" in the recently soft-rebooted God of War. Despite the cleaner name, Gears 5 is still the same tightly controlled cover-based third-person shooter as before.
Gears 5 features a variety of co-op and competitive multiplayer modes ranging from classic PvP to the Gears series' famed Horde Mode. Thankfully, some of those co-op modes are available locally, which feels like a rarity in 2023. Gears 5's catalog of game modes means there's something for everyone, especially those eagerly awaiting news on Gears 6.
4
Dragon Quest Builders 2
Online Multiplayer (2-4 Players)
With how popular Minecraft has been, especially with younger and casual players, it was a no-brainer for Square Enix to make a similar game based on their popular Dragon Quest series. Although the first Dragon Quest Builders isn't available on Xbox Game Pass, its sequel, Dragon Quest Builders 2, is.
While the first Builders is set in the world of the original Dragon Quest, Builders 2 is set in the world of Dragon Quest II. Players, alone or with multiple friends, can travel to different islands to build the world around and stop the Children of Hargon, who seek a world without creation.
3
Forza Horizon 5
Online Co-Op (2-12 Players in a Convoy) & Online Multiplayer (2-50 Players)
Racing games and multiplayer go hand-in-hand. It's why Mario Kart has continued to be a huge success over 30 years later. It's not just Nintendo players get in on the fun as Microsoft's Forza series has dominated the non-kart racing genre for years.
RELATED: 15 Best Multiplayer Free To Play Games
Forza Horizon 5 is a massive game, which could explain why it doesn't have a split-screen multiplayer. Players can remain online at all times and interact and race other players at will. Players can explore together, compete in challenges and events, team up in co-op, or play different multiplayer modes such as the battle royale mode The Eliminator.
2
MLB The Show 23
Local Co-op (2-4 Players), Local Multiplayer (2-4 Players), Online Multiplayer (2-8 Players)
The walls have been cracking on console exclusivity as hit first-party exclusives have made their way to other consoles and PC. The MLB The Show franchise is one such series. For years, Sony developed the only MLB simulator after 2K bowed out from the sport. This left baseball fans on Xbox without a baseball sim to play on their console of choice.
After Sony renewed their MLB license, they started bringing MLB The Show elsewhere starting with MLB The Show 22. MLB The Show 22 was a day-one addition to Game Pass with MLB The Show 23 following suit, replacing its predecessor. The MLB The Show series is one of the best yearly sports franchises and is filled to the brim with modes and exciting ways to play America's pastime.
MMORPG
With Microsoft's acquisition of Bethesda Softworks, Game Pass is full of Bethesda titles from Fallout to The Elder Scrolls. While players eagerly await The Elder Scrolls VI, they can explore the continent of Tamriel with their friends in The Elder Scrolls Online.
ESO takes place hundreds, if not thousands of years, before beloved TES titles such as Skyrim, giving Tamriel a clean slate for players to leave their mark whether alone or with friends. Players can subscribe to an "ESO Plus membership," which provides access to content, deals, and extra materials. However, the bulk of ESO can be played for no extra charge.
NEXT: 15 Multiplayer-Focused Games That Are Still Fun To Play Solo