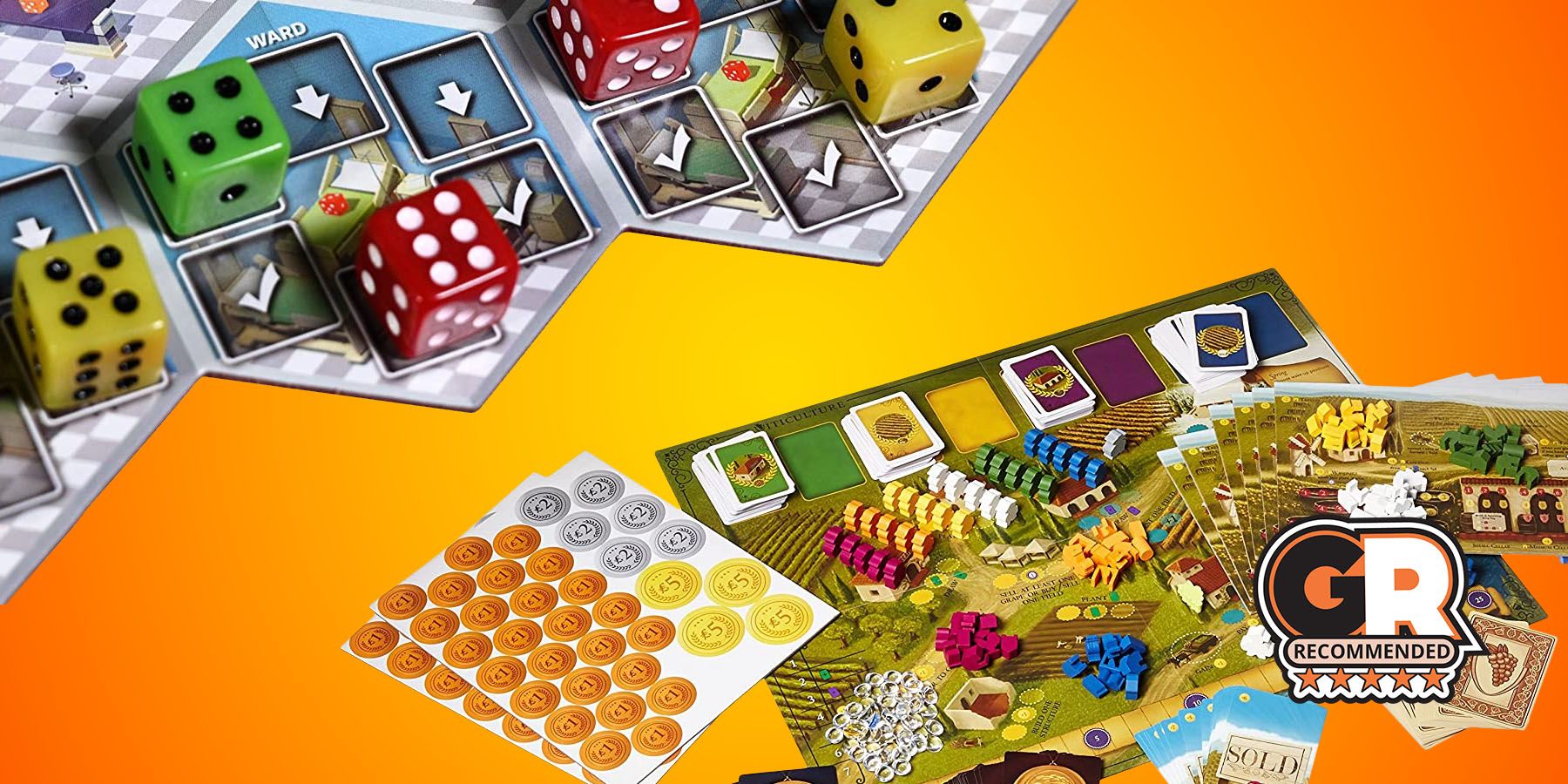 The Best Games Like Wingspan
Wingspan is undoubtedly one of the top board games to come out in recent years. It's spawned the career of an awesome designer, pulled enough weight to justify multiple expansions, and has found its way into the Las Vegas World Series of Board Games. It's a lot of content to take in, but players still want more. And what do we do when we want more of something? We find things like it.
Wingspan's charm comes from its varied game mechanics, delightful theme, and "heavy" feel. Each turn, different actions can be taken to interact with the game's different mechanics. These include card collection, dice rolling, and resource collection/management which have a delicate bit of interplay during the game. There's also a warm, inviting nature theme that will draw in players of all ages and types, yet the game still feels heavy and thought-filled. Expect to see some or all of these elements appear in the games below.
5
Everdell
Everdell
Everdell is a delightful game of resource acquisition in a Redwall-esque world. Grab what you need to bring a delightful cast of characters and buildings together to make a delightful settlement.
Age Recommendation

14+

Game Duration

40-80 Minutes

Brand

Starling Games

Number of Players

1-4

Designer

James A. Wilson
Pros
Delightful Cast of Animal Characters
Familiar Resource Acquisition
Turns Build Up in Complexity
Cute Meeples and Visuals
If you're addicted to collecting different types of birds in Wingspan, Everdell's varied animal workers and locations will get you excited pretty fast. Via worker-placement mechanics, you'll be able to collect resources to use to build constructions and entice denizens to join your woodland village. Much like Wingspan's actions phase — which gets more complex as you collect more birds — you'll have more to do as your tableau fills with cards. Additionally, resources will become easier to collect.
Everdell's aesthetic is incredibly charming. It feels like Redwall got genetically crossed with Stardew Valley. This is evidenced everywhere, from the animal-shaped meeple workers to the towering tree that parallels Winspan's food tray to some degree. There are also just as many expansions for Everdell as there are for Wingspan, with a ton of new adventures to encounter if you want to continue to explore the woodland world. Unfortunately, this means that the game elements can suffer from a bit of table sprawl. But, the game is worth a try, so clear off your kitchen table or nab a spot on the floor and get gaming.
4
Parks
PARKS
Parks takes you throw the United States' National Park system in a fun and delightful hike full of twists and adventure. Filled with familiar artwork from the Fifty-Nine Parks Print Series, the game is artistically beautiful and an art piece in its own right.
Age Recommendation

10+

Game Duration

40-70 Minutes

Brand

Keymaster Games

Number of Players

1-5

Designer

Henry Audobon
Pros
Gorgeous National Parks Artwork
Competitive Resource Acquisition
Immersive Theme
Cons
Less "Heavy" (Suitable for younger players)
When a player jumps into Parks for the first time, it's almost like they are jumping directly into one of America's national parks. Much of the game's artwork is taken from the now iconic Fifty-Nine Parks Print Series and brings the same level of familiarity with our national parks as Wingspan does with our species of birds. In the game, players take turns moving along a trail to collect resources needed to visit iconic parks. Depending on what gear you pick up, different parts of your journey can become easier.
Related: Board Games That Have Gorgeous Boards
Where Parks takes a left turn from Wingspan is the more direct competition for resources that you'll face along the way. Sometimes, in Wingspan, players might feel the food available or birds available are just what happens to be there — it isn't necessarily a game of "keep away" from the leader — but in Parks each move has to be weighed against your opponent's needs and wishes. Despite this, the game's theme of being a friendly hike in the woods is something you'll likely feel yourself being totally immersed in. The changing landscape, reactive weather, and bonfire system keep the elements of nature close at hand during every moment.
3
Viticulture
Viticulture — Essential Edition
Viticulture is a game about making (and selling) wine by taking advantage of your network of workers, local experts, and on-site vineyard construction. Complete big orders for big clients to come out as the best vineyard and to win the game.
Age Recommendation

13+

Game Duration

45-90 Minutes

Brand

Stonemaier Games

Number of Players

1-6

Designer

Jamey Stegmaier and Alan Stone
Pros
Clearly Segmented Game Sections
Individualized Cards
Educational About Winemaking and Vineyards
From Same Publisher as Wingspan
Cons
Winemaking Theme Not Appropriate For All
If Hundred Days wasn't enough winemaking for you, try Viticulture, a board game like Wingspan but with a focus on vineyards. Hailing from the same publisher as Wingspan, Stonemaier Games, Viticulture has players take on the role of beginning wine sellers. With phases that match the seasons of the year each having different actions, players will be reminded of Wingspan's collect food, lay eggs, and draw cards mechanics. While you will inevitably participate in each season (and, therefore, grape growing, wine making, wine aging, and order fulfilling) the level to which you do so each season will be determined by your strategies and the cards that present themselves.
And it is these cards that bring some of the most Wingspan-like moments to the game. With each card representing a unique specialist, you'll get to meet as many players/roles in the wine world as you already have the birds of the natural world. Expect to learn new terms and — if you're particularly interested — learn a bit more about this favorite type of alcohol as you proceed. Of course, this very theme might be the only possible detractor to an otherwise tight game. Some parents (rightfully) won't want their children exposed to favorable depictions of alcohol and the industry. Game responsibly!
2
Dice Hospital
Dice Hospital
In Dice Hospital, players manage a hospital's staff, build constructions, and (most importantly) take care of dice… err, patients. The game is played in 8 rounds that can go quickly once you get the hang of it.
Age Recommendation

10+

Game Duration

45-90 Minutes

Brand

Alley Cat Games

Number of Players

1-4

Designer

Stanislav Kordonskiy and Mike Nudd
Pros
Dice Play Reminiscent of 'Gather Food' Action
Quicker Games Once Mechanics Are Understood
Individual Moments
One of the fundamental aspects of Wingspan is developing your board. Completing your objectives. Sure, you might need to pick up some fruit or a rodent before your opponent does, but there is a sense of satisfaction in your own progress above all else. At the same time, there is a sense of the need to be consistently vigilant of others to keep up with their plans. Dice Hospital takes this "selfish" approach and mixes it up with competition quite well. Players take turns drafting patients and expansions/workers for their hospital — sometimes in a cutthroat fashion — and then are relieved to take on the operations of their own hospitals on their own time. When you need to pay attention to others and when you can become absorbed with your personal objectives is very obvious.
Dice Hospital is played in 8 rounds like this; draft, develop, administrate. While none of these are exactly simple average players can get used to them. Wingspan will always have 26 turns per player and an initial draw phase, no level of knowledge of the game can shorten it appropriately. Dice Hospital maintains complexity but can shave off the extra time after several playthroughs. If the players around the table are confident in the rules (and their foes' trustworthiness) the administration phases can be played synchronously, speeding up play but making it no less tight or intense. What might disappoint Wingspan fans? There's no nature! Best to play with your Two Point Hospital loving, House and Scrubs fan friends.
1
Ark Nova
Ark Nova
$62.99 $74.95 Save $11.96
Ark Nova puts players in the role of conservationists and activists, sworn to save wildlife and environment. Each turn players choose different types of actions to improve their own sanctuary. By carefully planning and waiting, unused move types become more powerful.
Age Recommendation

14+

Game Duration

90-150 Minutes

Brand

Feuerland

Number of Players

1-4

Designer

Mathias Wigge
Pros
Many Types of Moves
Delightful Animal/Nature Theme
Intense Planning Required
Board Gamer Approval
Ark Nova has a reputation among those in the know in the board game scene, without having quite pulled the popular name recognition of games like Catan. Is it deserved and does it meet the needs of players who want games like Wingspan? Absolutely. Much like Wingspan, players' turns are broken up into different styles of actions that help them interact with animals. Where Wingspan has you "charge up" environments with increasing amounts of birds to make the corresponding move type more powerful, Ark Nova makes you wait. By not doing a certain type of action it becomes stronger. The result is a game that requires the same level of intense planning (and a touch of luck) that Wingspan does.
Related: Games About Saving The Environment
The nature conservancy aspects of Ark Nova will undoubtedly bring the same crowd that enjoys Wingspan. However, where part of Wingspan's charm is its stylish art, Ark Nova relies on pictures. While this is fantastic and provides an educational glimpse of the animals, it can fall flat with images of people, who often look familiar, as if they leapt straight out of Pexels rather than were selected specifically for the game. Still, this is a stylistic issue only, that some adore and others dislike.
FAQ
Q: Is Wingspan similar to Everdell?
Wingspan and Everdell are similar on many fronts in that they both involve resource collection, involve creating a tableau of collected cards, and have a natural environment. Wingspan focuses more on natural realism thematically while Everdell's gameplay hints at an epic story lurking in every corner.
Q: Is Wingspan skill based?
Wingspan is a highly skill based game. While there are luck elements, they can usually be worked around or have only a minor effect on gameplay. For example, some birds allow the player to roll the feed dice not currently in play and gain some bonus based on the results. When skilled players have these birds in their tableau, they can calculate whether to use the bird based on how many dice are available to roll each turn. Highly skilled Wingspan players will nearly always beat low-skill players due to their ability to reason and use long-term planning.