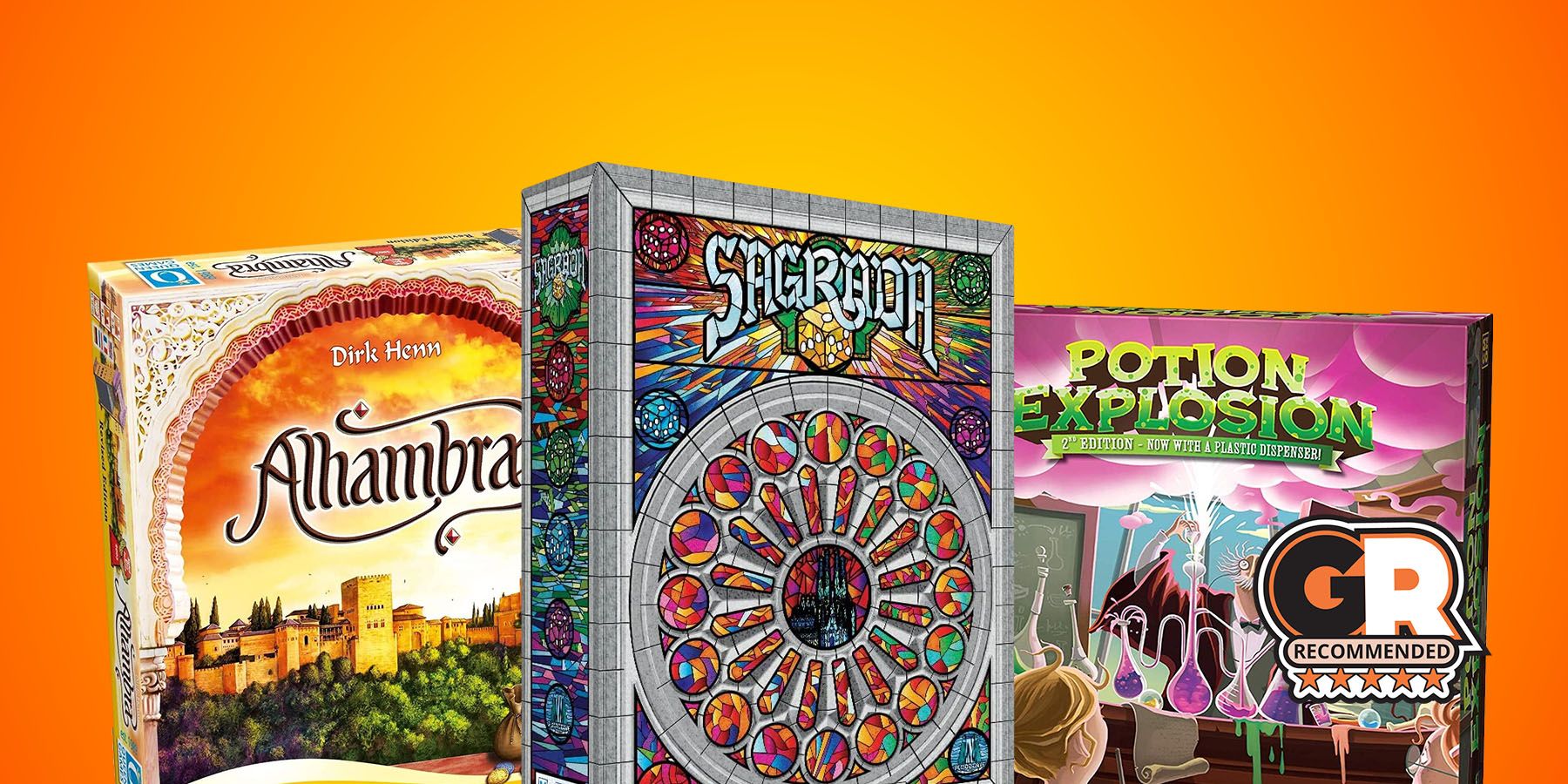 Topping charts due to its combination of depth, simplicity, and balance, Azul is a delightful tile collection game. Each turn players grab tiles from factories or a central pool, collecting all of a single type, and fill their boards with them. Filling rows with exactly one, two, three, four, or five tiles (depending on the row) will allow the player to begin to score points. Overfilling, on the other hand, causes players to lose points.
This tension and complexity not only make Azul one of the best board games, but also a game you can play again and again. For some, though, there is a desire for more. So, what games should the verified Azul addict play? Here are some top suggestions for people looking to scratch that Azul itch in a slightly different way.
5
Splendor
Splendor (Base Game)
Splendor takes players on a quest to mine the best jewels of the world and please wealthy clients. Each turn players are able to collect gems directly or invest in and select mines to add to their power. As those who have own mines don't need to do the mining to collect gems, players are able to do increasingly more on each subsequent turn in the game.
Age Recommendation

10+

Game Duration

~30 Minutes

Brand

Space Cowboys

Number of Players

2-4

Designer

Marc Andre
Pros
Collect Gems in Groups
Gain Power Over Time
Satisfying Game Length
Cons
Low Penalty for Over-Collecting
Splendor is another game with relatively simple rules and an emphasis on collecting pretty things. Renowned as an entry-level Eurogame, Splendor won't take too long to figure out and play times can get well under the 30-minute mark once all players get a hang of what's going on. Players that especially like the game can find expansions and variations with other themes — including Marvel — available.
The game puts players in the familiar role of someone collecting things to build wealth and power. In many collection games like Azul, players are penalized for over-collecting. This can be similar to when you take too many of something and Azul makes you put the extra tiles in the penalty box below. Splendor hardly does that, enforcing a hard cap on the gems you can hold. You can have 10 gems and no more. Instead, Splendor pushes you to grow by collecting mines that give you permanent access to a gem of the corresponding color each turn. For example, if you hold two rubies and two ruby mines, you can afford something that costs four rubies by spending your two held rubies. The mines stay and help you build true wealth.
4
Alhambra
Alhambra: Revised Edition
In Alhambra, players are tasked with collecting special currency and using it to pay for the construction of the buildings in an "Alhambra" (meaning 'palace'). Players score points throughout the game based on the quantity and type of buildings in their Alhambra as well as the length of continuous wall that they build around it.
Age Recommendation

8+

Game Duration

45-60 Minutes

Brand

Queen Games

Number of Players

2-6

Designer

Dirk Henn
Pros
Double the Set-Collection Fun: Currency and Buildings
Suitable for More Players (Up to 6)
Interesting Tile Placement Mechanics
Due to the way tiles and scoring are handled, the Azul base game has a hard cap of four players. Want more? That could be a problem. Alhambra (you might recognize the name from the Civ 6 wonder) could be your solution, though, due to its accommodation of up to six players and mechanics. Alhambra plays in a way that, while clearly distinguishable from Azul, utilizes similar mechanical backgrounds.
For example, both games require players to collect specific currencies to play tiles. The way tiles are played, too, has unique features. One could even say that Alhambra goes one step further than Azul, by making players focus on collecting both currency types and building types as the game progresses. A stark difference in the games is scoring, which happens three times throughout a game of Alhambra, the first two at semi-random moments when cards are revealed from the deck. Players with the most buildings of a given type score big and those in second or third place get little-to-no points. These cutthroat moments increase tension and fun but are a distinct difference from the more concrete round endings of Azul.
3
Potion Explosion
Potion Explosion
Potion Explosion is a game or orb collection and potion mixing. Players race to collect ingredients, make potions, and use potion-enabled abilities at the right moment to score the most points.
Age Recommendation

14+

Game Duration

30-45 Minutes

Brand

Horrible Games

Number of Players

2-4

Designer

Lorenzo Silva, Andrea Crespi, and Stefano Castelli
Pros
Collect Groups of Ingredients
Fill Slots to Make Potions
Durable Parts
Cons
Requires Level Surface to Play
We've already recommended Potion Explosion as a great board game choice for Hogwarts Legacy fans, but Azul lovers will find its gameplay charming as well. Why? Taking ingredients from the tray and putting them on potions feels a lot like Azul's take-and-fill tile-laying mechanic. Potion Explosion even has some bonus mechanics; finish a potion to score points, then quaff it down on a later turn to gain access to a special move.
One intriguing quirk of Potion Explosion is how ingredient orbs are placed into a tray and dropped into random lanes. Visually, it looks like a board game crossover of Zuma and a match 3 title. The hard plastic components feel good to play with and don't require extreme carefulness to take care of. The only downside? You'll want a level playing surface to play on to make sure everything lands fairly, but this shouldn't be too hard to find.
2
Ticket to Ride
TIcket to Ride
Ticket to Ride is the classic train collection and route building game set in Industrial-era USA. Each turn players collect train cards, place tokens on the map to secure routes, or opt to gain secret objectives. The game is a constant balance of trying to take on more to gain more points while also not attempting to do more than is possible.
Age Recommendation

8+

Game Duration

30-60 Minutes

Brand

Days of Wonder

Number of Players

2-5

Designer

Alan R. Roon
Pros
Collect Multiple Train Types to Make Routes
Independent Objectives
Can Meddle With Opponents' Plans Directly
Ticket to Ride is a classic collect-to-play game of trains, routes, and trickery. Much like Azul, you'll want to collect train car cards of certain colors in large quantities to get on the board. Claiming routes and creating a big network will allow you to complete private objectives throughout the game. As this is a friendship ending board game, you can alternatively predict your opponents' objectives and claim key routes they need. Beware, though, as these tactics will often hurt you worse than your foes, leading to a race to the bottom scenario.
Each round of Azul has a small amount of tile-availability RNG, only so many tiles are pulled from the pouch each round. Whether you need black tiles or not does not affect how many will be in the round. But you know this from the very beginning of the round. You can adapt accordingly. In Ticket to Ride, if you need yellow cards and there are none available, you can try your luck by drawing cards from the deck. It adds some fun tension to the game, but admittedly differs the game from Azul.
1
Sagrada
Sagrada
In Sagrada, players take turns using clear dice that represent glass to make gorgeous windows. This is a game renowned for both its beauty and strategic depth.
Age Recommendation

13+

Game Duration

~30 Minutes

Brand

Floodgate Games

Number of Players

1-4

Designer

Daryl Andrews and Adrian Adamescu
Pros
Comes With 90 Gorgeous Dice
Unique Boards
Interesting Dice Placement Mechanics
Great Dice Drafting
Cons
Playing Against Board As Much As Opponents
It would be hard to make a list of games like Azul without including Sagrada. The game's thematic elements and mechanics are both just so on point. In Azul you lay elegant tiles and in Sagrada you construct beautiful stained-glass windows. The tiles that drive Azul's gameplay have nice patterns on them that make the game's conclusion picture-worthy. Sagrada's dice are translucent and lightly colored to mimic stained-glass in the best way a dice game possibly could.
Related: Board Games That Have Gorgeous DiceEach game feels a bit different due to the large number of different personal player boards available and construction always feels like a difficult and challenging conundrum. To do so, players have to draft dice and place them on their board. But, like in all great art, there is a bit of color theory that must be applied. The result is a series of rules that must be followed to successfully place dice in the stained-glass windows. It doesn't feel completely divorced from Sudoku, but inexperienced players do run the risk of being as damaging to themselves (due to lack of planning) as even the most crafty and skilled of opponents.
FAQ
Q: Is Azul Complicated?
Azul is not complicated. Much like the ancient game of Go, there are very few rules but a lot of strategy. One of the nice things about Azul is that even players who are too young or too new to think several moves ahead can play in a manner that feels highly skillful or engaging. While the scores at the end of the game may come out lop-sided, the game's unrelenting focus on building up your personal board makes the game satisfying for all.
Q: What version of Azul is best?
If you're a completely new player to Azul, go ahead and get Azul: Master Chocolatier first. It contains everything you need to play the original Azul (only the theme is different) as well as some extra pieces to play a somewhat revised version with more complex tile drafting rules. If you already own Azul, Azul: Master Chocolatier is not worth the extra money.