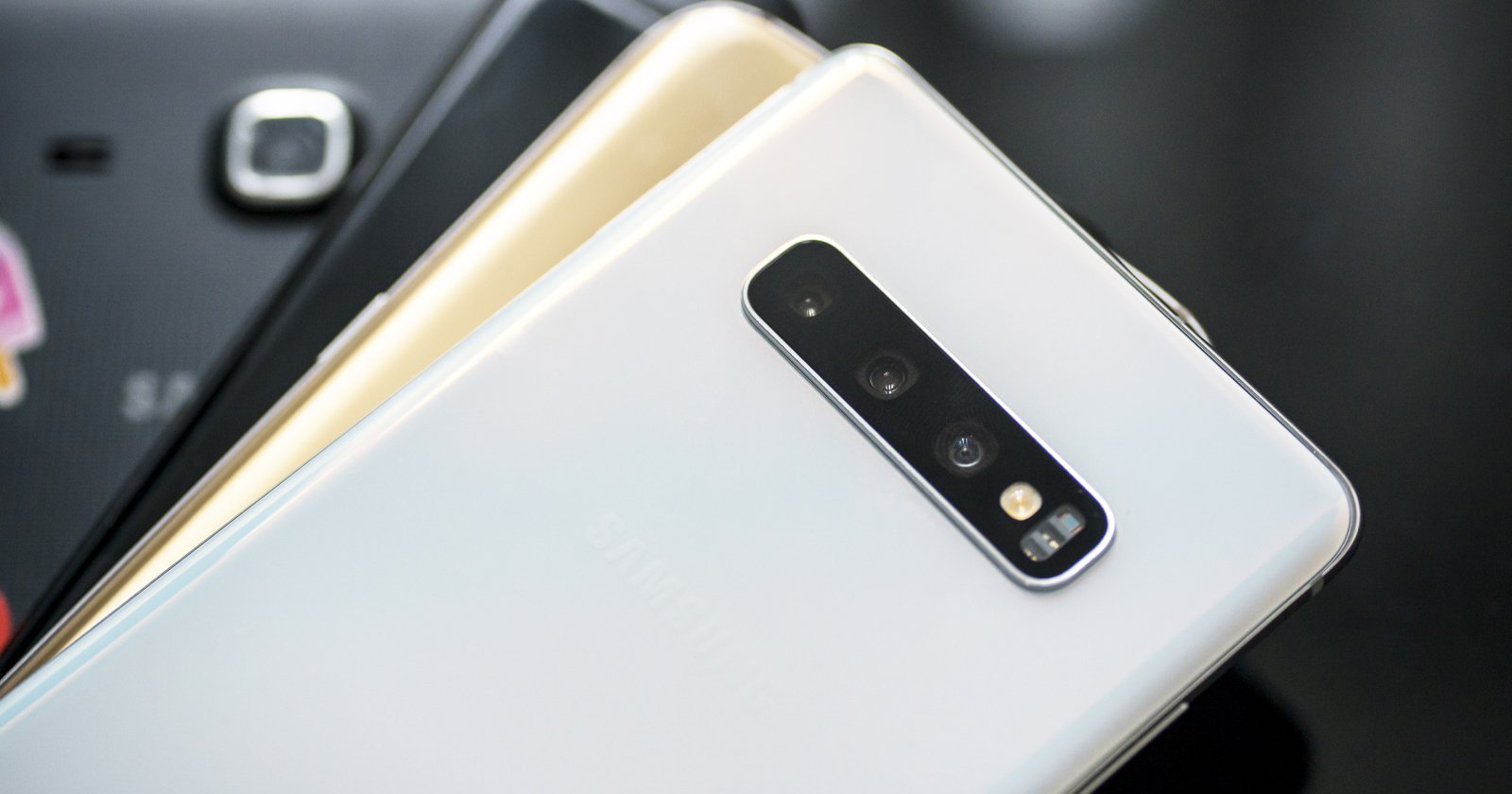 The Best Android Camera Apps in 2022
Both general consumers and professionals have embraced smartphone photography in an increased capacity because it gives an accessible and convenient way to capture life's memories on the go and can also produce professional-looking work. As good as the stock experience is, there are numerous apps to help improve that shooting experience.
As more people begin to incorporate mobile photography into their daily lives, be it as a quick memory snap, an image shot for social media, or even as part of a professional workflow, it's important to make the most of what each device has to offer.
Even entry-level Android smartphones deliver an acceptable shooting experience just using the native camera app alone. For those who want a top-quality mobile camera experience, a good place to start is our top smartphone picks, many of which are Android-based.
With the help of apps, shooters can improve photos not just through mobile editing tools, but also at the initial shooting stage. Finding apps that work for each user's photography needs can also help save money before deciding to upgrade to a newer smartphone model with a better camera.
However, it can take a long time to sift through thousands of mobile apps on Google Play, trying to find one that delivers on what it promises. To help you get to an enjoyable and successful mobile photography experience faster, we have compiled a list of Android apps that will improve your smartphone shooting.
What We're Looking For
While there are a great many fantastic options for iOS, which we have laid out in our "Best iPhone Camera Apps" guide, the Google Play experience is far more meager. We spent a good amount of time looking for genuinely good choices to recommend, as there are a lot fewer top-tier options for Android as compared to iOS.
We have broken down our top picks for Android into specific categories. Understandably, every smartphone user has different preferences. Some prefer fast shortcuts that speed up or simplify a specific stage of mobile photography. Meanwhile, others may look for applications that are more intricate and offer flexibility to explore a wide range of options and settings.
This list aims to help shooters navigate the extensive — and increasingly expanding — app marketplace to find something suitable, taking into account both free and paid apps.
At a Glance
Best Professional Android Camera App: ProShot
ProShot is a camera app packed with numerous features, modes, and different shooting options, including support for RAW. Besides a traditional photo mode, the app also supports video, slo-mo, light painting, and timelapse.
That's a lot to take in, especially for a newcomer, and even the app's own creators have noted that ProShot might be too overwhelming at first which may be a turn-off for those who only seek a handful of enhancements for everyday shooting. However, if you want to be able to control every aspect of the shooting process, this app delivers.
In the photo mode, users can swap between several shooting modes depending on how much control is needed just like a full-size camera, such as Auto, Program, Manual, and two Custom modes. The Custom modes allow you to save your favorite camera settings, including ISO, shutter, and white balance.
Also of note, the app has an interesting "Hacks" feature. If it cannot detect compatibility with certain features — for example, if video doesn't allow recording above 30 frames per second (fps) — you can enable these hacks to force the camera hardware. However, doing so can cause app instability and require reinstalling, so while it's a nice addition, it's the kind of thing you want to do at your own risk.
A bonus for those who first want to see which app features are supported on their device, the company has a free ProShot Evaluator app. It lists features, like the available ISO range, RAW support, histogram, and others for both rear and front cameras on the device used.
Best Free Android Camera App: ProCam X Lite
ProCam X Lite is actually a free version of ProCam X. The lighter version of the camera app still has enough features to stand on its own feet as a decently solid option for mobile shooters.
It's likely that most users will find the app's features more than sufficient unless they want to unlock maximum resolutions, unlimited recording time for video, real-time histogram, and focus peaking. Having said that, ProCam X Lite still permits shooting RAW.
Users have full manual control over white balance, ISO, shutter speed, and different focus modes, like Manual, Macro, Locked Focus, and Infinity, as well as Face Detection which is accessed separately. However, all settings include auto modes for fast shooting, too.
The free app also has up to 20 burst shots option, interval shots, and exposure bracketing, which are helpful for time-lapses and stop motion capture.
Photographers will also appreciate the added high-resolution video recording, including slow and fast recording speeds and the ability to disable the microphone at the point of recording.
Although the app has numerous features, the user interface keeps the image or video as the main focus with tools neatly packed away in distraction-free menus. The user interface also automatically changes orientation, going from portrait to landscape, whenever the camera rotates.
Best All-in-One Android Camera App: Lightroom
Adobe's mobile Lightroom app is already an excellent contender as the best tool for post-processing on mobile devices. But it doesn't just stop there, as it also has a camera feature, too, which makes it a great choice for those who want an all-in-one application for mobile photography.
Unlike the desktop versions, the mobile app is available for free but does require users to register or to log in using a Google or Facebook account. If you already have an Adobe ID, you can use that to sign in, too.
Although the camera mode is not as extensive as others in this list, it still allows users to shoot in DNG or JPEG, using automatic or professional mode. The latter allows users to select shutter speed, ISO, white balance, and even adjust manual focus.
The app also has a few choices of ratio, a timer, and customization for the display. For those training their eye at the point of composing, the camera gives a choice of three grids — Thirds, Halves, and Golden — as well as a level.
Helpful for beginners, Lightroom has incorporated subtle hints and tutorials along the way by gently guiding the user through more complex tools, like healing brush or masking. In comparison to other mobile apps, this makes for a refreshing change instead of having a tutorial video suddenly appear on the screen.
As expected of an Adobe product, the editing engine is strong and Lightroom offers numerous powerful tools for correcting the image and then post-processing it. Both beginners and professionals will find the tools more than capable of taking a photo straight out of the smartphone camera all the way to a polished edit.
Adobe has managed to create a user-friendly interface that makes it easy to scroll through all the tools, without missing anything that may be important.
Best Android Camera App for Filters: VSCO
VSCO has been a popular photo-editing app for numerous years, with a particular focus on all of the different filters it offers. The appeal for many is the emulation of popular film stocks, which help take a digital smartphone photo and turn it into a more granular, imperfectly-perfect capture that resembles the characteristics of analog.
Users can upload photos from their phone's gallery or take an image with a built-in camera. Besides hundreds of different filters, VSCO has basic image adjustments, like exposure, contrast, saturation, tone, white balance, split tone, and others.
All available filters are categorized under different themes, like Featured, Favorites, Warm, Cool, Black and White, Portrait, Nature, and many more.
VSCO has also introduced "For This Photo" mode, which brings up several hand-picked filters that the app suggests for each individual photo. Another neat feature is Magic Wand, accessible above the photo, which adds automatic enhancements that can be adjusted with an opacity slider.
Although users will find plenty of free filter choices and may not feel the need to upgrade to a $20 yearly subscription, VSCO's paid version offers over 200 filters, more photo and video editing tools, and a strong focus on the community where members get exclusive tutorials and other perks.
The community aspect is also available for free users. Anyone can share their edits on their VSCO profile and other accounts, in a similar manner to Instagram, with the exception that the VSCO feed is more focused on the photo-viewing experience.
Same as with the Lightroom app, VSCO requires users to create a new account or to sign in, using Google, Snapchat, Facebook, or other identification options.
Best Android Photo Editing App: Snapseed
Google's Snapseed, previously launched and owned by Nik, has been rated 4.5 stars from almost 1.5-million users and unsurprisingly so. The app is available for free and does not feature distracting ads that may put off many users or slow down their devices.
Snapseed gives a great selection of editing tools that now also support RAW files for basic adjustments. Over the years, the app has had slow but steady improvements. Similar to VSCO, Snapseed has a selection of simple film-like filters, but for those who want precise editing control, the app has manual brushes — for dodge and burn, exposure, temperature, and saturation — and a healing tool.
The app also has a Curves tool for easy tonal adjustments in RGB, Red, Green, Blue, or Luminance channels. To adjust the composition, the app offers various perspective adjustments and different crops.
Snapseed has plenty of tools that can help beginners explore different editing processes while professionals will appreciate the variety of manual-adjustment tools. As a freely available app that rarely if ever presents any bugs, it is a safe choice for editing smartphone photos on the go.
Best Android App for Photo/Video Support: Photographer's Companion (Pro)
The Photographer's Companion has two versions — a free one and a paid Pro version, the latter of which has a few more features and no ads. Just as the name suggests, the concept of the app could be summarized as a handy photography manual that instantly solves any and all possible calculations that a photographer might need to do before, during, or after a shoot.
During the shoot-planning phase, a photographer may find the sunrise and sunset guide handy. It details the time of the blue hour, sunrise, golden hour, and more, all based on the photographer's location. It even shows the position of the sun and suggests appropriate shooting settings. A similar tracker is also available for Moon, stars, and Northern Lights.
When it comes to finding the right shooting settings, the app offers guides for selecting the optimal settings to freeze the subject in motion based on different activities, such as a person running, cycling or skying, a bird flying, a vehicle driving in a city or in the countryside, and more.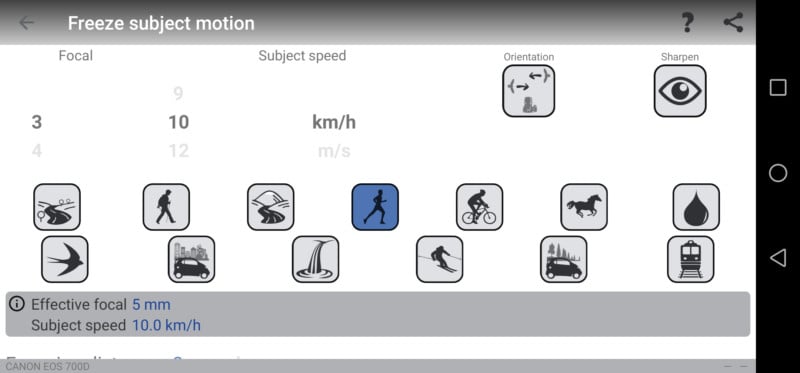 Similarly, the app guides you when you are preparing to shoot macro or when using a flash. For beginners, the Equivalent Exposure, Depth of Field, Field of View, and Exposure Value calculations might appear complex at first but the app guides the user to a help section with a single click. There, the company explains each part in-depth to equip photographers with technical knowledge.
Other guides include Light Meter, Time Lapse, and Print Size. For example, in the latter, users will find a minimum print resolution based on the print size and what is a sufficient size of the photo in pixels.
It's likely that most will find plenty of useful information on the app's free version because the advertisements don't heavily impact the use of the app and the guides are thorough for most photography needs.
The paid version does, however, offer pro-orientated tools and guides for bracketing, black and w white film developing, augmented reality for the Sun, the Moon, and the Milky Way, film sensitivity table, and other features which we think make it worth picking up.
Best Android App for Retro Filmmaking: Super 16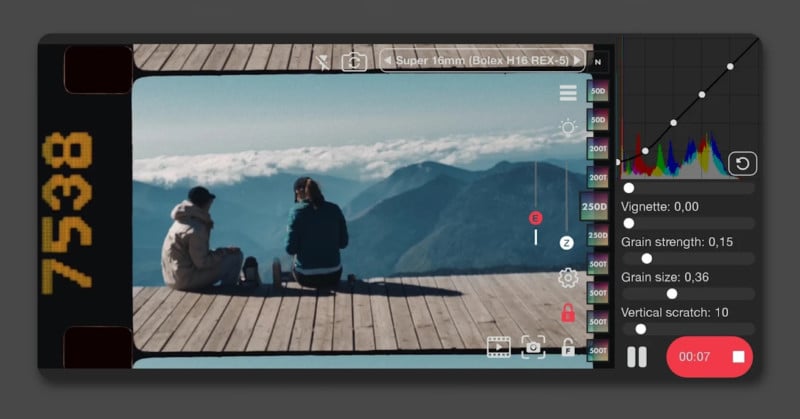 For those who want a vintage look for their smartphone video footage, Super 16 allows recording with real-time processing as vintage 16mm and 8mm film cameras do. The app is free to use but does offer paid upgrades to unlock more filters and features.
The app has just under 70 different filters to choose from to create a cinematic look. Users can also manually adjust temperature, tint, saturation, and color correction curve.
To emulate film, the app allows users to add stains and scratches, flicker, grain, and more, including film strips with holes and film burn. The free version includes Super 16mm shooting mode as well as a 16:9 and 4:3 ratio footage. For others, like 16mm, Super 8mm (Canon), and Super 16mm (Arri SR2 HS) you have to upgrade to a pro version.
For professionals, the app offers the ability to adjust the distribution of colors using a color histogram or waveform monitor. However, beginners can still use the app without having to learn about any of the more in-depth features.
Bonus point for photographers — the app allows taking a photo or opening a saved one to add filters, retro effects, and other adjustments. The image can then be saved as a photo, as a 15-second, 30-second, or a minute-long video clip.
The paid version unlocks all film frames, filters, film halation — which is a blurred effect around the edges of highlight areas — 4K video rendering, and gives an ad-free experience.
Best Android App for Retro Stills: Fimo
If you want the analog experience for stills, Fimo is a great free camera app that simulates not just a selection of 35mm films but the whole user interface is built to look like handling a film camera albeit in a digital housing.
Not so great for those who want to control all aspects of the image-taking process, this app has limited options, like exposure control, flash, zoom, and a timer.
However, the beauty of the limitations is where this app excels and gives shooters at least a resemblance of the analog shooting experience. Even the process of changing film stock is beautifully designed to look like the real thing.
The app is free and has a handful of film stock choices but users can upgrade by purchasing individual options. It's clear that the app creators want to share their passion for analog because each film stock has detailed information on its origins and several examples, making it easier for users to pick which one to purchase. Even better, each film can be sampled as a trial first, too.
Users can also upload their own photos and "develop" them using one of the film stock choices, after which the editing effect, including any borders and timestamps, will be applied. The edit can be easily shared to popular social media channels and more.
---
Image credits: Header photo licensed via Depositphotos.