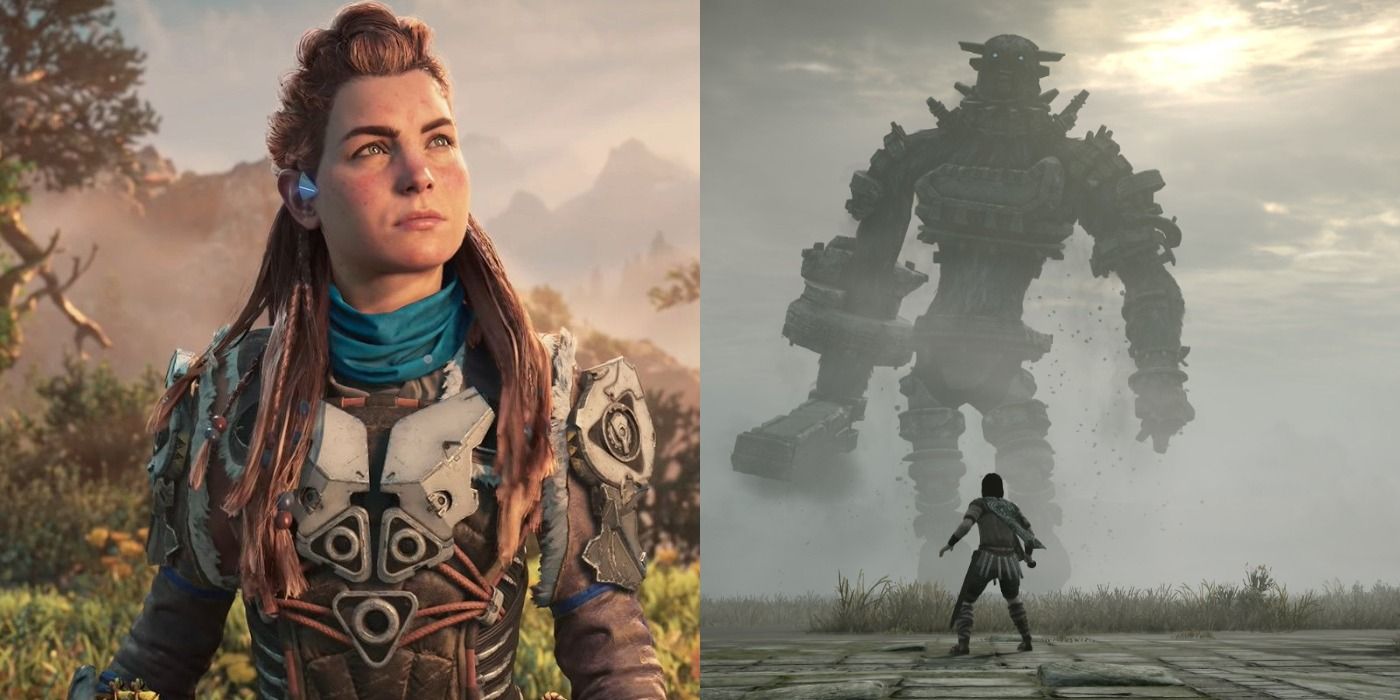 The 10 Best T-Rated Games Of All Time, According To IMDb
As video games have matured as a medium over the decades, the industry has begun to provide more adult fare to players, so much so that IMDb's ten best games of all time are all M-rated, with one notable exception:  The Legend of Zelda: Ocarina of Time, an E-rated game sitting at #9.
Related: 10 Best Comedy Video Games Of All Time
While M-rated games get a lot of the attention, there are plenty of games with milder content that have a T-rating, yet they have managed to stay or become classics. Which of them are IMDb's favorites?
10

Shadow of the Colossus (2005) – 9.3
A PlayStation 2 original, Shadow of the Colossus received remasters for both the PlayStation 3 and PlayStation 4, a fact that speaks to its enduring popularity. There's no word yet on a PS5 version, but it wouldn't be surprising.
The game follows the horse-riding Wander as he seeks to resurrect a girl, Mono. To do so, he makes a deal with a mysterious entity to kill 16 giants called "colossi." This leads to some of the best video game boss battles ever, and to a game that would leave a long legacy in the industry.
9

Demon Slayer: The Hinokami Chronicles (2021) – 9.3
The Demon Slayer franchise started with a manga series published from 2016 to 2018, and its incredible popularity led to adaptations in anime, prose, and even the stage. However, as often happens with this kind of success, a video game adaptation was developed, as well.
What was a little unexpected was just how well-received of an adaptation The Hinokami Chronicles proved to be. Released on both PC and 8th- and 9th-gen consoles, the game received mixed reviews from critics, but enough love from fans for them to give it such a high rating on IMDb.
8

Planescape: Torment (1999) – 9.4
Black Isle Studios' Planescape: Torment is another example of how a game can endure in popularity for decades to the point where it receives a remake/remaster: in 2017, it received an upgrade for PCs, while twenty years after its first release, it was remastered for the Nintendo Switch, PlayStation 4, and Xbox One.
Inspired by a Dungeons & Dragons campaign setting called Planescape, the game tells the story of a man who cannot permanently die, but if killed will respawn without his memory, earning him the moniker "The Nameless One." Providing a compelling narrative and innovative technology, Torment still holds up.
7

Baldur's Gate II: Shadows of Amn (2000) – 9.4
Although also published by Black Isle Studios, the Baldur's Gate series was developed by BioWare, although the series and Planescape would influence one another. In any case, Baldur's Gate II managed to keep to the high bar that both had established.
Related: 10 Movies to Watch if You Love the Baldur's Gate Franchise
Baldur's Gate II, like the rest of the franchise, takes its basis from Dungeons & Dragons and picks up shortly after the first game, continuing the story of the first game and featuring the same protagonist, Gorion's Ward. The game would become one of the most influential role-playing video games in history.
6

Horizon Forbidden West (2022) – 9.4
A sequel to Horizon Zero Dawn, one of the most popular games of 2017, Horizon Forbidden West improved on Zero Dawn in many ways, and met both fan expectations for the game and incorporated some fan criticism about the first entry.
Continuing the story of both protagonist Aloy and the greater world she first explored with players in Zero Dawn, Horizon Forbidden West manages to expand its lore and mechanics while at the same time achieving a balance between new and returning elements. For IMDb users, it more than delivered.
5

Uncharted 2: Among Thieves (2009) – 9.4
For fans of the Uncharted series, and really for video gaming as a whole, everything changed with the train sequences in Uncharted 2. From an in medias res opening aboard the cliff-hanging train to the extended fight sequence in the middle of the game that leads back to the opening, the train defines the Uncharted experience.
However, that's only one element that made this game extraordinary. It had some of Uncharted's best villains and set pieces, while also improving on the first game by giving players different locations across the world to explore, ending with the gorgeous Shambhala. The series came into its own on this one.
4

Batman: Arkham City (2011) – 9.4
One of the most iconic superheroes of all time, Batman has had innumerable video games inspired by the character over the past several decades. but none has been able to surpass the acclaim that Batman: Arkham City has received on IMDb and elsewhere.
A follow-up to 2009's Batman: Arkham Asylum, Arkham City takes place in a part of Gotham City that has been walled off as a mega-prison for all of Gotham's criminals. As it devolves into anarchy, Batman must investigate its origins and ultimate goal from the inside after he himself is locked up as Bruce Wayne.
3

Final Fantasy VII (1997) – 9.5
Final Fantasy VII debuted the character of Cloud Strife upon its release in 1997, but that now-iconic character was only part of what made this game such a hit.
Related: 10 Most Likable Characters In Final Fantasy VII Remake
The game had an impactful story alongside engaging mechanics that helped make role-playing games for consoles viable. It also featured cinematic full-motion video at a time when the quality of FMV was far from great. Although it took 23 years, Final Fantasy VII Remake was finally released in 2020, albeit to less acclaim than the original.
2

Star Wars: Knights of the Old Republic (2003) – 9.5
Boosted by the success of the Baldur's Gate series, BioWare entered the realm of Star Wars through the Knights of the Old Republic series, beginning with the 2003 first entry. Not only would it become one of BioWare's best games on IMDb, but it also remains the best Star Wars game on IMDb, as well.
The Knights of the Old Republic series led to sequels and an MMORPG, Star Wars: The Old Republic, which is still receiving updates 11 years later. On top of that, there is a remake planned for Windows and PlayStation 5, possibly releasing as early as 2023.
1

Uncharted 4: A Thief's End (2016) – 9.5
Maybe having "thief" in the title is a good-luck charm for Uncharted games, or maybe it's the even number, but either way, it worked: Uncharted 4: A Thief's End is not only the best T-rated game on IMDb, but is also the 12th best game of all time, according to the site.
Bringing Nathan Drake's story to a close was no easy task, but Naughty Dog managed to pull it off, despite some troubled development. Featuring beautiful locations, the game balances a powerful story about family with a rip-roaring global adventure, making Uncharted 4 is nothing short of a gaming masterpiece.
NEXT: 10 Best Naughty Dog Games, According To IMDb

Next
Which Mass Effect Companion Would You Be Based On Your Zodiac Sign?

About The Author