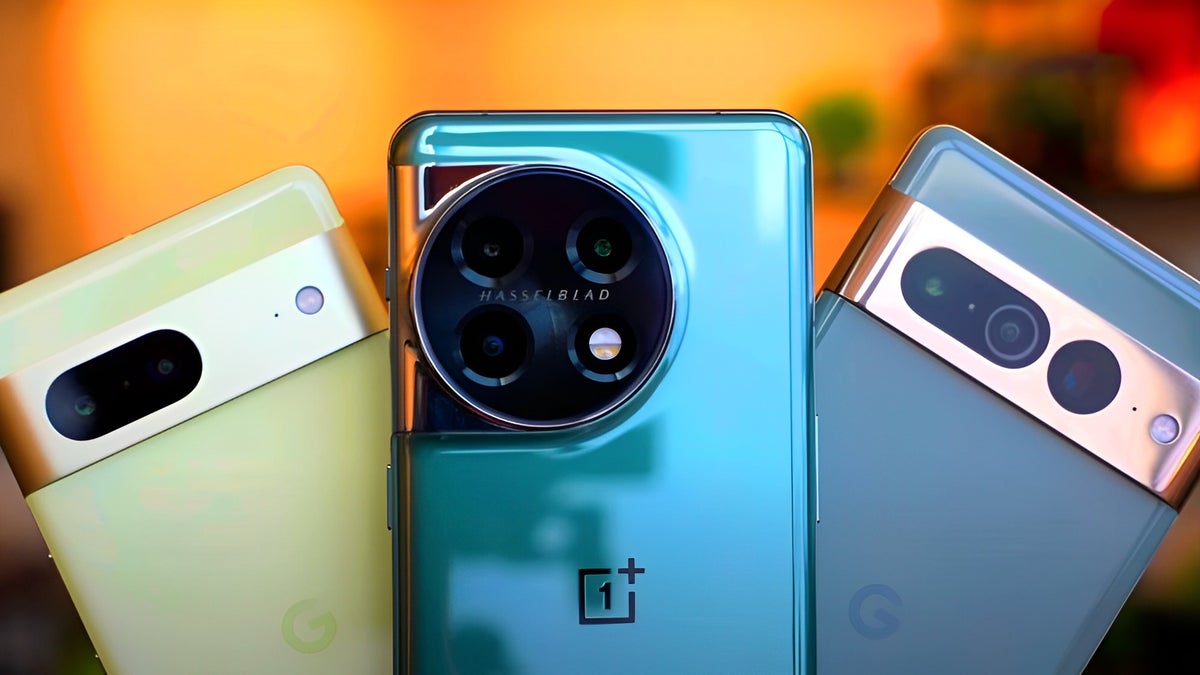 Sorry, Ultra-expensive Galaxy S23! OnePlus 11 proves Android has a new flagship-killer called Pixel 7
The cat is out of the bag now, and after a whole year of leaks and rumors, the OnePlus 11 has made its official global debut, heading to shelves in the US, UK, Europe, India (and more).
If you watched the launch event, you'd know OnePlus' presenters were absolutely pumped to take the stage and show off the 11. Shouting on top of their lungs, the company's key people revealed what might be the most compelling OnePlus phone since 2019, which speaks volumes about the phone-maker's rocky journey in the past four years.
The OnePlus 11 reveal might be the most high-spirited phone presentation since Jobs revealed the original iPhone in 2007. And since literally every Huawei launch ever – Richard Yu rules.
With zero doubt, the single most fascinating characteristic of the new OnePlus 11 must be the sensible (for today's standards) starting price of $699. Spoiler alert, this makes the 11th generation OnePlus flagship a great deal that every Android user looking to upgrade, should at least consider.However, despite that and despite the fact that CEO Pete Lau passionately teased the phone on Twitter for weeks prior to the release (scoring 11/11 for sheer enthusiasm around the pre-launch), the OnePlus 11 itself is anything but exciting.
And that's not coming just from me…
Something rather unique happened in the beginning of the OnePlus 11 launch event, which finally gave voice to a thought that many of us have had for nearly half a decade.
As Navnit Nakra (CEO of OnePlus India) was giving shoutouts to some of the company's more notable flagship phones through the years, the audience in New Delhi started cheering upon hearing the name of (only) one phone – the OnePlus 7 Pro.
While this didn't seem like a protest, it sure felt like it.
The reaction from the audience members painted a picture clearer than the one you can take with the OnePlus 11's 50MP excellent camera. OnePlus phones don't seem to elicit the same excitement they once did, because they've lost their… edge. So, people are looking back, in nostalgia. In fact, the OnePlus 11 will face a few other major challenges on the way to winning over those who once believed in the company.
Let's talk about them…
There are three major issues/challenges ahead for the OnePlus 11; the biggest one is called "Google Pixel"
If a $600-800 OnePlus flagship phone used to be "all the rage" a few years ago, today's market climate is far more saturated and heated up. Only for "illustrative purposes", here's a quick list of phones you could buy instead of the $700-800 OnePlus 11:
Pixel 7 Pro – $600-750 (depending on available offers)
Pixel 7 – $400-550 (depending on the offers in place)
Pixel 6 Pro – $300-400 (available right now on Amazon at $315)
Pixel 6a – $250-350 (depending on the offer)
Galaxy S22 Ultra – $800 (Amazon Renewed)
Galaxy S22+ – $500 (Amazon Renewed)
Galaxy S22 – $400 (Amazon Renewed)
Galaxy S23 – $800 (given it's a Samsung flagship, the price should be coming down very soon)
Of course, that's not a comprehensive buying guide of the best Android phones to buy in 2023, but I believe it serves my point well enough. Even last year's Samsung flagships, as well as the base model Galaxy S23 (our review is up now) are very much in the price range of the OnePlus 11.
However, as you can see, the real threat to OnePlus' ambitions appear to be Google's mid-range and flagship phones, which aren't only noticeably more affordable compared to the OnePlus 11 (depending on the deal you get), but give you plenty of choice when it comes to price, sizes, and feature set. As you might know, the OnePlus 11 is the one and only flagship model we'll get from the company this year (no "Pro", no "T" versions).
What's also to note here is that companies like Samsung and Google offer better trade-in deals compared to OnePlus (of course, BestBuy and Amazon also do trade-ins), which means you could end up paying next to nothing for a brand new Pixel 7, making the OnePlus 11 a purchase difficult to justify. For the record, the trade-in argument applies to the UK and Europe too (offers vary).
OnePlus 11 leaves out premium features that cheaper or similarly priced phones do offer; no IP67/68 rating, wireless charging, periscope zoom camera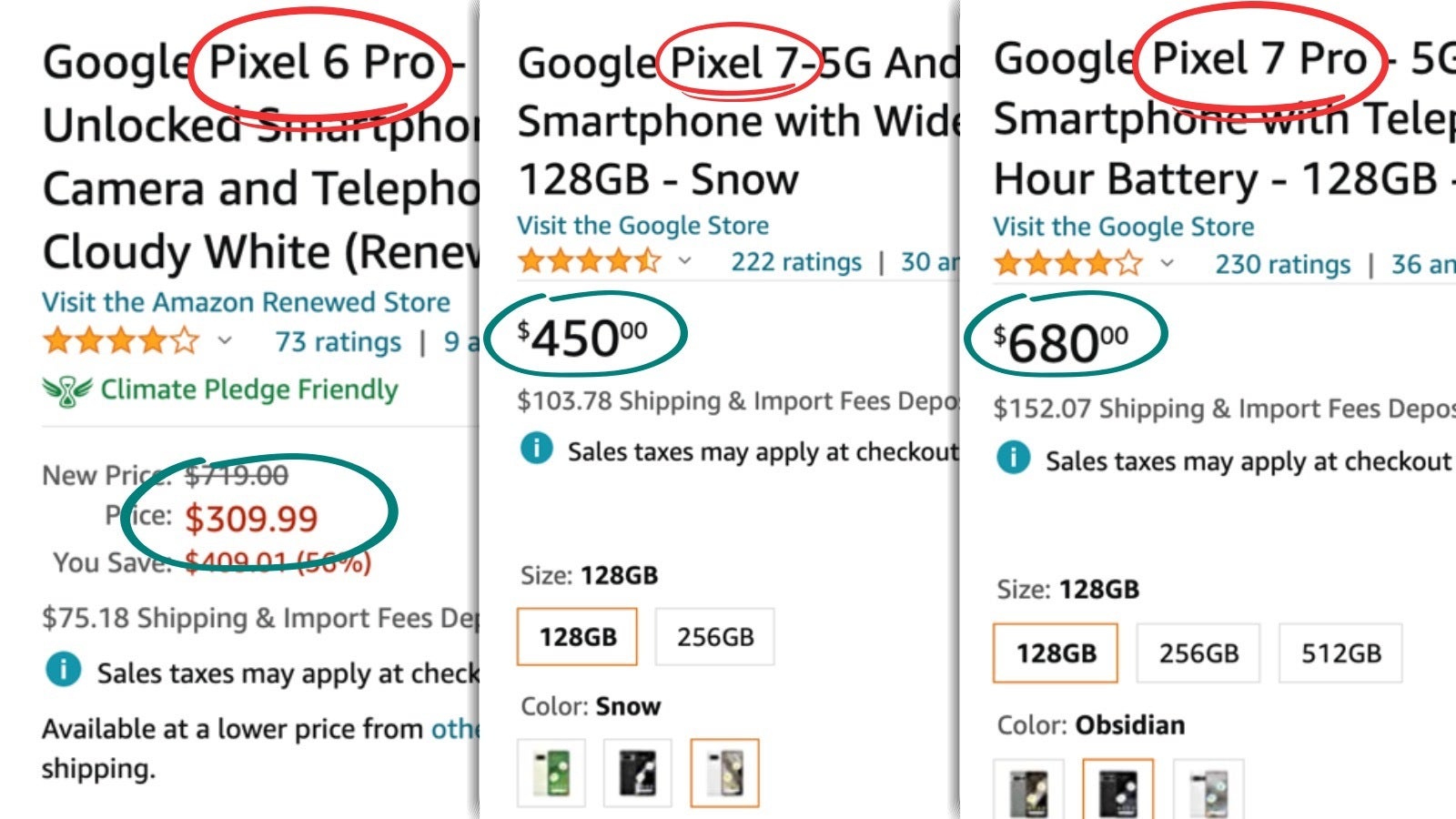 Google's $250 phones offer IP67 dust/water resistance and wireless charging.
The other elephant in the room is that OnePlus clearly can't make up its mind about whether it makes "premium" or "flagship-killer" phones.
The OnePlus 11 drops the IP68 water-resistance and fast wireless charging, which wouldn't stand out as much if the company's previous flagship, the OnePlus 10 Pro, didn't offer those features. Furthermore, even today's $400-500 phones such as the Pixel 7, iPhone SE, and Nothing Phone 1 come with IP67/68 water-resistance and wireless charging.
For the record, OnePlus has officially confirmed that the OnePlus 11 is IP64 certified. For one, that's a very unusual IP rating for a smartphone, but what it means is that the device should be fully dust-resistant (which is nice), but only resistant to splashes of water (albeit from any direction) instead of full immersion.
In a nutshell, don't go swimming with your OnePlus 11, but showers should be fine (don't quote me on that).
Unacceptable selfie camera makes OnePlus 11 the wrong phone for those who like taking selfie videos for TikTok and Instagram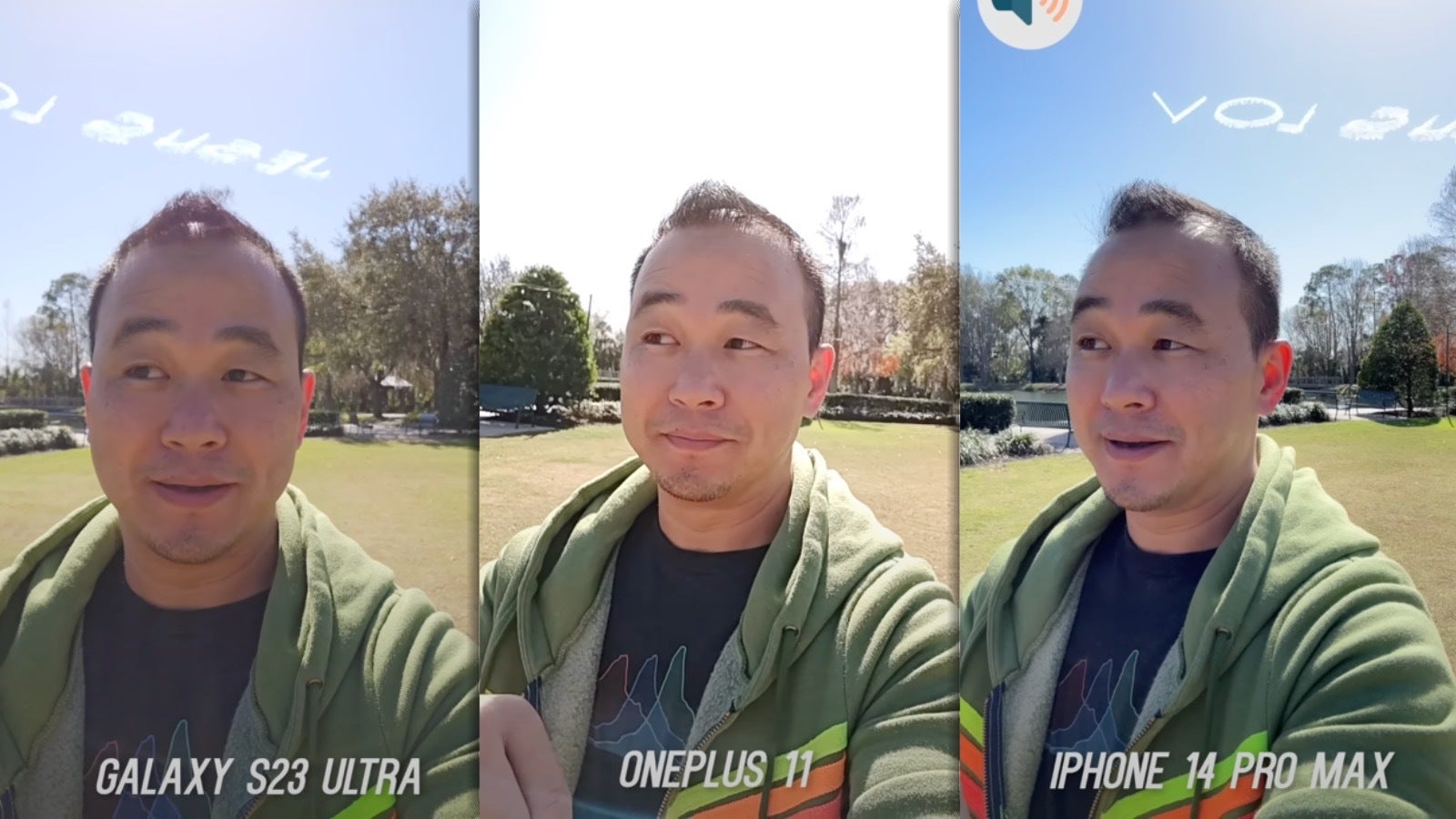 Image courtesy of Danny Winget.
Since I don't take many selfie photos/videos, this "nitpick" isn't that crucial to me but will be important to many of you, and it has to do with the fact that the OnePlus 11 (a 2023 flagship phone) shoots bad 1080p videos with the selfie camera.Personally, I tend to leave my selfie video set to 1080p on phones like the iPhone 14 Pro and Pixel 7 Pro anyway, but the thing is that 1080p videos from those devices look pretty good already (especially when viewed on a small screen). Unfortunately, that's not the case with the videos taken on OnePlus 11.
Again, not everyone will care about how crispy clean their selfie videos look, but in the age of Instagram and TikTok it seems rather essential to make sure your selfie camera is at least as good as the competition's. Right now, videos taken with the OnePlus 11's selfie camera have what the internet likes to call "potato quality". Sorry, potatoes.
Bringing back OnePlus 7 Pro design could save OnePlus from disaster but it might not be as simple as it looks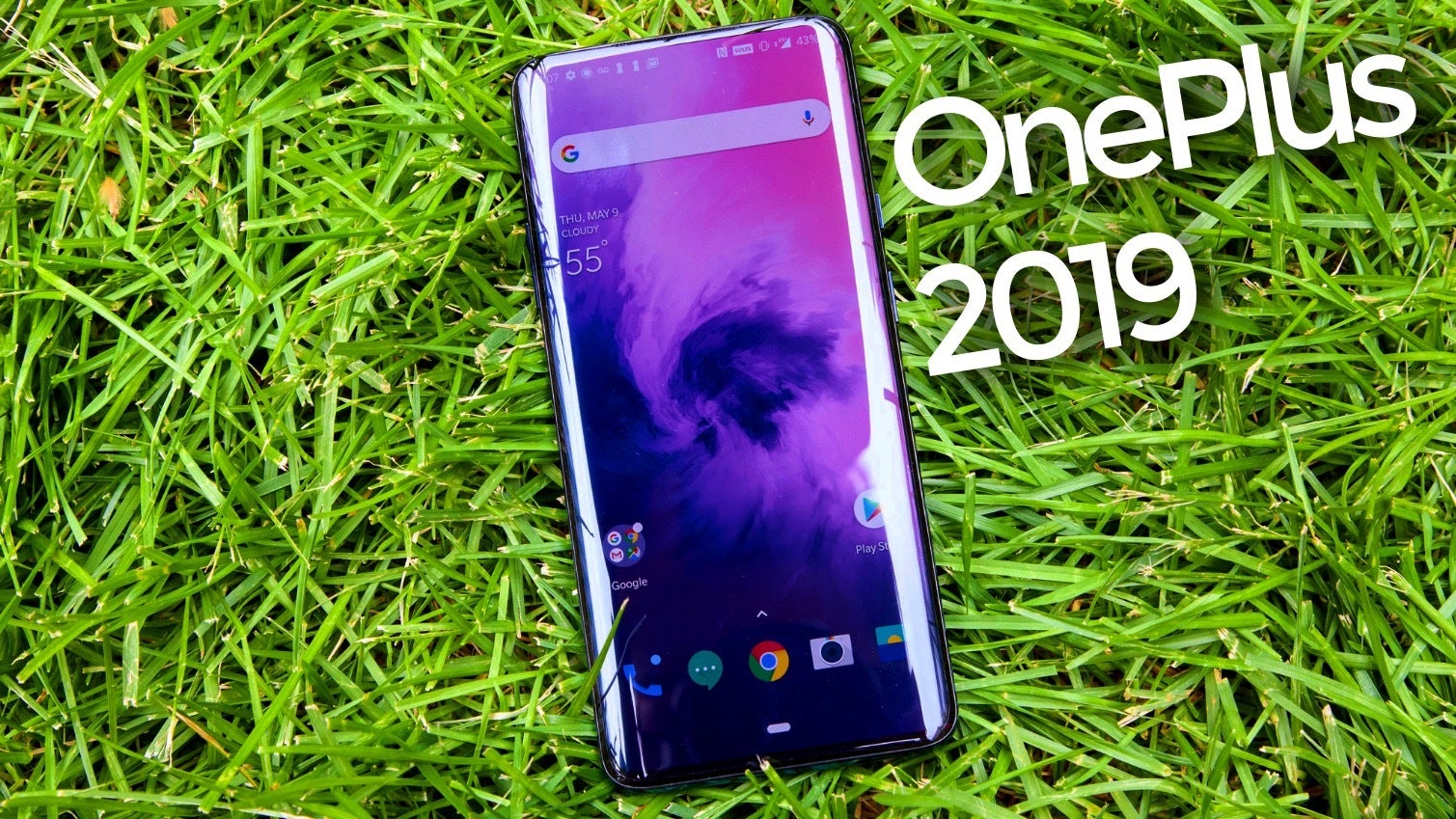 The OnePlus 7 Pro wasn't just the best-looking phone of 2019 – it's probably one of the best-looking phones ever. At least from the front.
The aforementioned head-scratchers sort of illustrate the state of OnePlus right now – 10/10 for enthusiasm, and 7/10 when it comes to delivery (I've deducted one point for each setback mentioned above – about as scientific as it gets…
The market has changed significantly in the time OnePlus was playing games of trial and error and phones like the Pixel 6a, Pixel 7 and even Pixel 7 Pro mean the OnePlus isn't the obvious choice for "best value phone" anymore. So, with a reference to the intro of the story, I simply can't skip talking about a personal bone I have to pick with OnePlus (clearly, I'm not the only one)…
It's now obvious (not that it wasn't already) that core OnePlus supporters, and even the average Joe, find the OnePlus 7 Pro / OnePlus 7T Pro to be the absolute peak point of the company's attempts at a flagship. In fact, it won't be a stretch to say that the OnePlus 7 Pro and 7T Pro were the best-looking phones of 2019-2020 (and it's not close).
The bezel-less, notch-less, hole-less design of the OnePlus 7 Pro's display is (to this day) the pinnacle of phone aesthetics, and more importantly, something that other mainstream phone-makers that had more to lose, never dared to pursue.
OnePlus 7 Pro might be one of the most loved phones ever, show comments on social media
Looking back on this phone I think it's clear to see that this is the best phone OnePlus has offered so far. I'm glad I got a OnePlus phone when I did because this is a fantastic phone (

1 year ago)
It's been more than 3 years now… But this phone never aged… Still fast AF. Oneplus being at top of its game before going down the drain xD

(

2 months ago)
I was in the market for a new phone but the more I research phones the more I realize I actually don't need a new one

(

3 years ago)
I wished that they bring back this design with the pop up camera, I love it so much

(

1 year ago)
The last truly great smartphone. We need a modern iteration of this

(

10 months ago)
This phone still stands up against flagships. Definitely my favorite Android phone ever

(

6 months ago)
As you can tell, OnePlus clearly made a huge by foolishly giving up on the beloved design of the OnePlus 7 Pro way too soon. But why wouldn't Mr. Lau & Co start listening to the people – the same people who made OnePlus by investing trust and money?
If Apple can go back on its design decisions (through cycles) on a regular basis, why wouldn't OnePlus bring back the OnePlus 7 Pro design that everyone loved? The poor-quality pop-up selfie camera argument doesn't work here as the OnePlus 11 already has a bad selfie shooter. The 11 also isn't fully water-resistant, which is another green light for the OnePlus 7 Pro design. Not to mention, four years later, tech has come a long way – look at the Galaxy Z Fold 4, which… folds but it's also water-resistant.My theory is that OnePlus might not have the
autonomy
we think the company has. Being under the BBK umbrella, OnePlus has a
designated spot
in the conglomerate's portfolio. You see, Oppo is the premium brand in the family; Vivo sits somewhere in the middle, and OnePlus' main thing is…
speed and smoothness.
In other words, as long as the OnePlus 11 has a fast chip and fast wired charging, "it doesn't need to impress". Especially now that it's cheaper and not "Pro".
Judging by the wild changes in the feature set of OnePlus flagships each and every year, and the fact that the company might not have total control over its product (it should but I'm not convinced it does), you simply can't rely on new OnePlus phones to be as consistent in what they bring to the table. At least I can't.
For those who are interested, the OnePlus 11 gets a lot of things right, and it's certainly a phone worthy of attention; but should you buy it?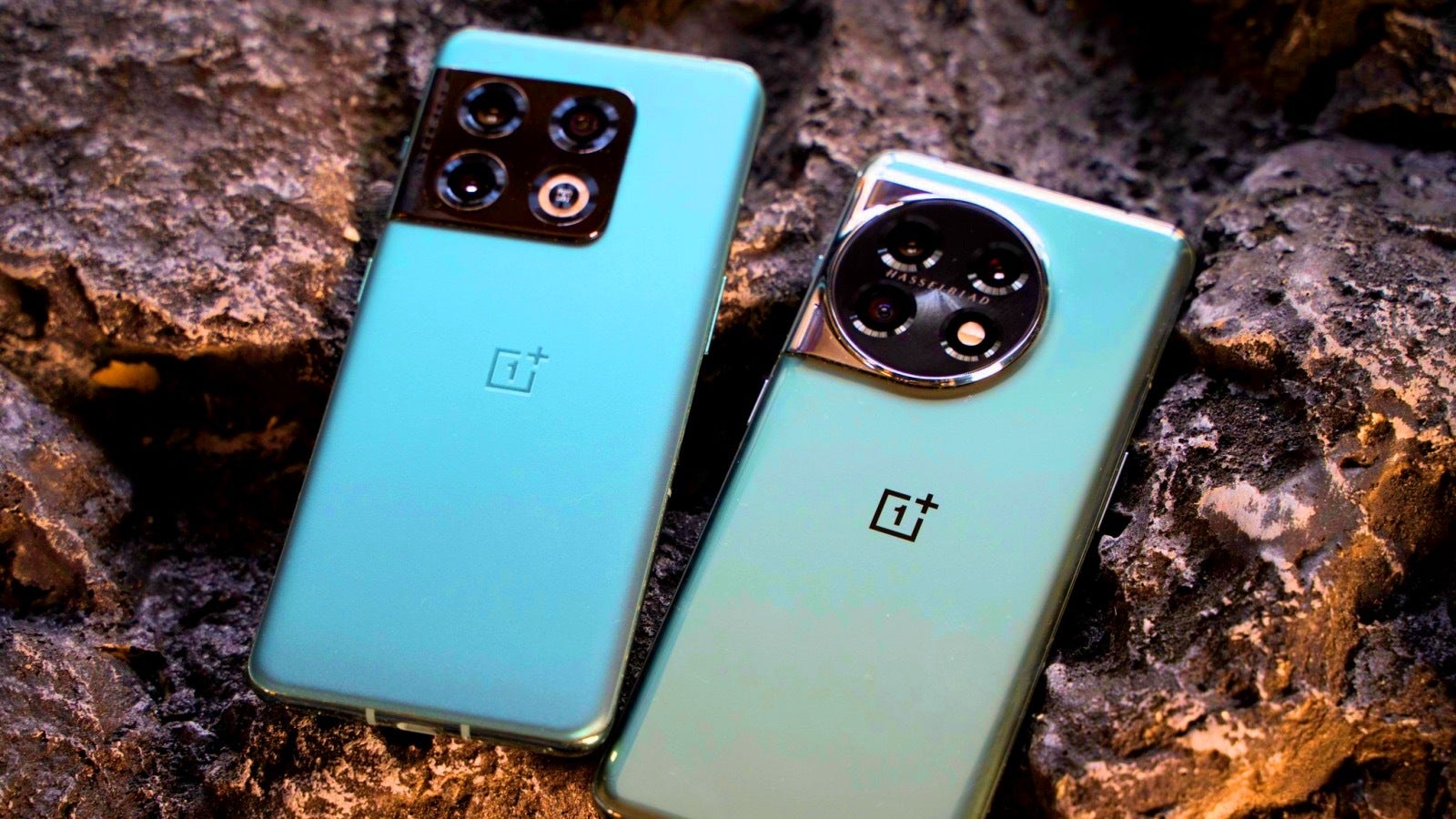 A great phone with greater competition.
Despite everything (believe it or not), our testing shows that the OnePlus 11 offers a flagship-grade camera experience that rivals and sometimes beats the likes of the Galaxy S23 Ultra, iPhone 14 Pro and Pixel 7 – especially when taking photos (there's still a lot to be desired when it comes video performance; the selfie camera is downright bad)
The OnePlus 11 also offers stellar battery life and the fastest charging available on the global phone market, charging from 0-100% just over 20 minutes; the Galaxy S23 Ultra with the same 5000 mAh battery size takes nearly an hour to charge, while the iPhone 14 Pro Max almost doubles that)
The OnePlus 11 offers blazing fast performance, clean and fun software; what's important to note here is that although the OxygenOS experience on the OnePlus 11 is fun and customizable, it is now heavily inspired by Oppo's ColorOS – this might not be appeal to diehard OxygenOS fans coming from older OnePlus phones running OxygenOS that's closer to the Pixel's version of Android 
The OnePlus 11 has a properly flagship-grade display that everyone will find amazing; that's unless you don't like curved screens; OK, and big, 6.8-inch screens – but apart from that, the OnePlus 11 has one of the best displays you can get today, which isn't bad for a $699 phone
Now, would I buy a OnePlus 11? In case it wasn't already clear – no, I wouldn't. And that's because even if I was to fall in love with the 11 and wanted to upgrade to a new OnePlus in the coming years, by that point the OnePlus 13 might be a mid-range phone or… a microwave. Get it? At this point, I really don't know what OnePlus has in mind. And my microwave works just fine.