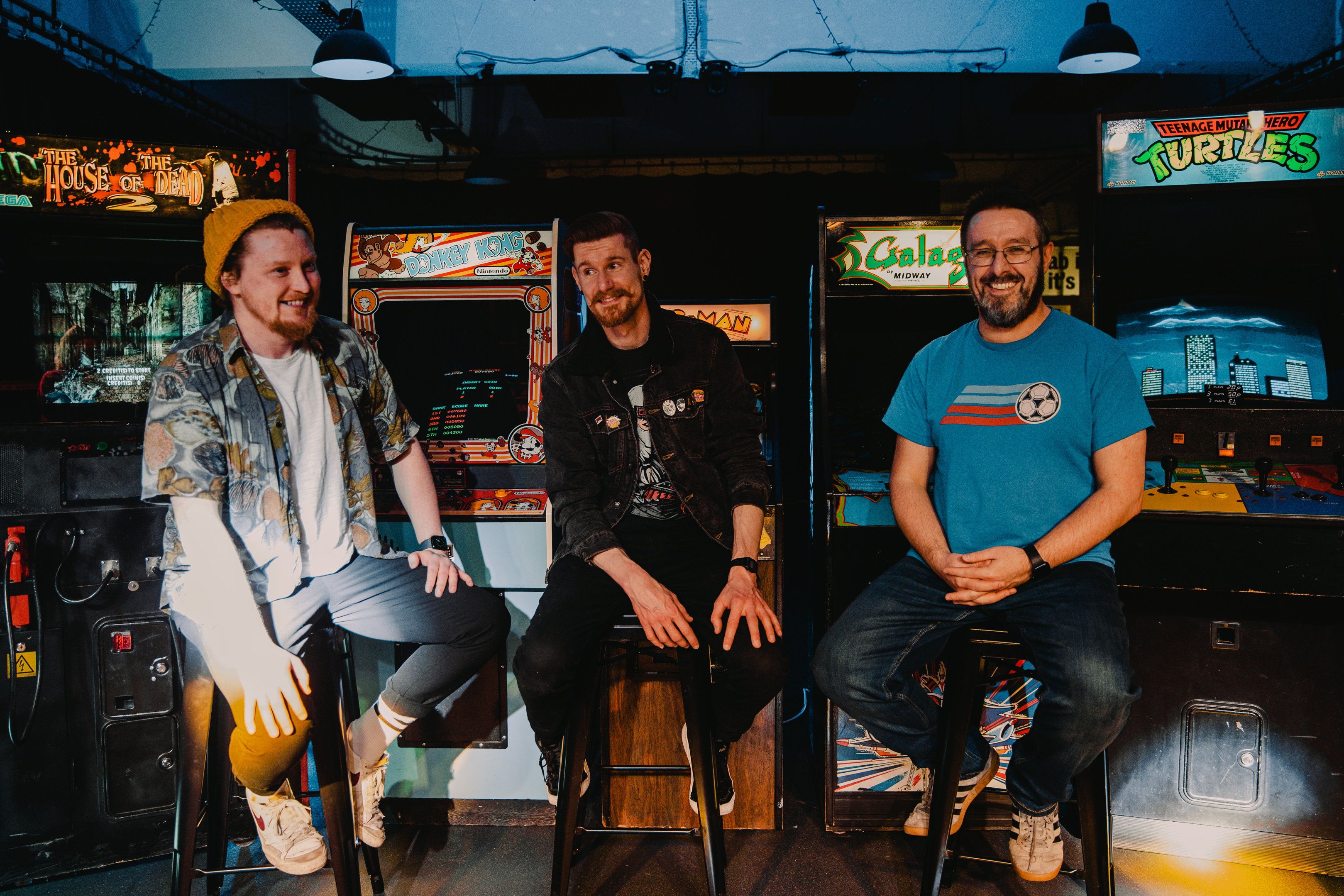 Retro arcades bring gamer classics like Pac-Man and Donkey Kong to Belfast
Now seen as relics from a near-forgotten era of tech, three Belfast friends have come together to resurrect vintage videogames with a nostalgia-fuelled trip through arcade history.
The city's first pop-up retro arcade opens next month, and aims to introduce a new generation to the joy of joysticks, with Pac-Man, Donkey Kong and a clatter of pinball machines both bringing back memories and sparking younger imaginations.
And with The Super Mario Bros Movie and Dungeons & Dragons the current box office darlings — and characters in hit TV shows such as Stranger Things and The Last of Us pumping their quarters into the likes of Mortal Kombat — the timing for Base Arcade couldn't be better.
Videogaming has thrived in recent years, and proved pandemic-proof. Despite its lack of presence in the mainstream media, in the UK, gaming is now bigger than movies and the music industry — combined.
In England and Wales, where the hospitality industry has seen more than 7,000 pubs close in the last decade, arcade bars have already been springing up in a bid to lure punters back through the doors.
After four decades of video games, it's no surprise that pubs are switching pool tables for Nintendos and dart boards for Sega hits, clearly targeting nostalgic Millennials with disposable income. Other 'activity pubs' have tried everything from boardgames to axe throwing, and ping pong to shuffleboard.
Back in Belfast, David Hughes (35), Stephen Currie (38), who work in the NI tech sector and Oh Yeah Music Centre co-founder Marty Neill (46), have taken their enthusiasm for 80s and 90s games and created Base Arcade; a social experience for all ages.
They've also teamed up with the Irish Pinball League to bring a handful of their machines into the collection, which opens to the public on May 13 and 14 in the Oh Yeah centre in Belfast's Cathedral Quarter.
Walking through the corridor of cabinets Base assembled there for a preview event, there was no denying the buzz of excitement as one generation relived the golden age of gaming, while a much younger one got to grips with three lives, a joystick and the glow of a cathode ray screen for the first time.
As well as the games already mentioned, there were classics, ranging from simple early-80s Space Invaders-style shooters such as Galaga, to the Cannonball Run-inspired Ferrari racing of OutRun. Multi-player beat 'em ups like Teenage Mutant Ninja Turtles jostled for players' attention alongside monster-sized cabinets for the zombie-slaying adventure House of the Dead 2.
Thankfully, there are no gambling machines here, no ribbons of tokens for cheap plastic prizes, and no grabber claw machines.
Product designer Stephen describes himself as a "passionate collector of consoles" that blossomed into a love of arcade games. Now running out of garage space, he decided to see if his hobby now had the potential to be taken to the next level — though he also admits "the other half needs them to go somewhere else".
He and Marty, who had built a few machines already, decided they needed to "do something with this passion" and after fixing up a few cabinets, started looking for premises. "We can't just hoard them — these things are here to be enjoyed," said Stephen.
With Marty urging Stephen on — "he was like a wee devil on my shoulder" — the seeds were sown.
Meanwhile, music video software expert David caught the arcade bug while in lockdown, getting into the hardware side of things, something that became a passion project. When he got wind about the others' dream of an arcade, he jumped on board to help make it a reality.
Back in the day, playing Street Fighter 2 might well have involved wandering through a section of hypnotic gambling machines in a dark, smoke-filled room with ash-encrusted carpet.
But Base promises a much more family-friendly experience, as well as being a more social alternative to a console generation raised on bedroom gaming. For those unfamiliar, think Netflix on the sofa versus a night out with mates at the cinema.
Online technology, however, is now at the stage where chatting with friends and team-mates on a headset is the norm — so is there a real need for a trip to town to play face-to-face?
Marty argued that's a "digital social experience" rather than a physical one, while Stephen admitted there had been "a shift in gaming mentality". But, he added, people still wanted to come to the launch not just for the games, but "to soak in the atmosphere and the overall vibe".
"My best friend's son is in there and he's in an arcade for the first time tonight. It's a really proud moment for me," added Marty.
"He's 13, he's heard about arcades, he's an 80s nut, a metal kid, he knows all about them, but he's in an arcade for the first time tonight. Half the guys that work for me are in their 20s and in an arcade for the first time tonight."
David denied the trio are simply cashing in on the current wave of nostalgia. And given that original cabinets and pinball machines typically cost from £500 to £5,000 — never mind the restoration and maintenance that goes along with that — it's not hard to believe him. Their cabinets are a labour of love, not homemade MDF boxes with a PC hidden inside.
"What we've actually been doing is finding original machines, restoring them, getting them sent from all over, fixing them. They're not cheap. Quite the opposite of cashing in actually," he said.
"And if we make any cash, we will buy more machines," added Marty.
So how will the pop-up arcade work? As the name suggests, it won't be completely regular, working around the Oh Yeah's gig dates, meaning social media and word of mouth will probably play a big part.
While the music centre has an alcohol licence, events will not exclude children. The mid-May debut is ticketed — adults pay £20 while under-15s pay £8 — but once in, all games are set to free play.
The first session each day will be open to all ages, while later ones will either be for over-15s or over-18s, though kids need to be accompanied by an adult.
"We don't want 100 people coming in at once and not being able to play a game," said David.
Games are expected to be cycled over time too, encouraging return visits, with an original Star Wars cockpit currently receiving "a wee bit of love" before players get to re-enact the Death Star run again.
"It's lovely to hear people ask for machines that they remember from their experiences," said Stephen.
Tickets for Belfast's first pop-up go on sale at 8pm tonight (Monday, April 24) at basearcade.com