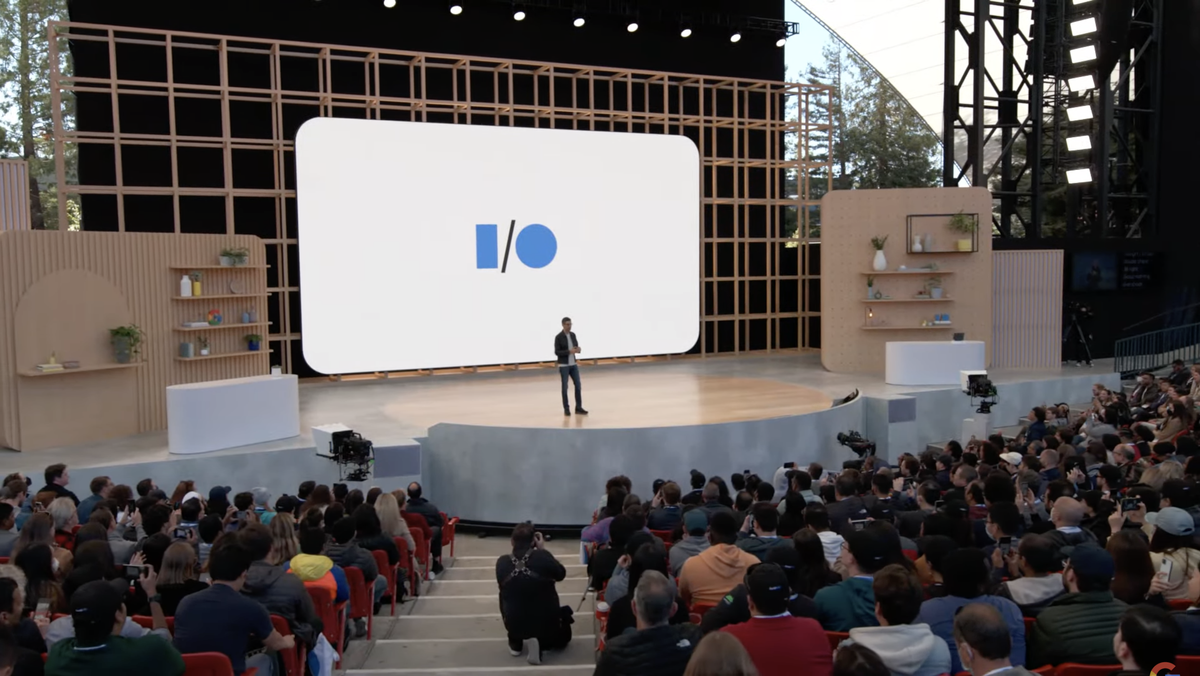 Google I/O 2022 recap: Pixel 6a, Pixel Watch, Android 13 and all the big announcements
Refresh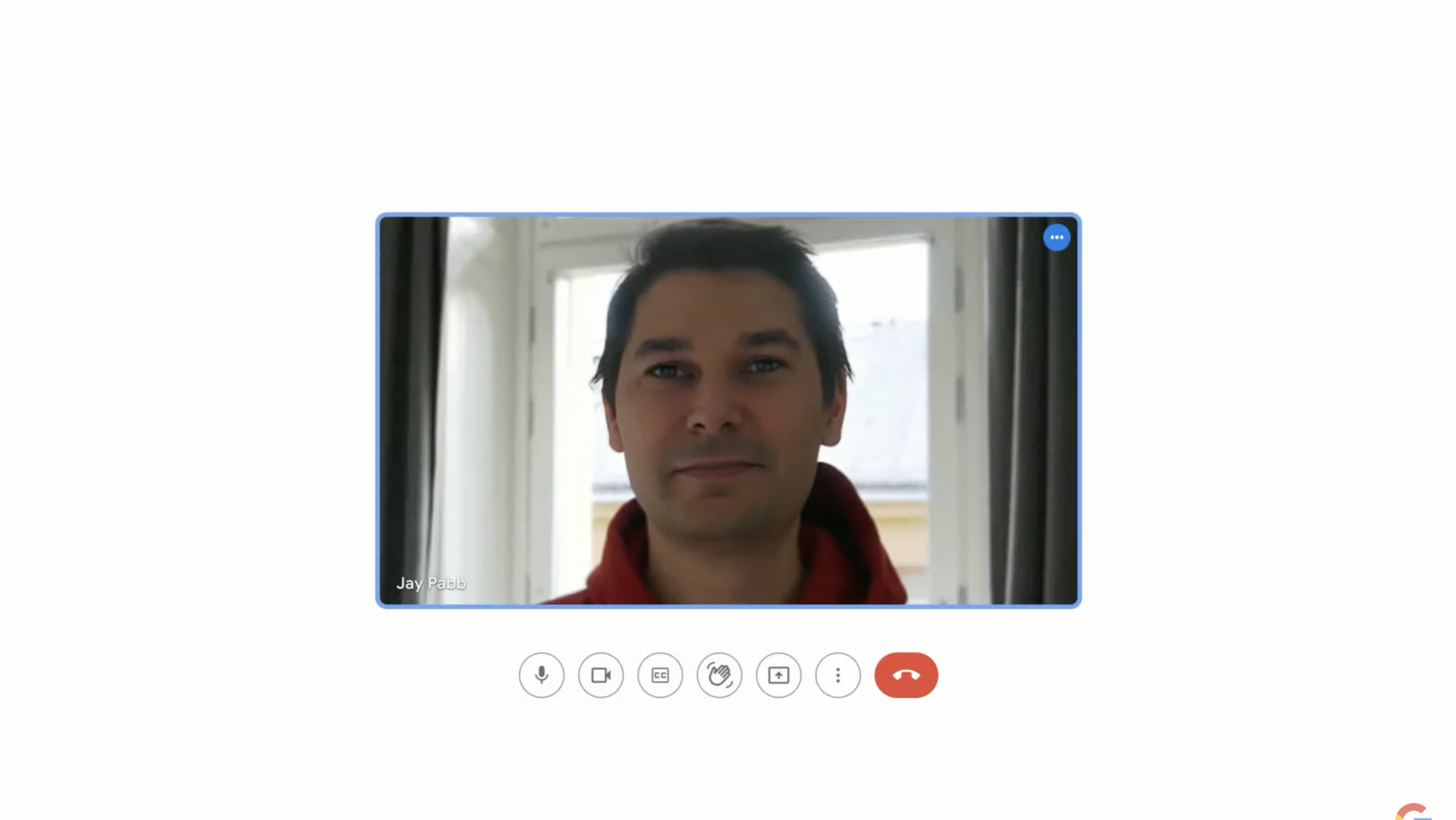 A few final reports from the first day of Google I/O. Here's a look at the changes coming to Google Meet, aimed at making you look better during video calls. And we have more to say about those prototype AR glasses Google showed off.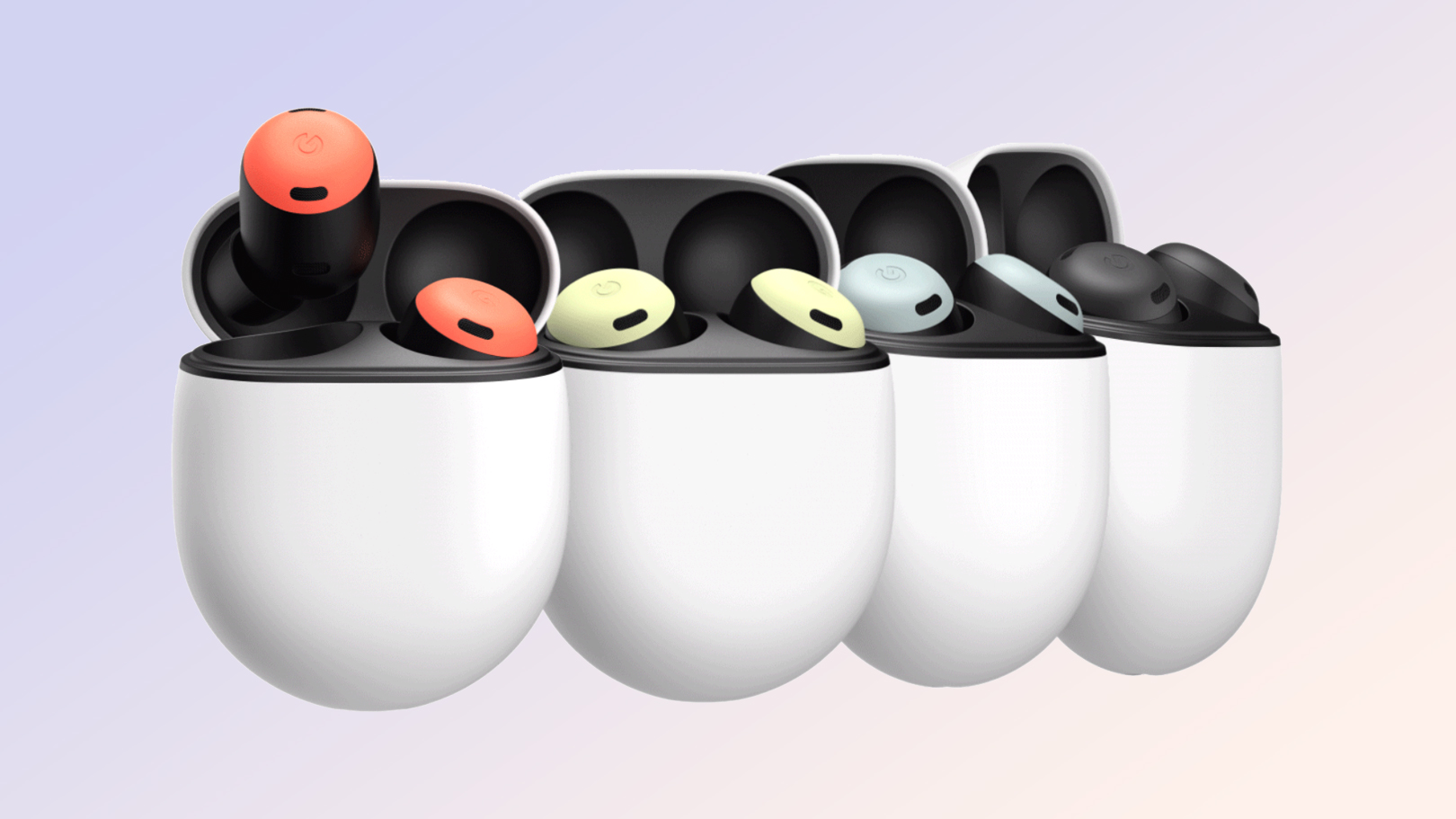 Henry Casey has all the info on the Pixel Buds Pro that we've gleaned from today's keynote. Our Pixel tablet hub is live, too.
"Each year, we get a little closer to delivering on our timeless mission," Pichai says, as he wraps up a rather information-packed IO keynote.
The developer keynote is starting in 15 minutes — that's 3:15 p.m. ET/12:15 p.m. PT — but you'll have to follow that on Google's live feed.
Sundar Pichai is out to wrap things up with a quick word on augmented reality. What gets Pichai excited about AR is that it gives us the ability to focus on the real world while still present you with information.
One AR example is language. Google is showing a video in which the company's skill with translation and transcription has been put in the line of sight of someone wearing AR-equipped glasses. Google describes it as "subtitles for the real world."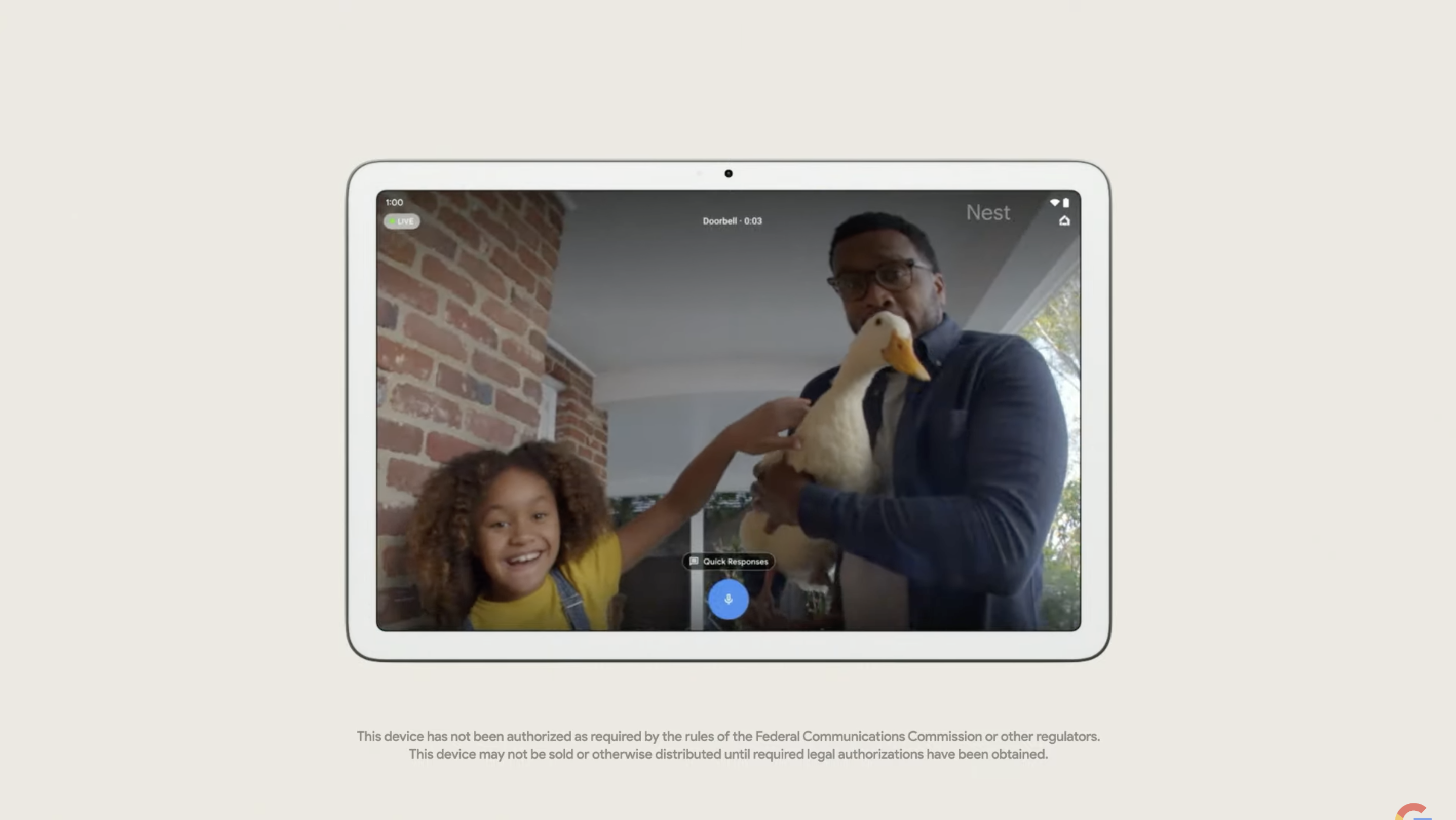 You won't see this next product until 2023, but Google is showing off a Pixel tablet that's designed as a companion for the Pixel phone. That's not a lot of detail, and to be honest, I thought we were going to get a sneak preview of the much-rumored Pixel Fold.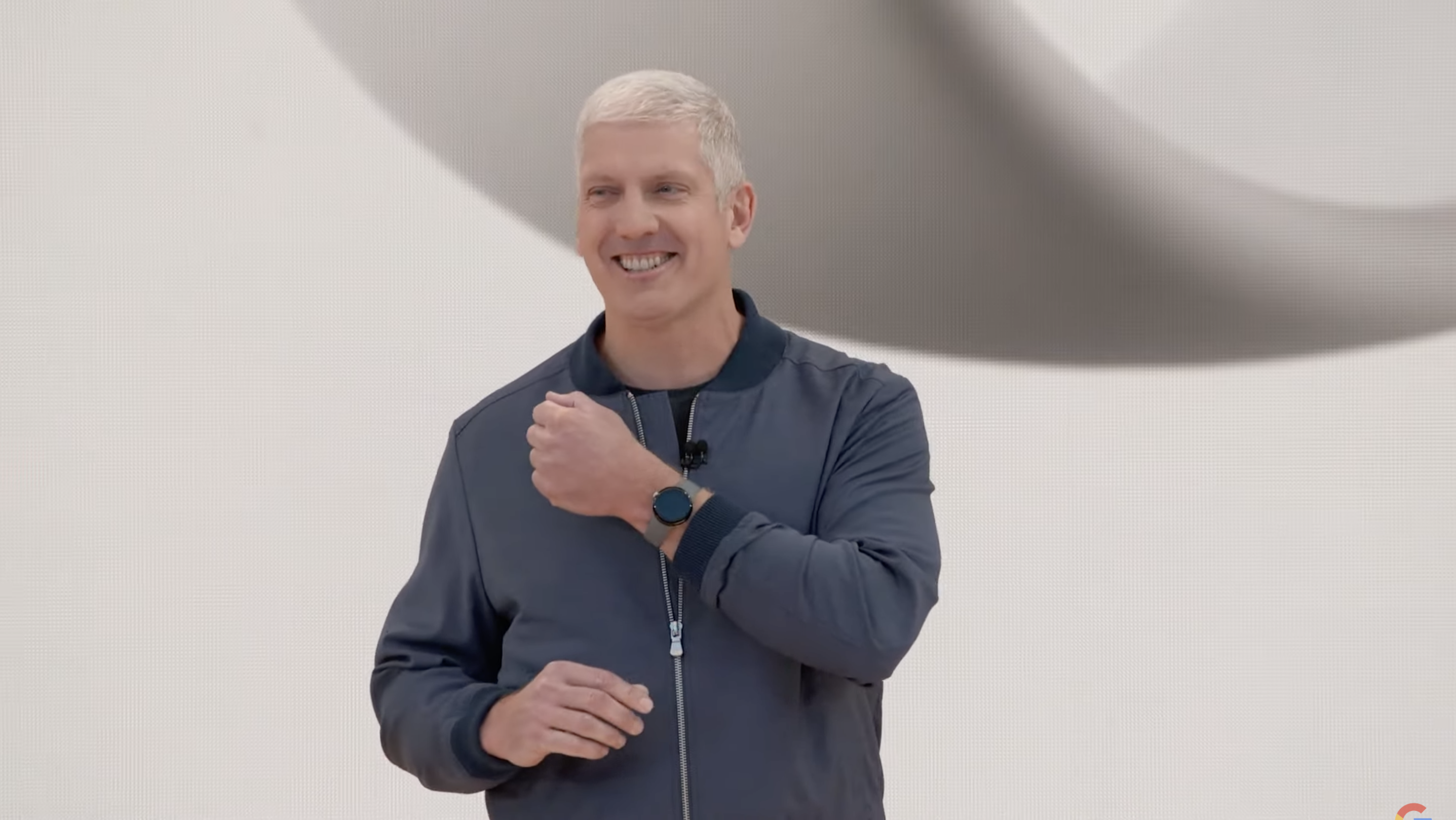 Google's Rick Osterloh is on stage to talk about Google's vision for ambient computing, which lets people access Google's services from anywhere.
As part of that, Google is flying releasing a smartwatch equipped with Google's assistant. The Pixel Watch is a rounded smartwatch that will offer tap-to-pay functionality and the ability to control smart home devices with a new version of the Google Home app.
Osterloh also promises deep integration with Fitbit on the Pixel Watch, which offers heart rate and sleep tracking. The watch will also be able to track fitness stats.
It's coming this fall with the Pixel 7, so expect plenty of details between now and then.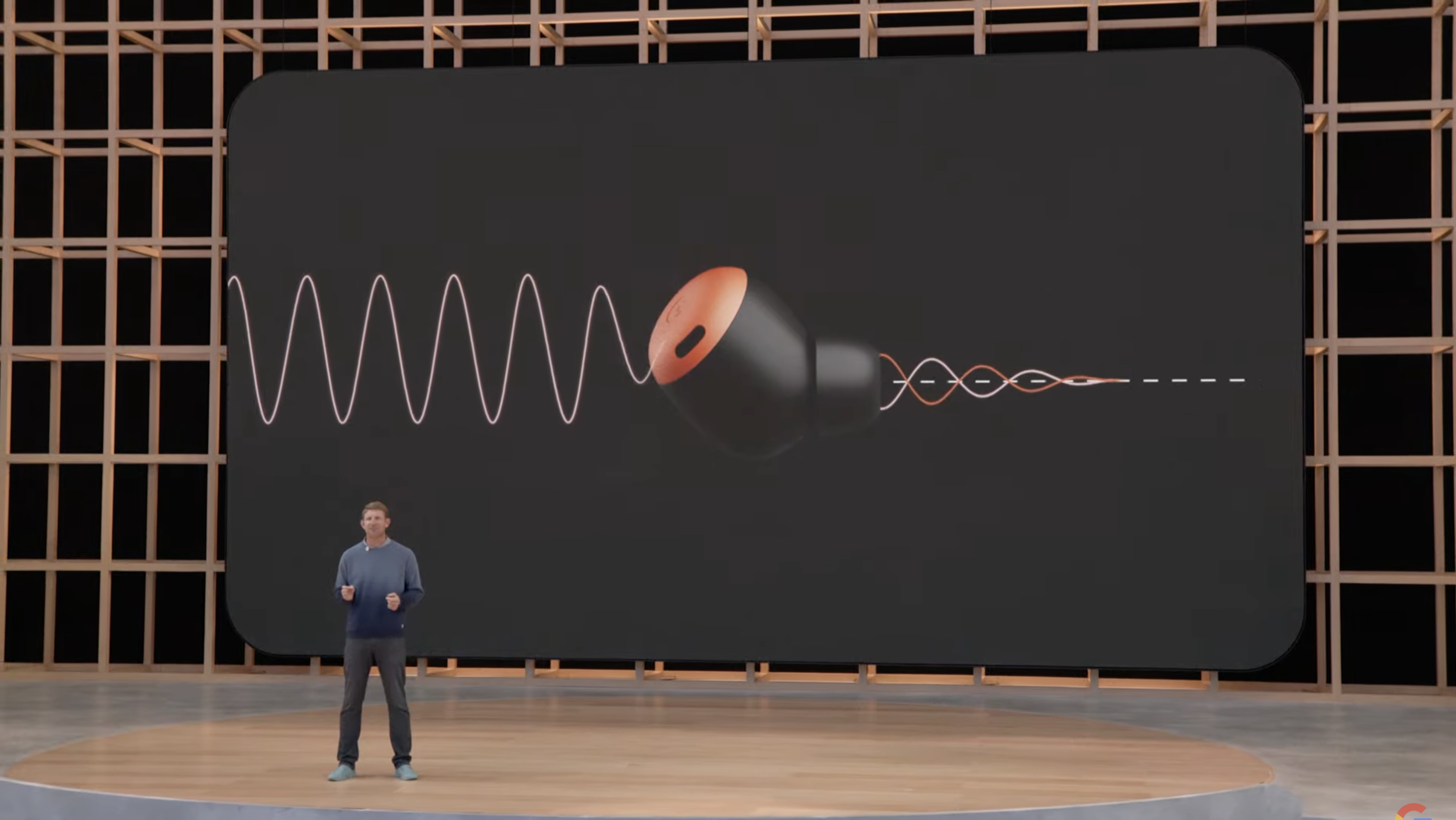 Four colors for the Pixel Buds Pro, which cost $199. Like the Pixel 6a, they become available for pre-order July 21, with the earbuds going on sale a week later.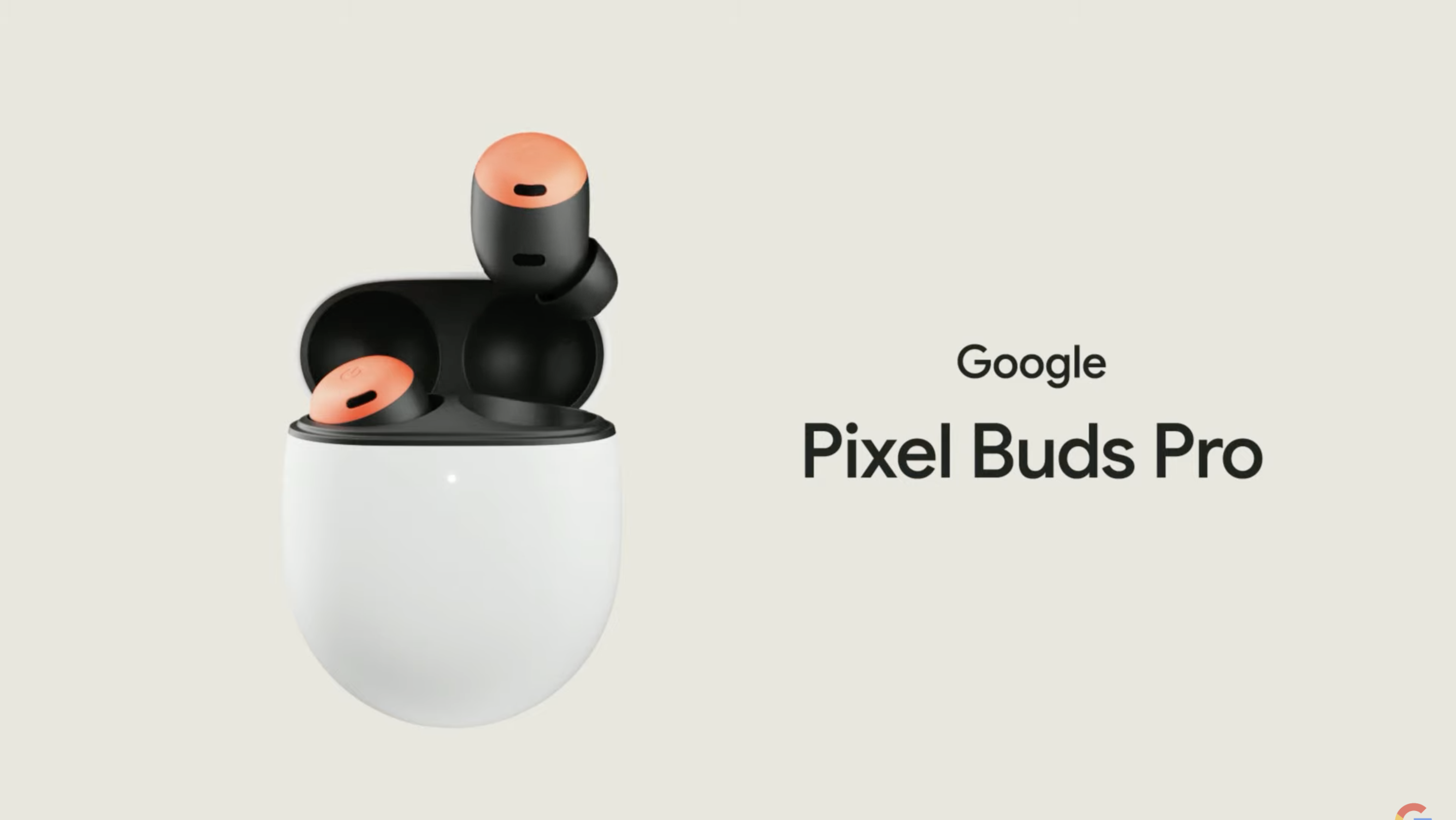 Pixel Buds Pro are coming this summer, despite my confident prediction that Google wouldn't show these off. (Predictions are a mug's game.) They'll have active noise cancellation, the first time that's been available on Google earbuds. A 6-core audio chip runs Google algorithms to offer what Google thinks is the best ANC on any wireless earbud.
Silent-seal technology keeps the sound in, and a transparency mode lets outside sound in, too. Beam-forming microphones trained with machine learning pick up your voice.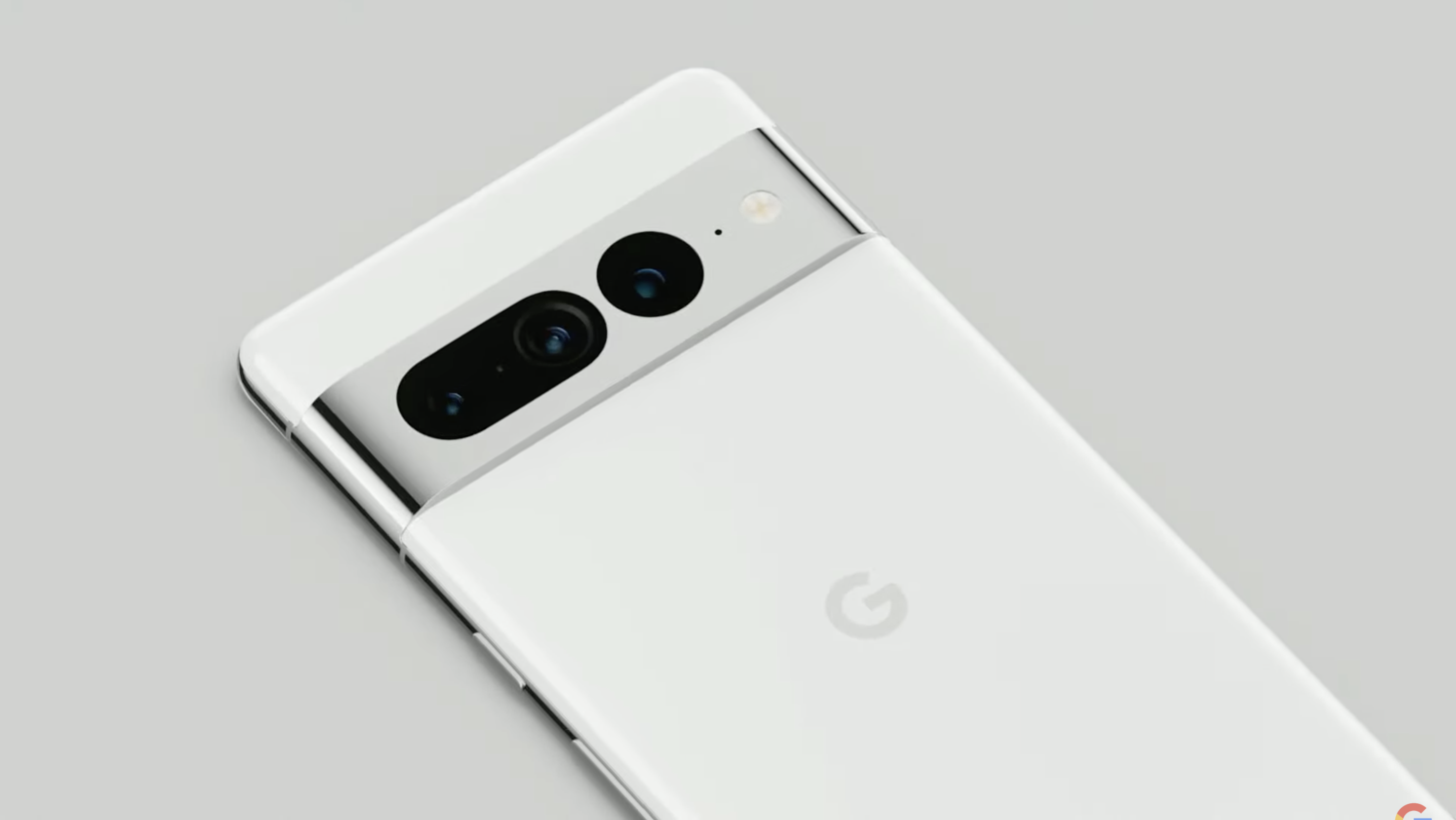 We're also getting a sneak preview of the Pixel 7's new look. The camera bar is back only the lenses look a little bit different. Turns out those leaked case designs we saw last week were pretty accurate.
A new version of Tensor will power the Pixel 7 and Pixel 7 Pro and they'll ship with Android 13 as you might expect.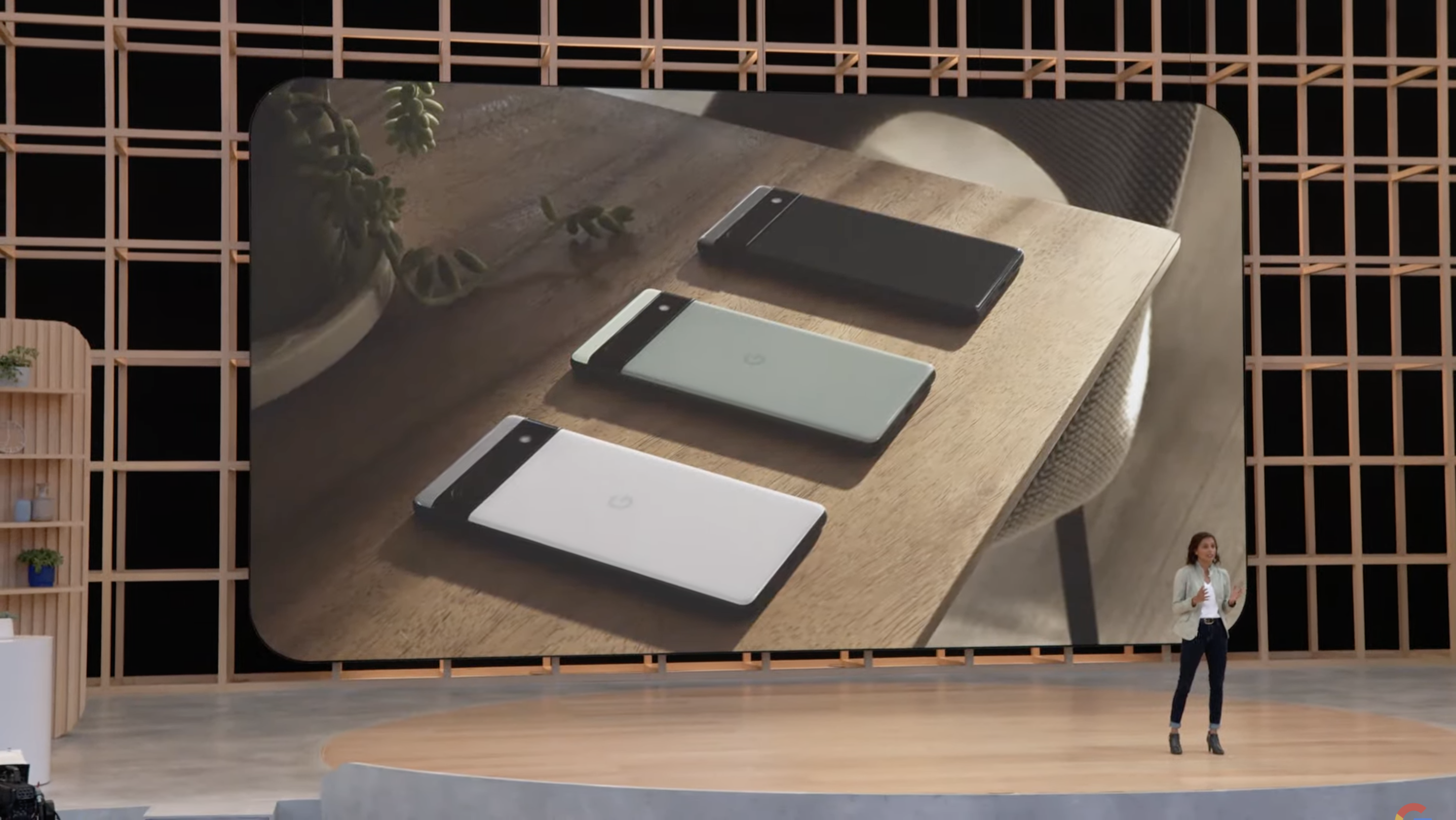 Tensor also supports the Live Translate and Recorder features on the Pixel 6a. (That includes on-the-fly transcripts of recordings.) All that translation and transcription happens on the device.
Security features include an under-display fingerprint sensor, M2 Titan chip and five years of security updates.
Google promises all-day battery life, too, but we've heard that before.
Pre-orders start July 21. The phone hits stores on July 28. That's a long-time to wait.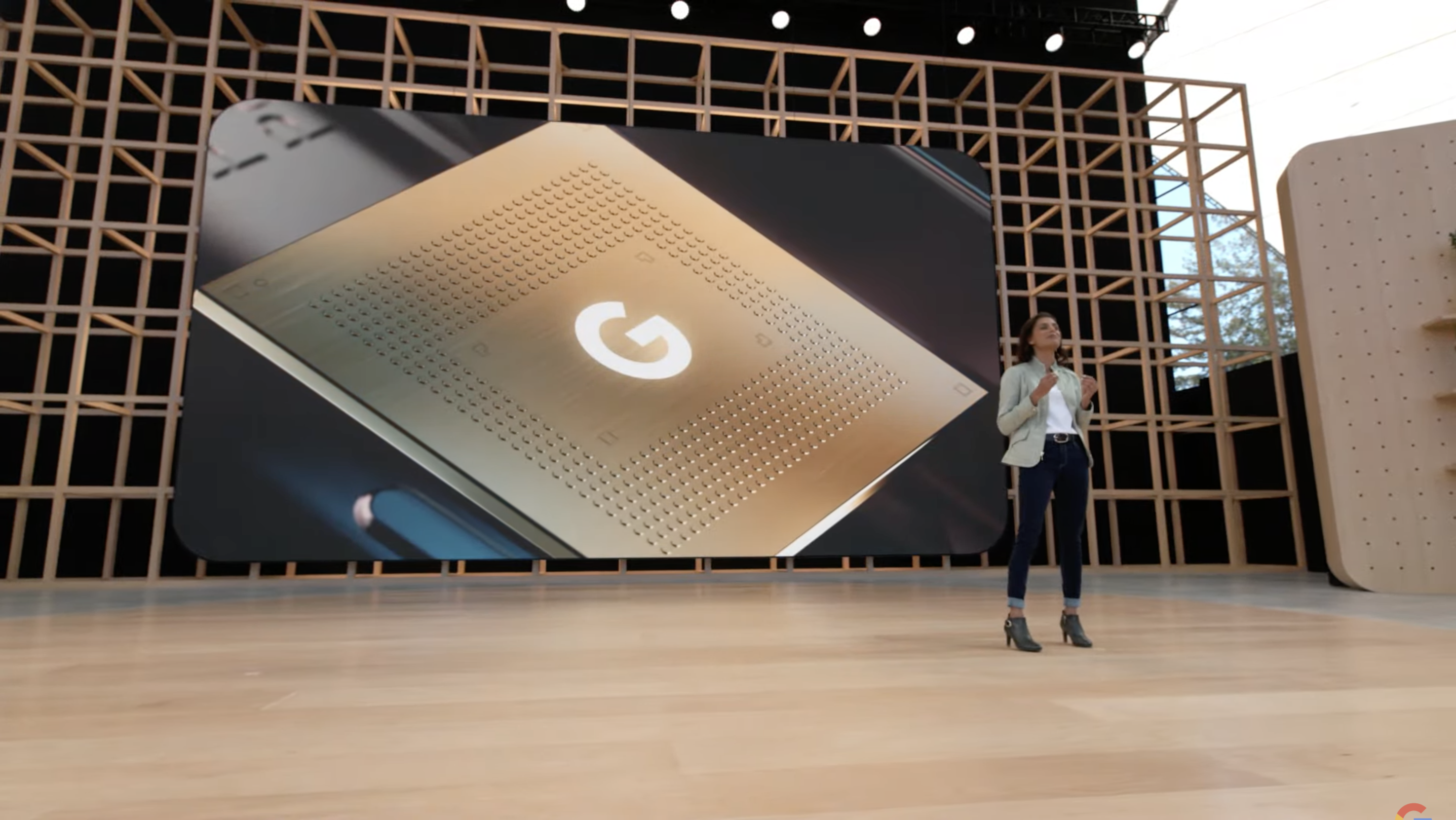 Camera features include Night Sight (take that, iPhone SE), authentic skin tones and — best of all, in my opinion — Magic Eraser. That features been enhanced so you can change the color of distracting images with a tap, returning the focus of the photo to the subject.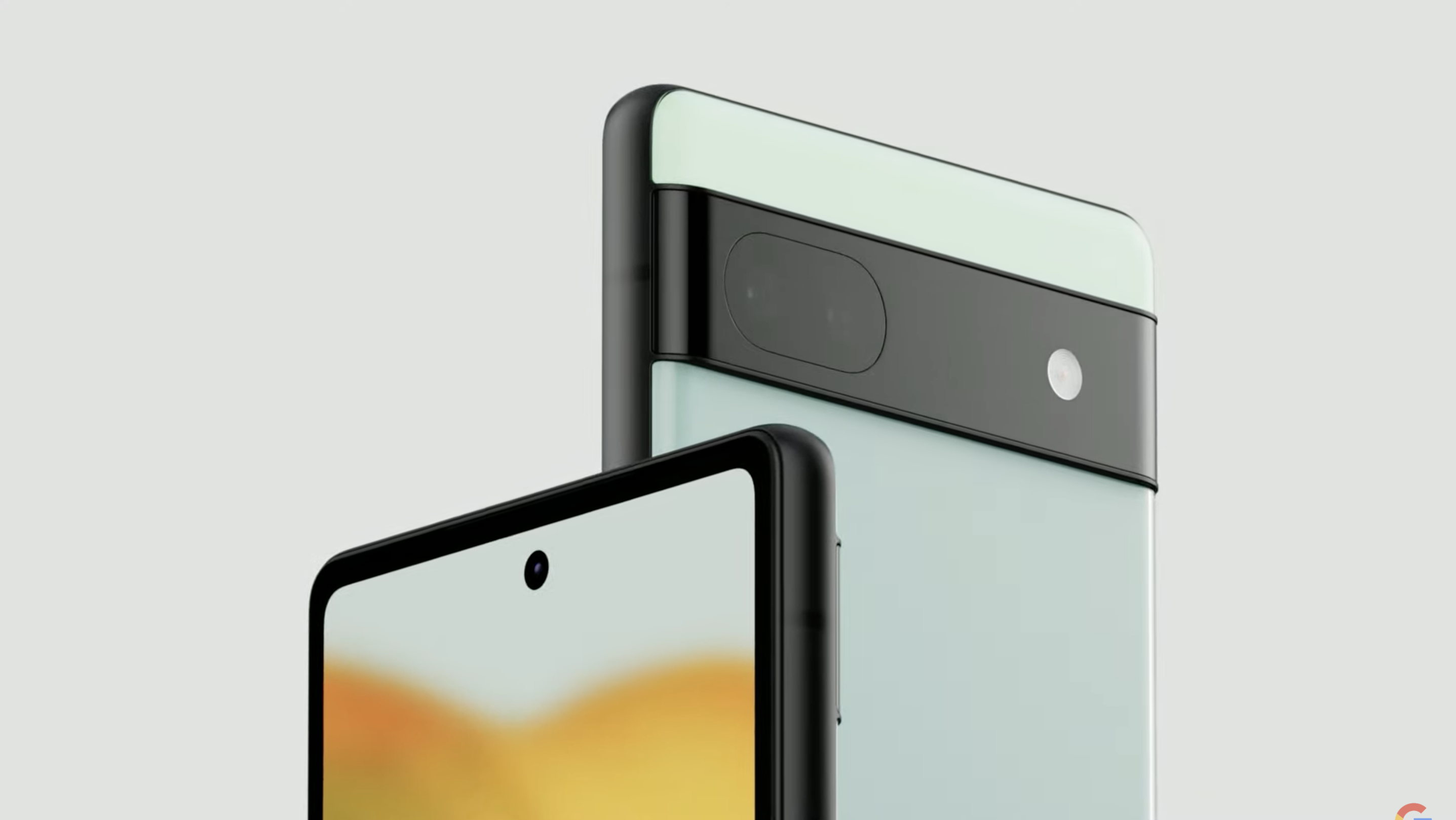 You get a 6.1-inch display with the Pixel 6a, and yes, the camera bar from the Pixel 6 is on the A series phone now.
And of course, the Tensor chip will power this budget phone, so you get the same 5G connectivity as you do with the Pixel 6. Security features are the same, too. And performance should match Google's flagship phones, too, including faster machine learning models.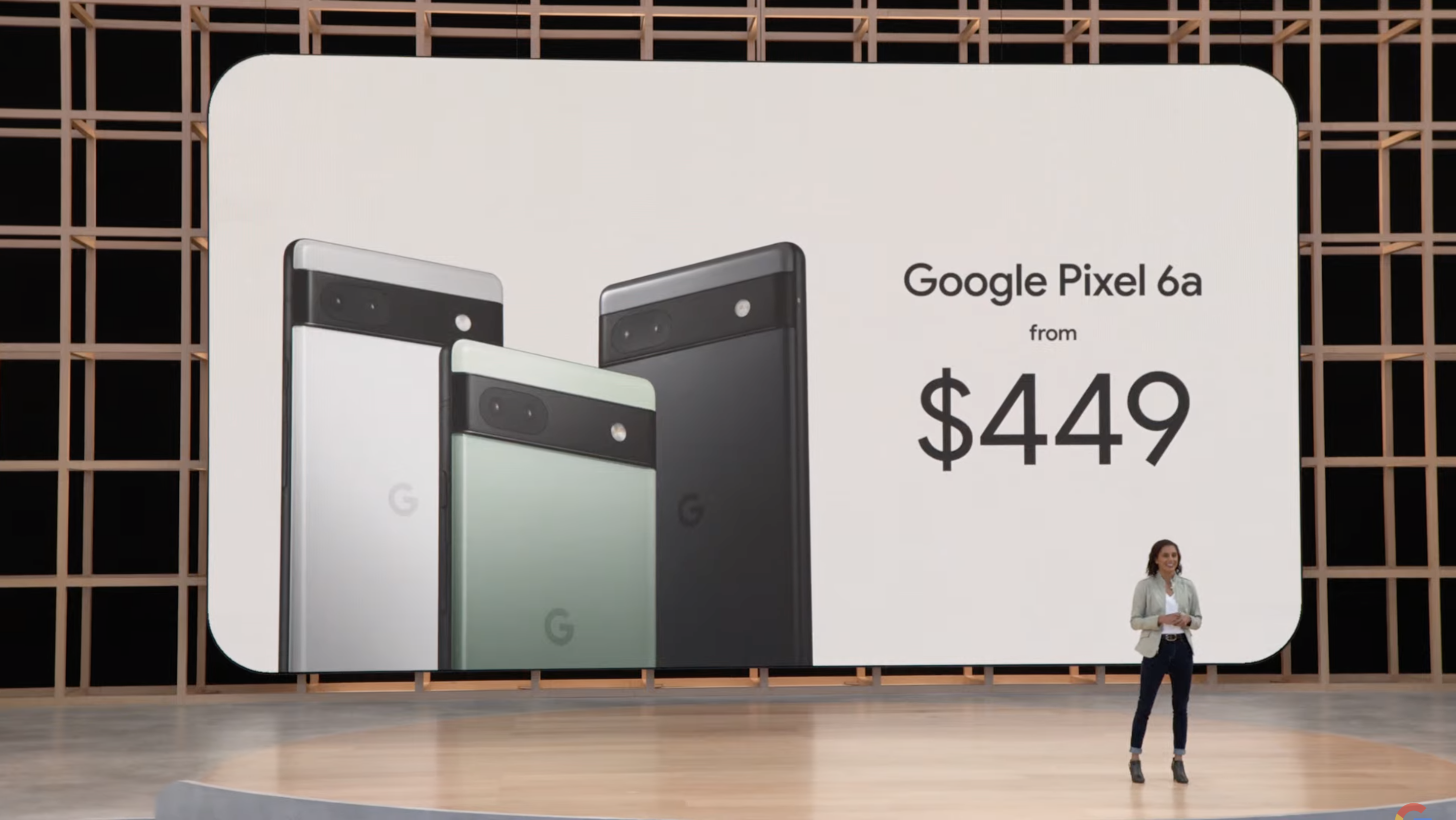 It's time to talk hardware, starting with a recap of the Pixel 6, the fastest-selling Pixel ever "even with the supply constraints." And that leads us to the the Pixel 6a, which you'd know about already if you've been reading this live blog.
Good news — the $449 price of the Pixel 5a is sticking away with the Pixel 6a.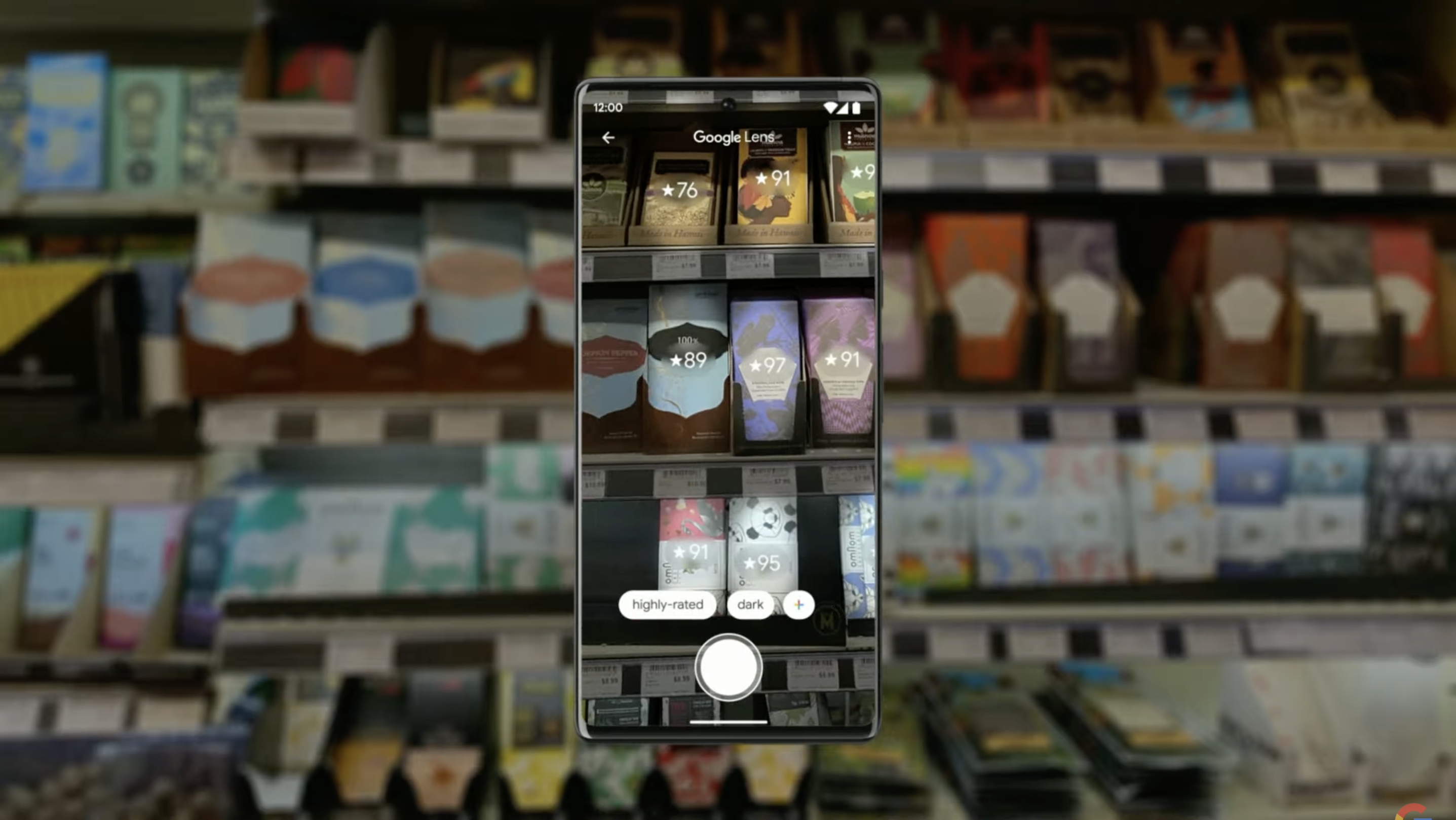 Mike Prospero has more details on what's changing with Google Search with the Scene Detection feature.
Now let's look at how Android is going to make different devices work better together. Google is working to extending casting capabilities to new products and partners, including Chromebooks and cars.
Phone Hub will be extended this fall so that you can access messages on your phone from your Chromebook.
You'll be able to copy a photo on your Android phone and paste it in tablet using a multidevice clipboard feature demonstrated on stage.
The Matter open-industry standard launches this fall. It connects Google Nest to many smart household products, and they'll be able to connect in seconds using Google's Fast Pair feature.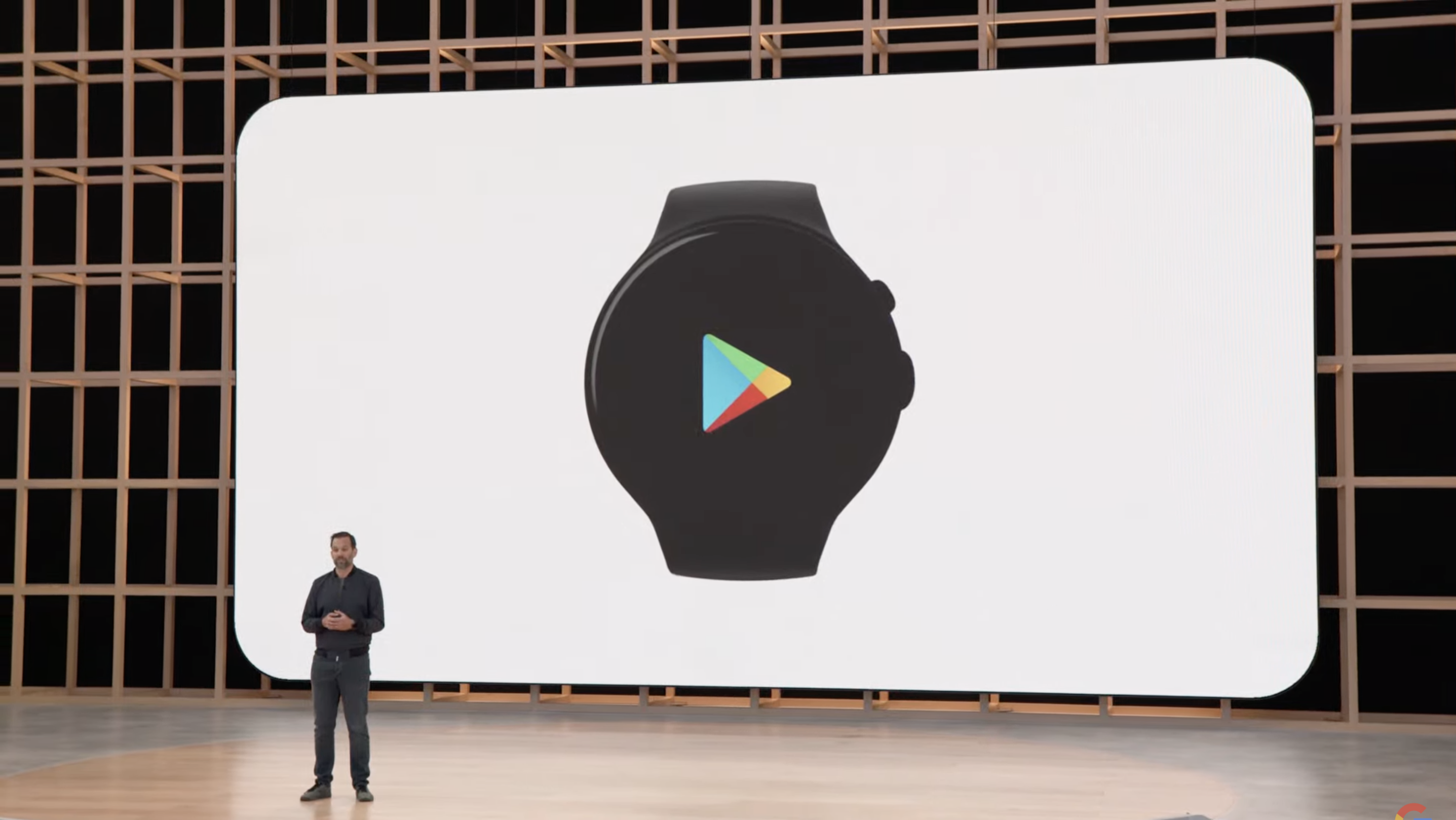 As for beyond the phone, Google is now talking Wear OS. There will be more Wear OS watches coming this summer — no other details are available — but expect more apps, too, that will "bring the best of Android to your wrist."
Tablets are coming, too, and they're built on the latest Android releases. In a demo — which we presume is showing off the tablet-friendly Android 12L — a Google executive showed how Android is being customized for bigger screen devices. A demo of multitasking showed photo-editing and chat apps running side-by-side on a tablet, with the ability to drag the edited photo into a chat window.
More than 20 Google apps are being updated to take advantage of the big-screen functionality built into Android, so that they look good on Android tablets. Third-party apps are coming as well, and Google promises to improve app discovery on Google Play.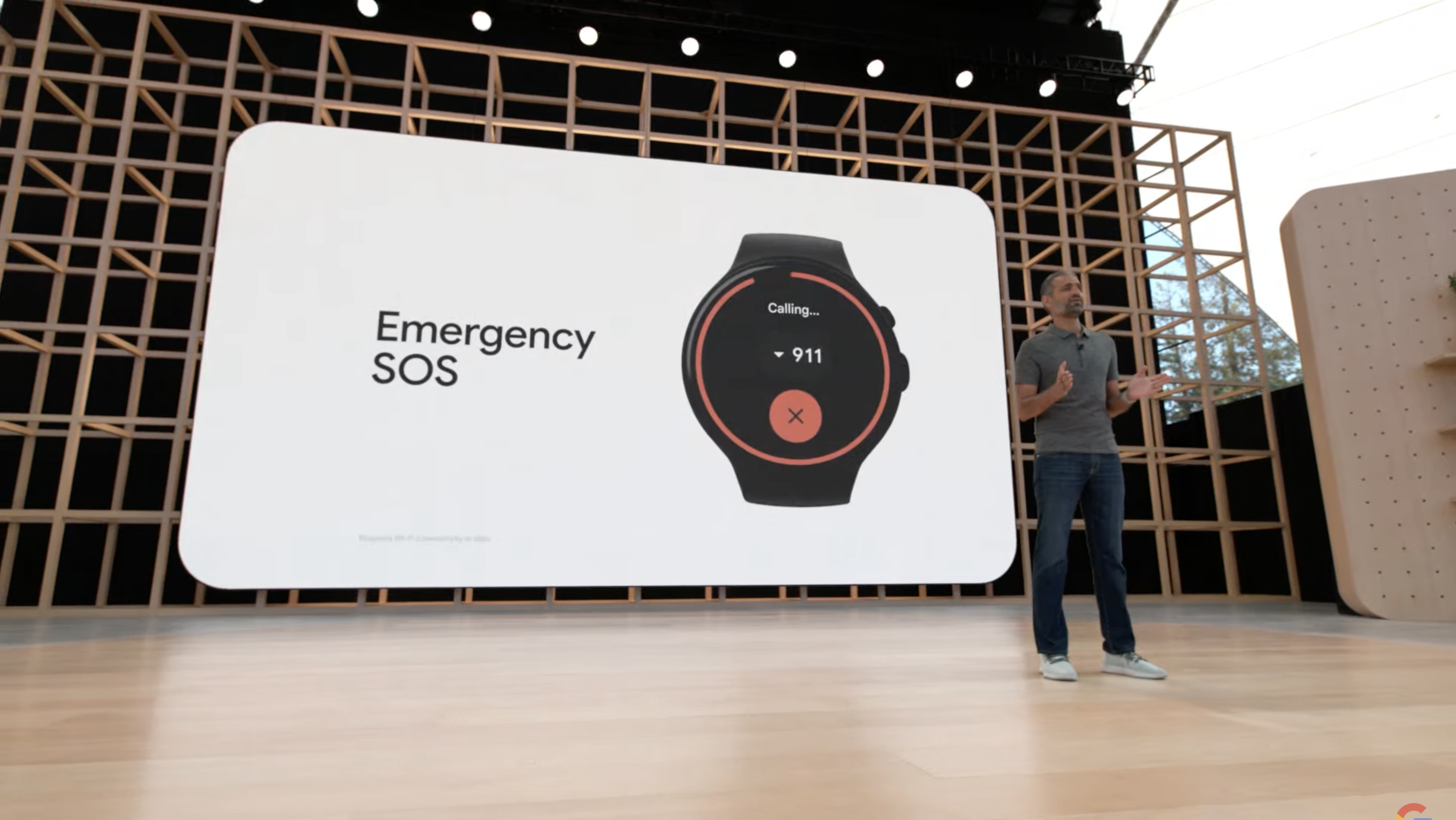 Emergency SOS features are going to Google's Wear software. The Earthquake Warning System that uses accelerometer data to detect shaking is coming to more regions, too. You only get a few extra seconds of warning before an earthquake, but Google says that can save lives.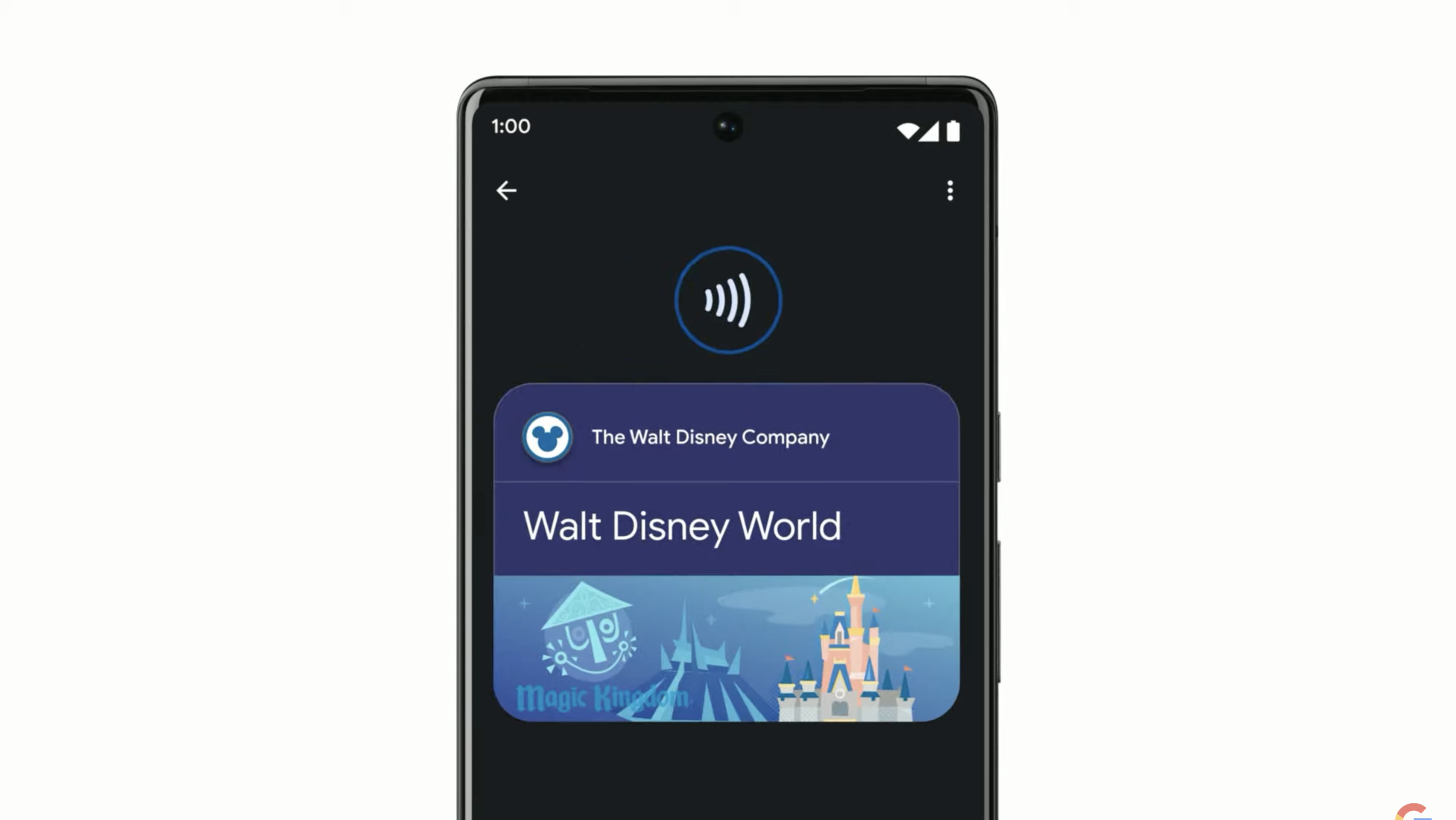 Android 13 is built on Material You and there's a lot of customization. You can set different default languages for different apps, for example. 
A revamped Google Wallet is arriving, too, even ahead of Android 13. (It's arriving in the coming weeks, Google says.) It securely stores payment cards, but there will also be room for park passes, student IDs, vaccine information and the other kinds of information you'd keep in your physical wallet. That includes your state ID or drivers license — like Apple, Google is working with state governments to make this happen.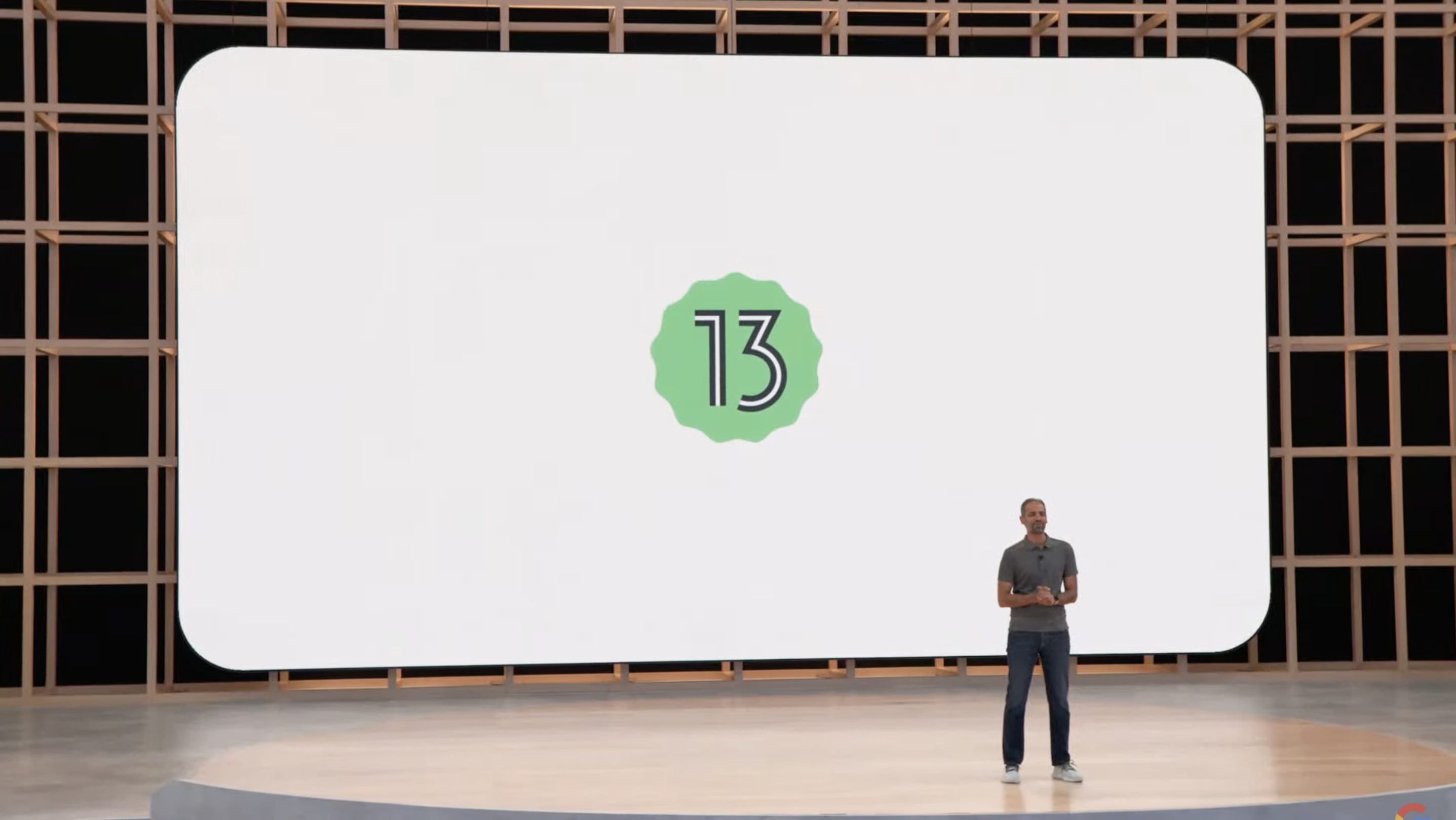 We're more than an hour into this I/O keynote and we're just now getting to Android. There are three big themes in Android 13 — enabling you to do more with your phone at the center, extending beyond your phone and making all your devices work better together.
The Google App is also going to add a one-tap feature that brings up more context about the website. The idea is that you'll be able to better judge the reliability and authenticity of the site (for instance, if you're searching for charities).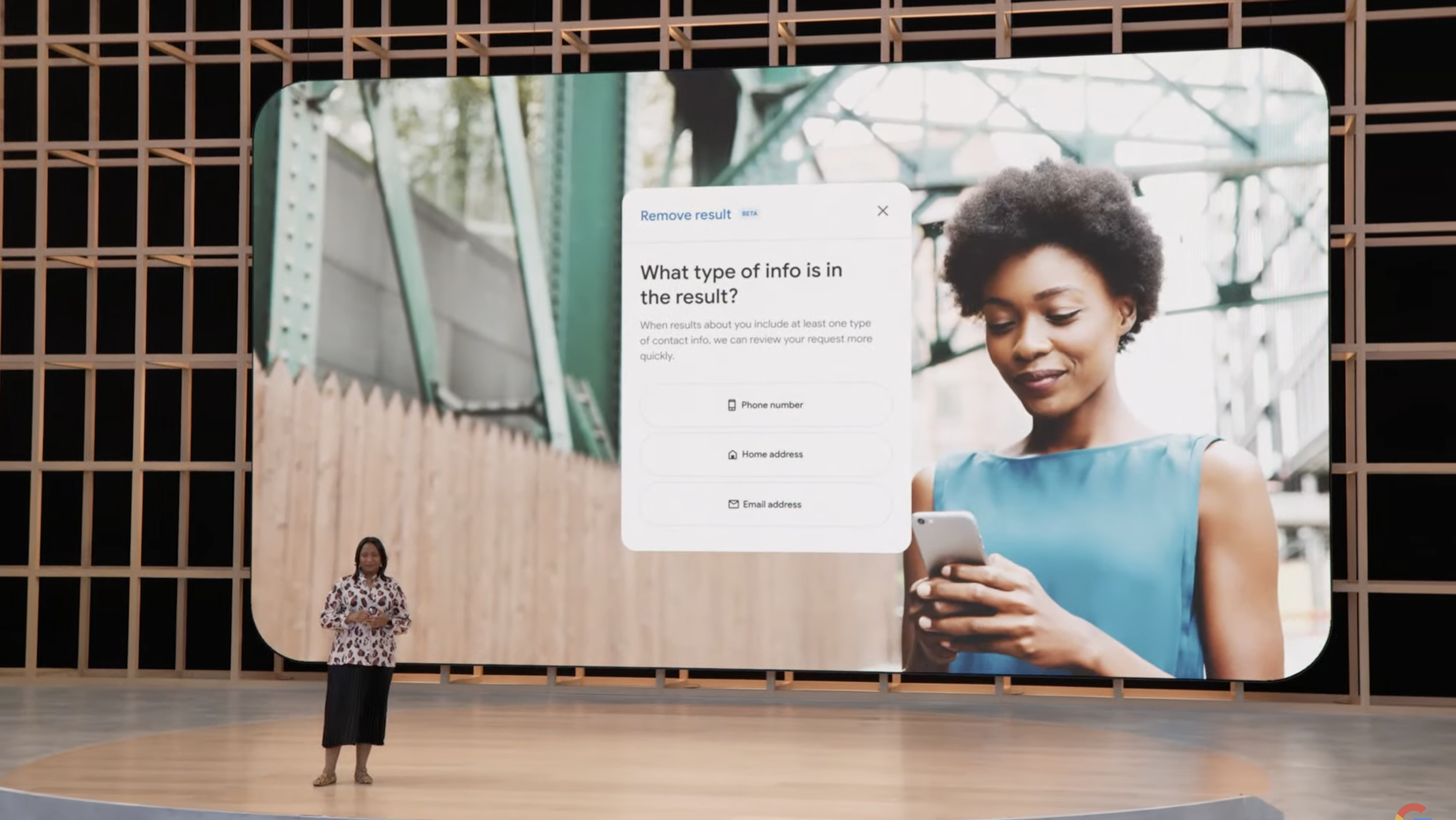 Here's a tool that will be helpful if you've ever Googled yourself. (Admit it, you have.) If you find search results that have personal information like your home address or email address, you'll be able to easily request that it be removed in Google Search. That won't remove it entirely from the web, but it will make that data less easy to stumble upon. That feature's arriving in a few months.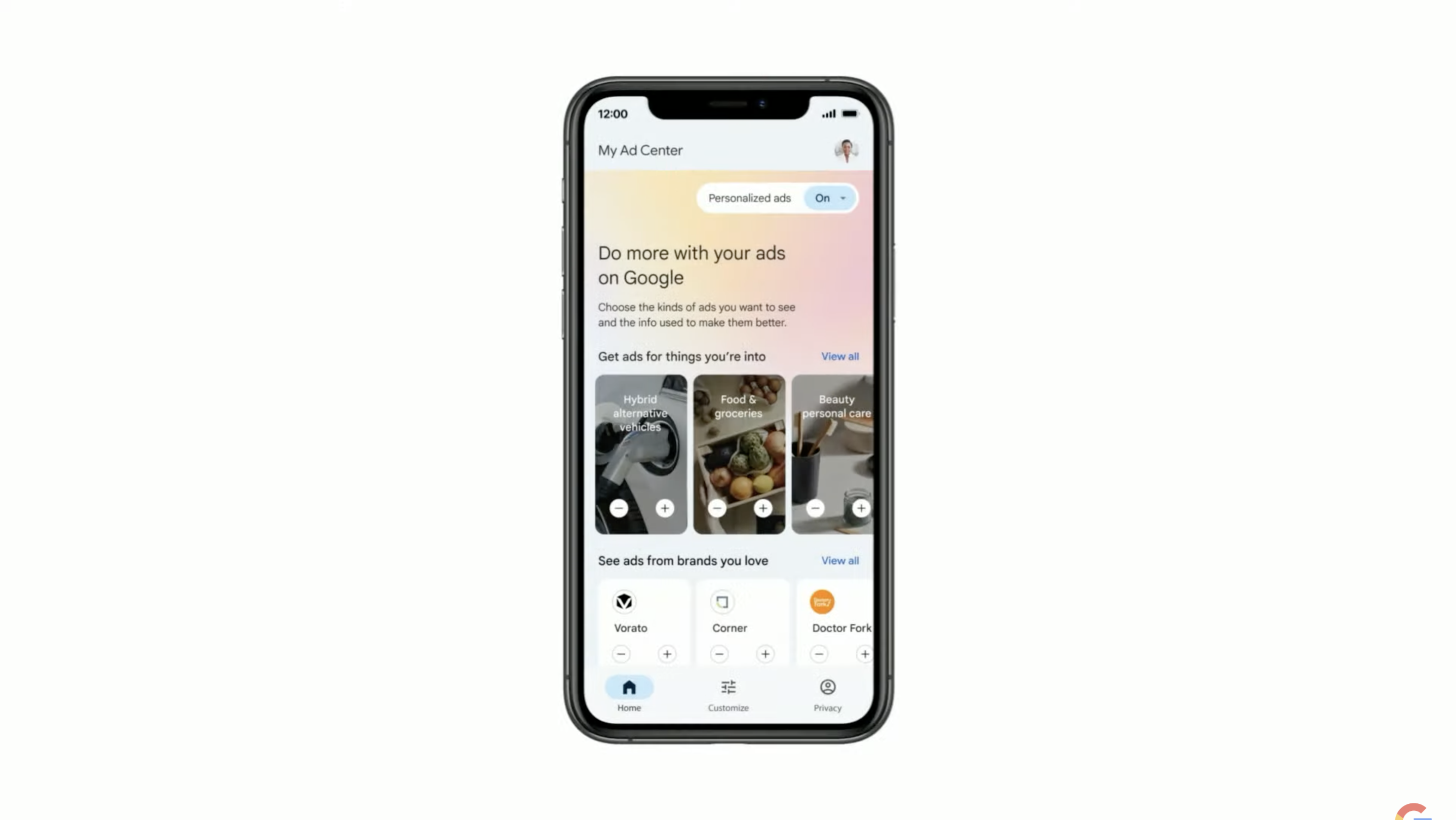 Google is launching My Ad Center later this year. It will give you more control over ads you see on YouTube, Search and Discover. You can choose to see more ads from brands and categories you like, while opting to see fewer ads from the things you're not interested. My Ad Center will be accessible from your Google Account or from the app itself.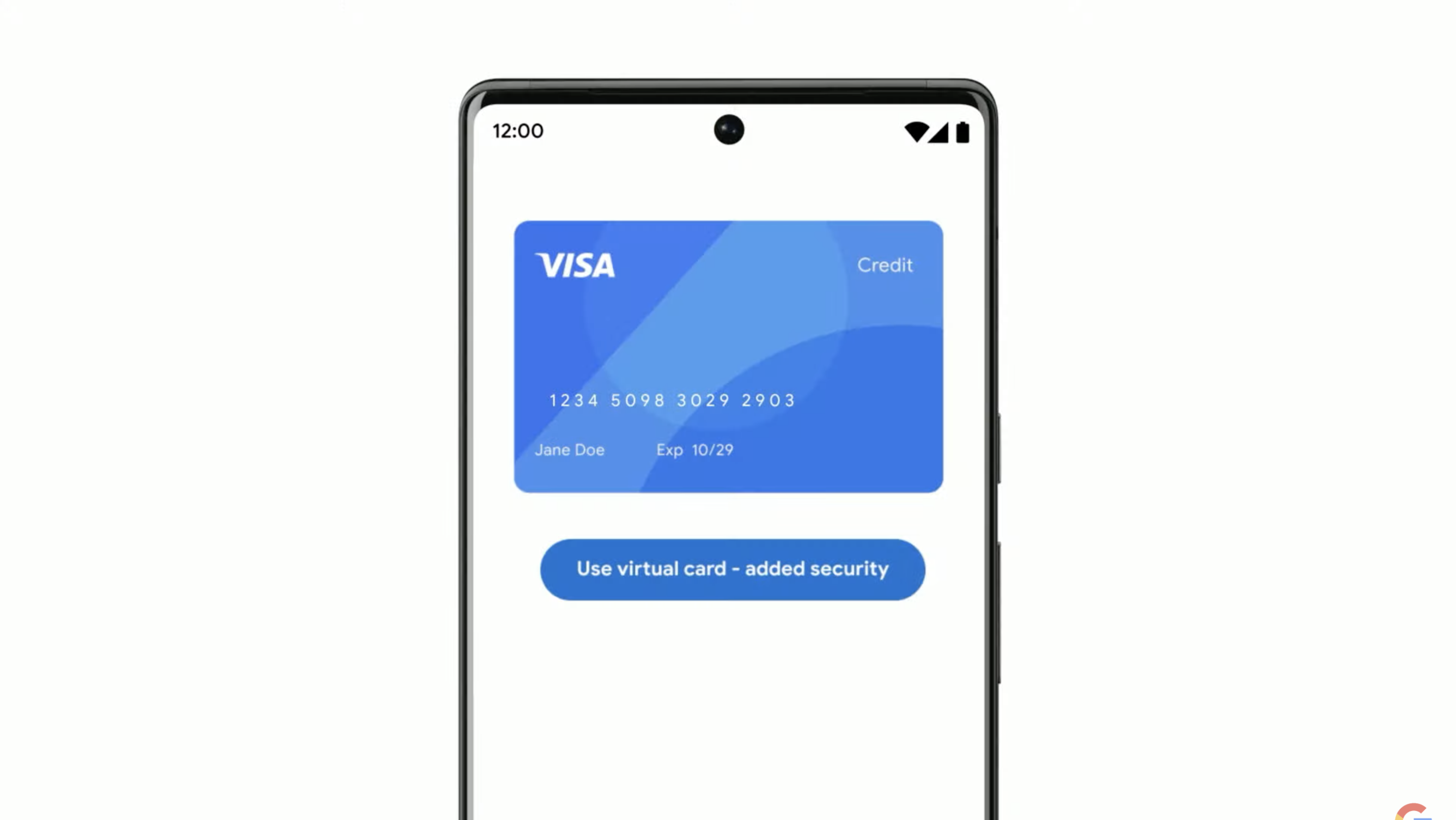 Google is introducing Virtual Cards that make online shopping safe. The idea is that when you buy something online, your credit card number gets replaced by a distinct virtual number. That saves you from having to enter sensitive data like your CVV number.
My colleague Roland Moore-Colyer has the details on Virtual Cards, plus other privacy and security news at Google I/O.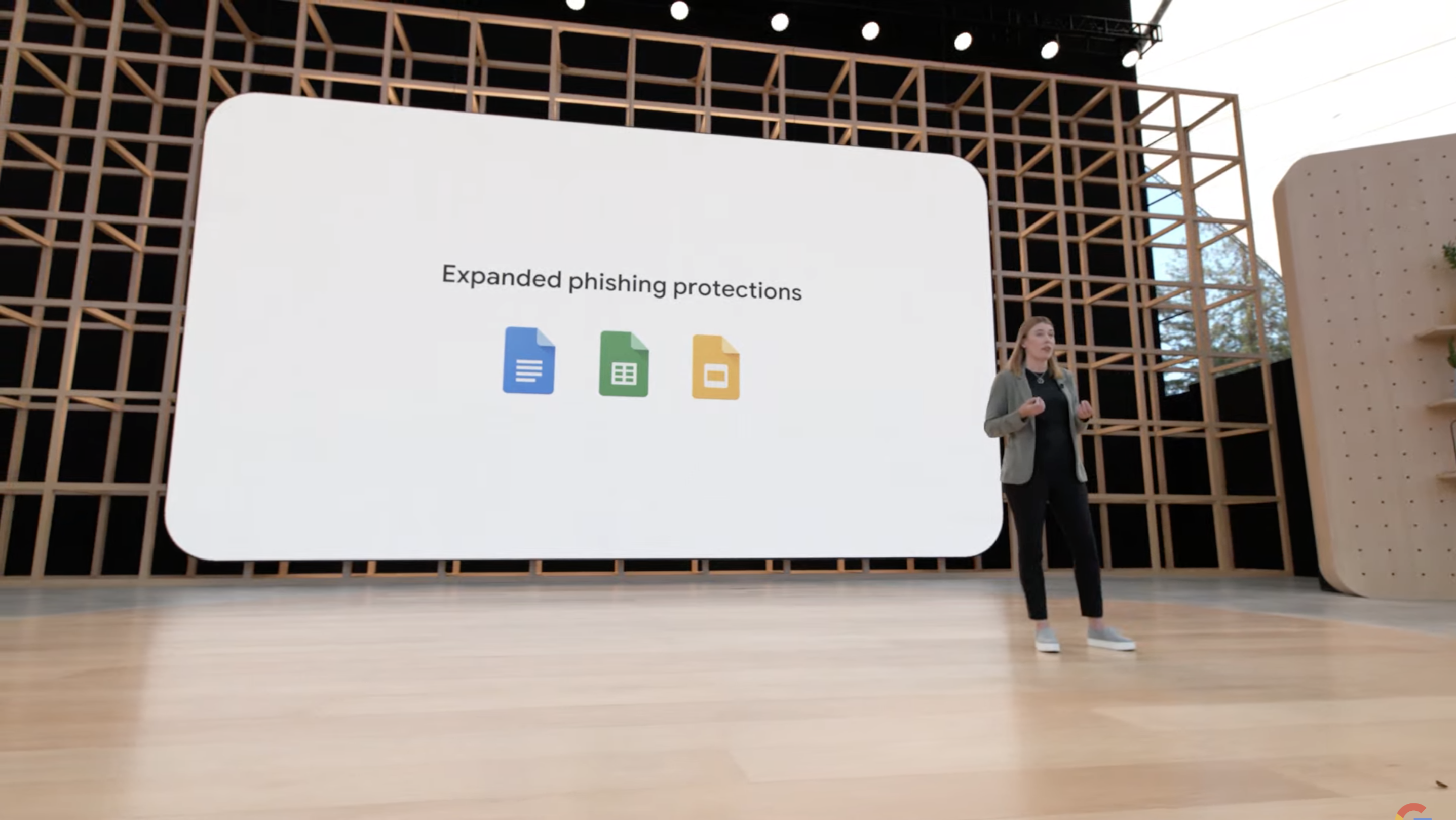 We've moved on to security and privacy in the Google I/O keynote. Some of that includes efforts with companies, but there's security efforts aimed at individual users. Specifically, Google is scaling phishing protections to Docs, Sheets, and Slides. If you're working with a document that has a suspicious link. Google will alert you and take you back to safety.
Two-step verification is going to be turned on by default.
Google's also talking up its involvement with other tech giants to move to a password-free future.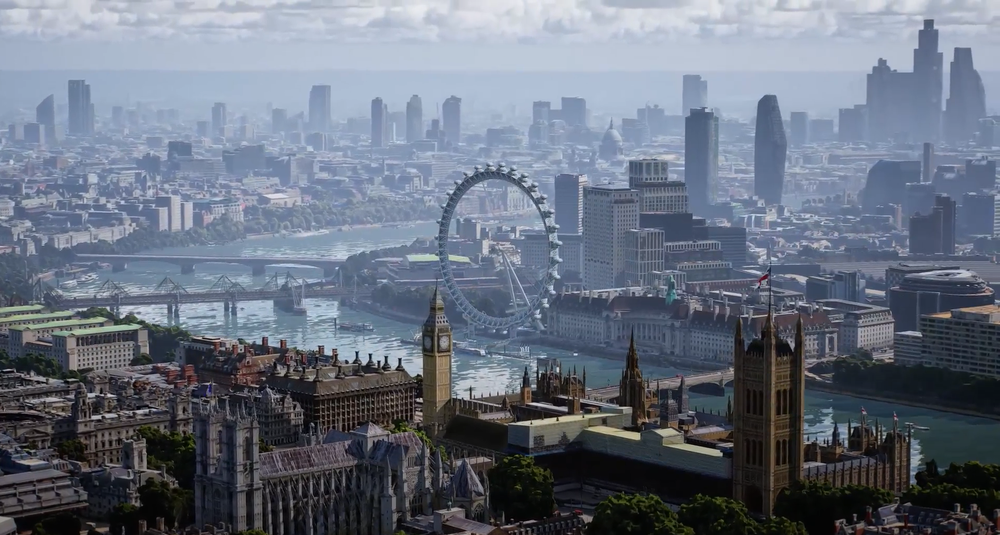 Our look at the new Immersive View feature in Google Maps is now live for your reading pleasure.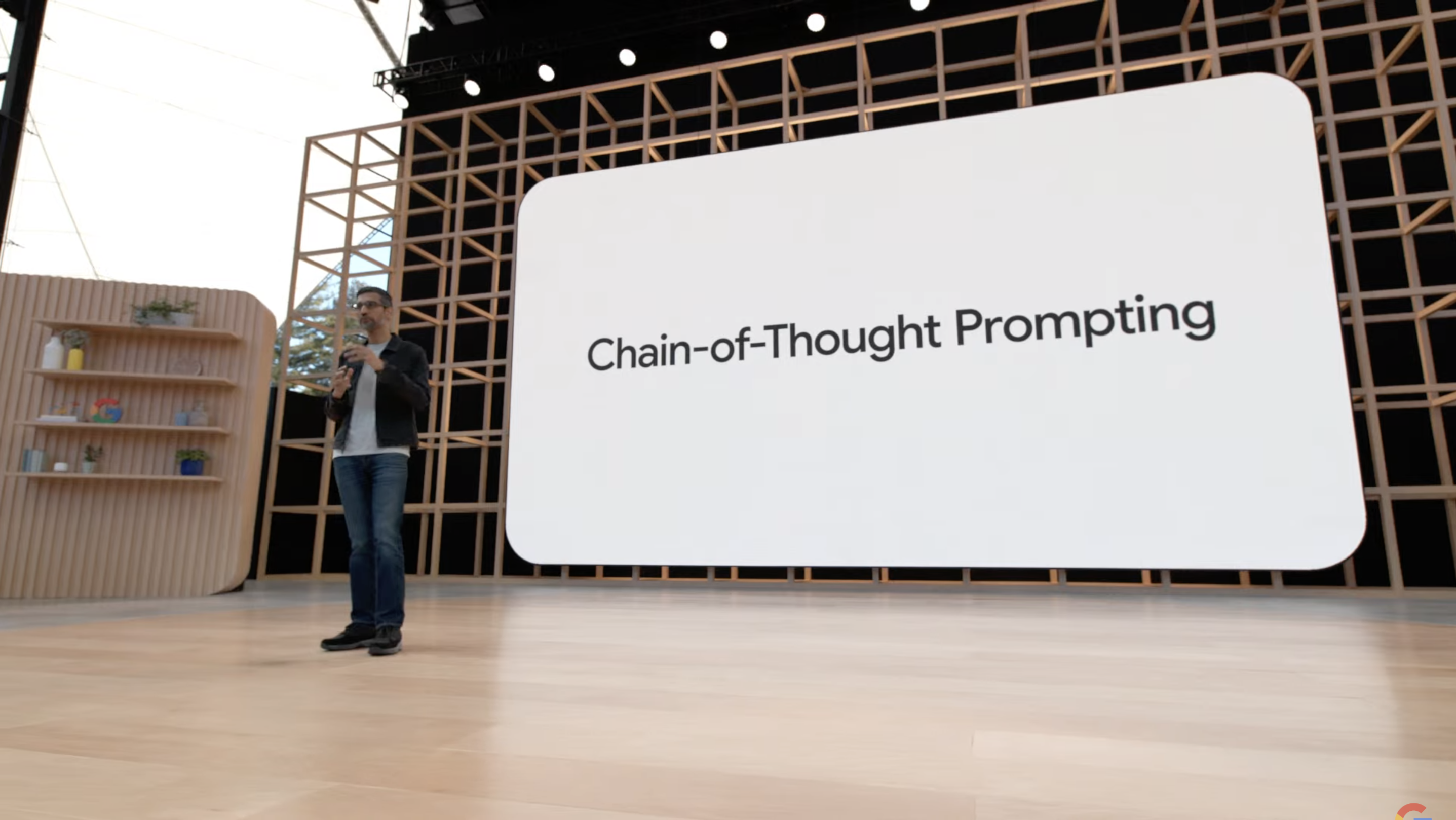 Continuing with the AI demos, Google is showing off Chain-of-thought prompting. In this example, the assistant not only answers questions, but shows its work — particularly helpful for math problems.
It's called PaLM, and it works with languages, too, allowing the assistant to answer a question asked in one language in another language.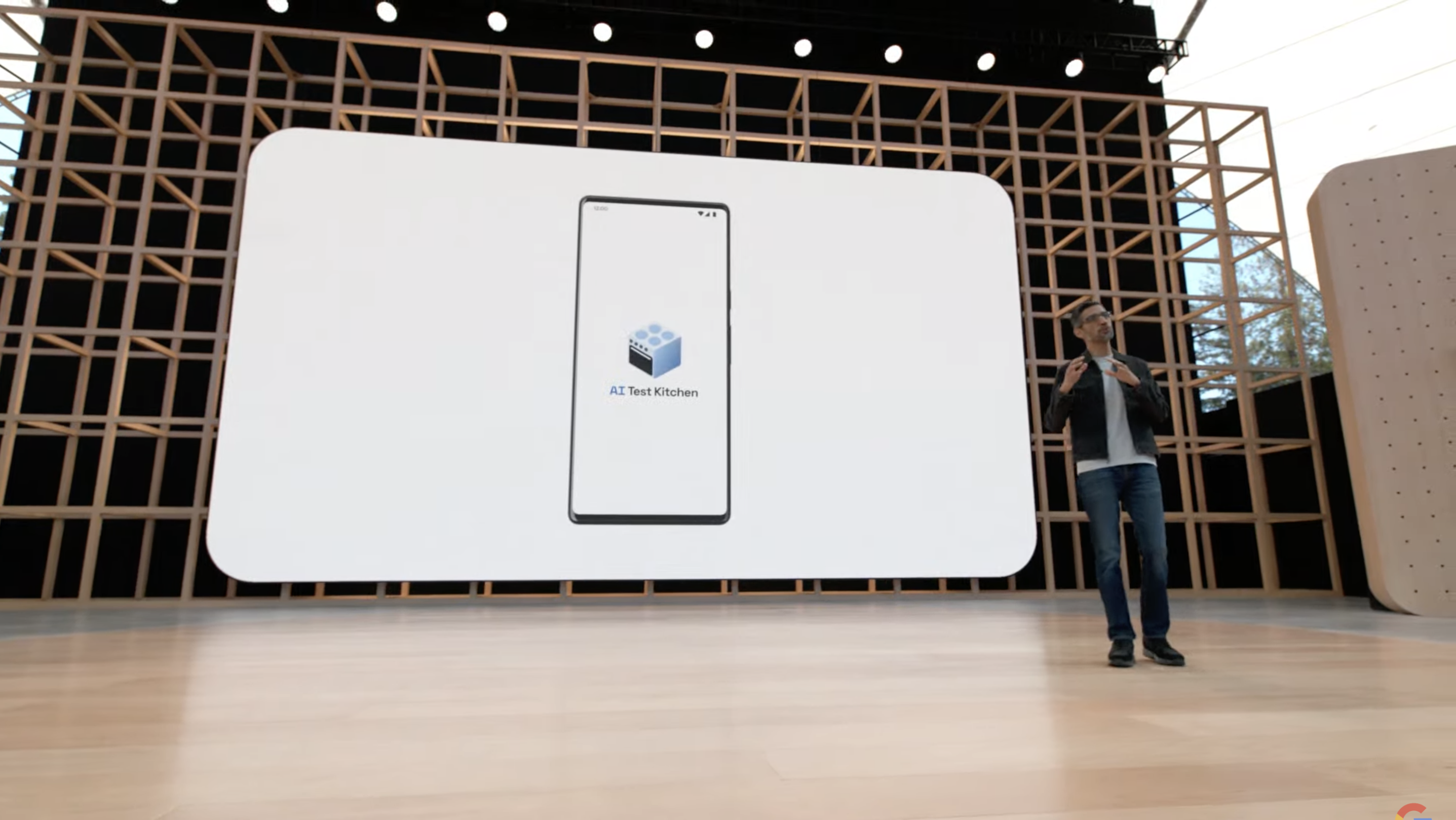 LaMBDA is Google's conversation technology, and at I/O, Google is showing off LaMBDA 2. You can ask LaMBDA about any topic and get a pretty coherent, on-topic response, even when you ask follow-up questions. In a live demo of LaMBDA's AI Test Kitchen App, a Google executive tried to break down a complex idea into different steps and subtasks. "Plant a vegetable garden" produced a list of different tasks that you would need to perform.
Google is still getting feedback on LaMBDA and incorporating that into updated versions. But it illustrates the work Google is doing on AI and natural language processing.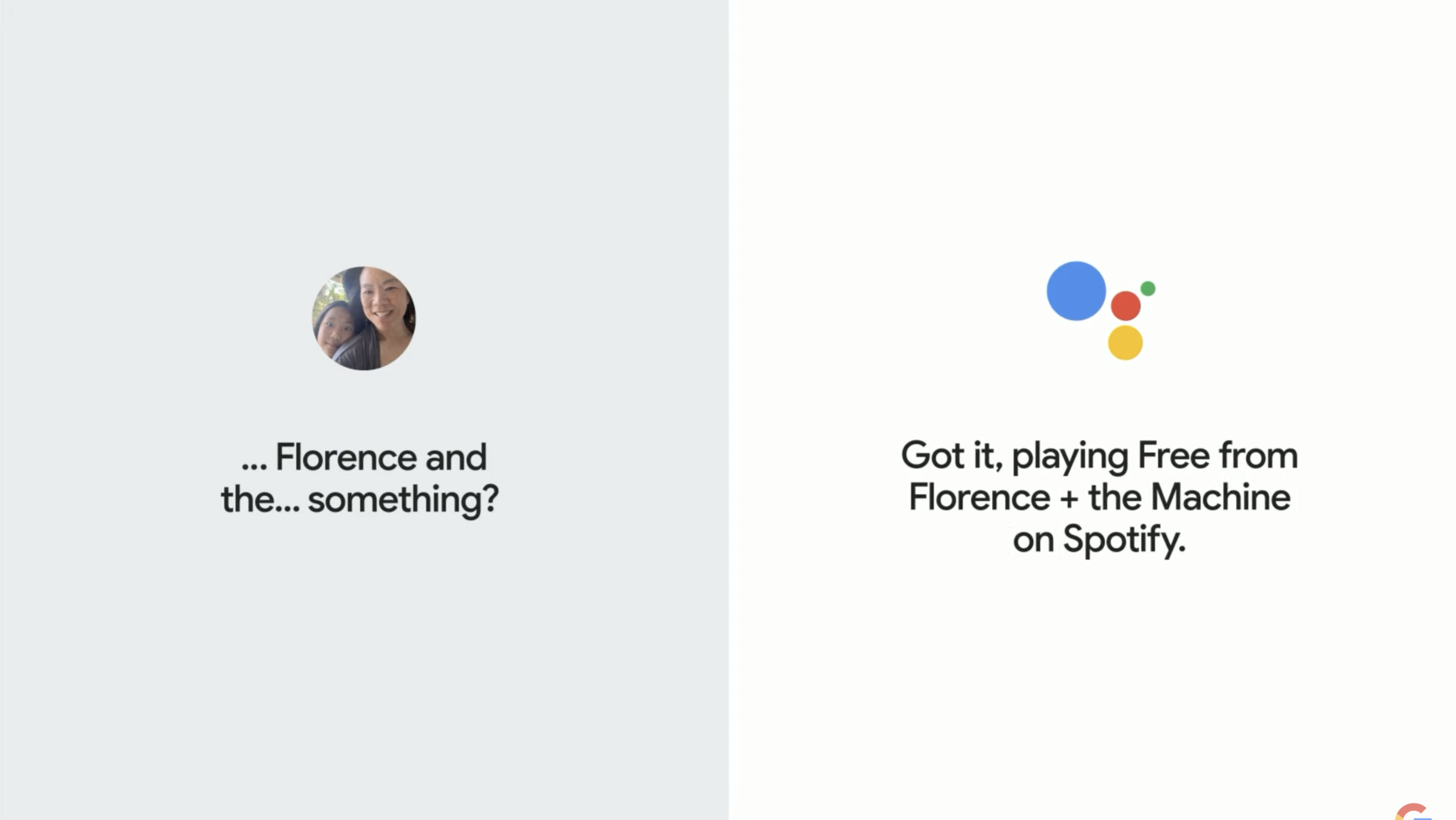 Google has been working on improving the assistant's ability to account for pauses and corrections. In a demo, a Google executive requested a song from "ummmmm…. Florence and the something?" The assistant was able to field the request, playing a Florence + The Machine song and even patiently saying "mmm hmm?" when the speaker paused.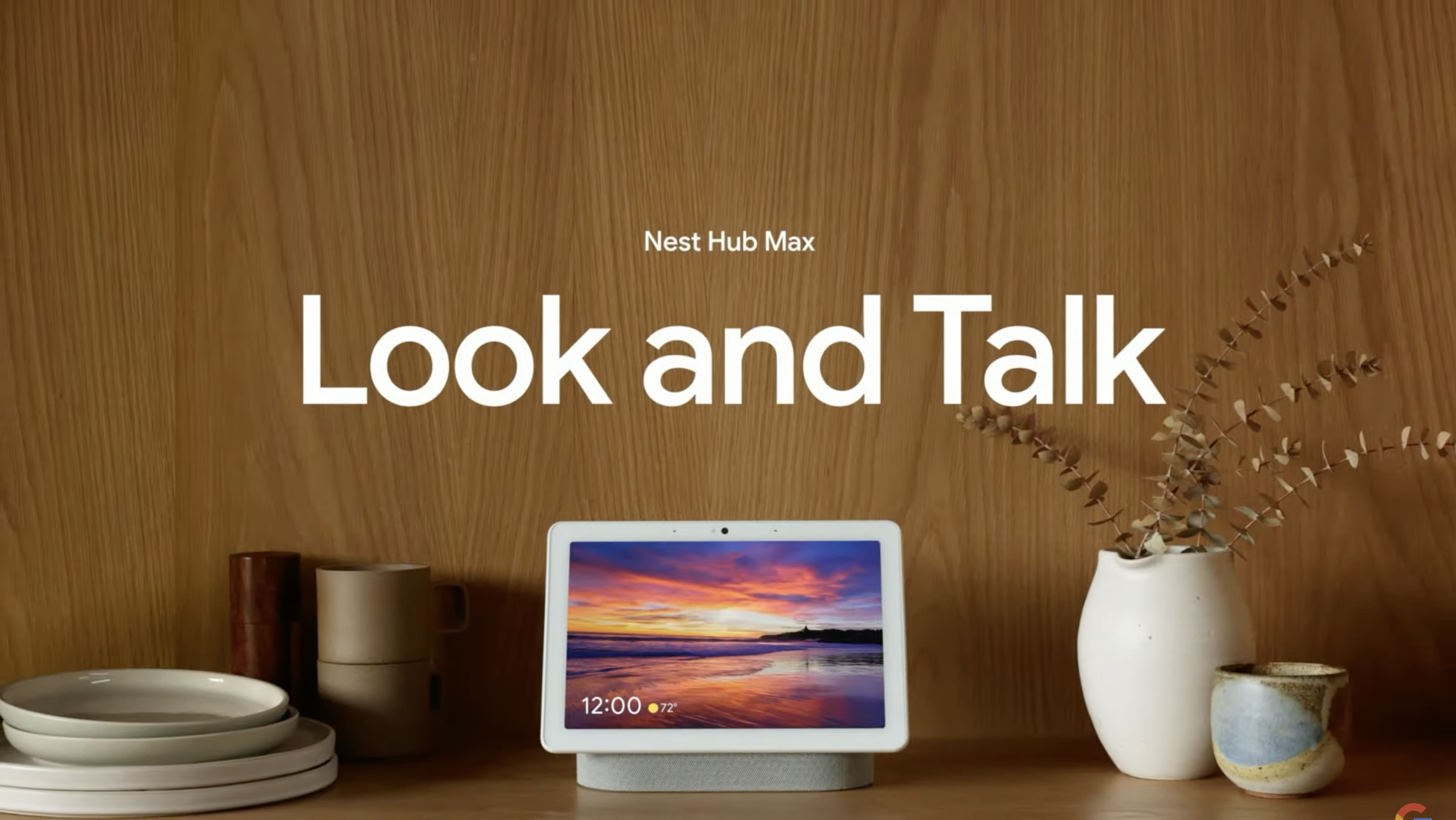 It's time to talk Google Assistant. Google is introducing two new options so you don't have to say "Hey Google" whenever you want to summon the assistant.
Look and Talk lets you bring up the assistant by looking at your device and talking directly to it. In a demo, a Google executive looked directly at her Nest smart screen and asked for information on beaches in Santa Cruz, California — no Hey Google needed. Follow-up questions were quickly added, too.
Look and Talk is designed to work with different skin tones, too, part of Google's efforts to improve the inclusivity of tech.
Quick phrases are expanding. These are common requests you can perform without the hotword. (Think answering the phone or turning off living room lights.)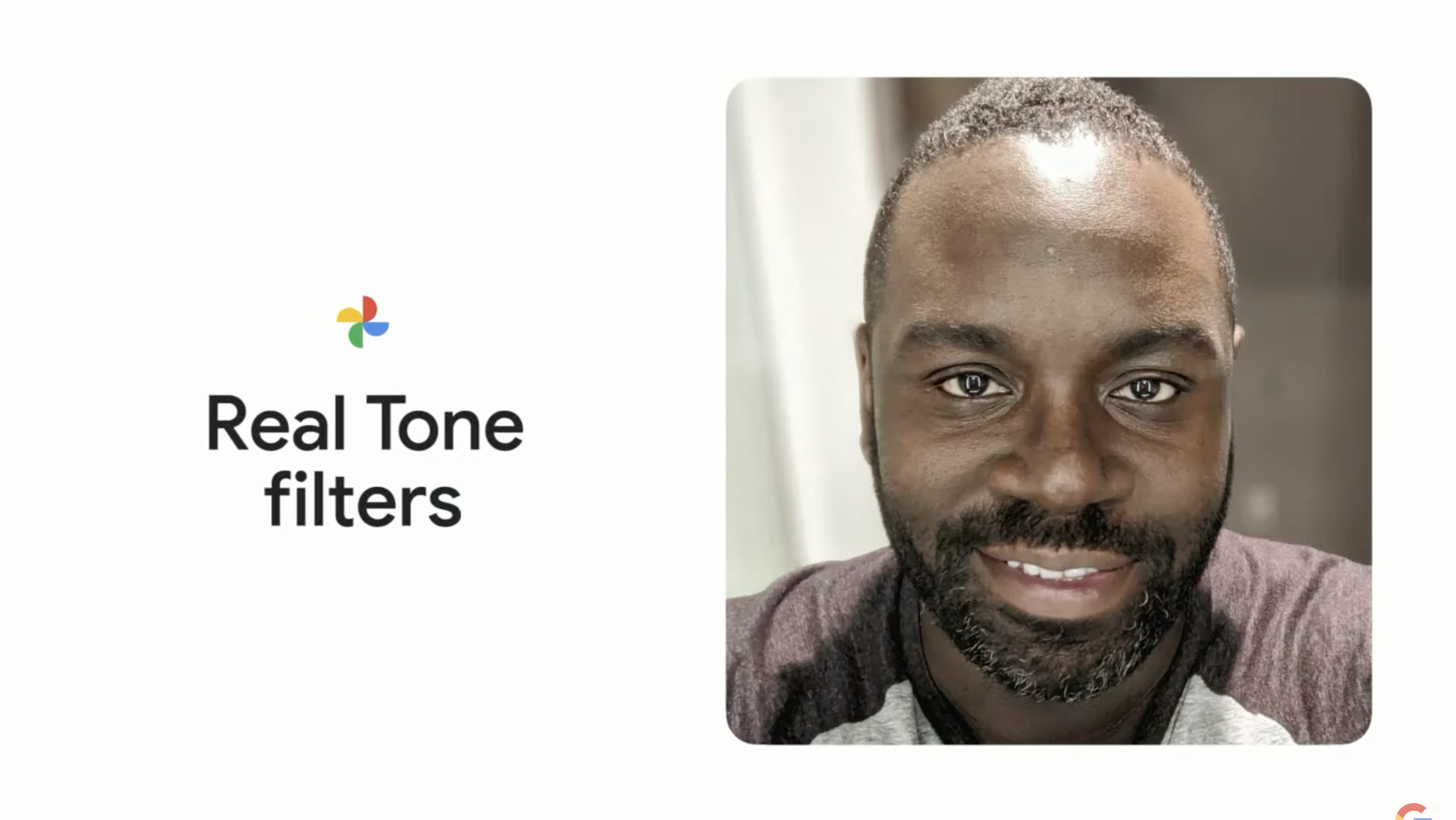 Real tone filters are coming to Photos to help with editing so that your photos are more reflective of real-world skin tones.
The Monk Skin Tone Scale is going open-source, so that anyone can use it in research and product development.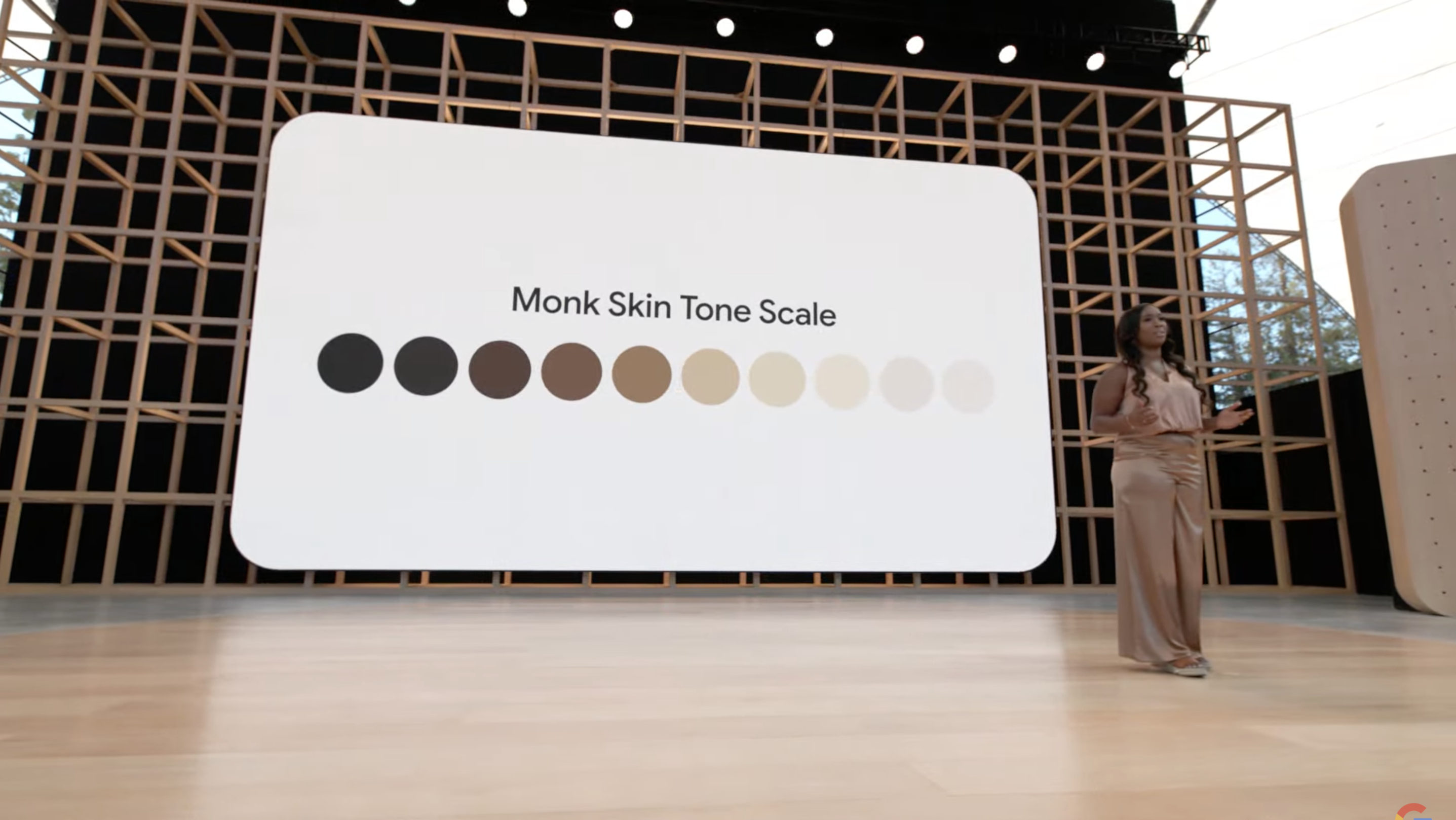 Going back to Real Tone — the initiative Google launched last year to make photos of people of color more accurate and realistic — Google plans to expand that across its products. "The world is a better place when technology works equally well for everyone," says Dr. Ellis Monk of Howard University, who's been working with Google on this topic.
Specifically, Google is using the Monk Skin Tone Scale across its products for more accurate reflection of skin tones. Google is using it internally on products like Photos and Search, rolling out improvements to images in Google Search. That includes filtering  results by skin tone, which can be helpful if you're searching for products like make-up and looking for complementary shades.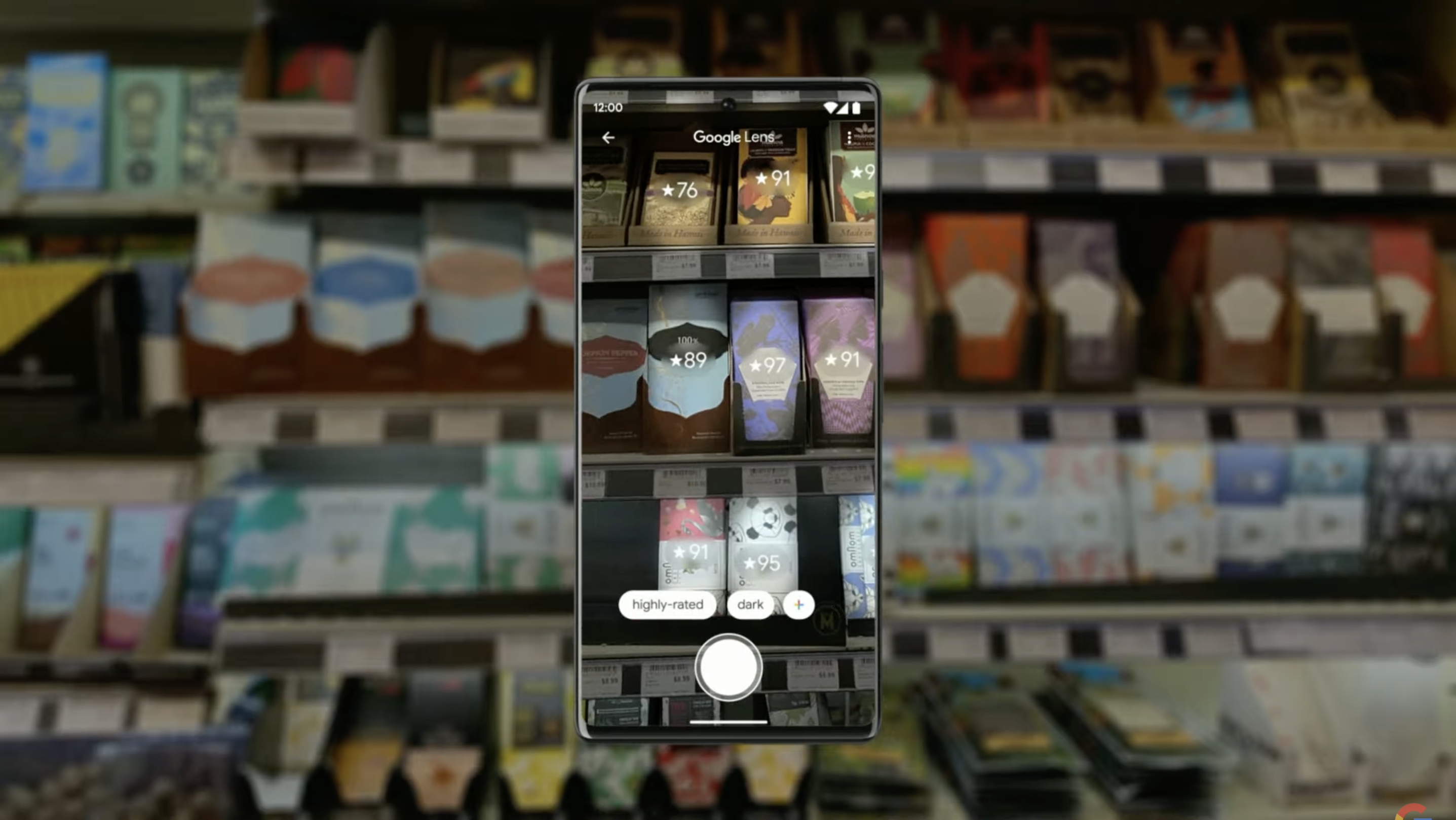 Scene Exploration is another new search tool that lets you search with images when you shop to get more information about a product. The relevant information is then overlaid on the screen of your phone. Google pitches this as a way to find things like scent-free moisturizes in a drug store or nut-free food in a grocery store.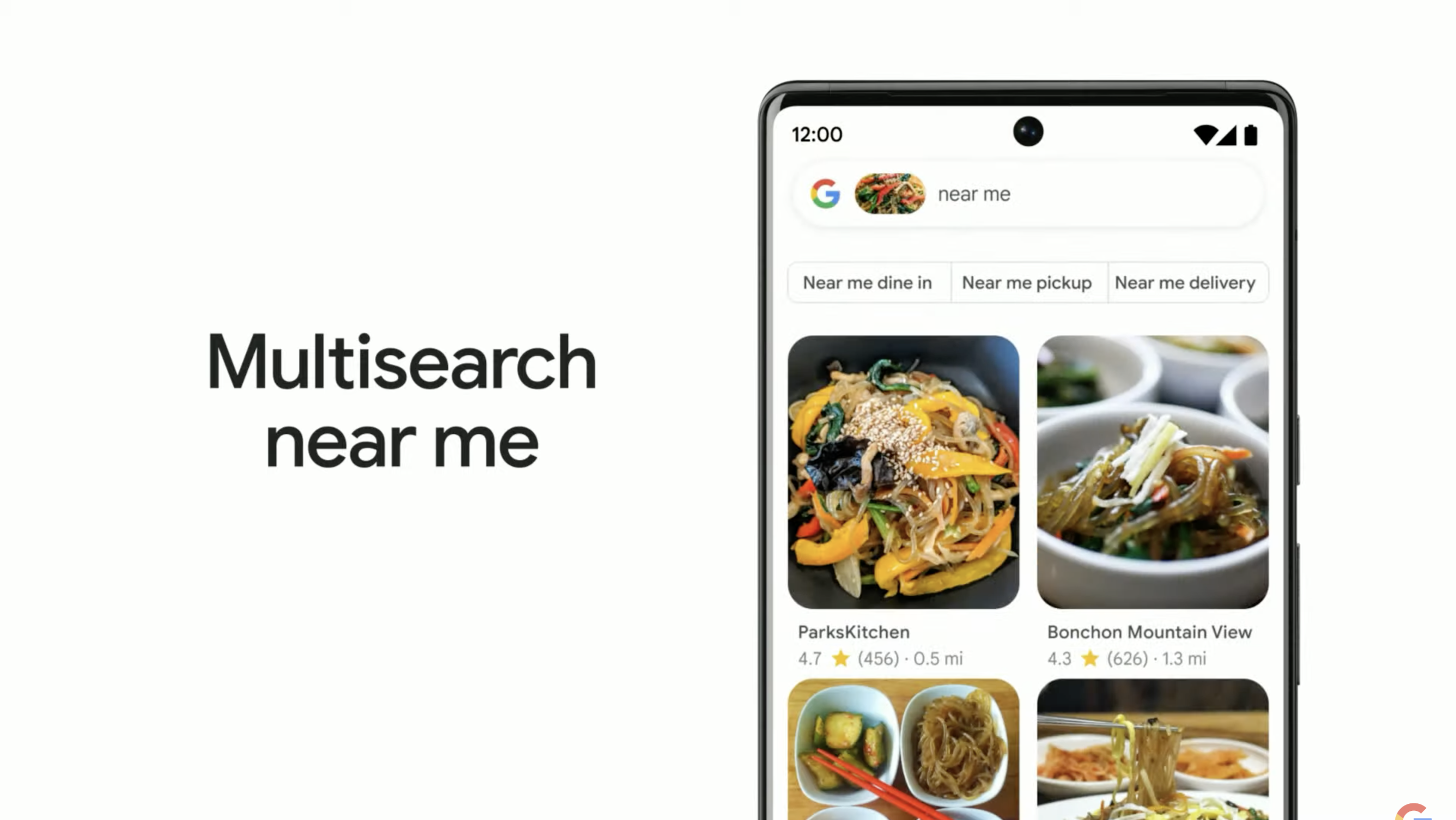 We've moved on to improvements with Google Search. Following up on last month's introduction of multisearch — you can take a photo and ask a question at the same time — Google plans to add a Multisearch Near Me improvement. This will let you take a photo, ask a question and restrict the searches to location. Ideally, this will help you find available products at local businesses or find particular dishes that you crave at nearby restaurants.
Multisearch Near Me arrives in English later this year. It will be available in more languages over time.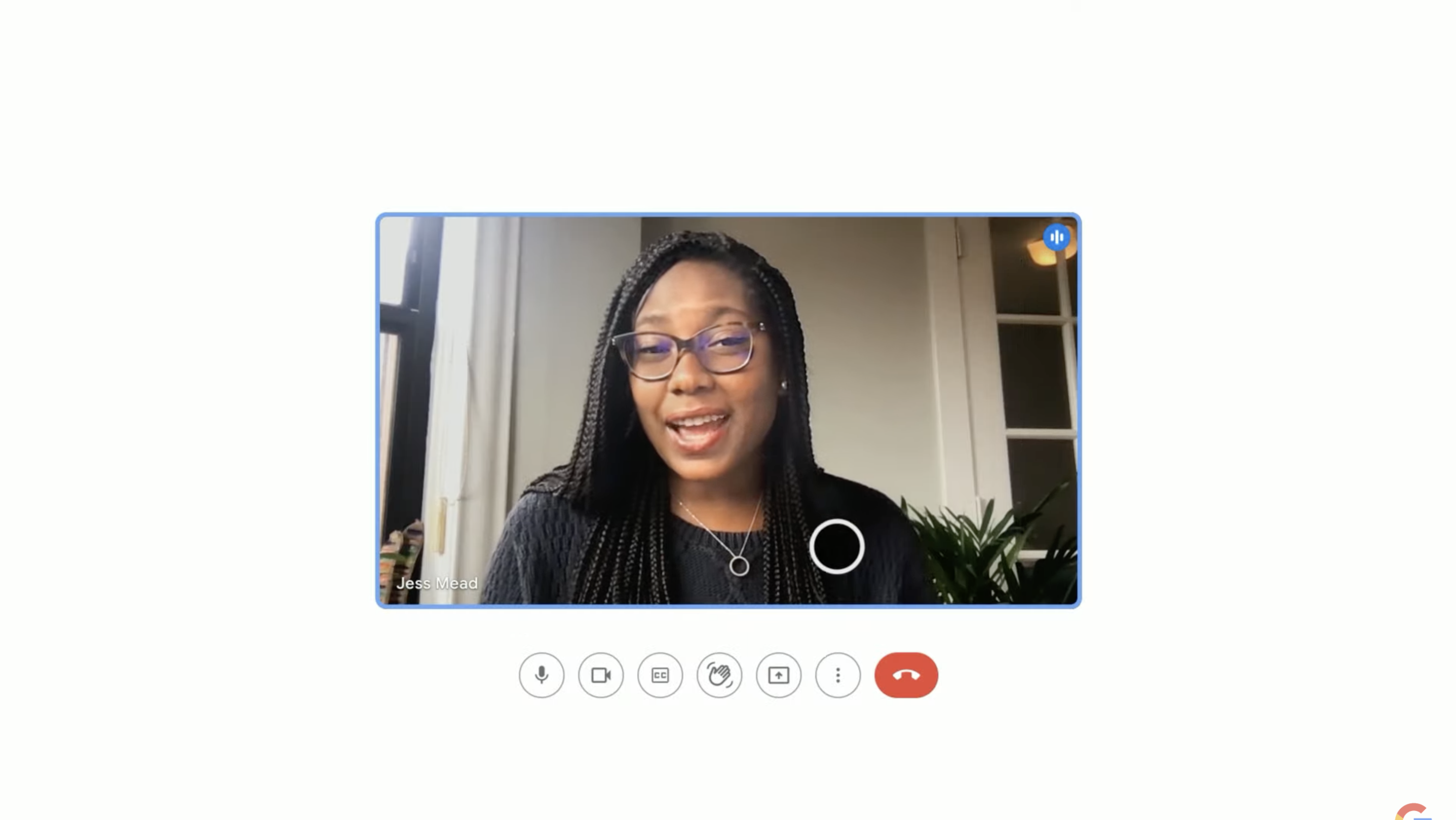 Project Starline update: This is the next-generation video chat initiative Google previewed last year to make video sessions feel more like you're there in person. This year, Google is promising studio quality lighting for its Google Meet product and it's going to bring the natural skin tone progress it's made with computation photography to video chats, too.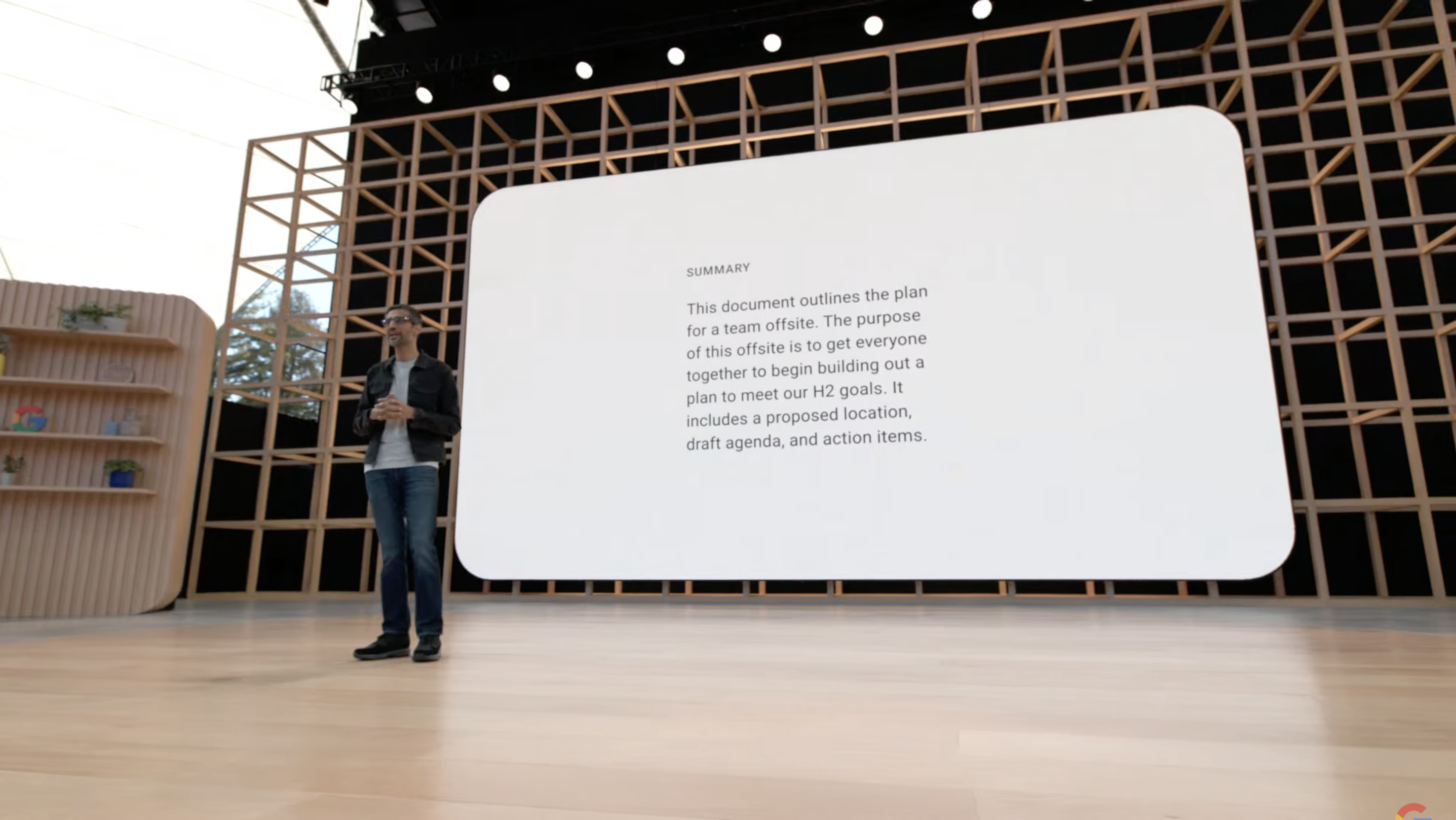 Google Docs is getting automatic summaries. Using natural language processing, the feature parses documents and pulls out the major points. The Auto Summary feature is also coming to Google Chat so you can get the key highlights of a group chat (helpful if you talk to people who tend to ramble). Pichai also says they're working to bring summaries to Google Meet as well.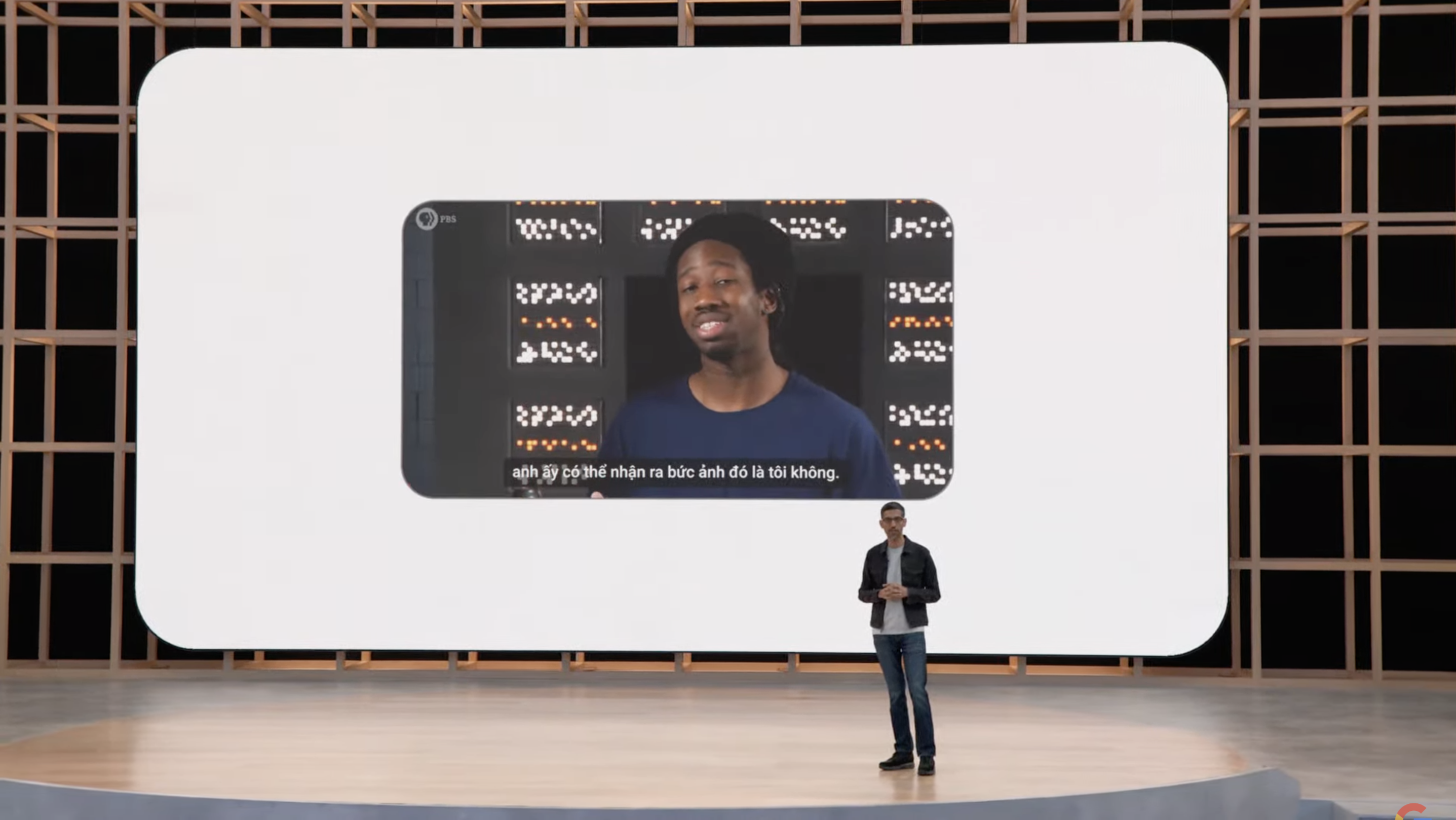 Here's a YouTube improvement that builds upon the auto-generated chapters that Google added last year. Google's improving the process so that 80 million videos will have chapters for easier scanning. Auto-translation of captions in 16 languages is coming, too.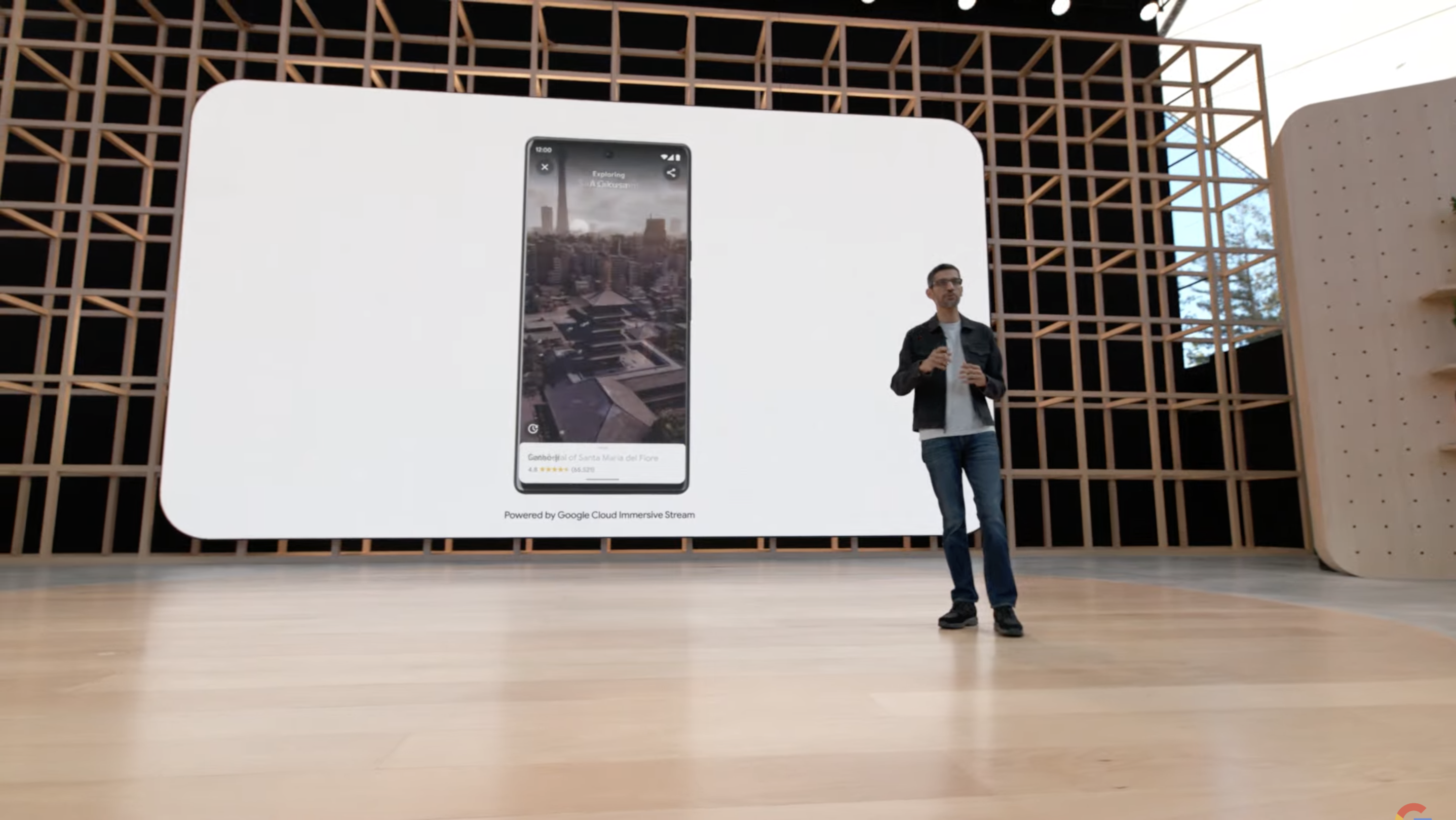 Google Maps is next. After recapping how Google Maps has gotten more accurate in Africa, India and Indonesia with better building data, Sundar Pichai previews immersive view for Maps It's a 3D render that allows you to pan around cities to see the sights, traffic patterns and weather. You can even get interior views of nearby restaurants created by images. 
Immersive view is rolling out to Google Maps for select cities later this year.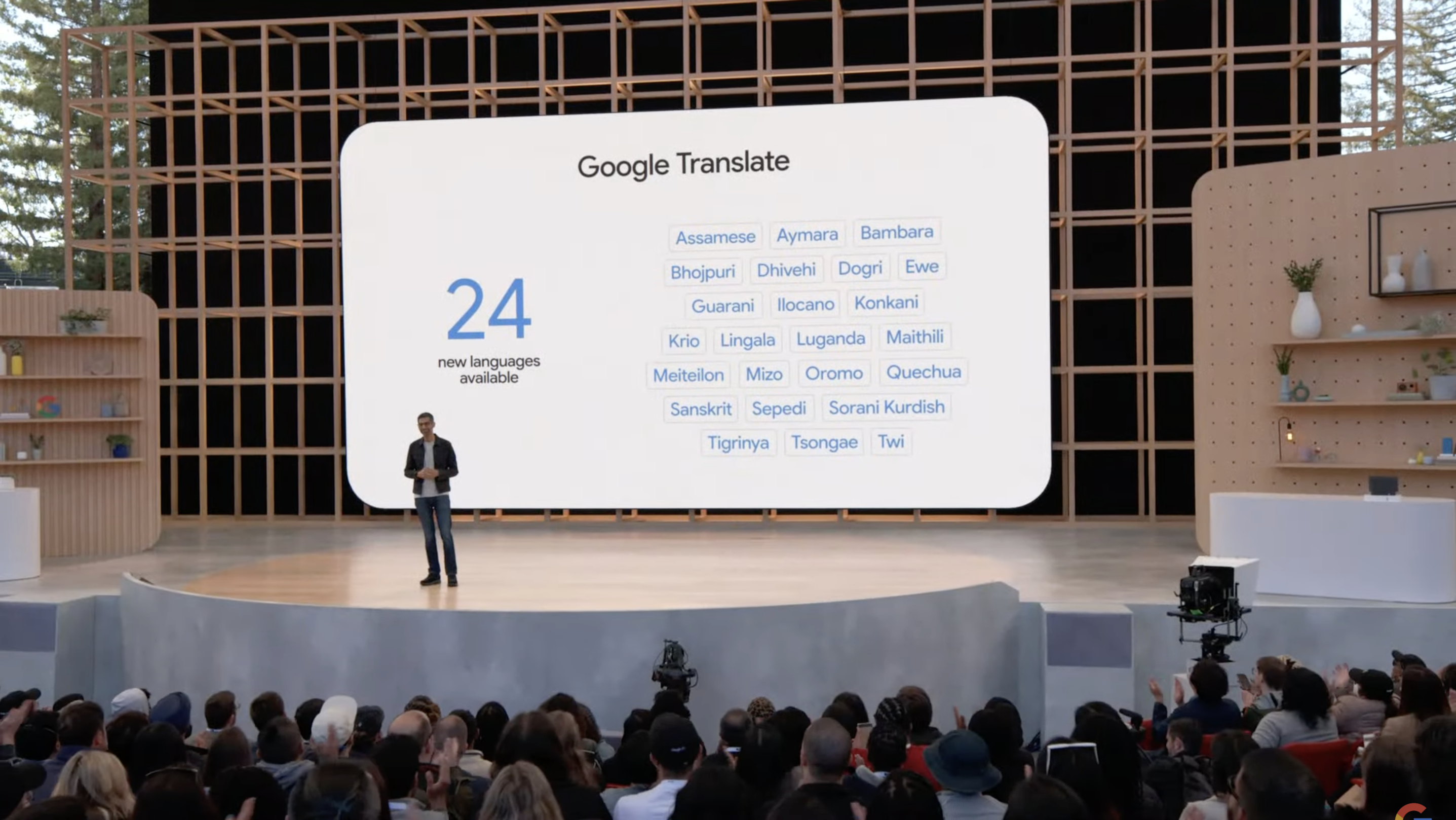 First announcement: Google is adding 24 new languages to Google Translate. That total includes some of the indigenous languages of the Americas.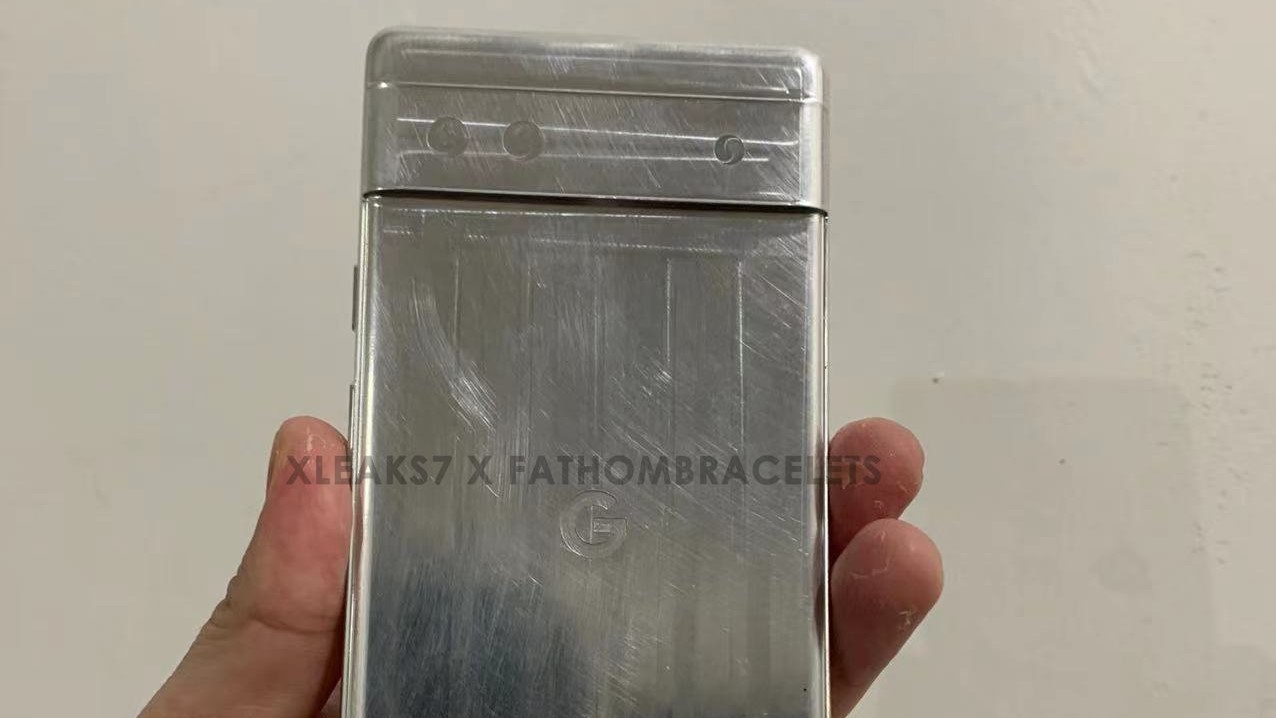 Our Pixel 6a hub has been updated with the leaked specs if you want some light reading during Sundar Pichai's opening recap of Google's recent efforts in working with the government of Ukraine and directing people to Covid vaccinations.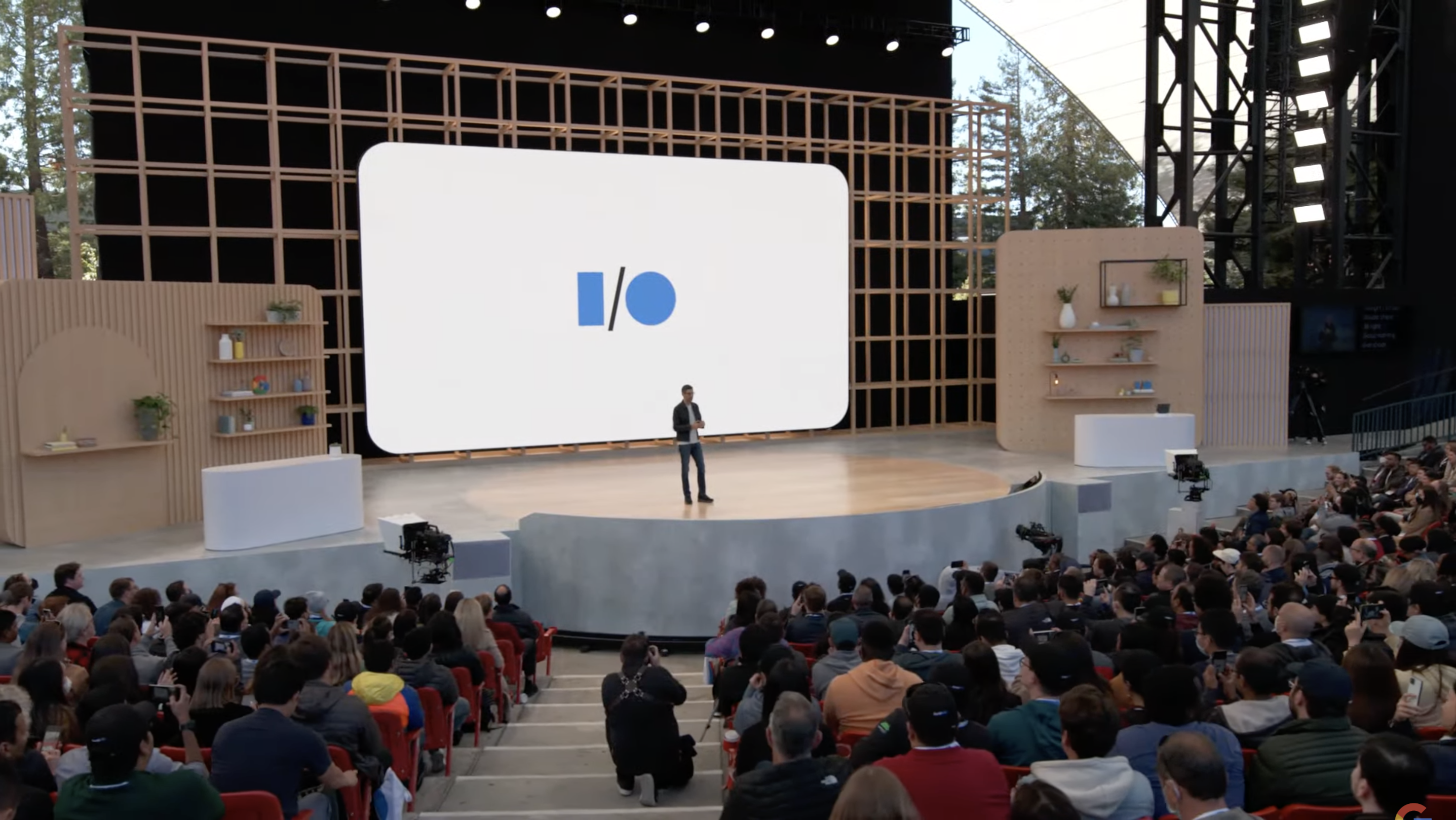 "After two years of starting meetings with my mic muted, I thought I'd check," says Sundar Pichai, performing an on-stage mic check.
And we are underway from Mountain View, California (via the YouTube app on the Apple TV in my living room). Opening video is recapping Google's various problem-solving tools with email, cloud documents, photos and maps.
Nice to be back IRL at Shoreline! See you soon:) #GoogleIO pic.twitter.com/6A3mtEIAl4May 11, 2022
See more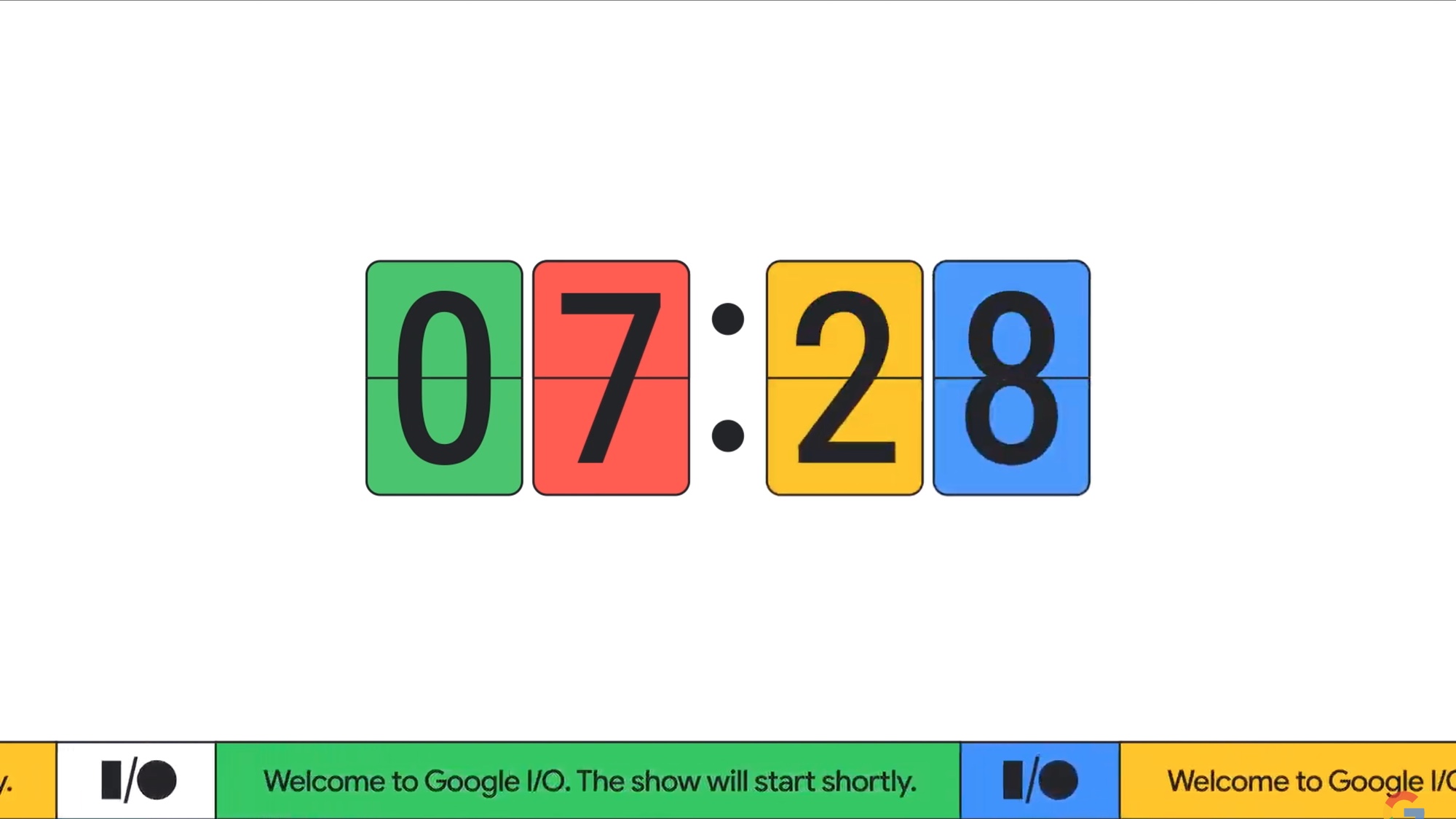 We've reached the countdown clock and preshow hype video portion of the show on the Google I/O live feed if you're wondering.
Oh, and there's a Pixel 6a render from Evan Blass, too, if you prefer that sort of thing. The new phone looks a lot like the Pixel 6, which we were expecting. Now all that awaits is pricing and availability, which I bet we hear about during the keynote.
Well, pack it up, everyone. Leaker Evan Blass just got the jump on Google I/O with a tweet listing the Pixel 6a specs.
Some of it's what we expected — there's that Tensor chip for the Pixel 6a that's been heavily rumored. Some of the specs will disappoint people, as the refresh rate of Google's budget phone appears to be stuck at 60Hz and the battery isn't as big as earlier rumors had suggested.
Edited: I initially jumped the gun and thought that Google was promising five years of software updates. Alas, a closer read suggests that it's only five year of security updates. While that's nice, it still raises questions as to whether Google can match the four years of software updates you get with the Galaxy A53 (and Samsung flagship phones).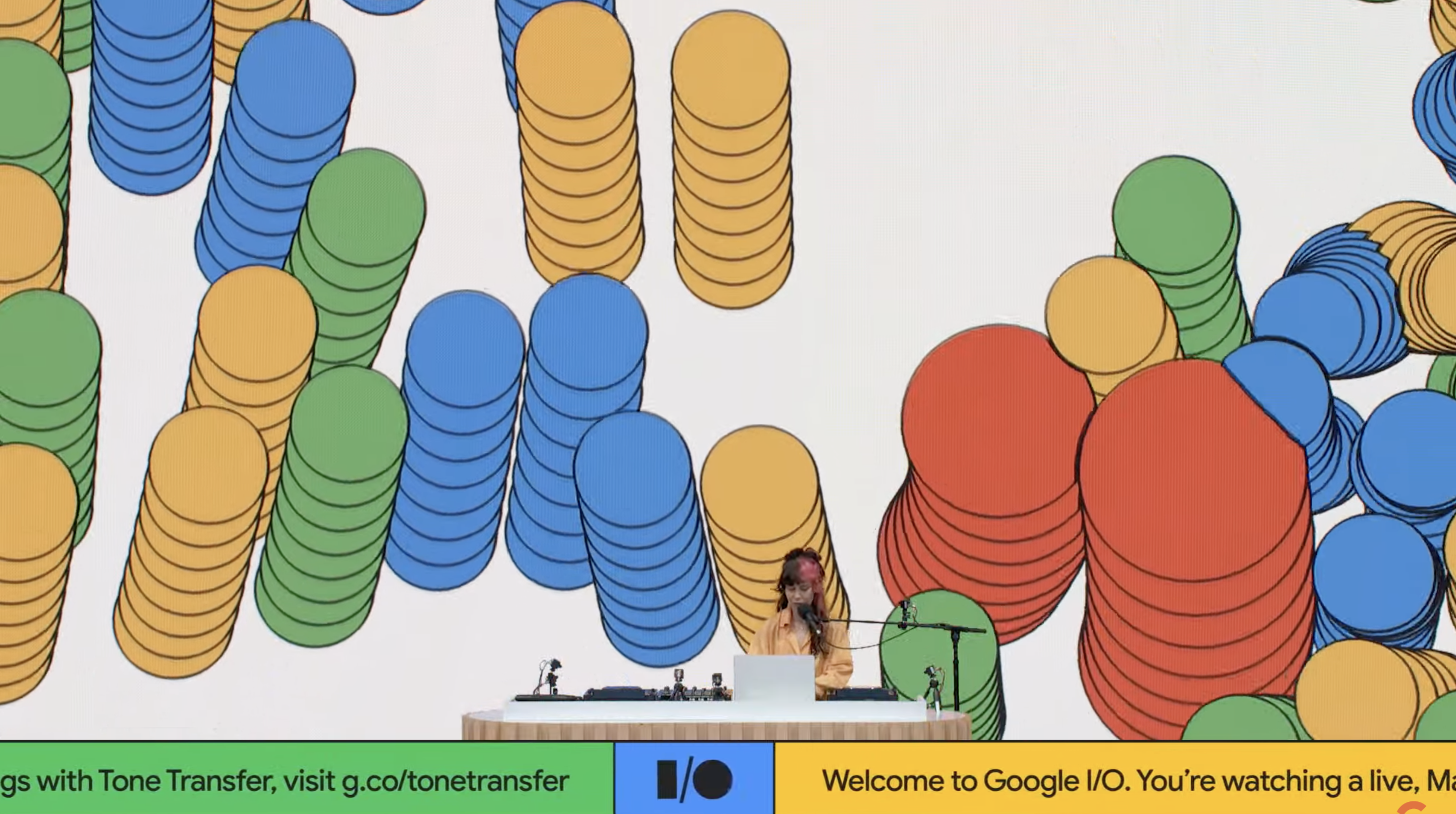 The Google I/O keynote feed is now live on keynote, and if you ever wanted to hear an electronica version of Zombie from The Cranberries, this is the pre-show concert for you.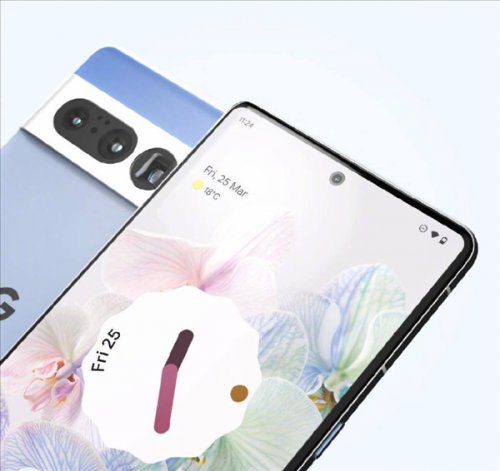 Is it too early to start talking Pixel 7? Yes, in the sense that Google's next flagship phone isn't going to be ready until the fall. But no, in that any Android 13 or Google Assistant talk during Google I/O might reveal more about the features coming to future phones.
If you'd like to whet your appetite for Pixel 7 news while waiting for Sundar Pichai to take the Google I/O stage, you can gaze upon these leaked renders that claim to show off Pixel 7 cases. Those are some mighty odd camera cutouts, if you ask us.
#GoogleIO is now loading… Which update are you most excited to see on May 11–12?May 9, 2022
See more
All weekend long, the Android Twitter account has been running a poll on what update people are most excited to see at Google I/O. The options: security updates, messaging updates, cross-device updates, new partnerships. Our vote would be "new hardware," but nobody asked us.
For the record, cross-device updates leads the poll as we get down to the half-hour mark before the I/O keynote.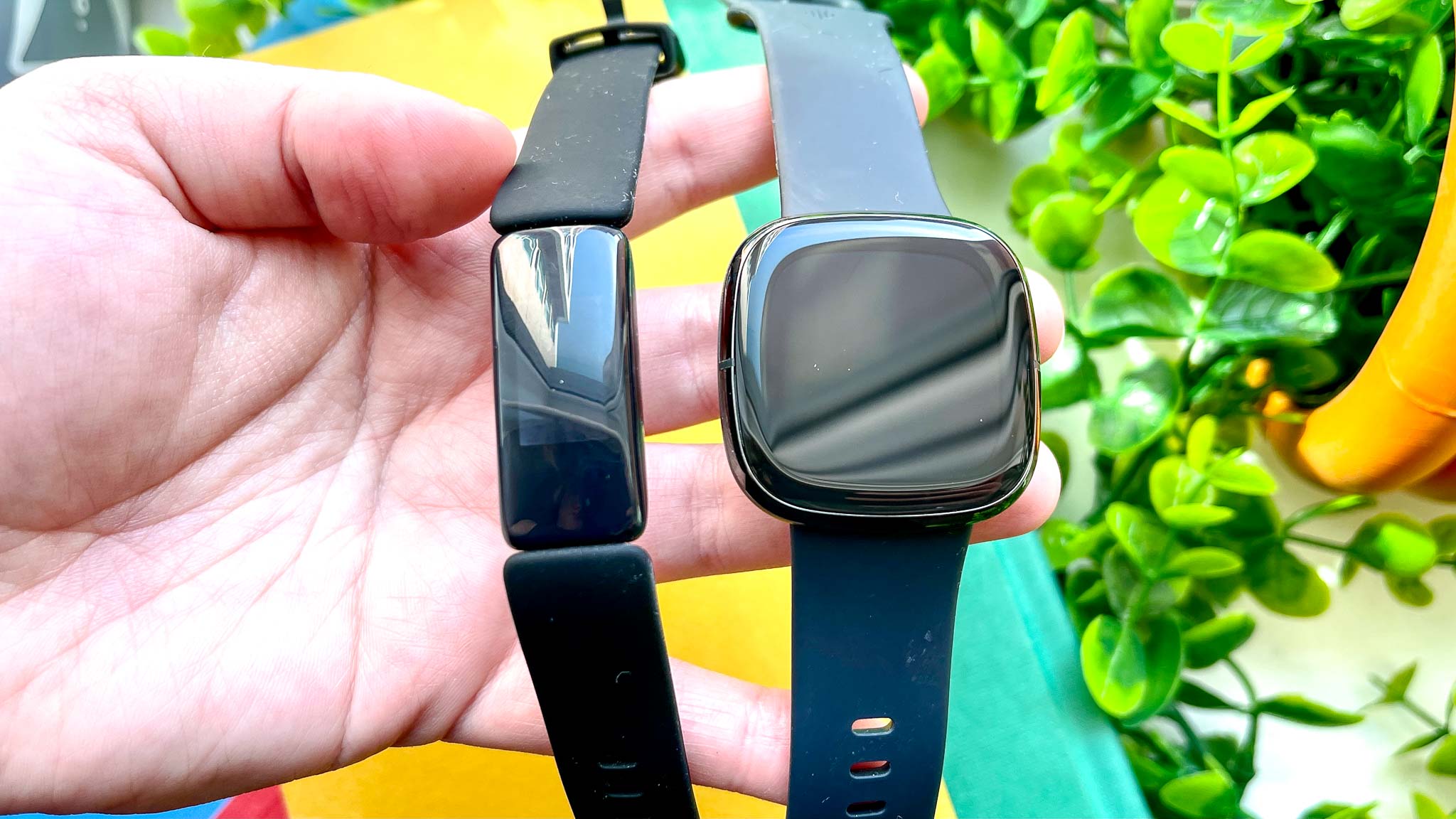 Google bought Fitbit last year, and it's a pretty good rule of thumb that you don't spend $2.1 billion on a fitness tracker maker without incorporating that company's know-how into your own products. So it's likely no surprise that Fitbit could figure into any Pixel Watch that Google announces. 
As recently as last month, a Pixel Watch render included the Fitbit logo alongside the usual time, data and other complications. That's fueling speculation that Fitbit features could be incorporated into Wear OS.
Method of transit? ✅Lucky kicks? ✅Hydrated? ✅It's game day y'all! Tune in to #GoogleIO at 10am PT for our latest announcements, product demos and more → https://t.co/bqMFhI1iu5 💙❤️💛💚 @lifeatgoogle @Google pic.twitter.com/jZBJUw3TpAMay 11, 2022
See more
We can neither confirm nor deny that Google-branded sneakers will be announced today.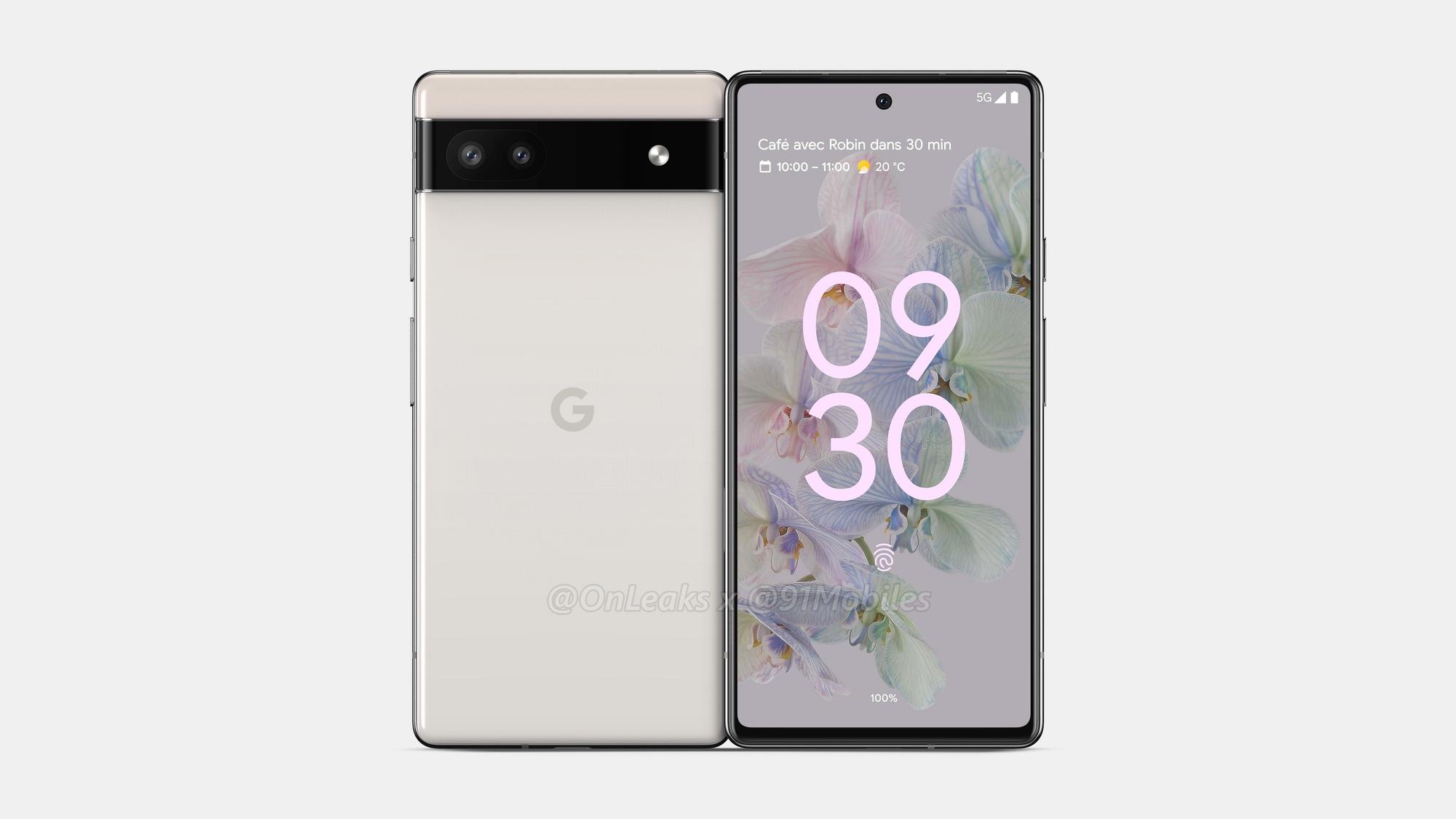 Heading into the keynote, let's quickly recap the biggest Pixel 6a rumors that are swirling out there, in the event that we get to see the new budget phone today.
Tensor processor: Like the Pixel 6 and Pixel 6 Pro, the Pixel 6a is likely to run on a Tensor chipset, that features a dedicated machine learning core. That could enable some very unique AI and photo features on the Pixel 6a.
New design: In addition to picking up the Pixel 6's silicon, the Pixel 6a is also likely to adapt its look, with the horizontal camera bar running across the back of the phone.
Photo features: The Pixel 6a is unlikely to add or subtract lenses — the main camera and ultrawide angle shooter will remain — so the biggest changes will be the computational photography features Google adds. We'd expect the new phone to support Magic Eraser, for example.
A bigger battery: Rumors predict a 4,800 mAh power pack for the Pixel 6a, which would be a slight upgrade over the Pixel 5a.
Apart from the Tensor news, those wouldn't be major overhauls. That gives us some hope Google can hold the line on the $449 it charged for the Pixel 5a, which would make the 6a competitively priced to both the Galaxy A53 and iPhone SE (2022).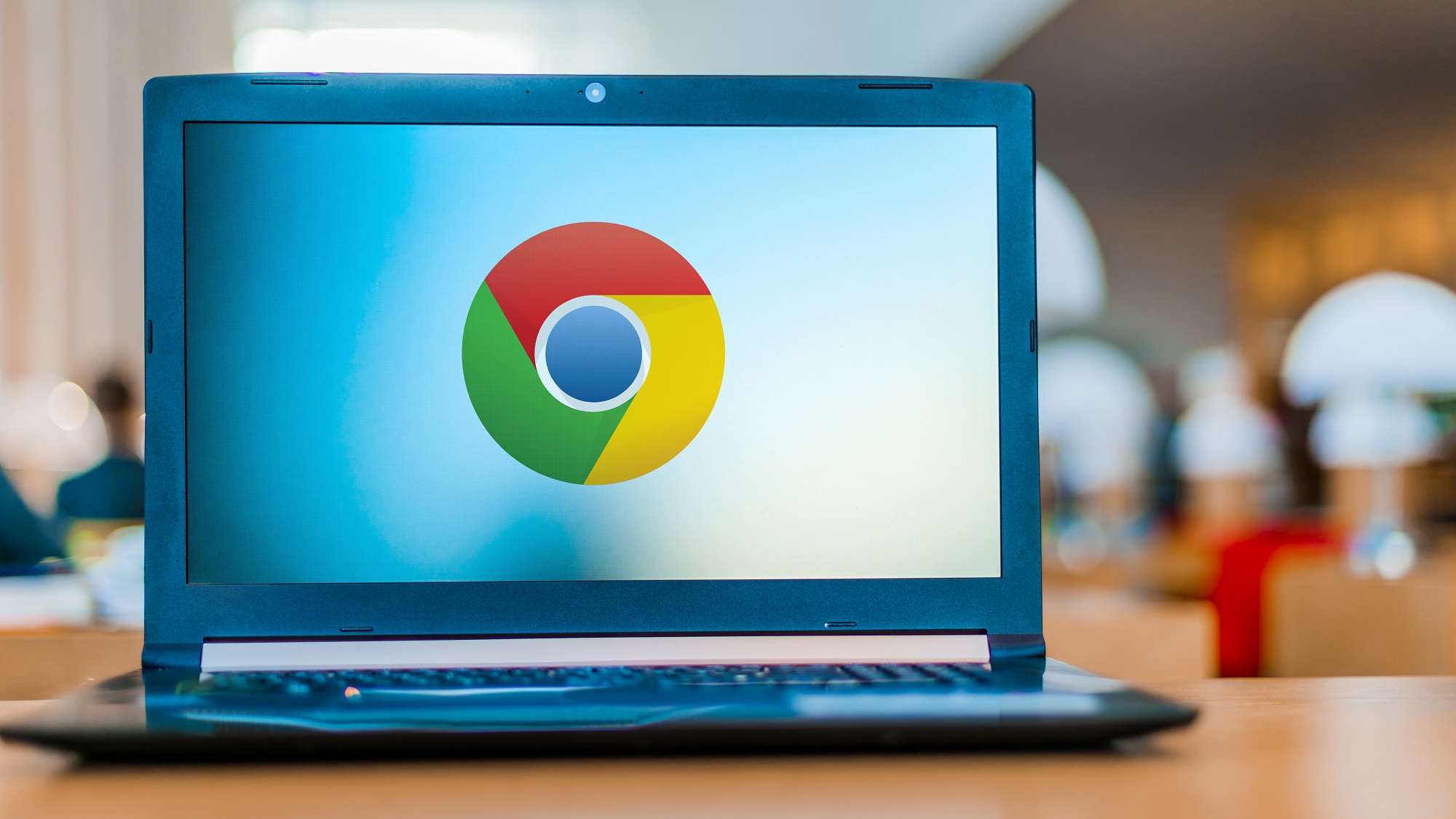 We're still roughly 90 minutes from Google I/O keynote time, but there's already some Google-related news out today. Google says it's working with Webex to bring a native web app version of the video conferencing app to Chrome OS. That should mean an easier time joining Webex sessions from your Chromebook in the future.
My colleague Tony Polanco has all the details on this Google/Webex partnership.
Am I first in line? #GoogleIO pic.twitter.com/D6u0p8gMv2May 11, 2022
See more
Some of the first pre-keynote pics are rolling in from Google I/O, and this one comes from Dieter Bohn, formerly of The Verge and now part of the Platform & Ecosystems team at Google. It's a reminder that the keynote will be held at the Shoreline Amphitheater for the first time since 2019 with a limited audience in attendance.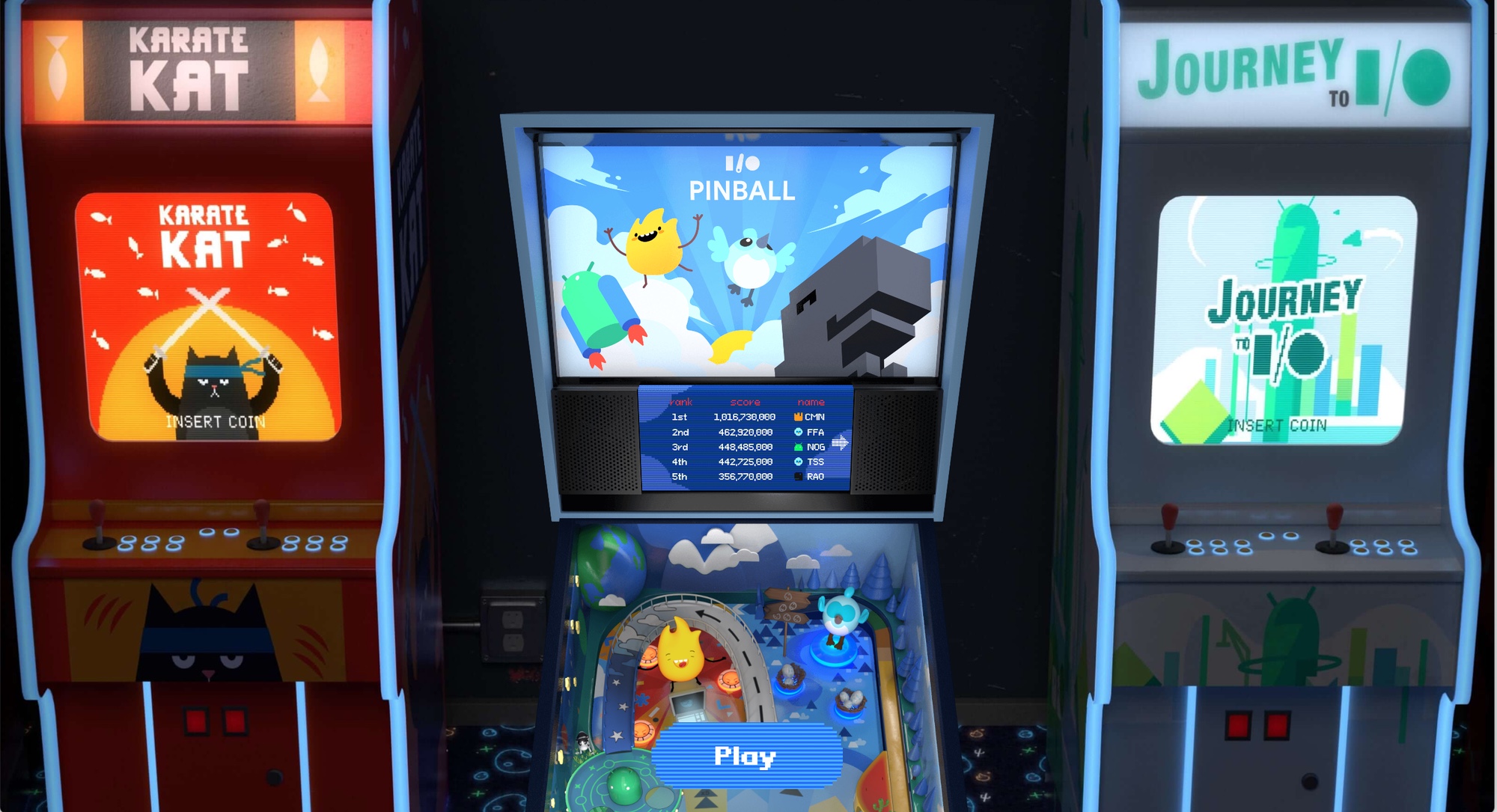 If we were attending Google I/O in person like we did in the pre-Covid days, one of the pre-keynote highlights would be when Google broadcast games on the big screens hanging over the keynote stage. Just because I/O 2022 is largely virtual this year, we don't need to give up that element of fun — behold, the wonders of IO Pinball.
Yes, it's a game from Google built using Flutter, Google's open-source framework for multiplatform development. The game itself not only uses the mascot for Flutter, but also mascots from Firebase, Chrome and Android. You can use your keyboard controls to wile away the remaining hours before the I/O keynote, though honestly, I hope someone whips up a playable version of Karate Kat in the interim.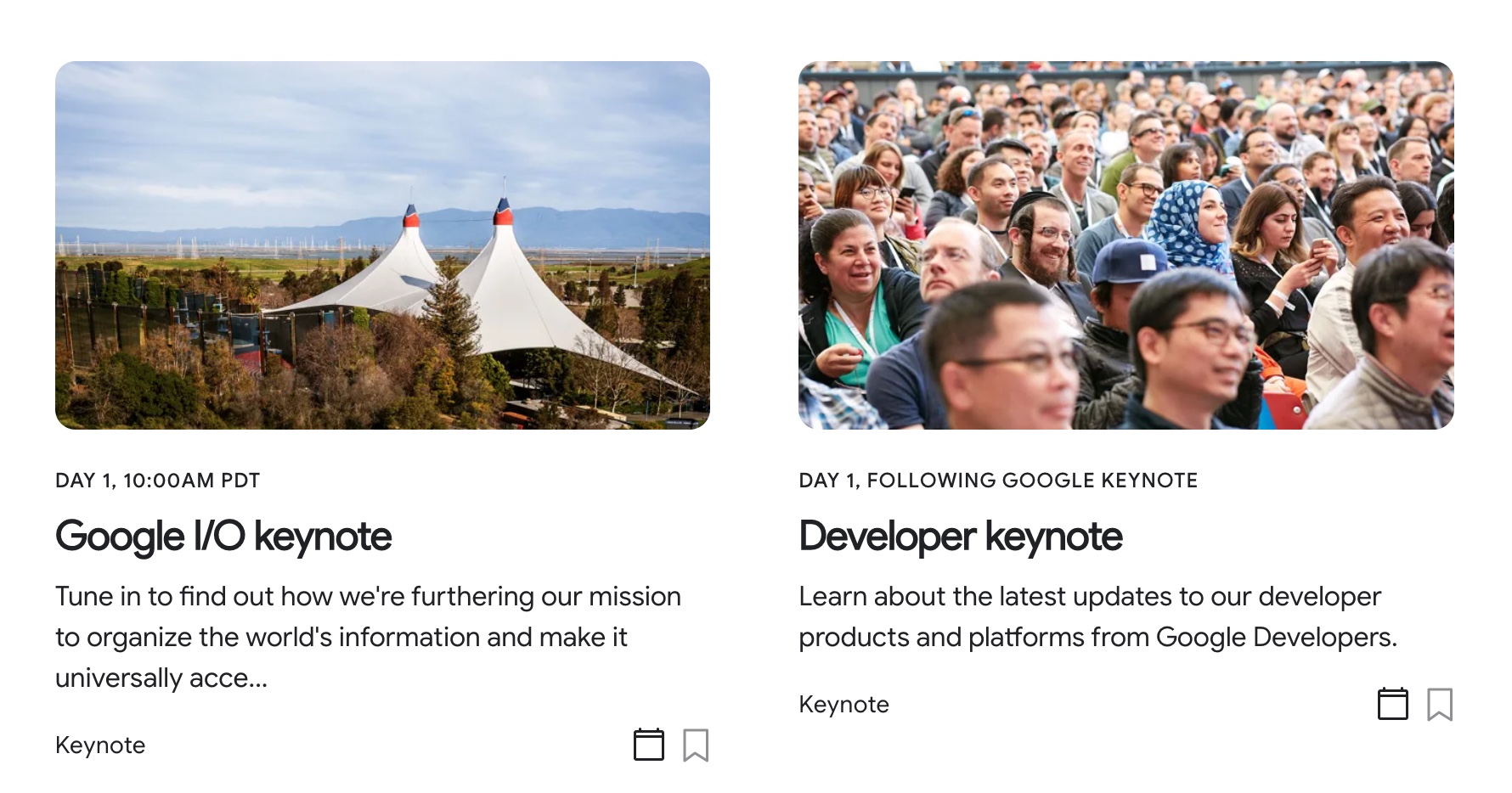 There's a lot of focus on the opening Google I/O keynote at 1 p.m. ET today — and rightly so, since that's where the biggest news will be. But it's not the only keynote Google has scheduled for today.
Once the main keynote wraps up (we'd assume sometime between 3 p.m. and 4 p.m. ET), Google hosts a developer keynote, presumably streaming on the I/O website. Traditionally, this keynote centers around the developer-focused announcements from the opening session, but in greater detail.
And then after that? More keynotes. Here's a partial list of the ones featured on the Google I/O agenda.
What's new in Android
The cloud built for developers
What's new in Firebase
What's new in Flutter
AI and machine learning for developers
What's new for the web platform
What's new in AR
What's new in Google Play
What's new in Chrome OS
What's new in Google Home
What's new in Google Pay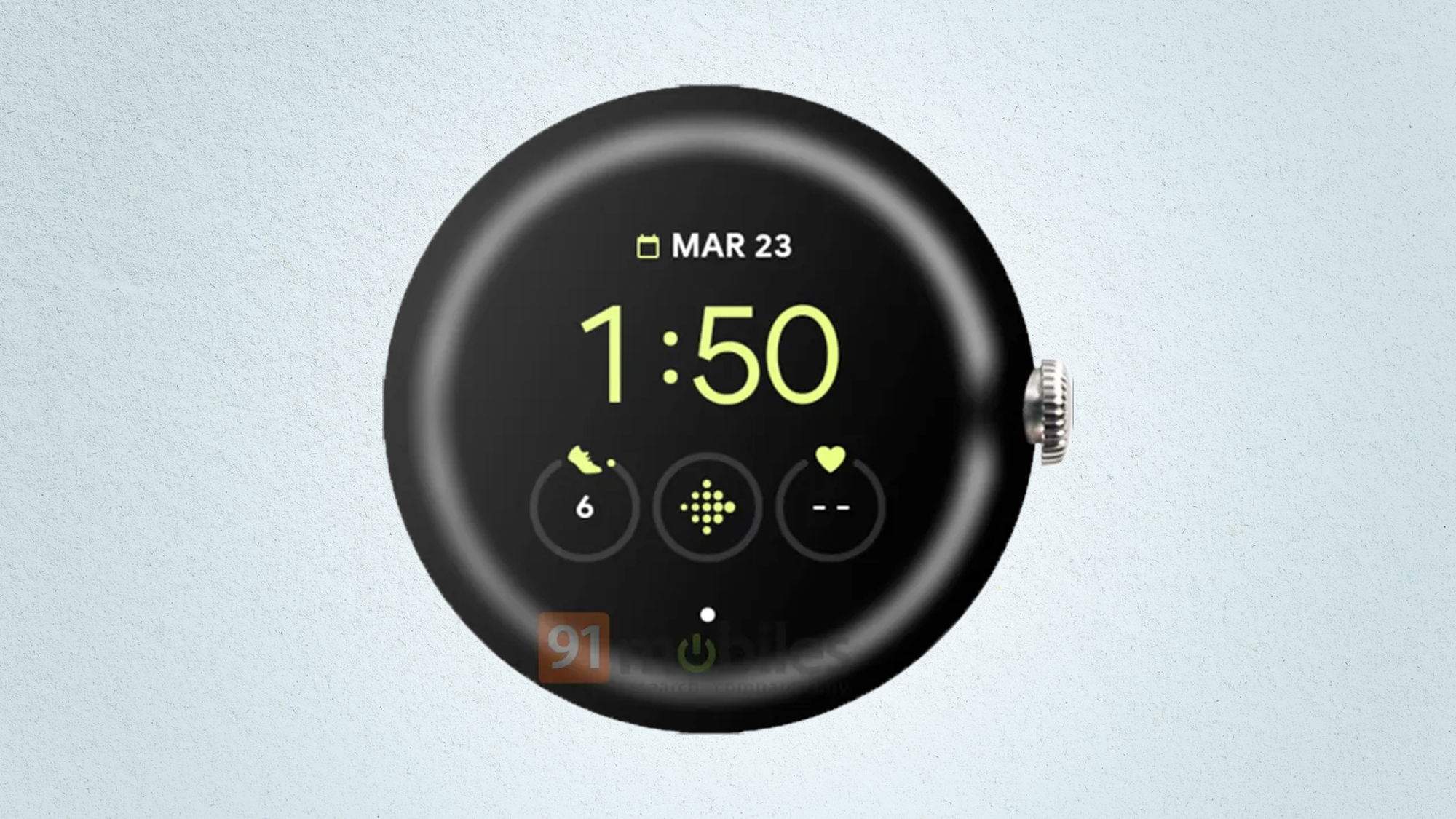 Bear in mind that even if we just get a Pixel Watch teaser during the Google I/O keynote, there may be more than meets the eye to Google's smartwatch plans. Specifically, there could be as many as three Pixel Watch models in the works.
About two weeks ago, filings with the Bluetooth Special Interest group (SIG) revealed that there were three potential Pixel Watches. That could mean three versions of the same watch, only in different sizes or with different cellular bands for different regions. Or, more intriguingly, it could mean that Google is designing different models with different purposes — a fitness-focused watch versus a lifestyle-focused watch, for example.
It's an interesting question, and one we may not learn the answer to, even if Google does confirm that there's a Pixel Watch in the works.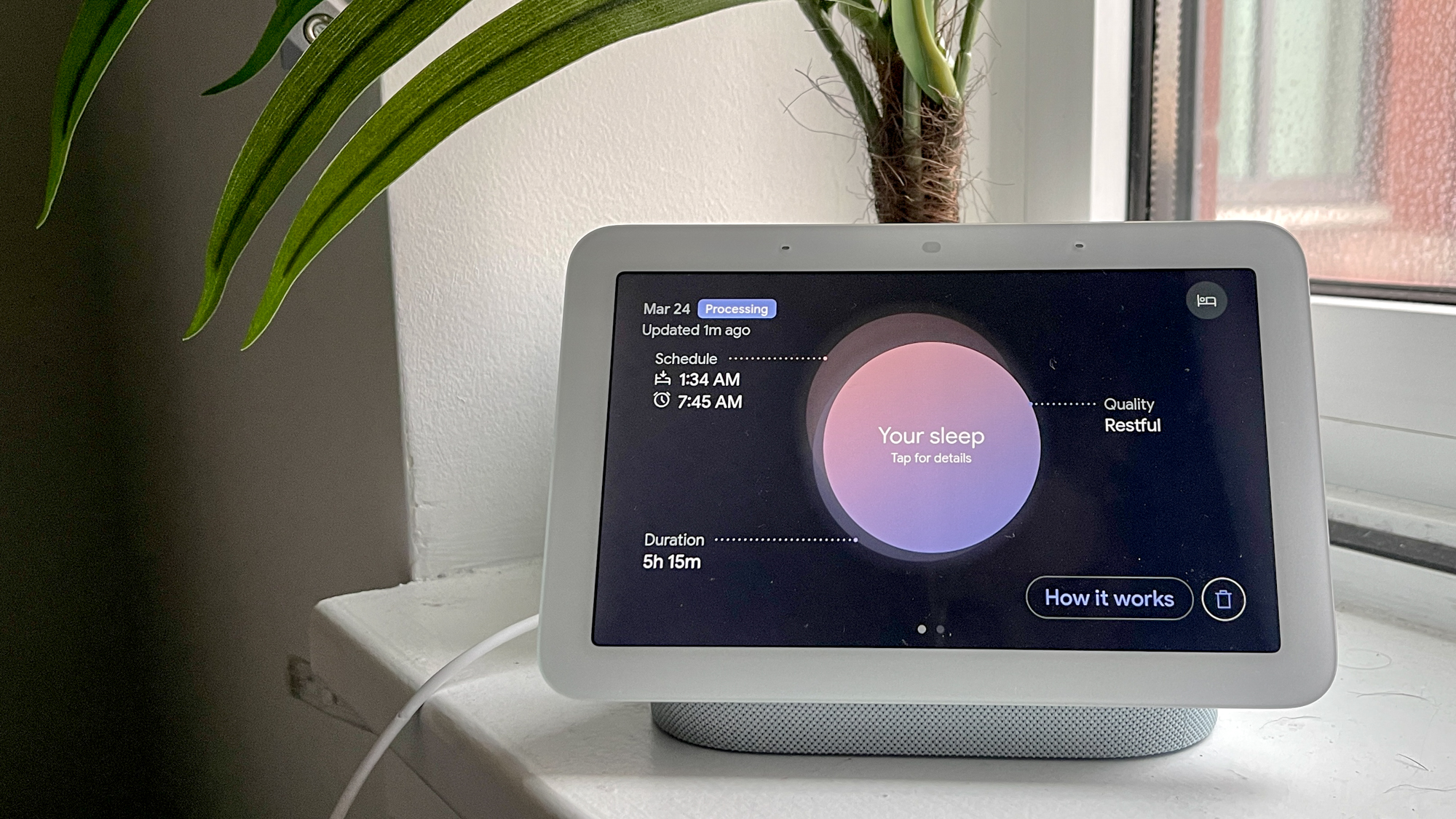 Back in March, 9to5Google reported that Google was working on a new Nest Hub smart display. The site claims that the new Nest Hub will feature a detachable tablet. The working theory is that it will operate as a way to interact with Google Assistant visually, but also as a media consumption device.
Details are pretty scarce, but we might hear more about it today.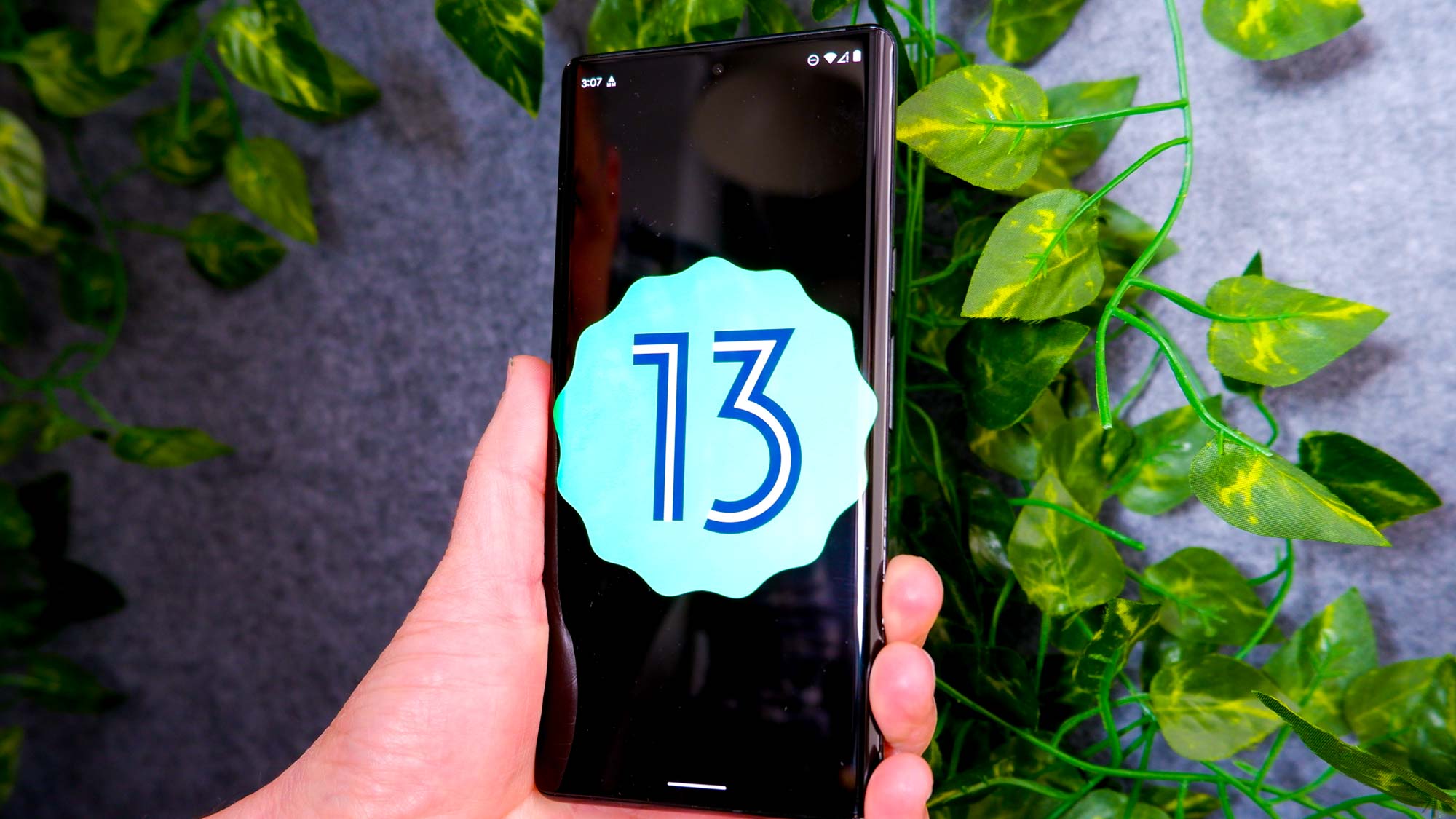 Android 13 will likely make a big splash at today's keynote. But two of the more interesting tidbits we've seen in the first beta are the addition of Bluetooth LE audio and the possibility of Google's answer to Apple's Spatial Audio.
Combined with the support for MIDI 2.0 peripherals, Android 13 might be a major update for audio enthusiasts. We'll have to see what Google talks up today.
We have spotted the Chromecast with Google TV running on the Android 12 operation system on Geekbench along with more details.#GoogleIO https://t.co/EAMfrjR2UBMay 11, 2022
See more
OK, so this could be big. Mysmartprice has apparently spotted a Chromecast with Google TV device running on Android 12 on Geekbench. 
Given that the existing 2020 model of the device still runs on Android TV OS 10, this listing likely means one of two things — either Google is testing the current version so it can get an upgrade to Android 12 later this year, or there's a new Chromecast with Google TV model coming soon.
Both seem plausible, but we heard rumors in January that a new Chromecast with Google TV could be coming later this year, so for now let's say that the latter option seems more likely. 
That said, owners of the existing model would presumably hope it's the former, as Android 12 support could bring a host of new features including 4K UI support and refresh rate switching. Hopefully we'll find out soon either way.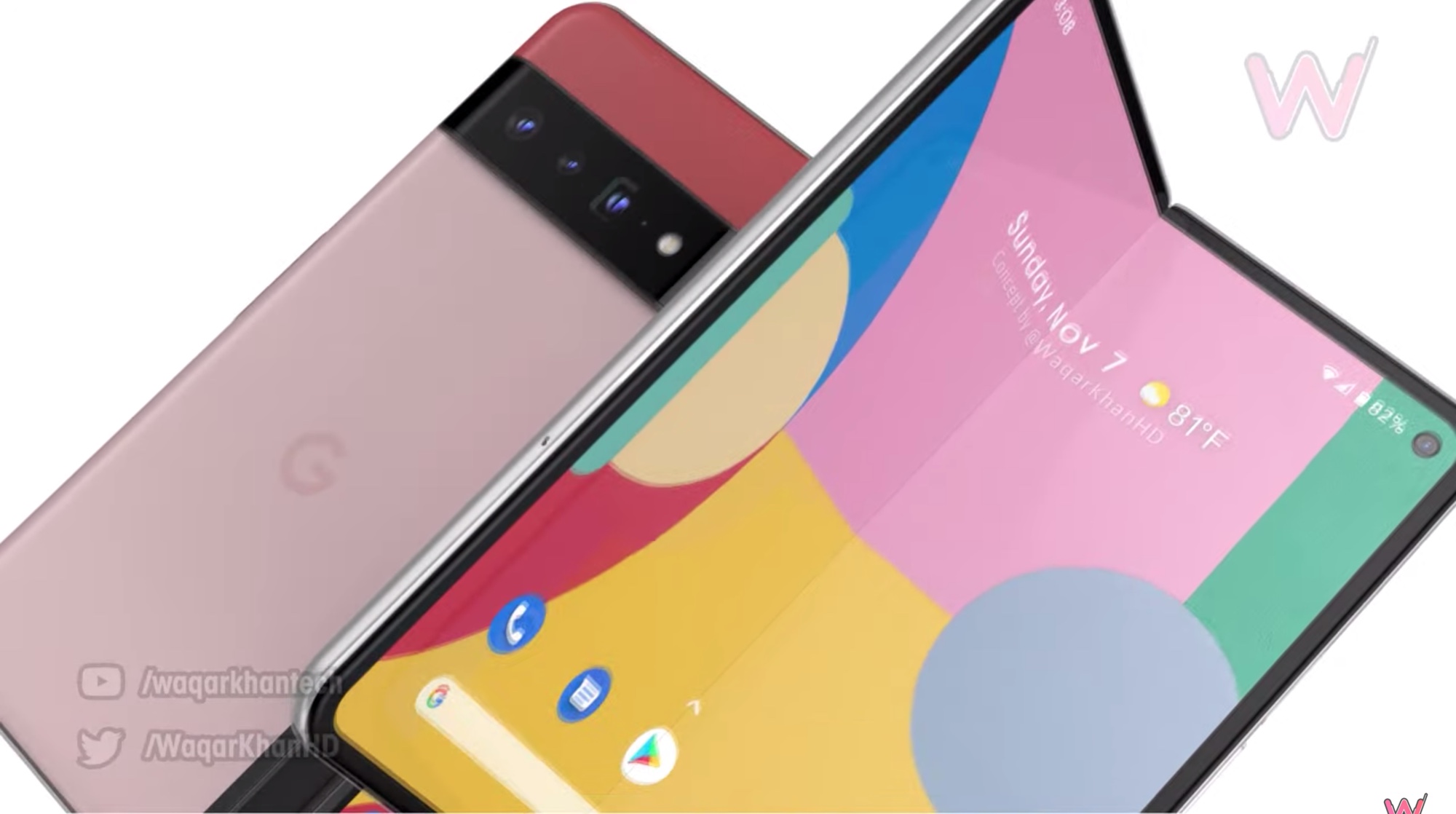 Google has long been rumored to be working on a Pixel Fold device to go up against Samsung's best foldable phones, and it's possible we could see a glimpse today of Google's first foldable. Or at the very least we could learn more about new foldable phone software features in Android 13.
Meanwhile, Samsung's Galaxy Z Fold 4 is expected to debut in August, and today some new Galaxy Z Fold 4 renders have appeared that show off the design from all angles. 
Google I/O 2022- Google is expected to launch the Pixel 6A 5G Smartphone- Google may tease the Pixel Watch + Wear OS 3- What's New in Android 13 + Upcoming Features- Android 13 could get a new Beta (Beta 2) + We may see A13 Beta for Non-Pixel Devices#GoogleIO #Android13 pic.twitter.com/6whz35l3sKMay 11, 2022
See more
TechDroider has a quick summary on Twitter of what to expect at Google I/O 2022 today, and it lines up with what we've heard. This includes the launch of the Pixel 6a phone and a possible tease of the Google Pixel Watch. So even though the watch may be shown today for the first time, it may not ship until the fall.
The tweet also says that we may see Android 13 Beta 2 rolling out and a build of Android 13 for non-Pixel devices. However, we would caution loading the beta on your primary phone.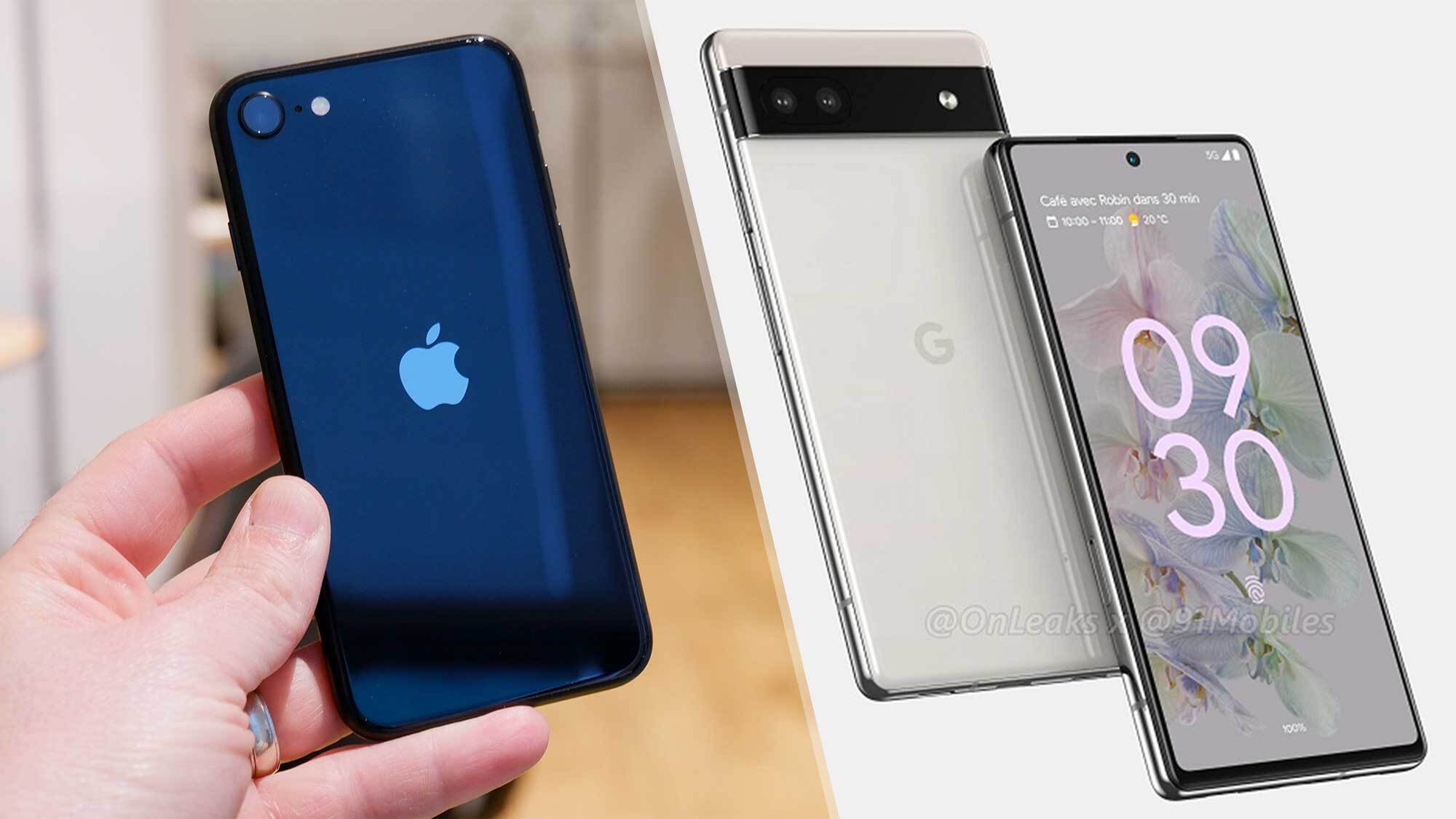 If the Google Pixel 6a debuts today it will inevitably be compared to the new iPhone SE 2022. And that's because both Google and Apple will be vying for having the best cheap phone on the market. Well, the best cheap phone under $500.
Our Pixel 6a vs iPhone SE 2022 preview shows you how these phones are stacking up so far based on rumors and our iPhone SE 2022 review. Apple's phone is a pint-sized powerhouse, but the Pixel 6a should have a much larger display (6.2 vs 4.7 inches), an ultra-wide camera (the iPhone SE has just one) and a smoother 90Hz display. 
Stay tuned for more info.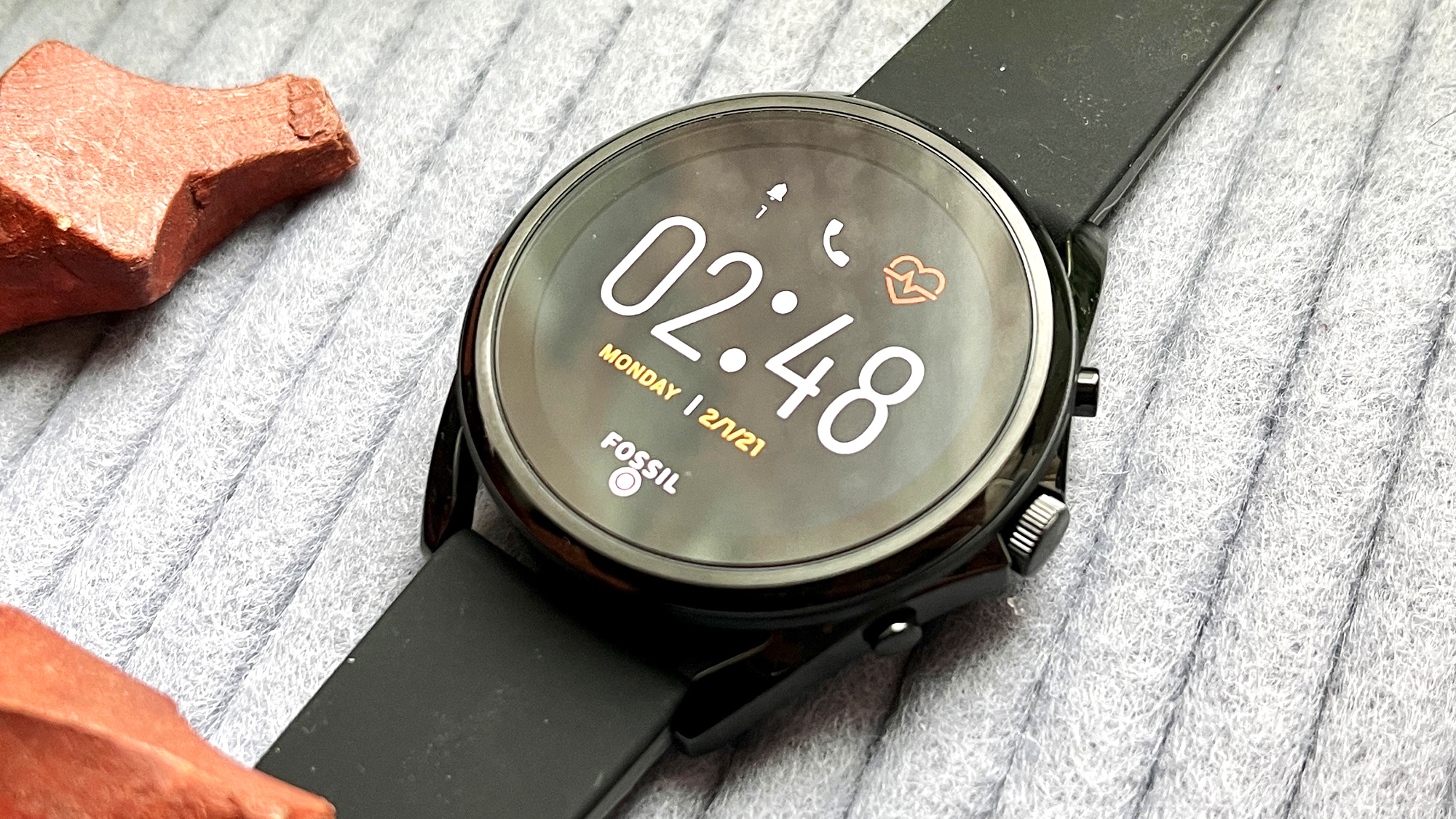 With Google's Wear OS 3 expected to get some stage time at Google I/O 2022 today, you may be wondering if your Android watch can run the software. Our Kate Kozuch has put together this handy Wear OS 3 smartwatch eligibility guide so you can check.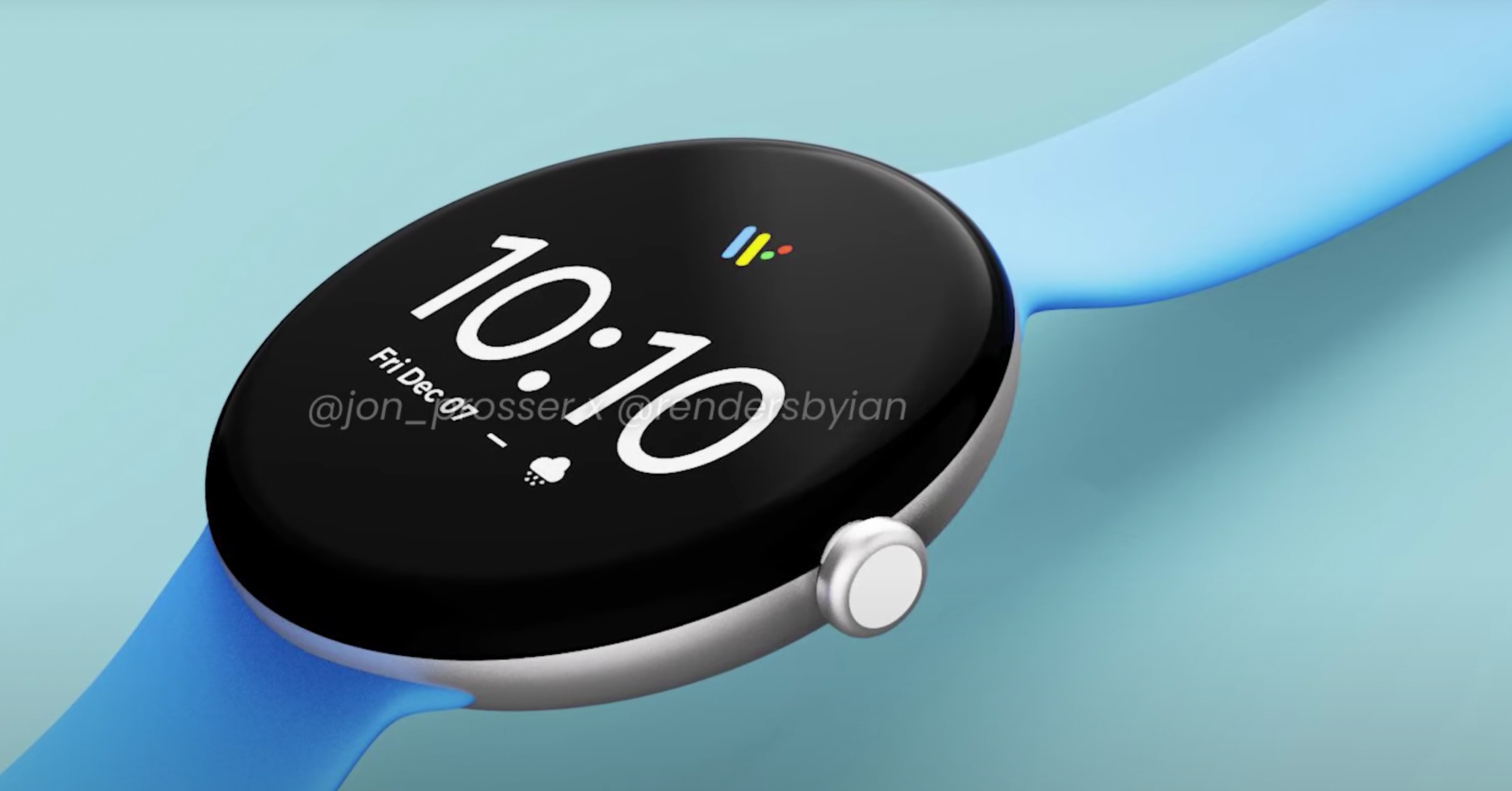 That prototype leak was just one of the many around the new Pixel Watch; keeping up with them has been almost a full-time job these past few months. 
Fortunately, you don't need to wade through hundreds of articles in order to know what to expect, because we've pulled together the 5 biggest Google Pixel Watch rumors so far in one handy primer.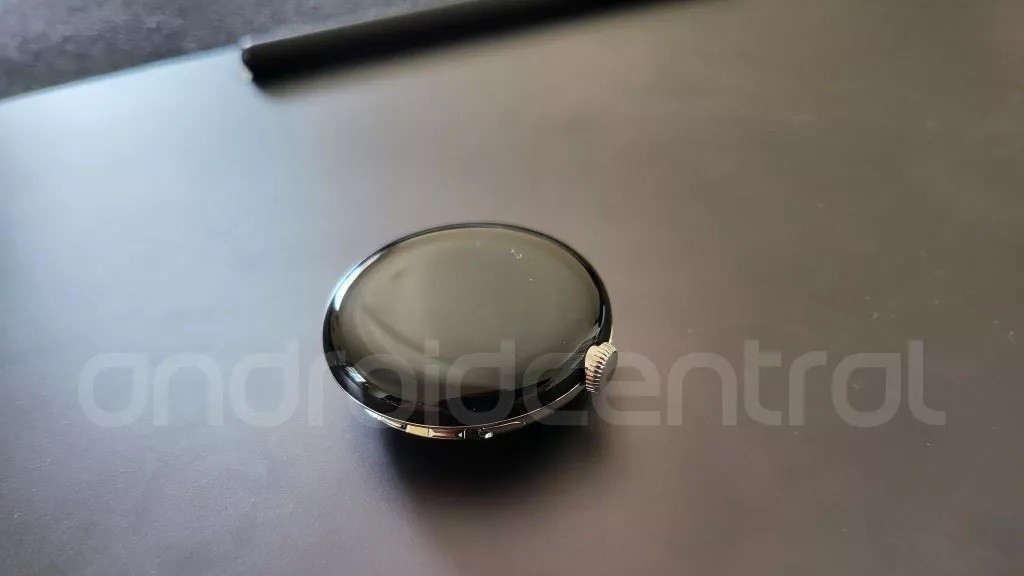 The Google Pixel Watch is a strong candidate to be revealed at I/O 2022 today, bringing to an end a lengthy wait for the company's first wearable. 
While we don't know for sure what it will look like or what its specs will be, we have a pretty good idea due to a multitude of leaks over the past few months.
The biggest of these, a couple of weeks ago, came when a Pixel Watch prototype was reportedly left in a restaurant. Yes, really. Assuming the images are genuine, it looks to be an attractively curved smartwatch with a near-bezel-less design and a couple of hardware buttons on the side.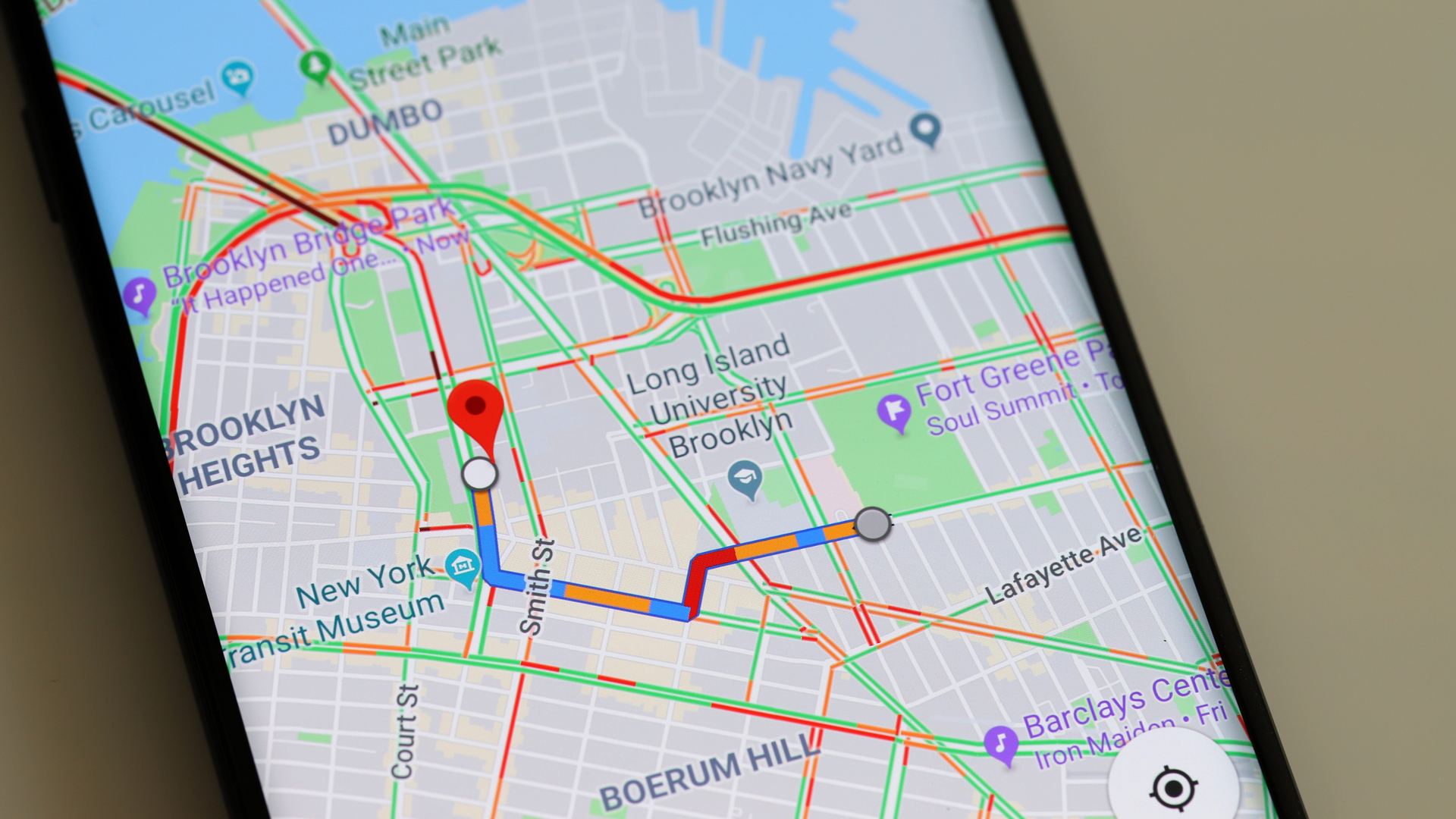 If you want a stealth candidate for a Google product to make news at I/O, look no further than Maps, one of the software giant's more popular programs. Maps has made frequent appearances at I/O keynotes over the years, as the crowd seems to get fired up by a helpful app gaining even more features.
Off the top of my head, the past few I/O keynotes have seen Maps add Google Assistant, adapt an incognito mode and work AR-guided navigation into Live View. What could be on tap for 2022? Your guess is as good as mine, but I'd predict something that leverages all that data Google's collected about people and places to fuel some new Maps capability.
There's one hardware rumor that I don't think will pan out for Google I/O 2022 and it involves the supposedly imminent launch of the Pixel Buds Pro. 
A few weeks back, leaker Jon Prosser said that the Pixel Buds Pro were set to debut soon, and even listed some colorways the wireless earbuds would appear in. Prosser didn't specifically mention I/O in his tweet, but at the time, the developer conference seemed soon enough to fit the bill.
Google Pixel Buds Pro coming 🔜Real Red, Carbon, Limoncello, FogMay 3, 2022
See more
There's only one problem with that line of thinking — we haven't heard many details about the earbuds themselves. And that's usually as good a sign as any that a launch won't happen any time soon. The more rumors you hear about a product, the closer you are to a launch, at least in my experience.
Then again, given my experience with tech predictions, don't be surprised should Sundar Pichai stride to the Google I/O stage today sporting a pair of Pixel Buds Pro.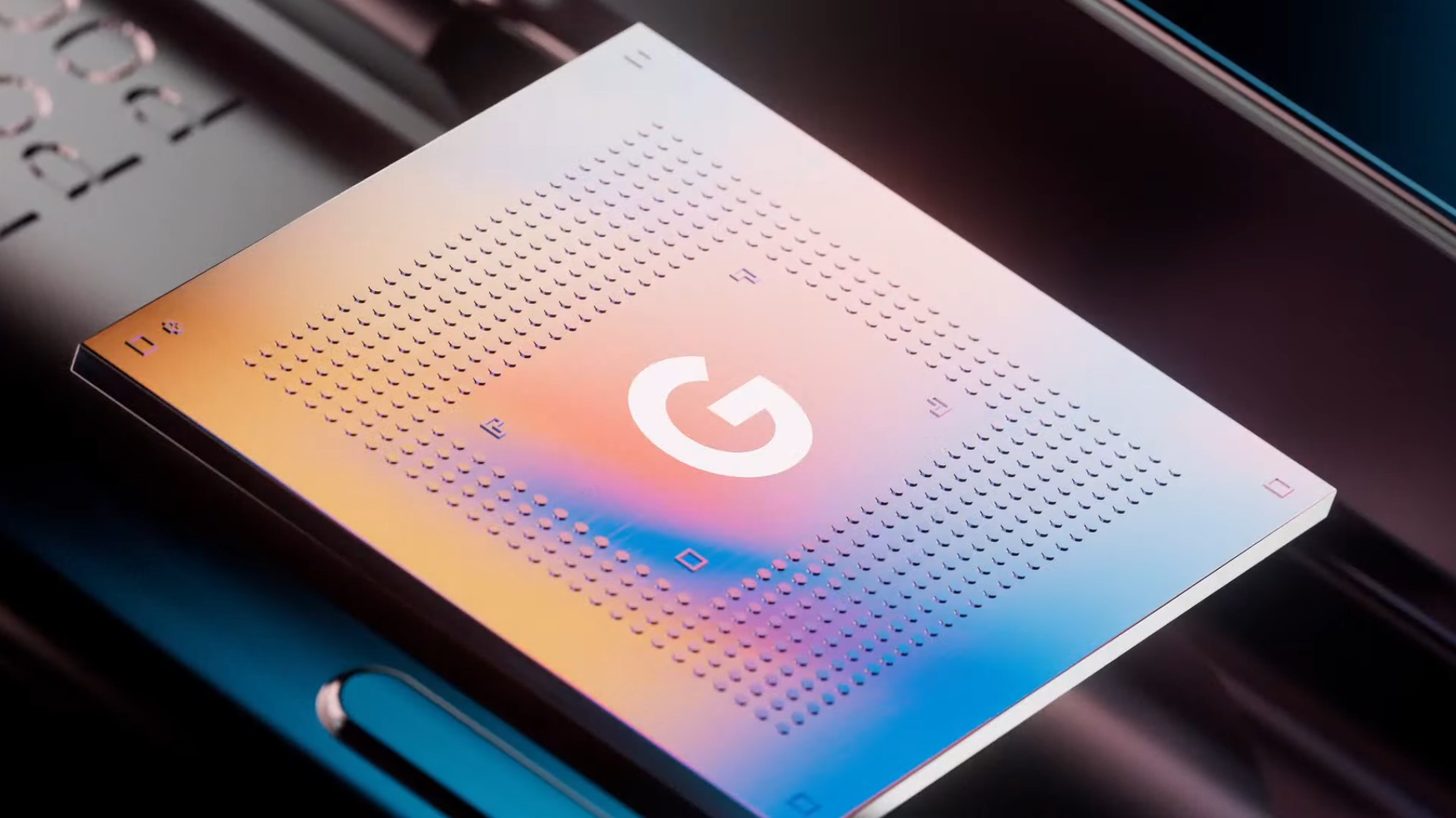 As for potential Tensor powers, I tackled that topic a few weeks back when I wrote about the Pixel 6 features I hope to find in the Pixel 6a. Let's just say that Magic Eraser — the tool for one-tap removals of unwanted objects and people from photos — had best make the grade.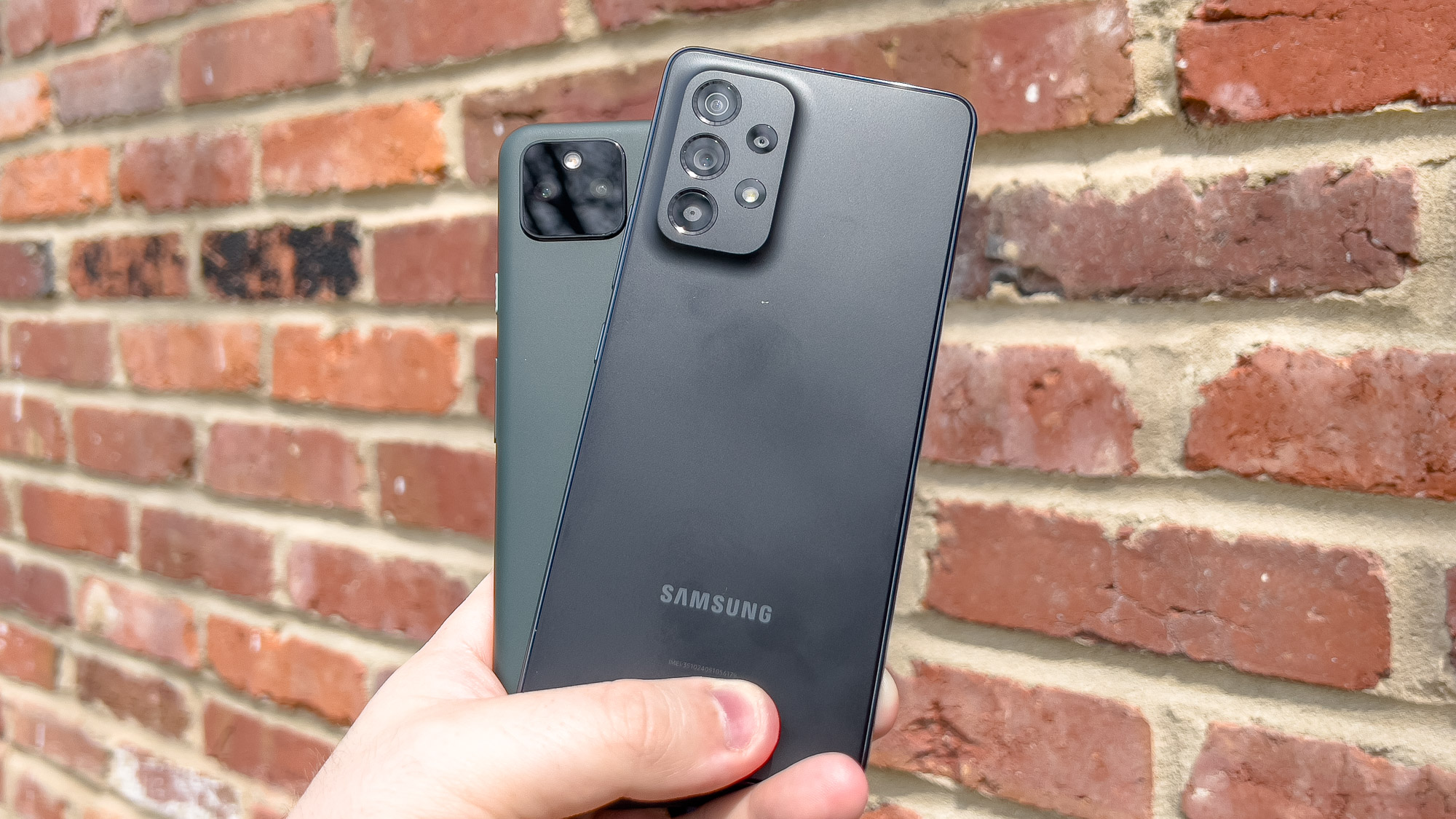 To my way of thinking, there are two intriguing things about the Pixel 6a, which may or may not show up at Google I/O today. For starters, what will adding the Tensor chip to the Pixel 6a enable the budget phone to do? And how does the Pixel 6a stack up against the Samsung Galaxy A53?
The answer to the first question probably helps supply the answer to Question No. 2. Should it arrive now, the Pixel 6a appears at a time when it's the Samsung phone that can claim to be better value among Android handsets, at least if our Galaxy A53 vs. Pixel 5a face-off is anything to go by. The Pixel 6a has its work cut out for it to topple the A53, and Google's usual expertise with photography will only go so far.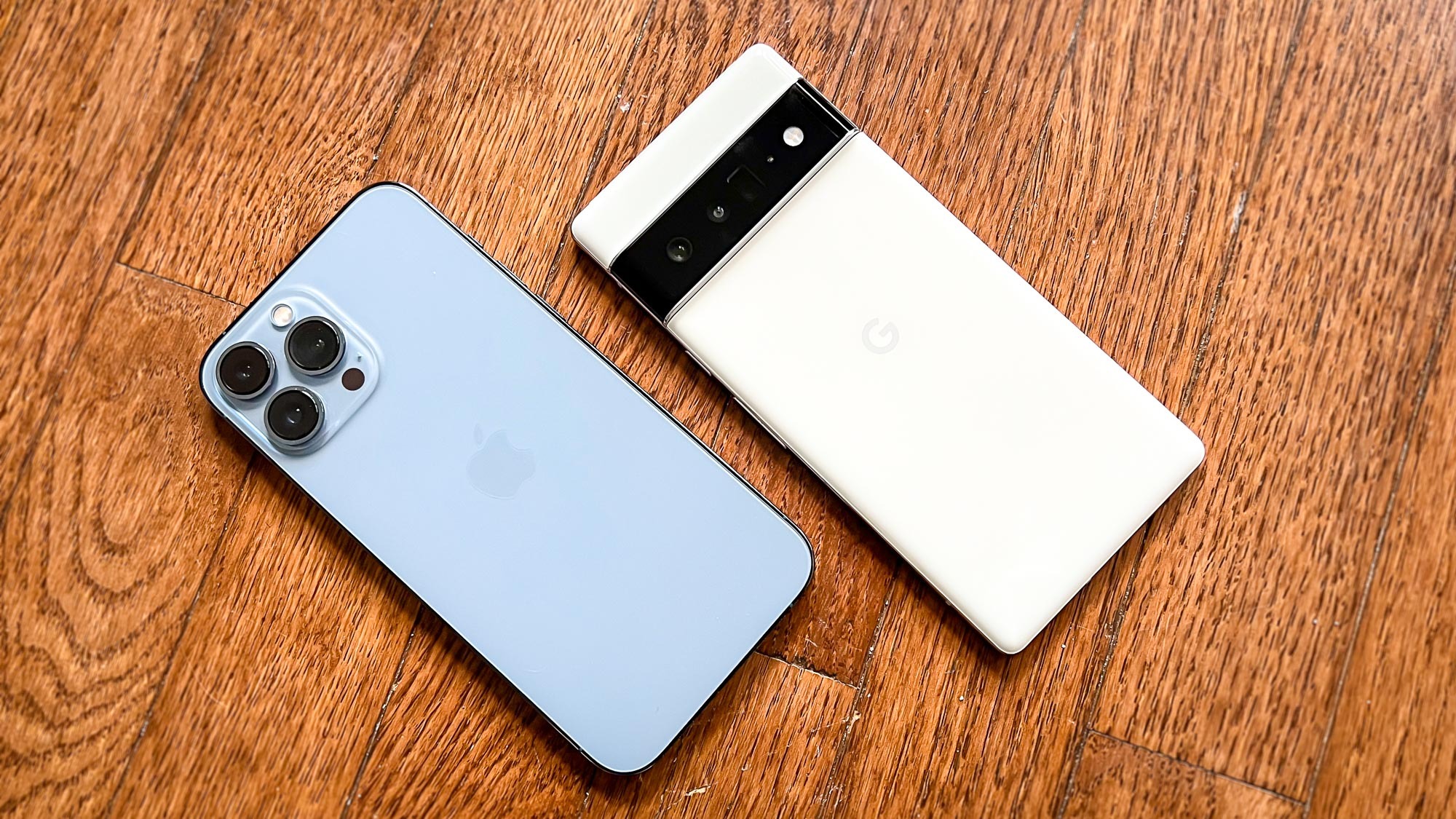 My colleague Jordan Palmer has been spending a lot of time with Android 13, and he goes into today's keynote hoping that Google addresses a thorny issue — just what exactly third-party apps can track about you on Android. 
If you read Jordan's Android 13 wish list, you'll find that he thinks the solution to what ails Android lies in Apple's approach to the same issue with its iPhones.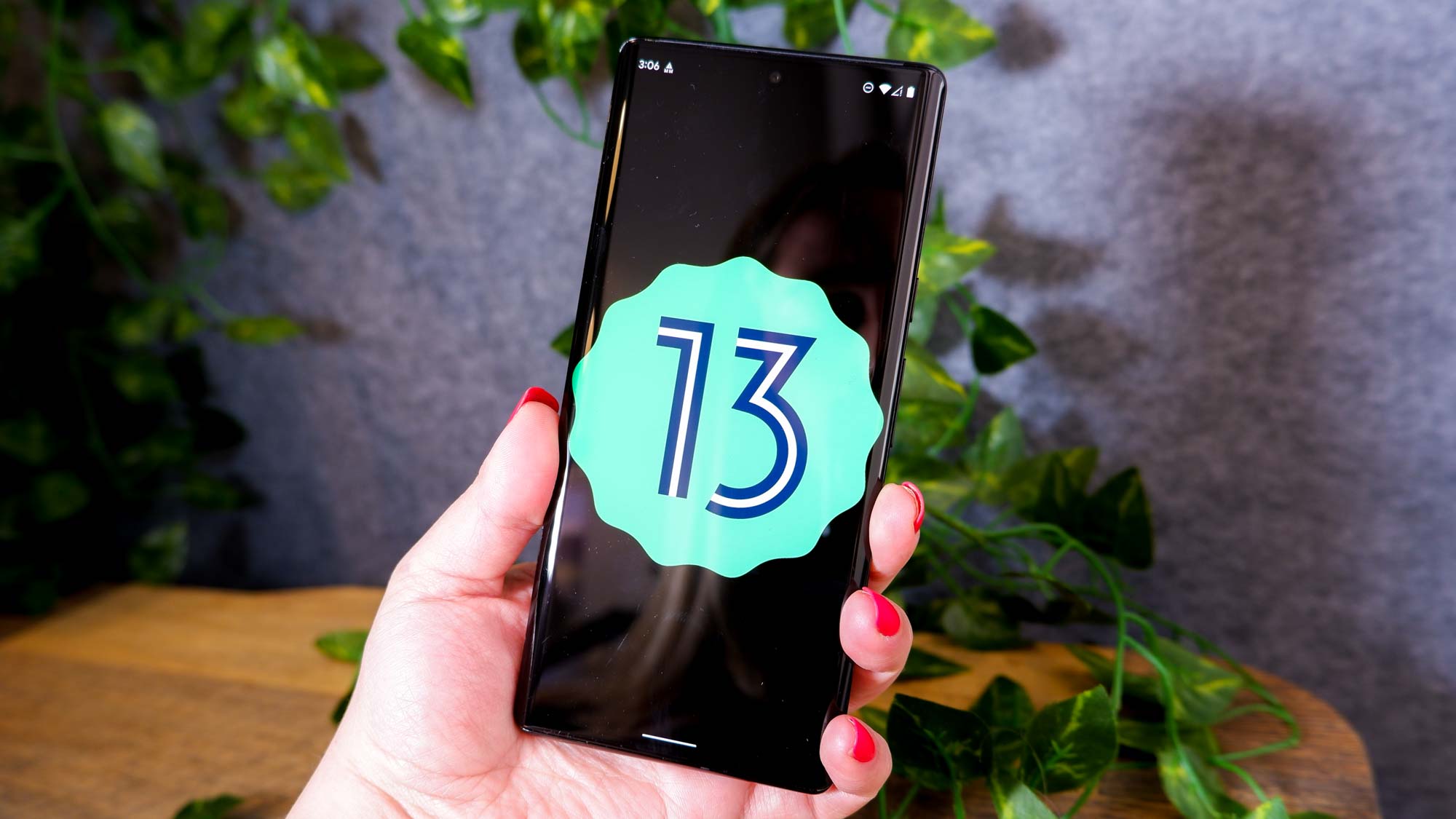 Google I/O is traditionally Android's coming out party, with Google showing off its upcoming software update during the I/O keynote, and kicking off a beta process that culminates in a release of the next version of Android toward the end of summer.
Android 13 may well launch in the same time frame later this year, but you can already get the first beta of this software update, provided you have a Pixel phone. Nevertheless, we'd expect Android 13 to get a big showcase during today's keynote, especially if Google wants to talk up any features that haven't gotten much attention yet.
Good morning, and welcome to Tom's Guide's Google I/O 2022 live blog. We'll keep you up to date on all the latest news from the conference as it happens — so bookmark this page and check back regularly.