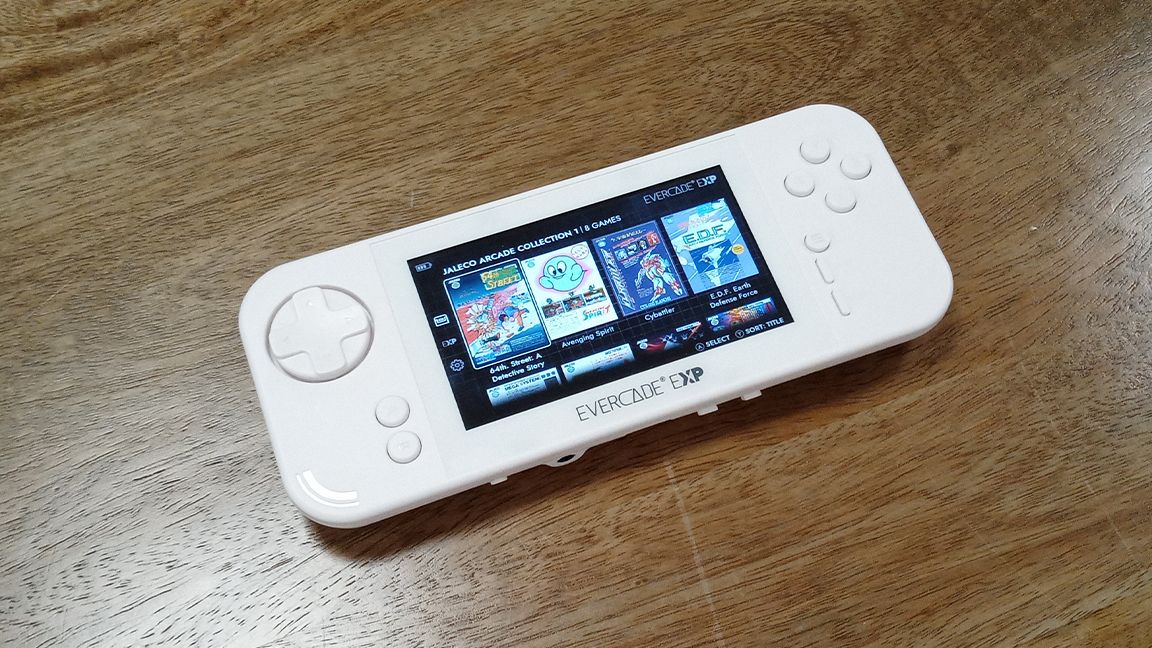 Evercade EXP review: a retro games console for a modern age
The Evercade EXP is the 'next-gen' upgrade to Blaze's handheld retro games console that enables you to play perfectly emulated games of yesteryear on new hardware. If you're after a retro arcade in the palm of your hand, the Evercade EXP is the closest you can get – it's designed for playing older games so performs far better than playing retro games on a smartphone, for example.
There's been a demand for better ways to play retro games for years, and you can find a rundown of the best retro game consoles for more ways to play. Generally these mini-consoles are designed to be hooked up to a TV, read my Sega Mega Drive Mini 2 review and A500 Mini review for more details on some of the best of this kind of retro games console.
The Evercade EXP is unique; it's a modern handheld device similar to a Nintendo Switch Lite, but it only plays retro games, and it's backed by a collection of game cartridges that contain over 380 retro games. The cartridges offer collections of themed games, for example the best Atari, Namco and C64 titles. If you're after a new way to play 8bit to 32bit games on the go, Evercade EXP is the retro console you need.
In my review I'll cover the features and design of this new retro games console as well as how it performs and I'll cover the games it comes with. For this review I've spend a month with the handheld to see how it performs over time, read our guide to how we test and review on Creative Bloq for more general details. 
Evercade EXP review: in the box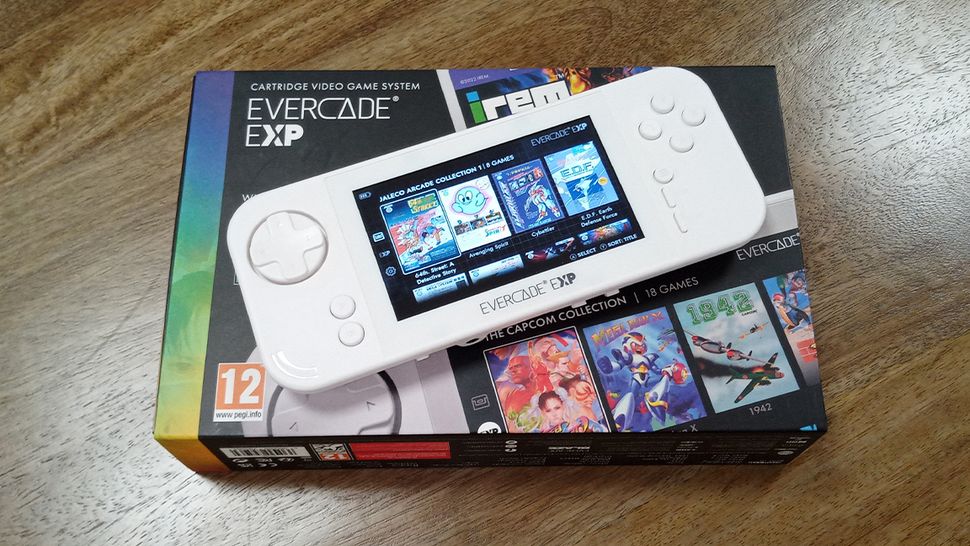 The Evercade EXP is a modern console that plays retro games, so you get a USB-C cable for charging (this is an upgrade on the mini-USB-C cable used in the older Evercade). The new console is also WiFi enabled and on first start-up you'll need to update the firmware, and it looks as if Evercade is committed to future updates and even game and demo drops.
There's a quick start guide included, but really this is bare-bones. What's not in the box is a mini-HDMI to HDMI cable to connect the console to a TV, though if you have other mini-retro consoles in the house, such as a PlayStation Classic, you'll likely have these (and they don't cost much). It's an inconvenience, though, and a common trend for retro consoles.
What is 'in the box' is a whole lot of games. First the Evercade EXP comes with a pre-installed collection of 18 Capcom games from the 80s and 90s, including classics such as Final Fight, Ghouls 'n Ghosts and Street Fighter II: Hyper Fighting. This is a wonderful collection, even if you may have played them before in other retro game collections. As a freebie, it's impressive. (There are also secret games to unlock.)
The Evercade EXP also comes with the Irem Collection, a cartridge containing six classic games that includes In The Hunt, Moon Patrol and the iconic R-Type. For a bundled collection this is excellent value, and gets you up to speed on slotting in cartridges.
Evercade EXP review: design and build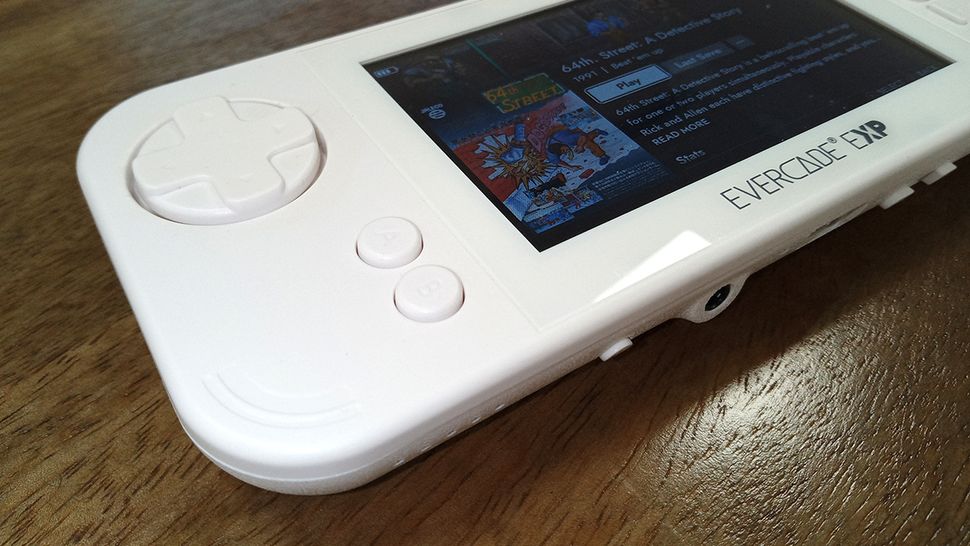 I've mentioned the new 4.3 inch IPS screen that displays at a 800×480 resolution, and it's excellent. Overall the build quality of the new Evercade EXP impresses. The buttons are robust but with a 'spongy' quality to ensure tapping endlessly on shooters won't get tired. The d-pad is excellent and features a nice 'floating' quality – I tested it on Street Fighter II: Hyper Fighting and found executing combos is easy.
Evercade EXP: specs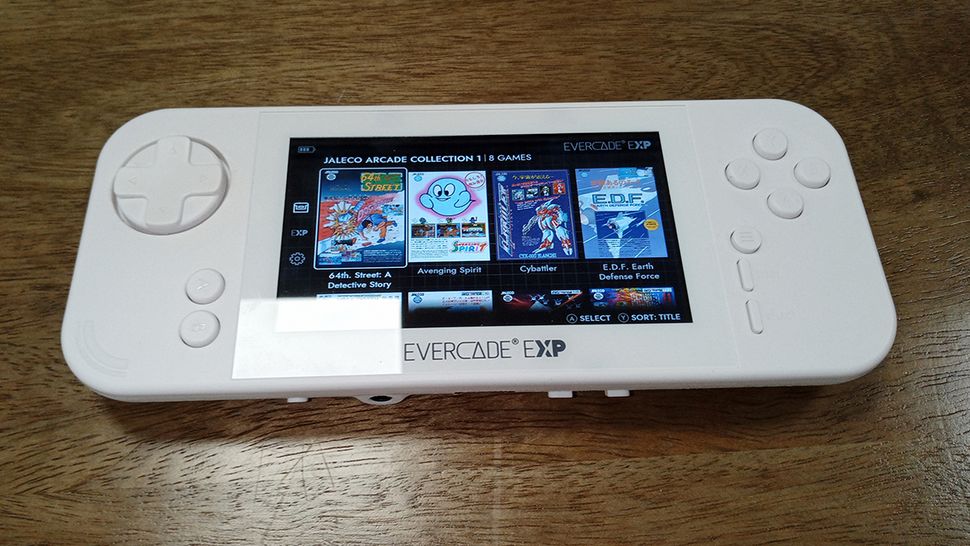 4.3 inch IPS Screen (800 x480)
18 built-in games from world famous publisher, Capcom
6 game IREM Arcade 1 cartridge
TATE Mode for vertical screen orientation.
1.5 Ghz Processor
4 GB Built-in Memory
Stereo Speakers
USB-C Charging Port (cable included)
Built in WiFi for easy updates
3.5mm Headphone Jack.
720p Mini HDMI Output for TV (cable not included)
3000mA battery for 4 – 5 hours gaming
7.76 x 3.1 x 0.8 inches
The console is a good size, at 7.76 x 3.1 x 0.8 inches it fits between your fingers nicely. It's fairly light too, though a little heavier than the original Evercade. Overall, this is better made than the older hardware – it feels solid and robust. It's a simpler more modern aesthetic to the older red and white console, and is now pure white, which looks classy but it can also make some of the button descriptions harder to read as there's no extra detailing. (The Evercade EXP Limited Edition comes in matt black.)
Audio from the built in speakers is crisp and punchy, and given the age of the music you really don't need much more than the stereo speakers on offer. There is a 3.5 mm jack for headphones but no bluetooth, which is a little disappointing.
The button layout is standard, with four face buttons, four shoulder buttons, and all are nicely responsive. It's rare you'll ever need the shoulder buttons unless you remap manually but it's nice that Blaze has included these to plan ahead for a move to 32bit era games.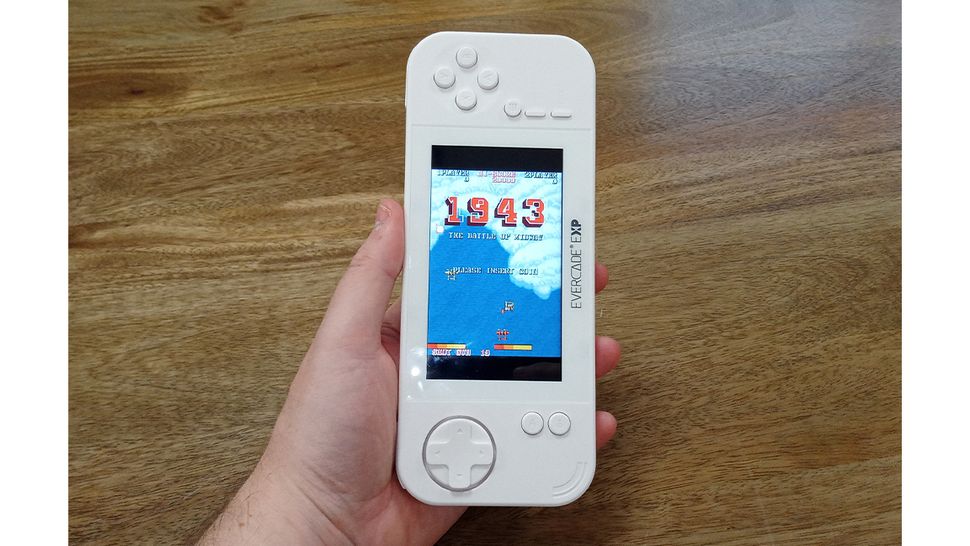 TATE mode is the innovative new feature that enables you to play the Evercade EXP vertically, replicating the tall arcade cabinets of the 80s. This has been designed to ensure you can plan vertical shooters, such as 1943 and MERCS, in the original dimensions. It works well, there's a 'T' button beneath the handheld and tapping this flips the screen, and new A and B buttons found to the left of the screen in horizontal mode are now beneath the screen. The only drawback is the Evercade EXP is a little too slim to be played comfortably in this mode for too long as the button spacing is a little cramped.
Evercade EXP review: performance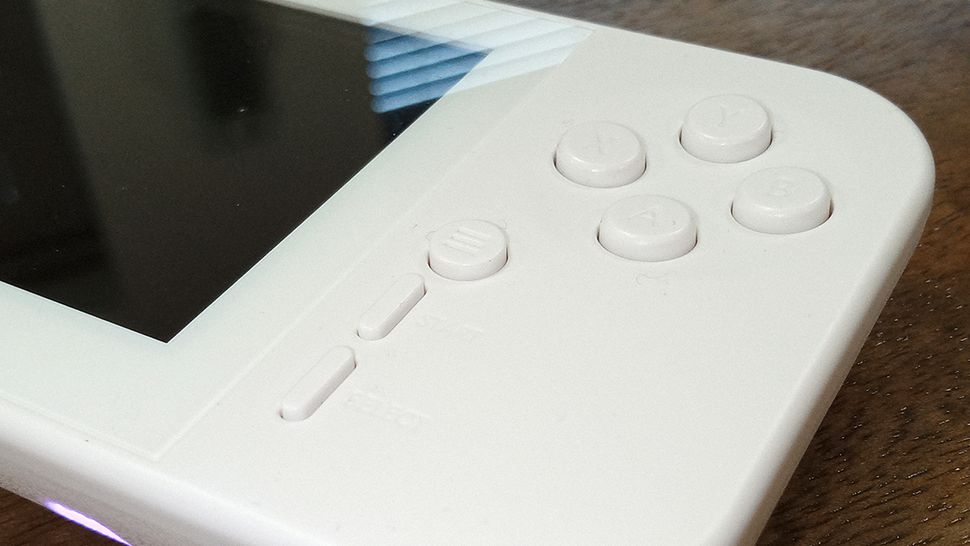 The Evercade EXP performs really nicely. It feels like a true step up from Blaze's previous handheld. The new 1.5 Ghz processor – the previous release had a 1.2 Ghz processor – has all the power you need to handheld retro games from the 80s and 90s and there's never any slowdown, ghosting or stuttering.
The new IPS display is excellent and ensures you can view the action from many angles without ever losing clarity or detail from 'window glare'. It's nice to see more options for adding scanlines – the replication of playing on an old CRT screen – as you now choose a 'subtle' setting that adds the lines but without reducing detail.
The original Evercade console had just 256MB of memory, the Evercade EXP has 4GB of built-in memory, which is more than enough. Every game can now be fast saved at any point to ensure you can drop back in where you left off – incredibly helpful for these old retro games that are famously tough to beat.
The new 3000mA battery lasts for around five hours, but this can change with the game being played, for example Breath of Fire reduced the battery in around four hours. Still, this is a huge 50 per cent leap over the original Evercade handheld.
Evercade EXP review: the games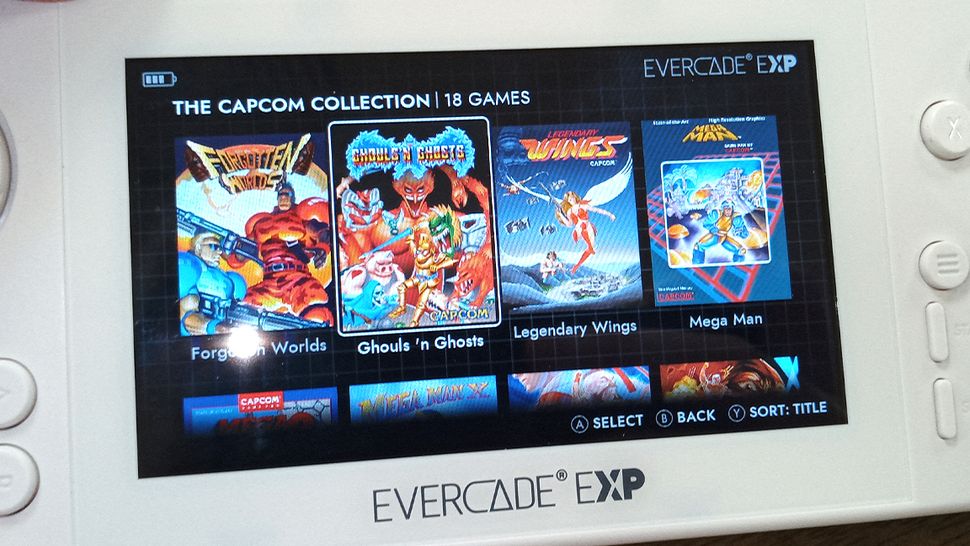 Evercade consoles have great emulation and the new Evercade EXP is no different. The 18 pre-installed Capcom classics work nicely on the handheld, though you find yourself wanting a larger screen as many of the older shooters tend to have tiny detection zones. If you need to recap the complete Capcom list see the box to the side. Along with some standards, such as Forgotten Worlds and Final Fight that appear on all of these collections, there are some nice new entries, for example 16bit RPG Breath of Fire and Mega Man X.
Evercade EXP: pre-installed Capcom list
1942 (Arcade version)
1943 (Arcade version)
1944 : The Loop Master (Arcade version)
Bionic Commando (Arcade version)
Captain Commando (Arcade version)
Commando (Arcade version)
Final Fight (Arcade version)
Forgotten Worlds (Arcade version)
Ghouls 'n Ghosts (Arcade version)
Legendary Wings (Arcade version)
MERCS (Arcade version)
Street Fighter II': Hyper Fighting (Arcade version)
Strider (Arcade version)
Vulgus (Arcade version)
Mega Man (8-bit)
Mega Man 2 (8-bit)
Mega Man X (16-bit)
Breath of Fire (16-bit)
The IREM Arcade 1 cartridge that comes packaged with this retro console is a fantastic trip down memory lane, and showcases the importance of Blaze's support for physical media. A booklet details each game with controls and facts, as well as screens that tease the stages you'll play. The games list includes the ironic shooter R-Type but the equally important Moon Patrol and the fun Battle Chopper (Mr. Heli); other games are: In The Hunt, 10-Yard Fight and Lightning Swords.
The biggest difference you'll find when playing these old games on the Evercade EXP is just how smooth and connected the experience is; switching between games is speedy and smooth, and with the option to create save states you can drop in and out in seconds.
This ease of use and speed extends to the new UI, while not too dissimilar to the previous console. The handheld UI features title cards for every game, including original artwork and game descriptions, playing stats and historical insights, and the device now has a side menu for jumping between installed and cartridge games.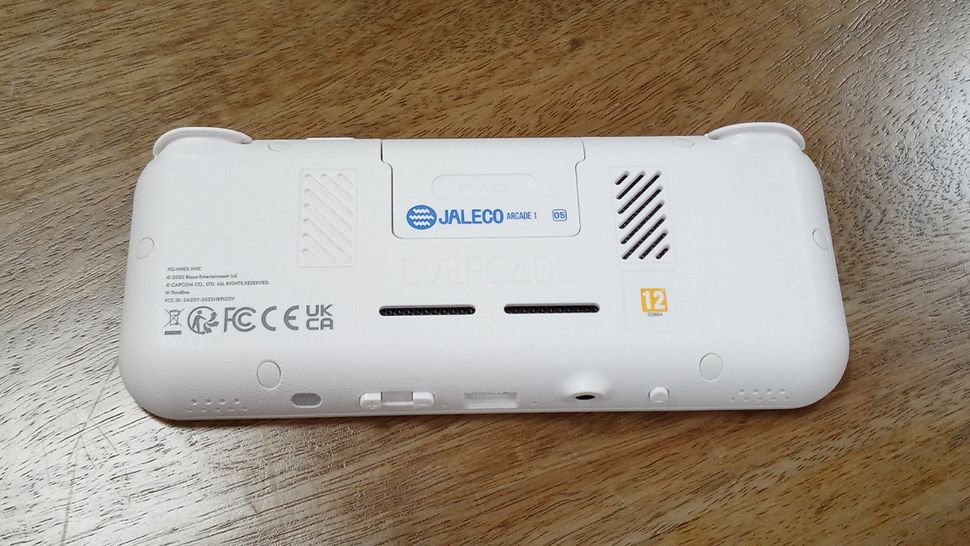 While cartridges remain Blaze's focus I'd expect downloadable games and demos to be coming in 2023. (This is a little at odds with Blaze's commitment to how it approaches retro gaming and physical releases but I feel it's a good compliment to the cartridge approach.)
There are deeper options to engage with for each game too, such as changing the display option to recreate the original game, fill the screen (stretching) or a widescreen ratio; you can customise the bezels for 4:3 ratio games. What's nice is your settings copy across to all other games so you're not constantly setting up how you like to play.
Using a mini-HDMI lead you can hook-up the Evercade EXP to a TV or monitor and play on a big screen. As mentioned earlier the cable isn't included, which is irritating. If you do have a mini-HDMI to HDMI cable to hand then you can output at a maximum resolution of 720p, which is fine for games of this era. I would have liked the option to output at 1080p, particularly as Blaze begins releasing cartridges of 32bit era games, but even then 720p is the norm.
Evercade EXP review: price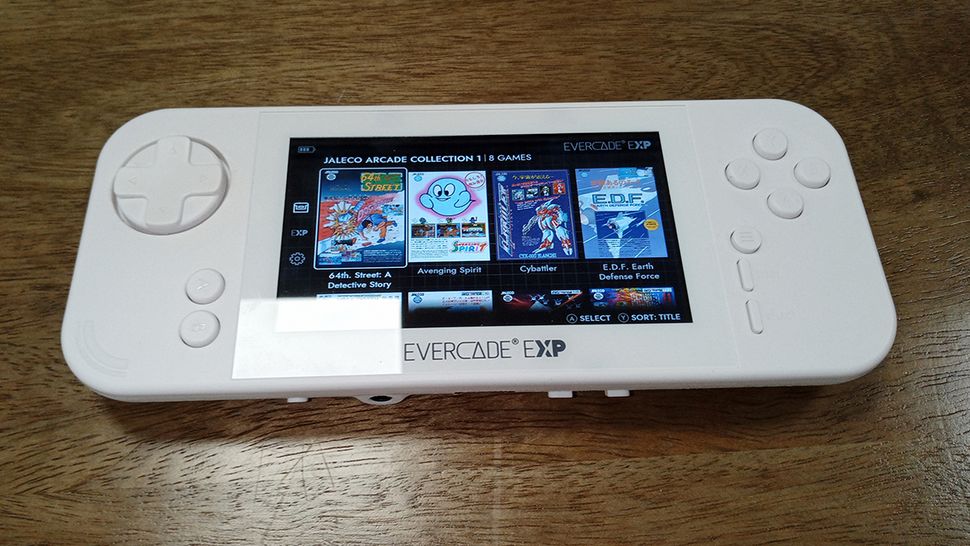 The standard version of the Evercade EXP costs $149.99 / £129.99 and this includes the 19 Capcom games and the six-game IREM Arcade 1 cartridge. This makes Blaze's new console slightly more expensive than the average retro game console, such as the Sega Mega Drive Mini 2 that comes in at $99.99 / £104.99. The difference here is the Evercade EXP can support a range of cartridges and Blaze has more collections planned for 2023 – these cost around $15.99 / £14.99.
The closest 'proper' games console would be a Nintendo Switch Lite for $199 / £199, and considering the Switch can run some excellent retro game collections as well as new releases, it's a good option – though Evercade EXP has a library of unique classic games from the 80s and 90s that don't appear on any other console. (See our Nintendo Switch Lite deals guide for the latest offers.)
Evercade EXP review: should I buy one?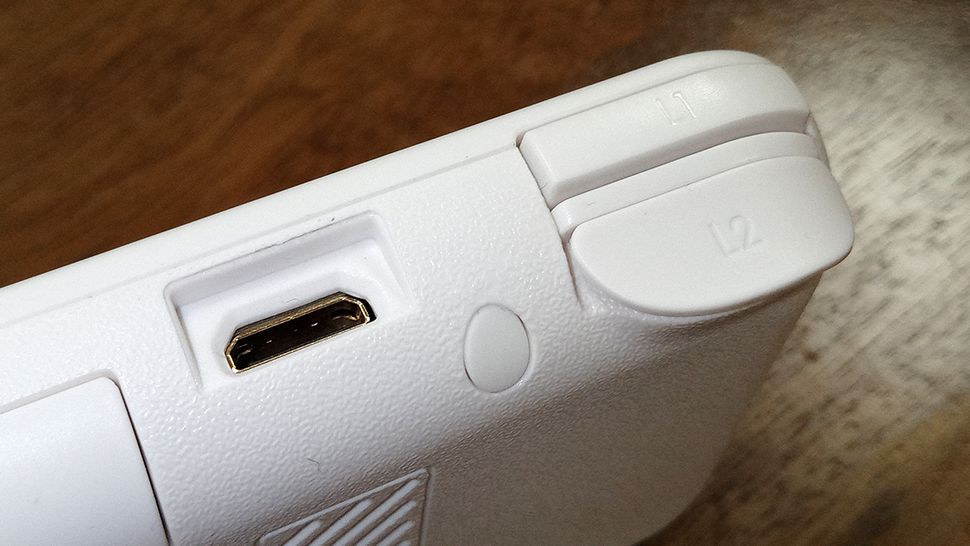 There isn't another games console like the Evercade EXP; it's an excellent retro games console that plays collections of games you really can't find elsewhere (along with some games you can get on PlayStation, Nintendo and Xbox). If you're looking for a way to play 8bit and 16bit games with perfect emulation and in a modern setting, the Evercade EXP is a great choice.
This is also a well made and designed handheld console, and while the new TATE mode is a little underwhelming it's still nice to have and enables you to play some classic games the way they were meant to be experienced.
Blaze's commitment to future cartridge releases and the tease of downloadable games and collections ensures there'a a future for the Evercade EXP too. Of all the modern retro game game consoles, there's no better way to play classic games – it's truly a retro arcade to play on the sofa or train alike.
Read more: