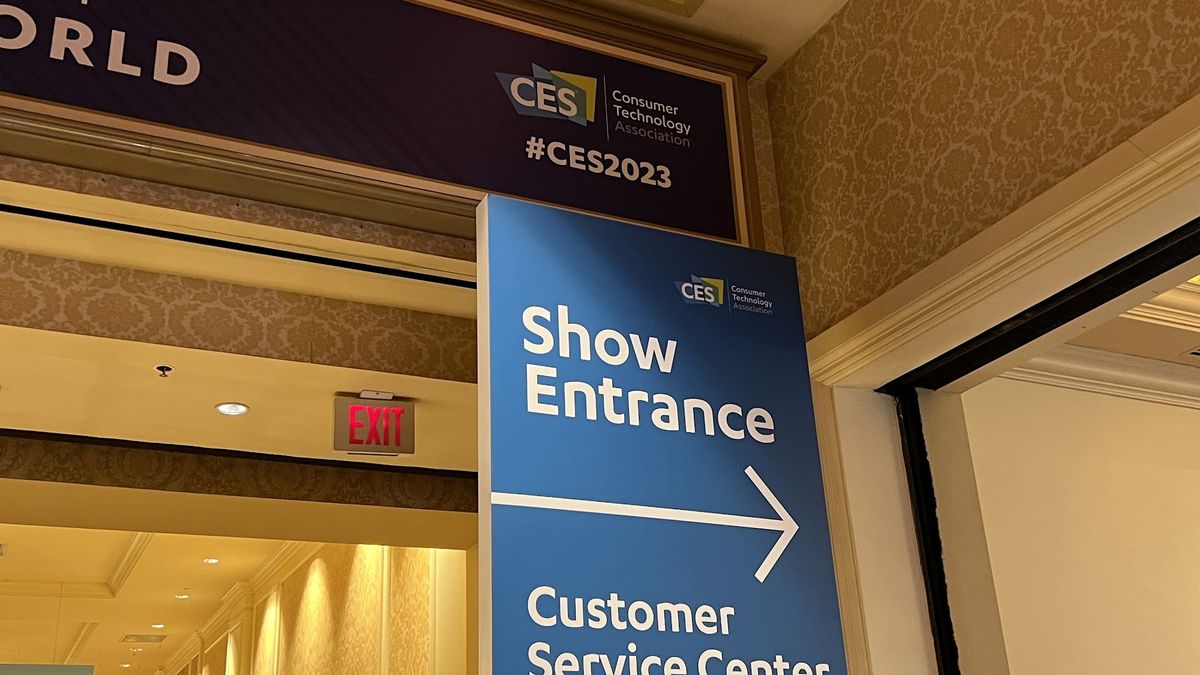 CES 2023 Blog: Latest PC Hardware News from the Show Floor
Refresh
AMD Launches New CPUs Including the 7950X3D
Holy cow! AMD just fired a big shot across bough in its never-ending battle with Intel for desktop CPU dominance.  At the company's press conference, Team Red CEO Lisa Su announced a slew of new mobile and desktop chips, including three CPUs that come loaded with 3D V-Cache: the Ryzen 7 7800X3D, Ryzen 9 7900X3D and Ryzen 9 7950X3D. 
These chips have 8, 12 and 16 cores, along with 104, 140 and 144MB of L2 / L3 cache.  The top-of-the-line 7950X3D has a boost clock of 5.7 GHz, before overclocking!  All of that 3D V-cache is going to make these chips very competitive against the best CPUs for gaming and there's a good chance that Intel's 13th Gen Raptor Lake chips, including the Core i9-13900K, take a back seat to AMD. 
As Deputy Managing Editor Paul Alcorn notes in his article on the Ryzen 7000X3D chips, AMD is claiming that they the 7950X3D beats the 13900K by 13 to 24 percent in 1080p gaming. 
The company also announced a slew of new laptop chips, ranging from the budget-oriented 7020 series to the ultraportable 7040 series and the gaming-centered 7045 series.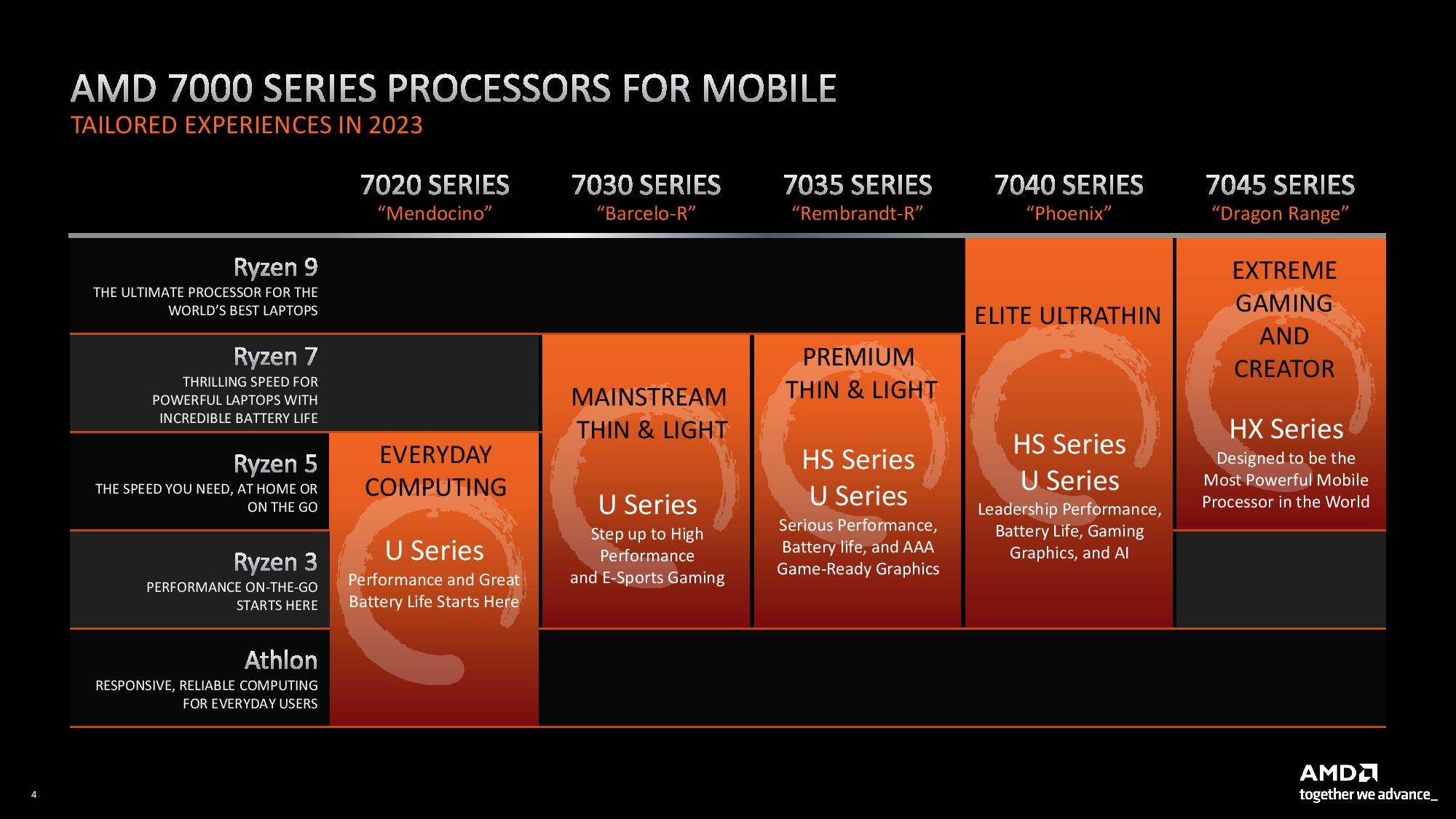 We've got all the details on AMD's mobile CPUs in our article on AMD's new mobile chips. The company is also taking the mobile graphics fight to Nvidia with its new Radeon RX 7600M XT (opens in new tab), which the company claims is faster than a desktop RTX 3060 card.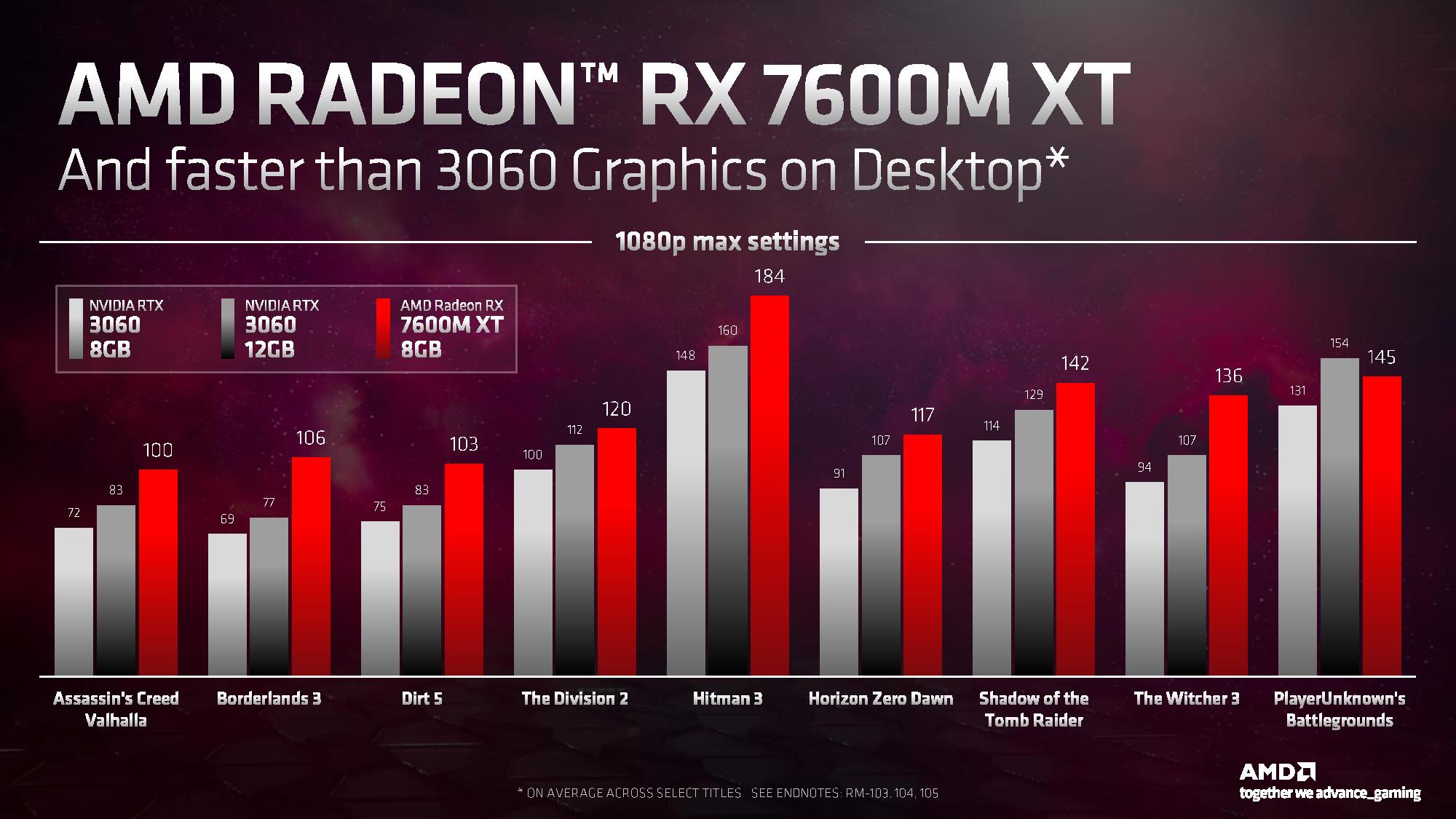 We'll have to see how all of these chips stack up to the competition when we get to review them and systems based on them later this year.
Follow AMD's Press Conference Live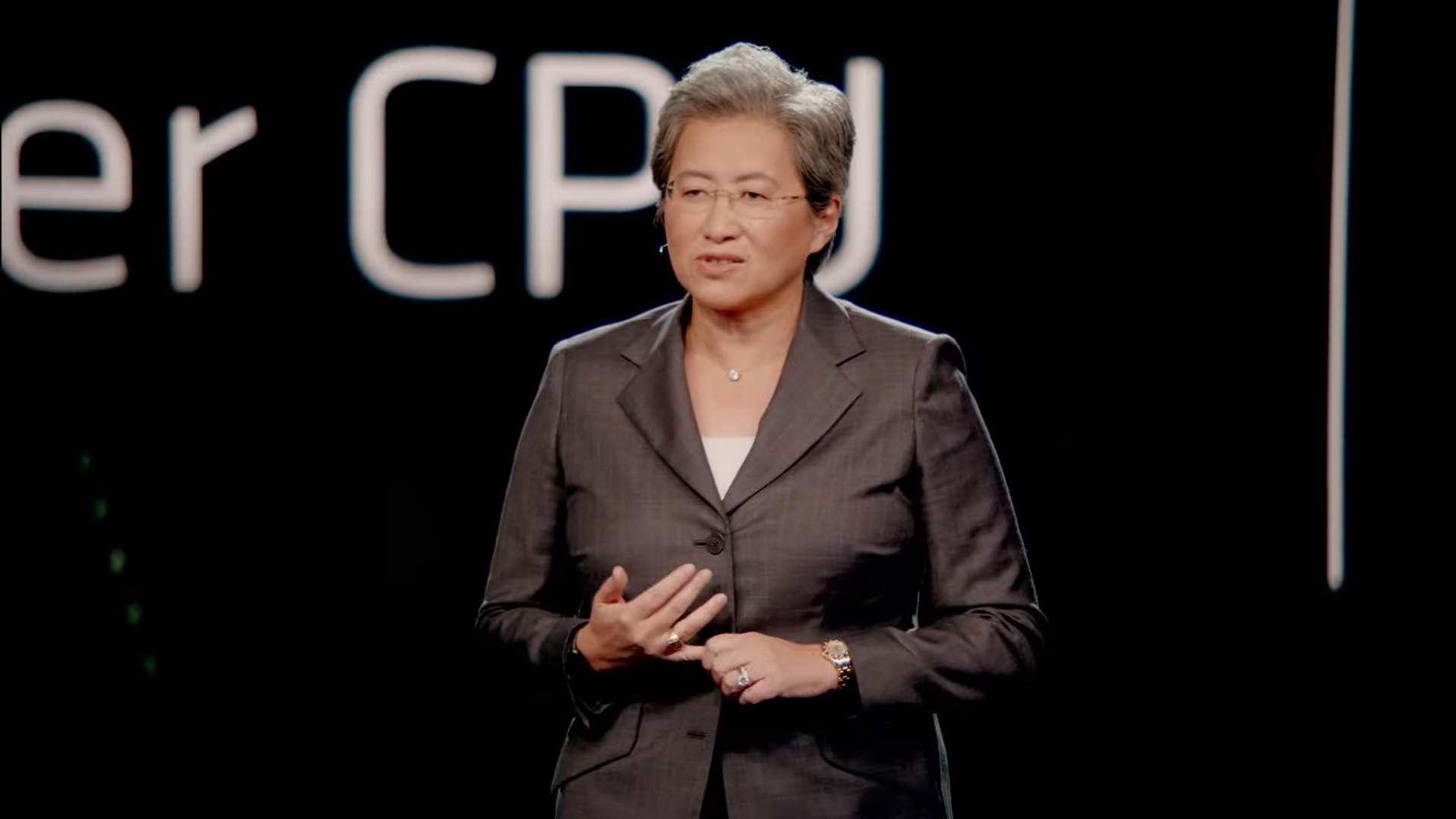 Update: The press conference has ended but our full AMD press conference live blog (opens in new tab) remains if you want to catch up with the events as they happened.
Tonight at 6:30 pm PT, AMD CEO Lisa Su is giving a keynote address, where she is expected to announce a slew of new products, including more AMD Ryzen 7000 series CPUs and perhaps a successor to the Ryzen 5 5800X3D, which is the company's leading gaming CPU because of its copious 3D V-Cache.
To keep up with all the action, Deputy Managing Editor Paul Alcorn is running a dedicated AMD press conference live blog (opens in new tab). Check it out in order to keep abreast of all of Team Red's announcements.  The conference is also being carried live on YouTube (opens in new tab), but we recommend keeping an eye on our live blog (opens in new tab), which will provide Paul's expertise and context in real-time.
Thermaltake's Magnetic Fans Let You Swap Blades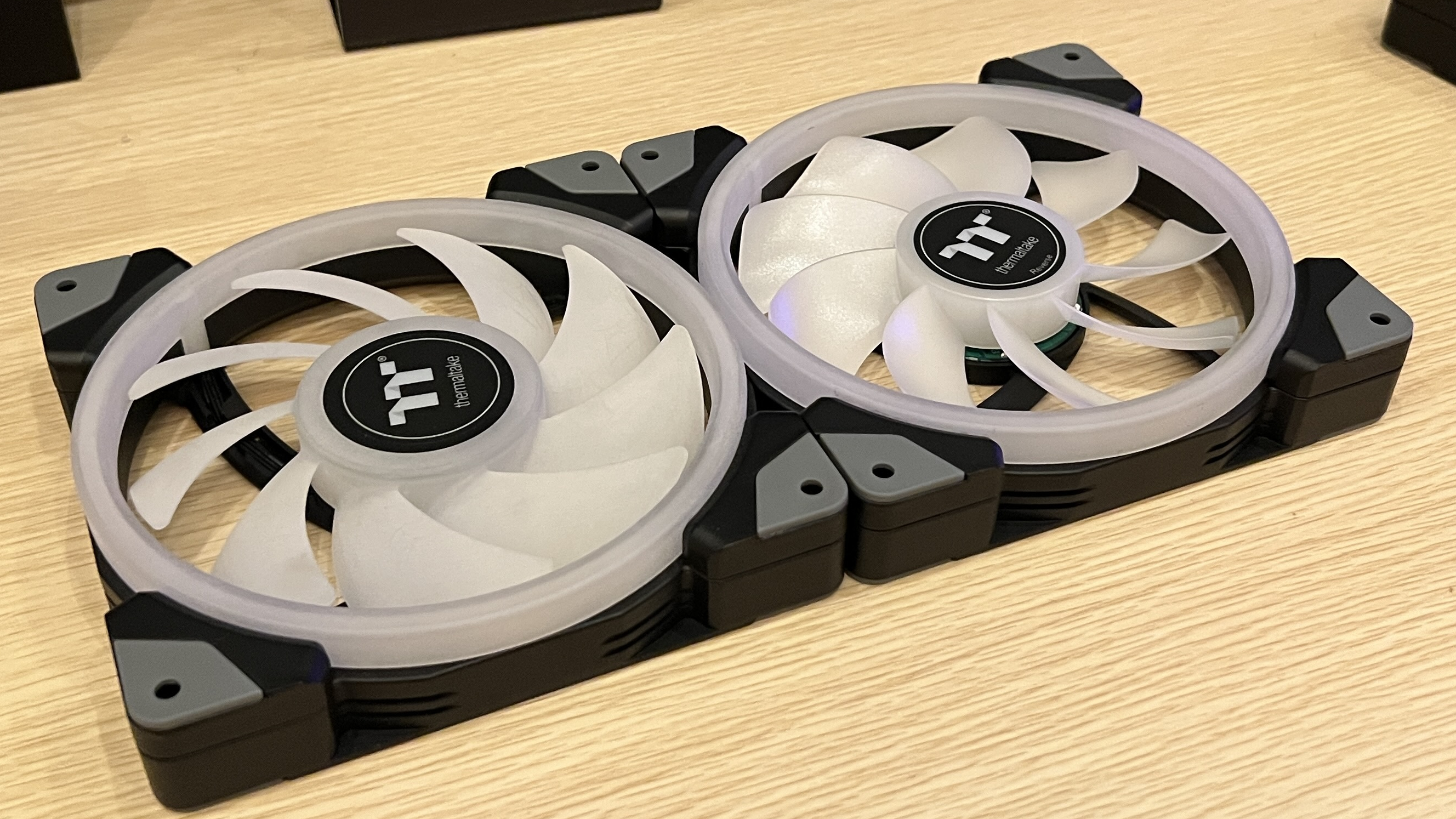 It's rare that we get excited about a case fan, but Thermaltake's new Swafan EX12 and EX14 fan sets have gotten our attention. At the company's CES suite, Senior Editor Sarah Jacobsson Purewal had a chance to examine the magnetic fans which come in sets of three and came away impressed with their design and utility.
Available in February at $109 for a three pack of the 120mm Swafan EX12 or April at $119 for a three pack of the 140mm EX14, the fans snap together magnetically so you only need to run a single cable from your RGB controller or motherboard to control all three. 
We've seen magnetic, daisy-chainable fans before as we've tried out Lian Li's UNI fan SL120. However, the Swafans have another trick up their sleeves: they come with two sets of blades for each fan: a regular blade and a reverse fan blade. So, if you want to change the airflow direction of a fan, all you need to do is pop out its blade and replace it with the opposite kind. 
Sarah noted that, in the demo she saw, the blades popped in and out without the need for tools. She also found the magnetic snapping action of the fans as they connect to each other to be really sturdy and strong.
The Swafans each have dual LED rings with 20 addressable RGB lights which you can control via Thermaltake's TT RGB Plus 2.0 software). The 120mm EX12 promises 56 to 57 CFM of maximum air flow while the 140mm EX14 is rated for 79 to 81 CFM.
Asus's 16-inch Portable Monitor Has a Lot Going for It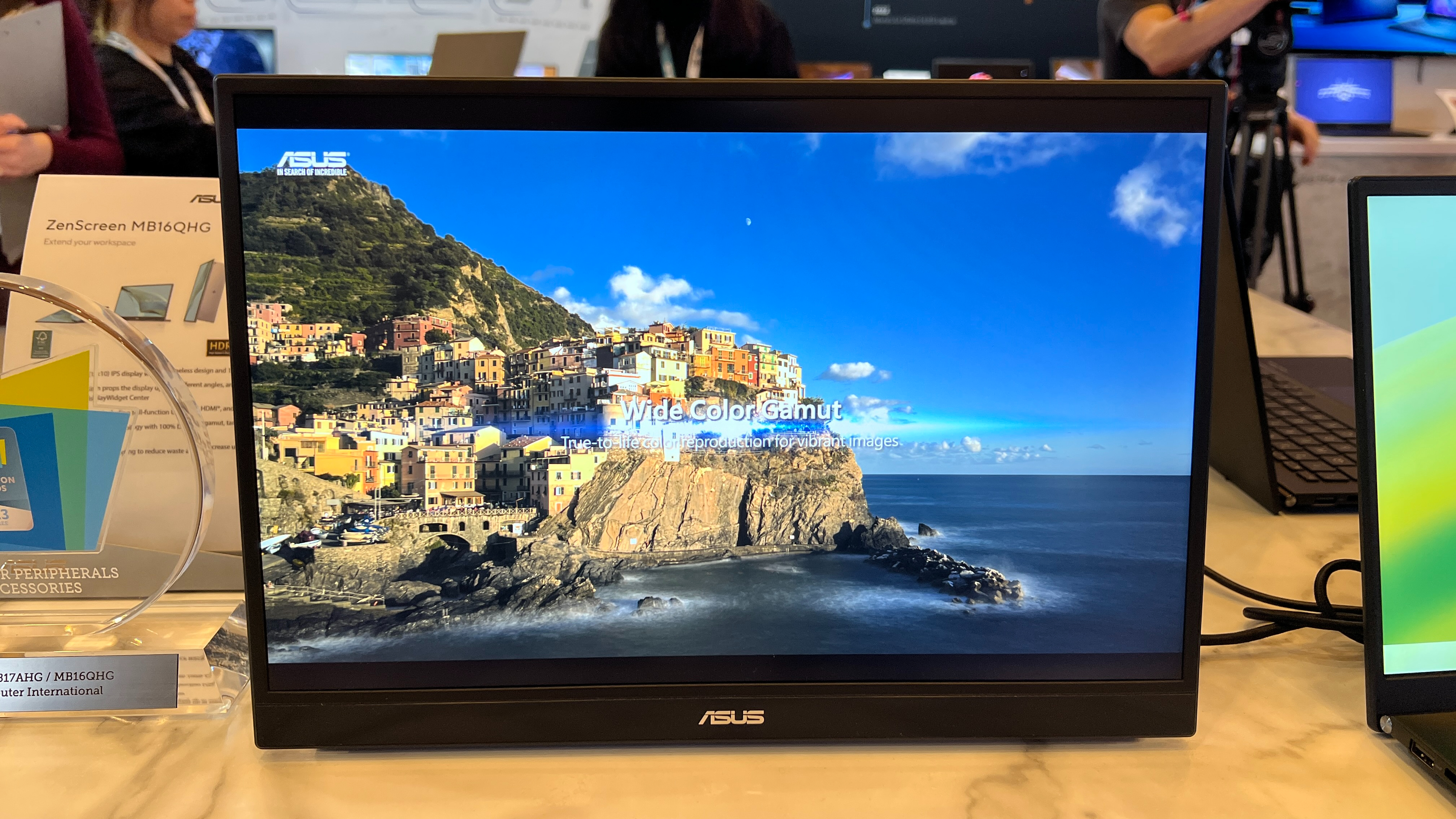 Everyone who travels for work even a little bit should own a portable monitor. It's really important to have two, three or even six screens on your desk so, at the very least, you should have a second display when you hit the road. We maintain a list of the best portable monitors and  we're constantly testing new models to see which one might belong in your bag.
Today, we got a chance to see Asus's new MB16QHG monitor, a 16-inch portable display that stands out from the crowd with its 2560 x 1600 resolution, 120 Hz refresh rate and HDR400 support. Oh, and it promises to reproduce a whopping 100 percent of the DCI-P3 color gamut, something most desktop monitors can't approach.
Senior Editor Sarah Jacobsson Purewal had a chance to see the MB16QHG at Asus's CES booth where it was showing a video demo reel. She said that the colors were decent, but a little washed out in that particular demo. The built-in, L-Shaped kickstand did a good job of holding the monitor up and, considering that many prior Asus monitors forced you to use a horrible origami case to prop them up, this is a huge step forward for the brand. 
Sarah also said that the monitor feels so light that she thought it might easily tip over, but on the other hand, that makes it extremely easy to carry. Asus did list the official weight in its press materials.
If you don't like the kickstand, the monitor also has a screw thread so you can mount it on a tripod arm. It can connect via HDMI or USB-C, making it a solid choice not just for your laptop but also for using with a Raspberry Pi. 
In addition to the MB16QHG, Asus also announced a 17.3-inch portable monitor called the ZenScreen M17AHG which operates at 1920 x 1080 with a 144 Hz fresh rate and also can mount on a tripod. Then there's the 23.8-inch, 1080p ZenScreen MB249C which is large for a portable screen but weighs just 6.2 pounds (2.8 kg) which is light for what it is. 
However, of these three monitors, we're the most excited by the MB16QHG because of its high resolution, integrated kickstand and wide color gamut. An Asus rep said that the MB16QHG is due out later this year for somewhere between $300 and $4000.
ASRock Collected Enough Rings From First Sonic Motherboard to Make Another One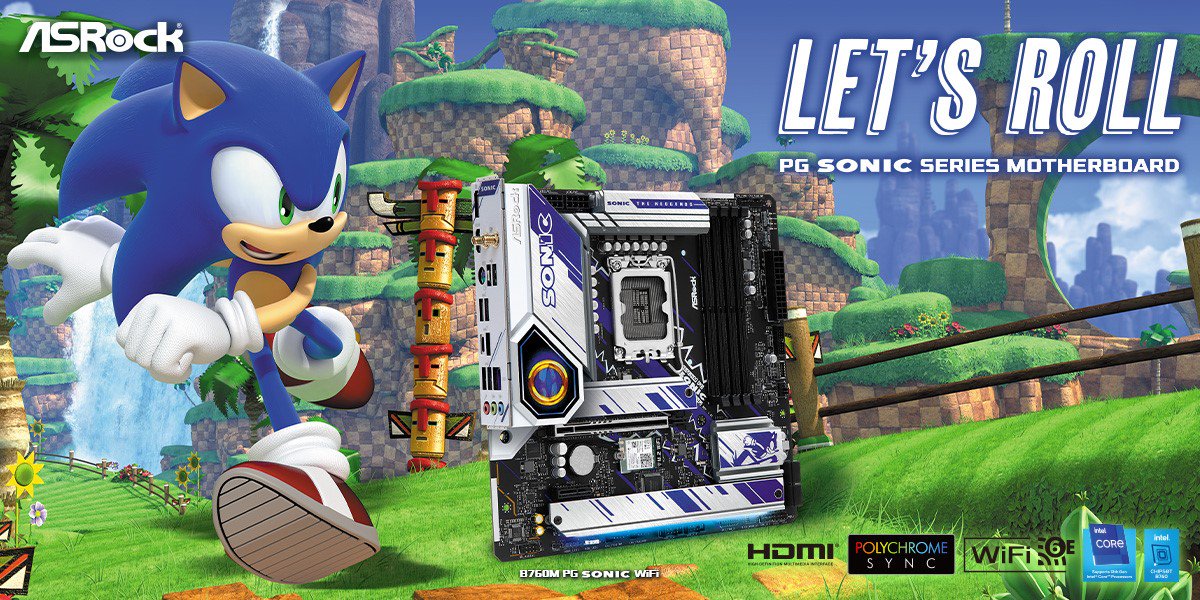 Among ASRock's B760 motherboards is a special edition Sonic the Hedgehog micro ATX board. This is ASRock's second Sonic-themed board; The first was a higher-end Z790 option.
The Special Edition B760M PG Sonic WiFi has a heatsink for the VRM, M.2 SSDs and PCH in a Sonic-themed design, which senior editor Andrew Freedman can't stop talking about in our staff chat. The board is built with six-layer PCB, features Dragon 2.5 Gbit Ethernet and Wi-Fi 6E. There are three M.2 NVMe 4×4 SD slots and four SATA III ports, so plenty of room for storage.
Of course, there's also Plychrome Sync ARGB lighting, which you can use for blue (to make it more Sonic-y), red (for "& Knuckles" flair) or any other color you want. 
In the video above, you can see ASRock's non-Sonic B760M boards, including the Steel Legend WiFi and Pro RS series.
First PCIe 5.0 SSD Tested: Yeah, It's Fast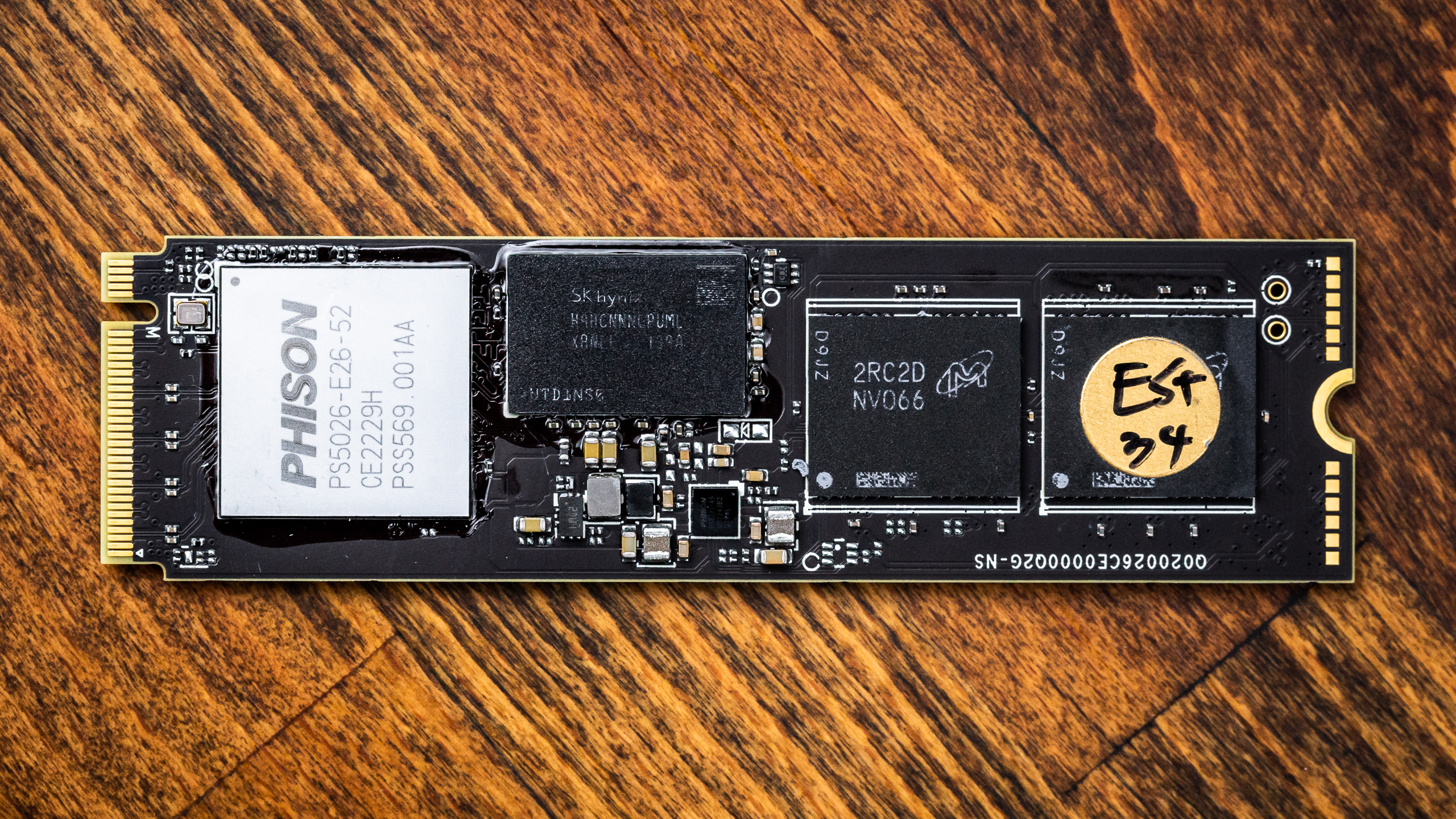 We've been waiting what seems like forever for someone to finally come out with a PCIe 5.0 SSD that consumers can buy. While we still don't have a shipping drive, Phison is showing off its E26 controller, which is going to power SSDs from a lot of OEMs very soon. We got an engineering sample of an SSD with a Phison E26 controller inside and were able to run an extensive array of tests , which we've documented in our Phison E26 SSD Preview article.
We tested a 2TB sample which blew away all of the leading PCIe 4.0 drives, including the Samsung 990 Pro (which sits atop our list of the best SSDs) on most becnhmarks. For example, on 3DMark's SSD performance test for gaming, the E26 sample scored 5,443 to the 990 Pro's mark of 4,816.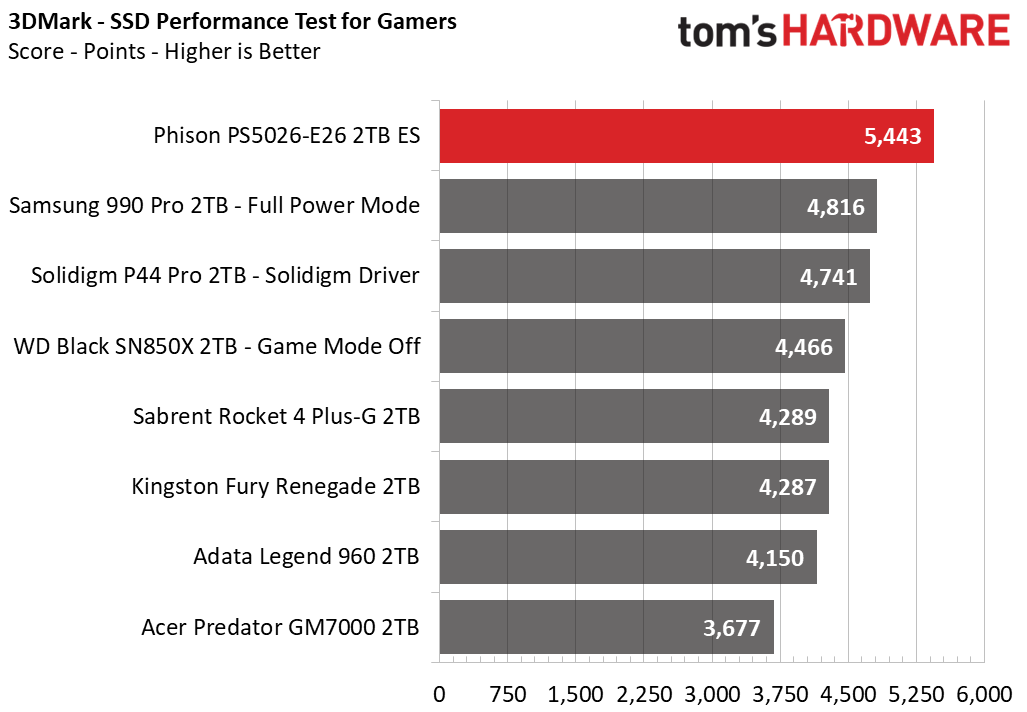 Its peak sequential read with a 1MB QD 8 in Crystal Disk Mark was 10,212, besting Samsung's drive by more than 50 percent.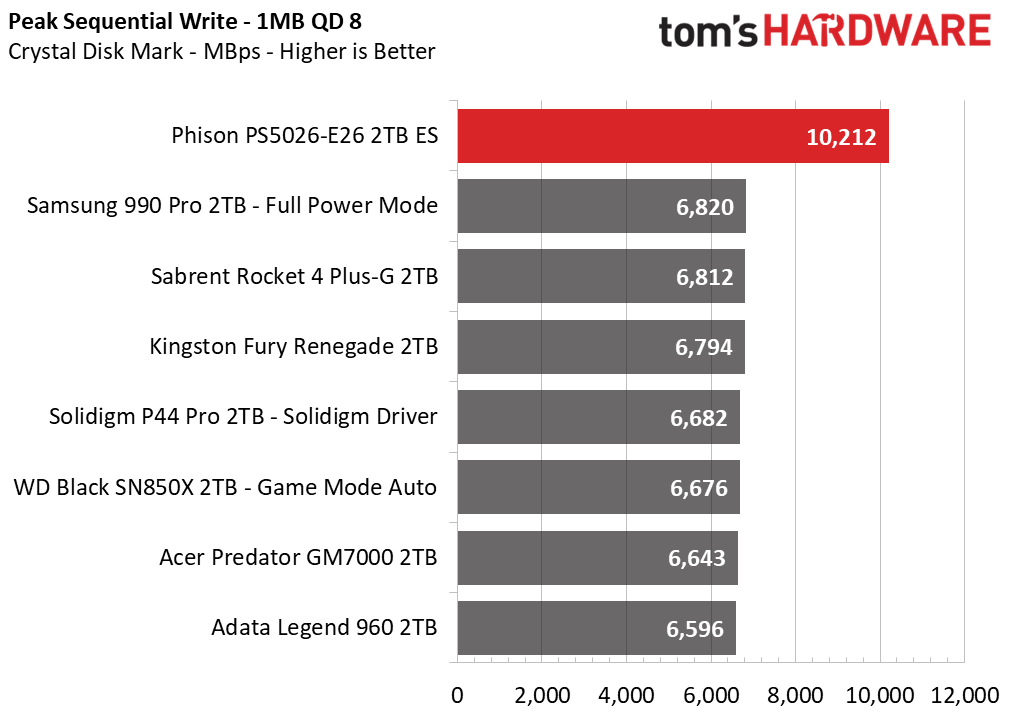 However, results were more muted at the all-important size of 4K QD 1 for reads and writes, where Phison's sample SSD was actually a few microseconds behind the 990 Pro.
So what does the Phison E26 sample SSD tell us about the future of storage in 2023? We'll see a lot of PCIe 5.0 drives and their sequential transfer rates will be strong but to really get the benefit of the increased bandwidth, we'll need games and other apps that use DirectStorage (opens in new tab), a Windows 11 feature that promises much faster loading.
Wait. What? HP's Dragonfly Chromebook Has Better Specs Than its PC Sibling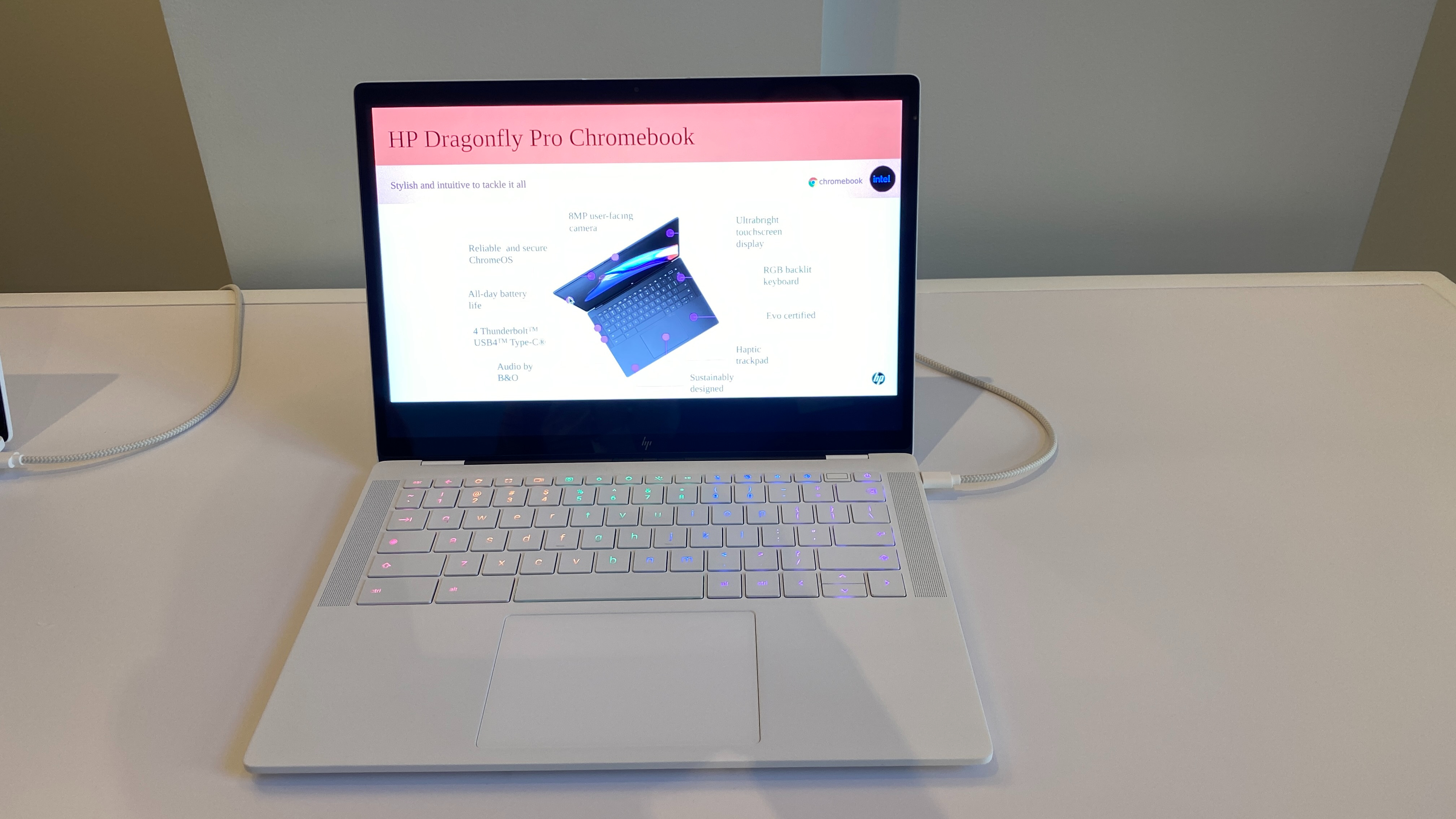 We've been big fans of HP's previous-gen Dragonfly series of laptops. These lightweight laptops have been among the best Ultrabooks, thanks to their bright displays, excellent battery life, wide port selection and good typing experience. For examle, the Dragonfly G3 lasted a full 14 hours on our battery test.
So our interest was piqued when we saw HP's new set of Dragonfly Pro laptops. As we said in our news post about the Dragonfly Pros, there are two units: a Windows-powered PC that has an AMD processor and an Intel-powered Chromebook. 
At a pre-CES press event, the company told us that the laptops are targeted toward freelancers who need to do a lot of remote work. They even talked about how some hypothetical Gen Z workers could make it through their day with these laptops.
What's weird here is that the Chromebook is way better specked than the Windows one. WIth the Chromebook, you get a 2560 x 1600 display that goes all the way up to 1,200 nits and an 8-MP webcam. However, with the Windows Dragonfly Pro, you get just a 1920 x 1200 that's 400 nits and a 5-MP camera.  The Chromebook has an attractive RGB keyboard, but there's only a white backlight on the Windows model.
Now, HP has not revealed pricing for these laptops, but I expect that the Chromebook is not going to be cheap. Perhaps, with its mere 256GB SSD, it won't be as expensive as the Windows Dragonfly Pro, but I'd guess that it's going to be pricey for a Chromebook.
So the question is: why does the Chromebook get a better screen and webcam, both features that a mobile worker would really want as those 1,200 nits really help if you're trying to work outdoors or near a window on a sunny day. And that 8-MP webcam should be great for conferencing. And who are the deep-pocketed freelancers that want an expensive Chromebook?
I guess we'll see.
RTX 4070 Ti Tested and Reviewed: Great for 4K Gaming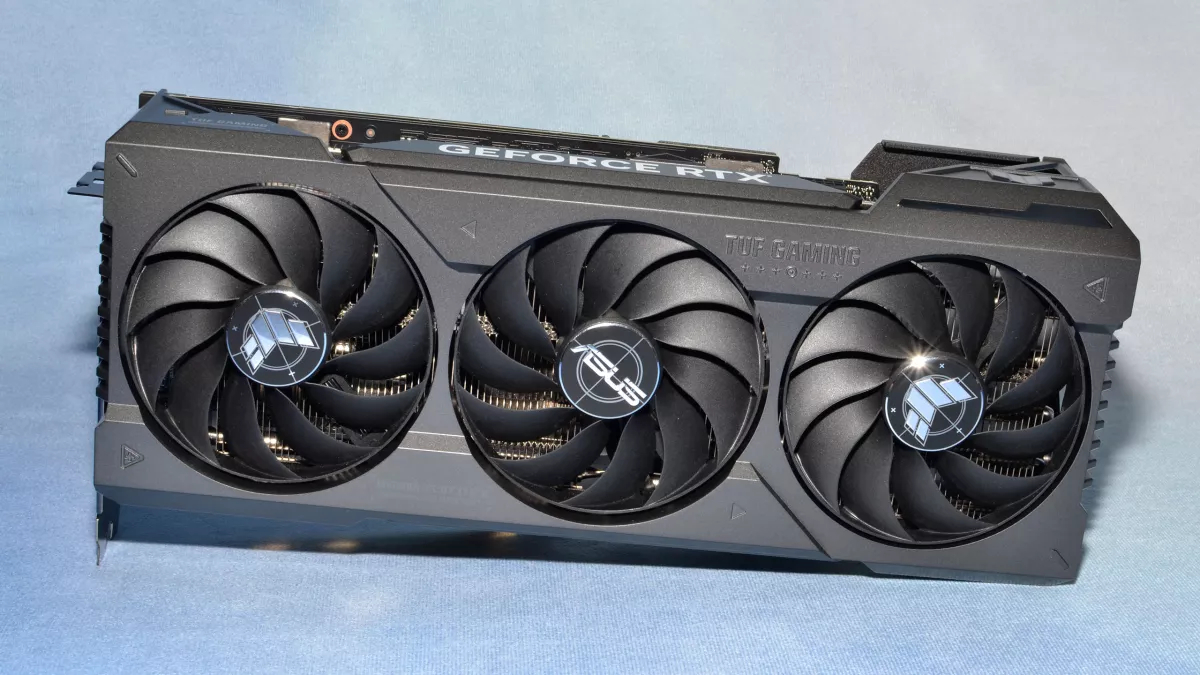 Yesterday, Nvidia announced the RTX 4070 Ti and today we have a full, very-thorough RTX 4070 Ti review (opens in new tab) published. We've had a 4070 Ti-powered card under embargo for a few weeks and we've been testing it in a ton of scenarios and comparing the results to other GPUs.
To get the full story, you really need to read the review, but the long and short of it is that the RTX 4070 Ti is a great card for 4K gaming with ray tracing off and 2K gaming with it on. However, at $799, it's still quite expensive and, if you already have top-of-the-line prior-gen cards such as the RTX 3080 Ti or RTX 3090, it's slightly better but not worth the upgrade.
That being said, if you are building a new system or your current card is less powerful than an RTX 3080, the RTX 4070 Ti offers really strong performance. In our 4K gaming tests, the GPU played our test suite of games at an average of 69 fps. That number jumped to 75.5 fps when we overclocked the 4070 Ti, boosting its maximum clock speed by 175 MHz (the regular boost clock is 2,610 MHz).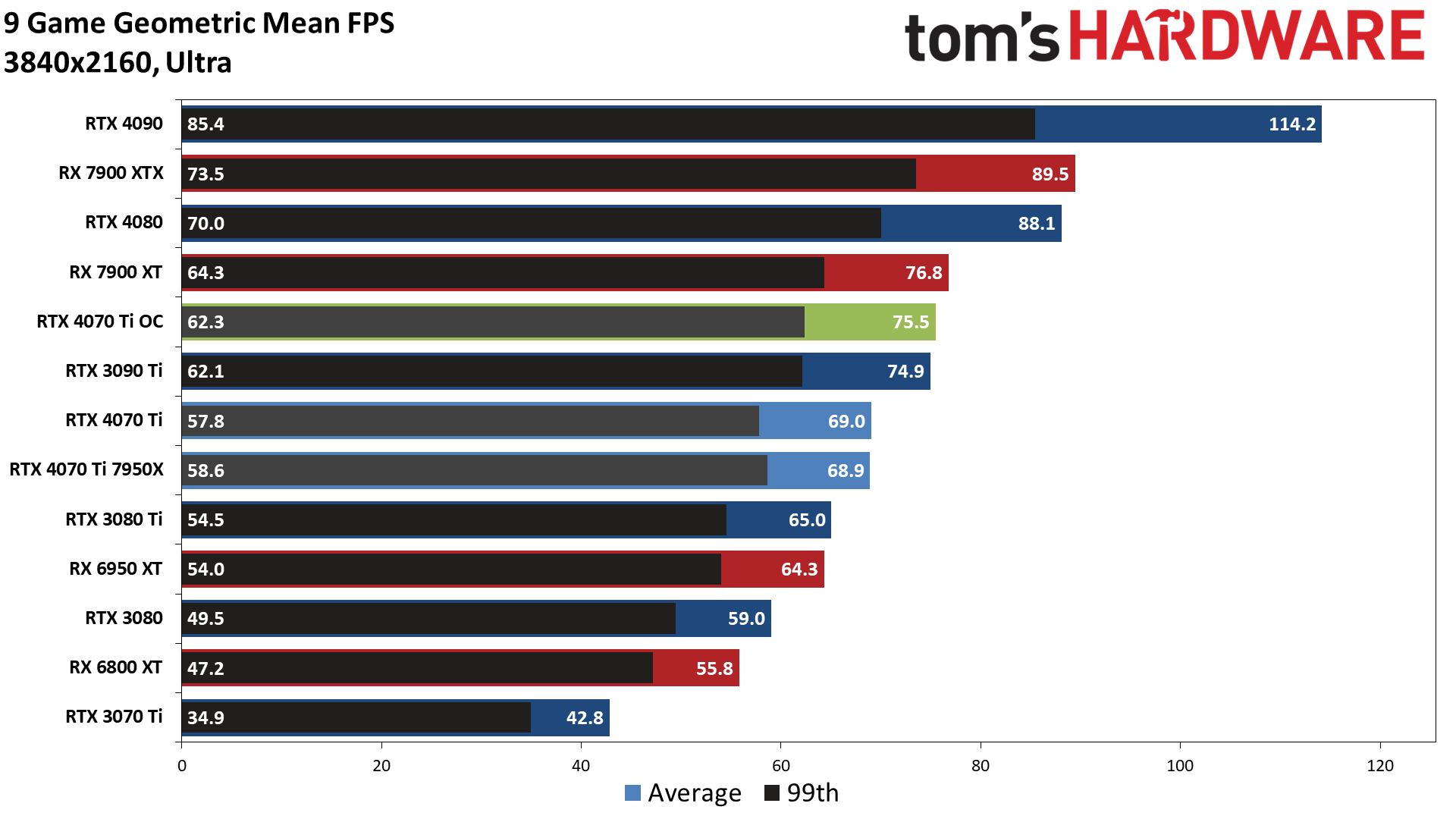 With Ray Tracing enabled, 4K games were playable (35.1 fps) with DLSS off and pretty smooth (58.8 fps) with DLSS2 on. But remember that not every game supports DLSS.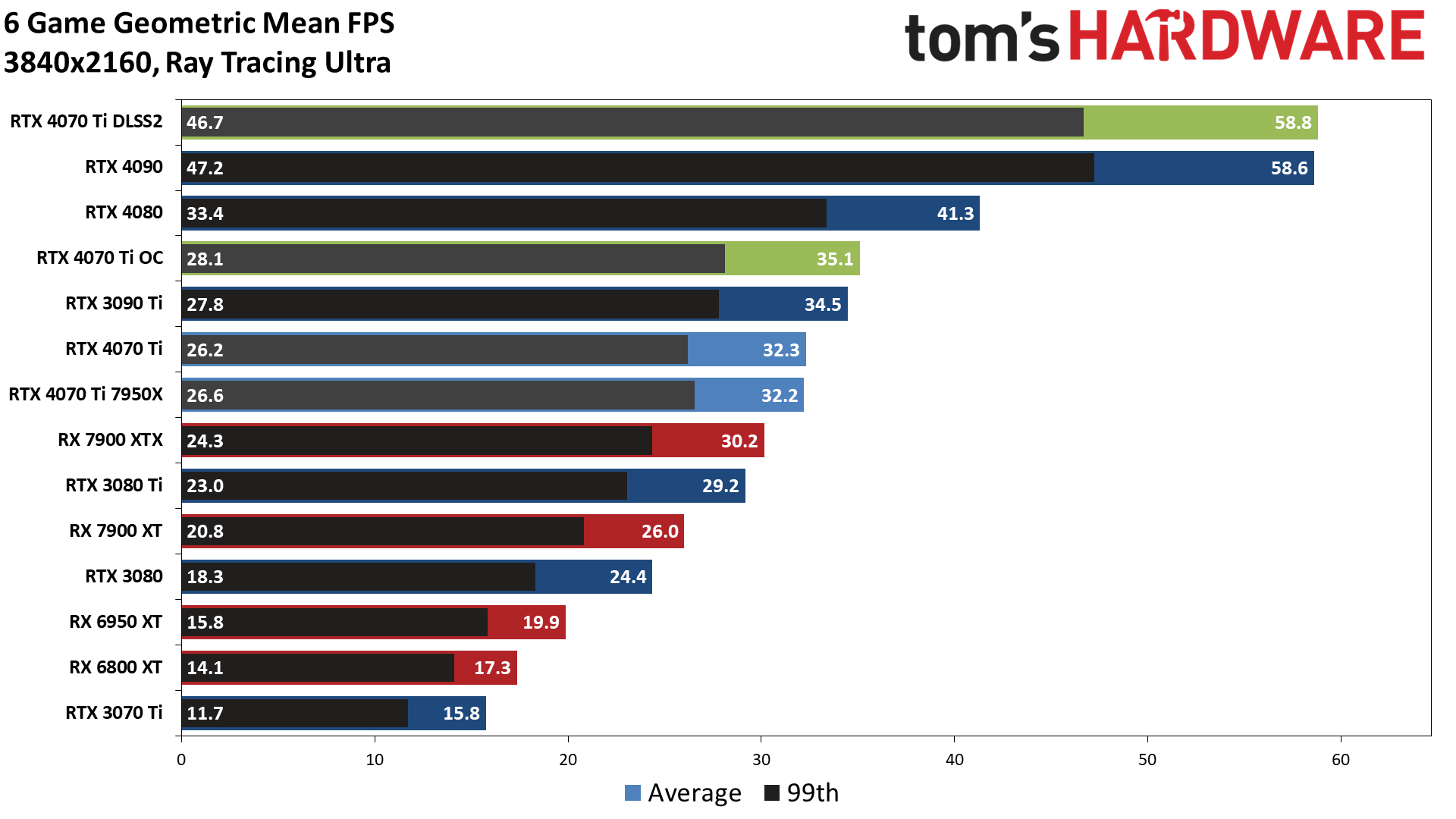 At 1440p resolution, Ray tracing was much smoother, hitting  102.9 fps with DLSS2 and 62.7 fps without DLSS.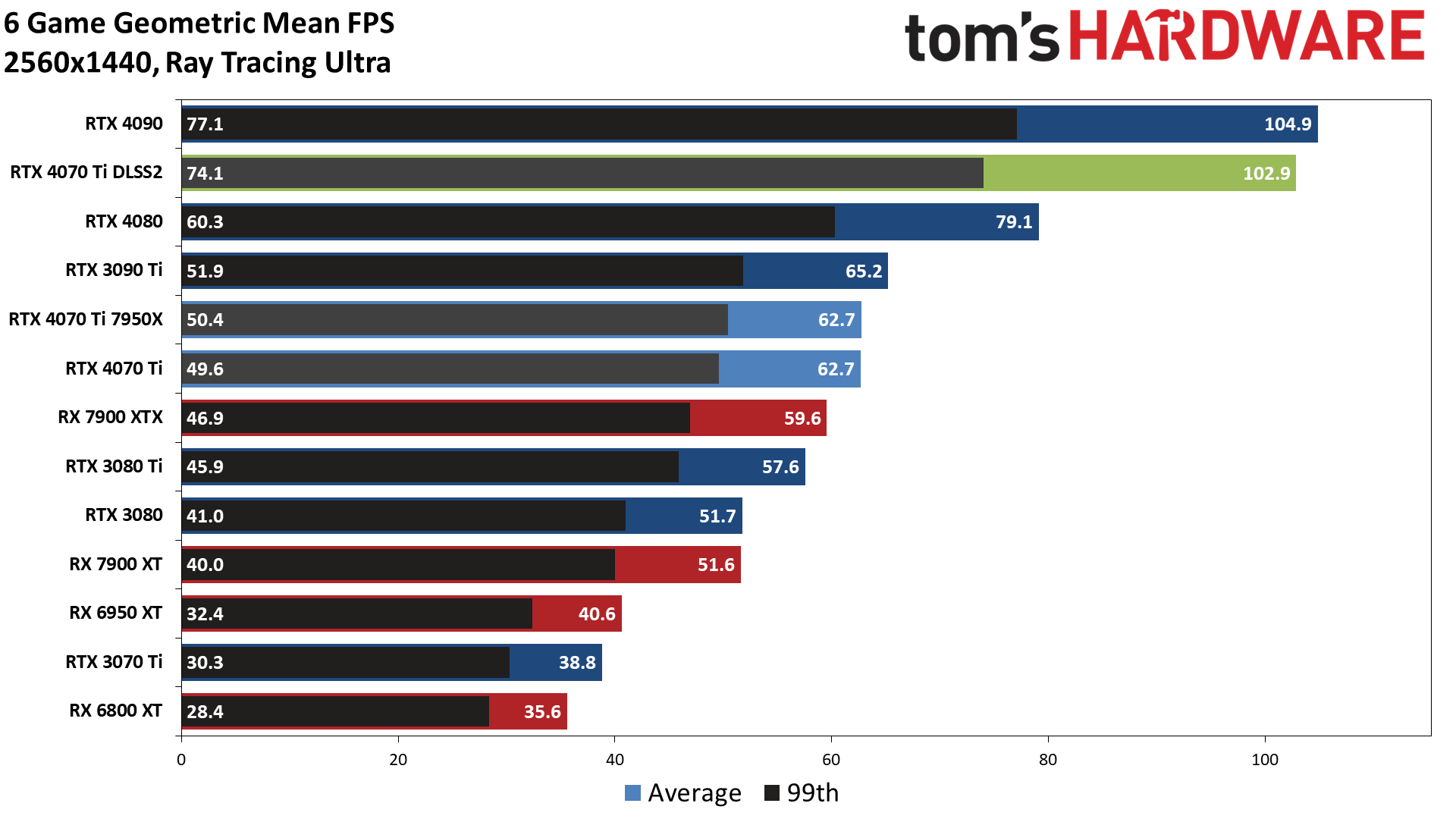 We also found that the RTX 4070 Ti was pretty power efficient, using 265W while looping Metro Exodus. That's a nice step up from the prior-gen RTX 3070 Ti and from the RTX 3080 and 3080 Ti cards which it beats.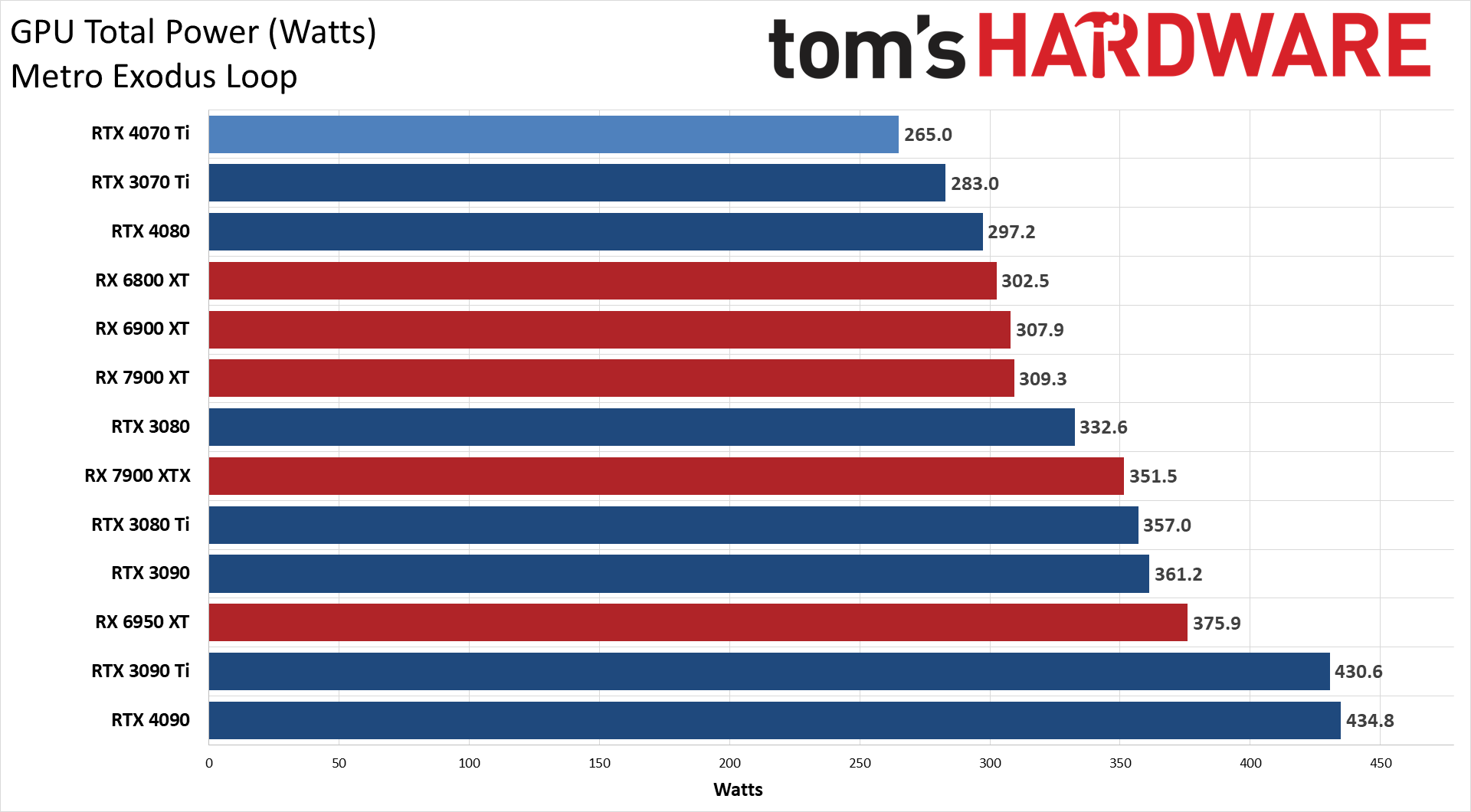 In short, this is a powerful card, but it's also a pricey one. 
This 55-inch, OLED TV is Totally Wireless Including The Power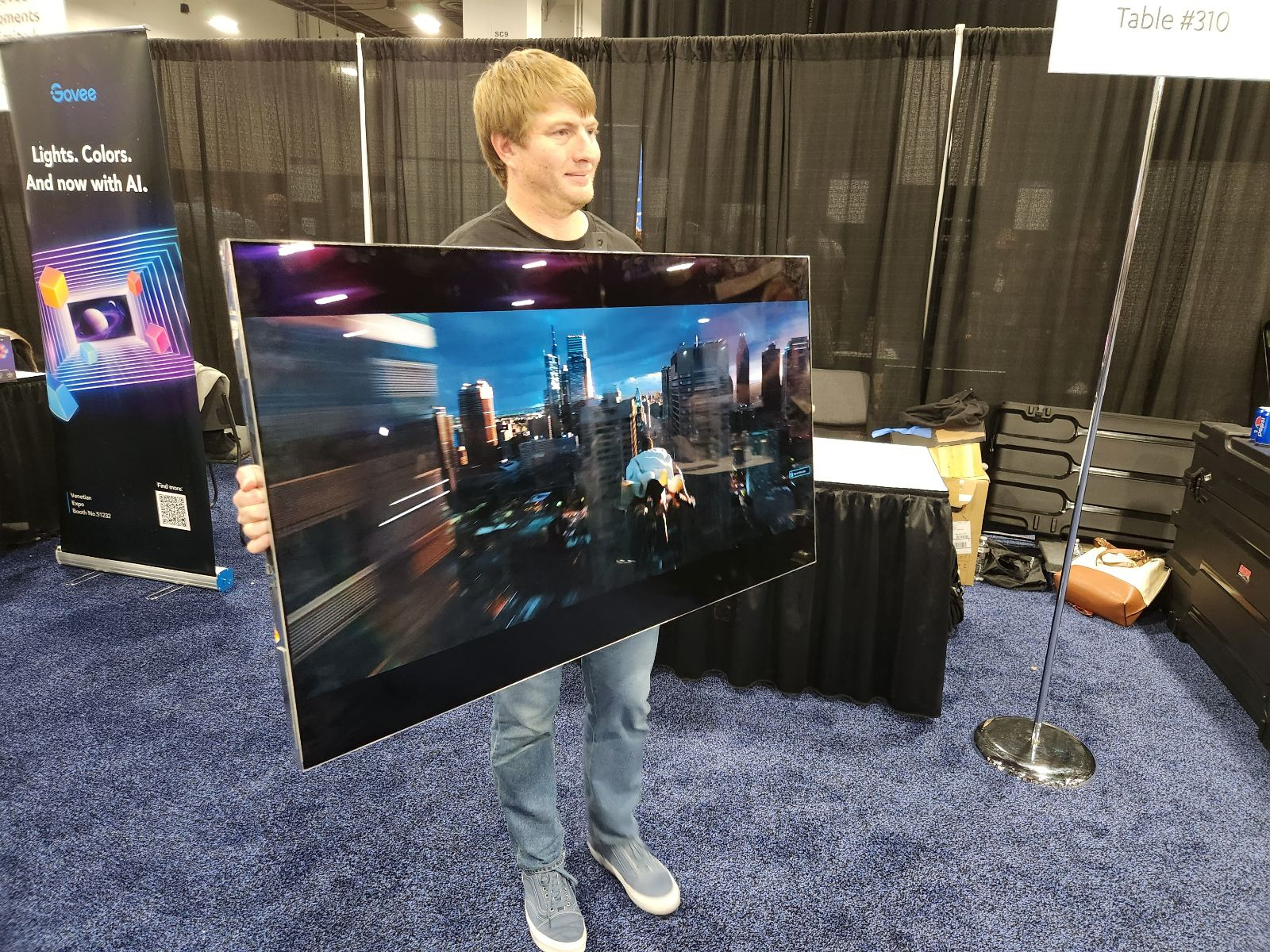 At Tom's Hardware we don't normally talk much about TVs, unless we're using them as monitors. However, at the CES Unveiled press event, we saw Displace TV, a truly unique display that gets its power from batteries, its video from a Wi-Fi 6E base station and its controls from hand gestures.
At its booth, the company had a representative holding the 20-pound TV in his hands. Tom's Hardware Content Director Jeremy Kaplan had a chance to briefly watch the screen as it looped through a series of movie trailers and noted that playback was flawlessly smooth with sharp and colorful images.
The 20-pound,55-inch OLED display gets its power from four hot-swappable batteries. The company claims that the batteries will last about a month on a charge if you watch TV for around 6 hours per day. Because the batteries are hot-swappable, you can charge one while the system runs on the others. 
Displace says that the TV will "magically stick" to your walls using its "proprietary active-loop vacuum technology," which only requires a light push and no brackets or screws at all. This sounds like a high-tech suction cup and we are skeptical, and we didn't see it mounted during the demo.
You can also combine up to four of the TVs together into a single, 110-inch display by putting them next to each other. In lieu of a remote control, you can use gestures, voice or touch to control the menus. There's a built-in camera to capture your gestures. We did not see any of these controls demoed at CES Unveiled, but the idea of them sounds neat.
The base station has some computer parts inside, including an AMD CPU, an Nvidia GPU and a Wi-Fi 6E radio. The company has not disclosed exactly which CPU and GPU models it's using.
The idea of a wireless, portable TV that "magically" sticks to any wall is interesting. Imagine carrying your TV from one room to another in your home or lining your walls with TV screens, without worrying about how close they are to an outlet.  
Past wireless display technologies such as Intel WiDi and WiGig have failed to catch on and have largely been disappointing. So we'd really want to test this to see what the latency is like and if it's good enough for gaming. 
So this is interesting, but we don't know yet how well the Displace TV works or even what it costs. The company says that it will begin taking pre-orders on its website this month with units shipping by late 2023. We recommend caution.
Upcoming Nvidia Tech Uses A.I. to Upscale Video to 4K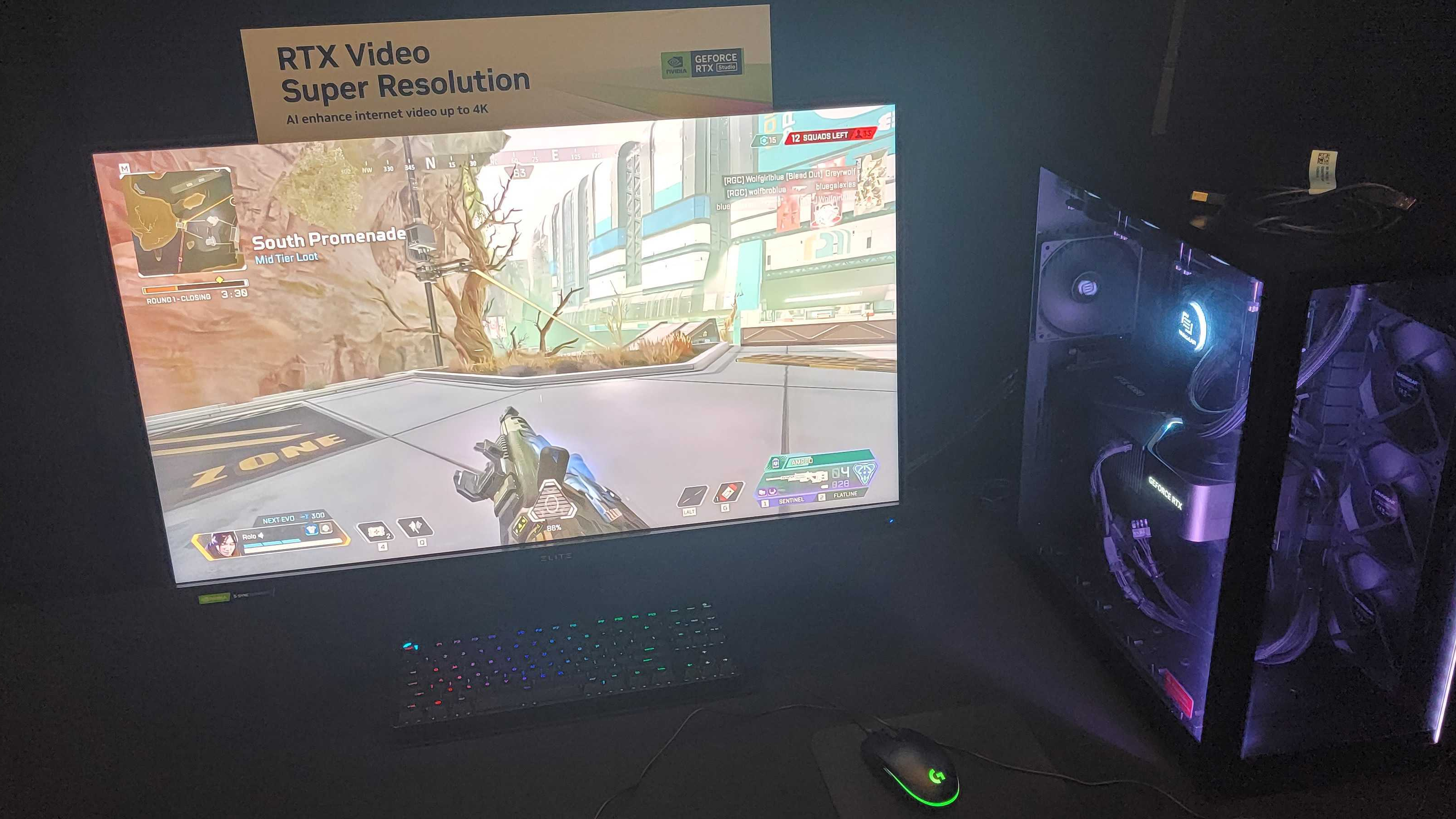 One of Nvidia's more interesting CES 2023 announcements involves a technology it calls RTX Video Super Resolution, which can take a video from YouTube, Netflix or another streaming service and convert it from 1080p to 4K or 720p to 2K. Due in February, the feature will require RTX 3000 or 4000 series GPUs, at least at first, and will be automatically triggered by Nvidia's GeForce Experience software, though it will run on videos streamed through either Chrome or Edge browser.
At Nvidia's CES demo suite, Deputy Managing Editor Paul Alcorn got a chance to see a live demo of RTX Video Super Resolution in action as it was turned on and off on a clip from the game Apex Legends. The Apex Legends clip was streamed from YouTube and was natively 1080p. However, with Super Resolution enabled, fine details like the blades of grass on the ground appeared noticeably sharper.  You can see Nvidia's own demo video which uses the same Apex Legends clip we saw below.
An Nvidia representative told Paul that, depending on the performance of the graphics card you use, the upscaling process should use between 10 and 20 percent of your GPU. The rep also said that the process can only upscale video by 4x so, if it's 1080p video, it can upscale to 4K, but if it's a lower resolution, it can't get that high. They also said that the feature may be coming to RTX 2000 series GPUs sometime. 
What we don't know is how well this upscaling will work on live action video. Apex Legends doesn't have the very best graphics around and what really matters for 4K upscaling are streaming movies and TV shows.
The implications of real-time, A.I. video upscaling are pretty significant. Some streaming services, including Netflix, make you pay extra for 4K video, but with Nvidia's technology, you'd get the equivalent (though upscaling is never as good as native) for free and without all the bandwidth 4K video consumes. In many cases, people have 4K monitors but the video source isn't even available in 4K.
The initial demo Paul saw was impressive, but we'll withhold final judgment until we get to test RTX Video Super Resolution on our own computers with videos of our choosing. 
Nvidia's Eye Contact Feature is Creepy, But it Works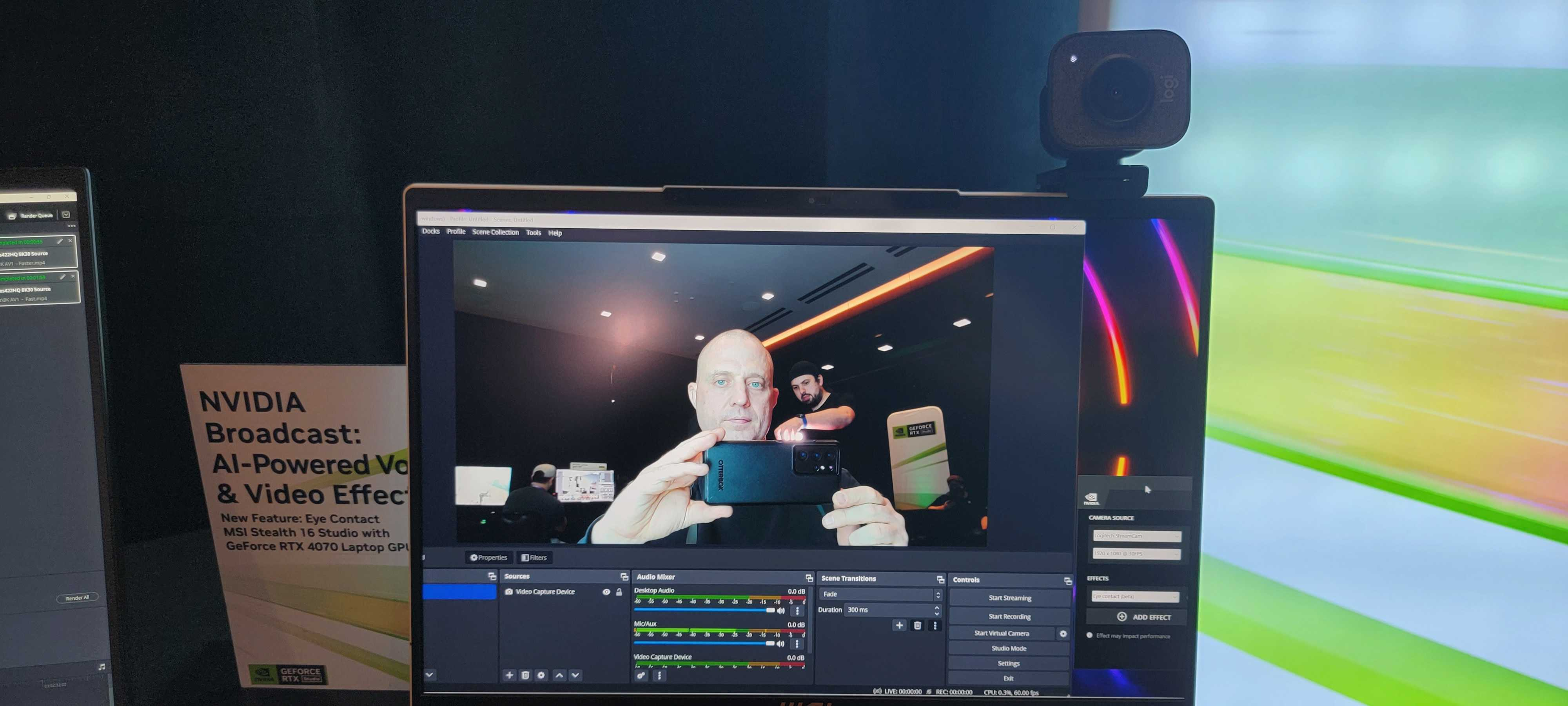 One constant problem with video conferencing: You want your call partners to think that you're looking straight at them, but you're actually gazing at a window on your desktop rather than straight into the webcam. Whether the problem is that you're multitasking (and not paying full attention) during the call or just that the Zoom, Teams or Meet window is not perfectly aligned with the center of the webcam, looking askance is a subtle violation of the social contract.
In the next version of its Broadcast software, version 1.4 to be precise, Nvidia has a solution which it calls "Eye Contact." Simply put, the software uses A.I. to modify the image of your eyeballs so that it always looks like you are starting straight ahead. Because Nvidia Broadcast serves as a virtual webcam driver, you will be able to use the feature in any video conferencing or recording software you want.
Deputy Managing Editor Paul Alcorn had a chance to test out the Eye Contact feature at Nvidia's CES demo suite and we can say with authority that it works really well. As he looked up, left and right, the real-time camera output continued to show his eyes looking straight forward. Paul notes, however, that when he turned his head sharply enough, the feature turned off.
Below, is an Nvidia video showing how the Eye Contact feature works. 
Like other kinds of video enhancements such as virtual backgrounds or noise filtering, the Eye Contact feature raises question of authenticity. If the system is redrawing your eyeballs to make it look like you are staring straight ahead, is it enabling you to "lie?" In effect, you are creating a sortof deepfake, a deepfake of yourself.
On the other hand, given that video conferencing creates an inherently virtual situation, is using A.I. to enhance your image really a problem? If you were talking to someone in person, you'd be looking them in the eye, but the nature of webcams makes this scenario more difficult to achieve online so Nvidia's software is correcting for it. Either that, or it's making you look like you're paying attention to someone when you're actually checking your email in another window.
Whatever the case, Eye Contact seems to work really well. Nvidia says that its Broadcast 1.4 software, which is a free download and works with any Nvidia RTX GPU, will be available later this month. 
Asus Targets Keyboard Modders with Latest Clacker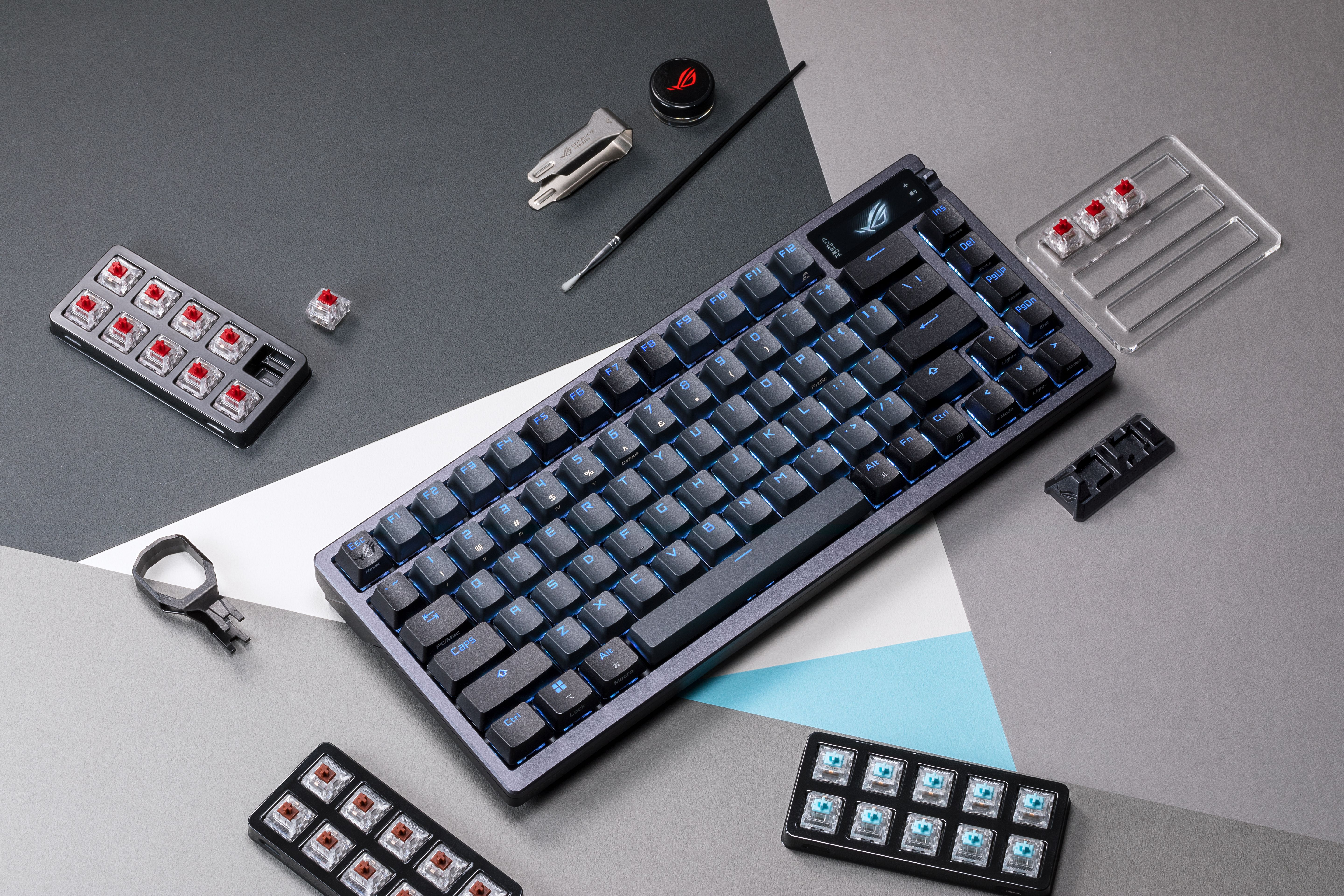 When it comes to keyboards, there are three kinds of people: those who will use any $10 pack-in keyboard without complaint, those who want one of the best gaming keyboards (opens in new tab) and those who want to build or modify their own keyboards. Asus's ROG gaming brand has released some noteworthy gaming keyboards in recent years, including the ROG Strix Flare II Animate (opens in new tab)and ROG Strix Scope RX (opens in new tab). Now, the company is targeting keyboard modders with its ROG Azoth wireless keyboard.
Due later this month for a pricey $250, the ROG Azoth is a 75-percent wireless keyboard with a silicone gasket mount, pre-lubricated switches and a three layer dampening structure that includes a silicon foam-lined base, a Poron pad and a silicone pad. Designed to increase stability and limit ping noises, these are features that many enthusiasts build into their custom keyboards or expect from high-end mechanical keyboards.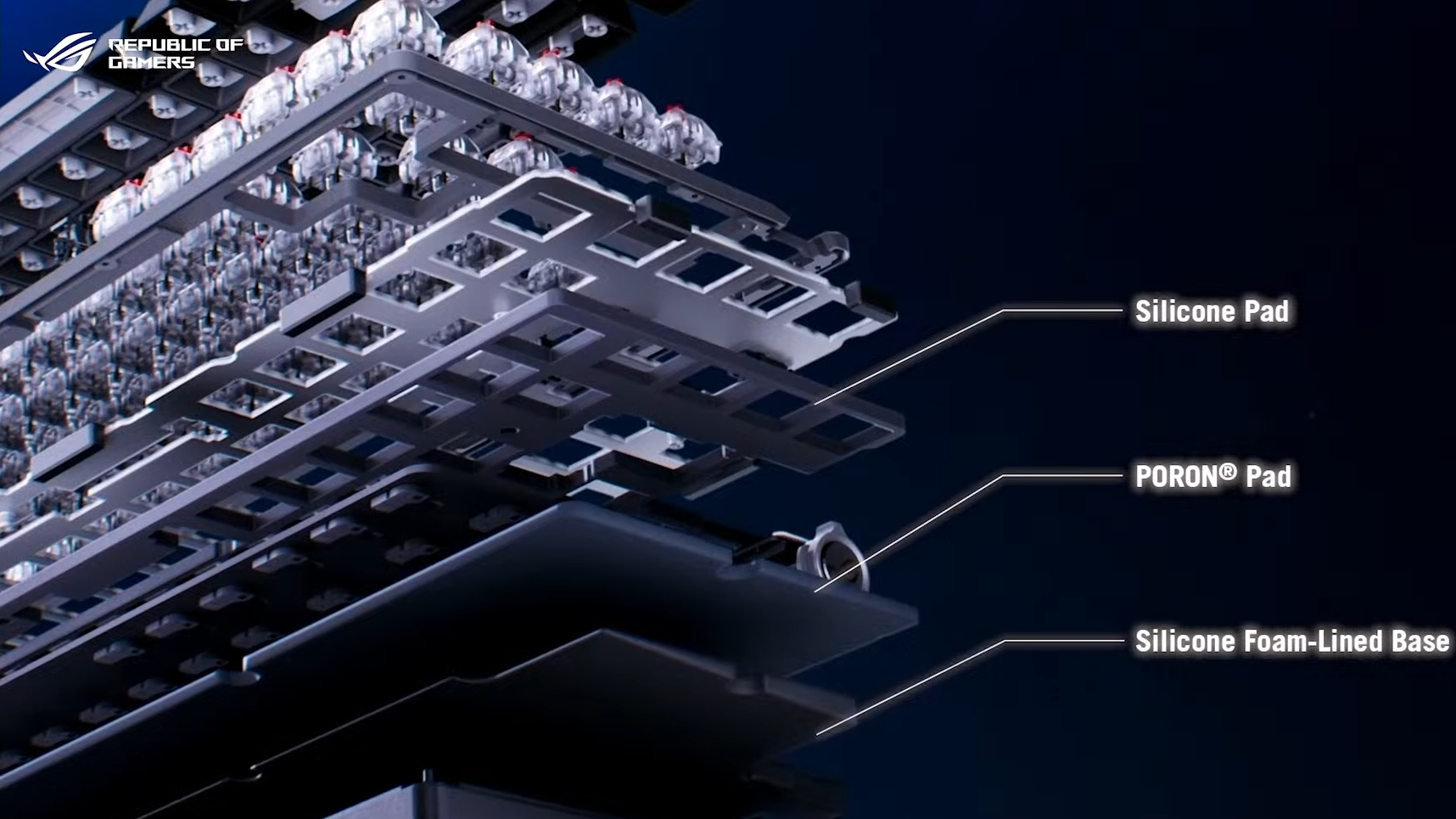 If you don't like Asus's own NX Switches (available in red, brown and blue), you can hot swap them out. And, if they aren't lubed to your liking, you can use the included switch lubing kit which has Krytox GPL-205-GDO lube and a switch opener.
The keyboard is compatbile with costar stabilizers if you want to switch out your stabs to change the feel. Its keycaps are PBT, double-shots with shortened stems that are designed to reduce key wobble. The legends are transparent so they can let the RGB lighting through.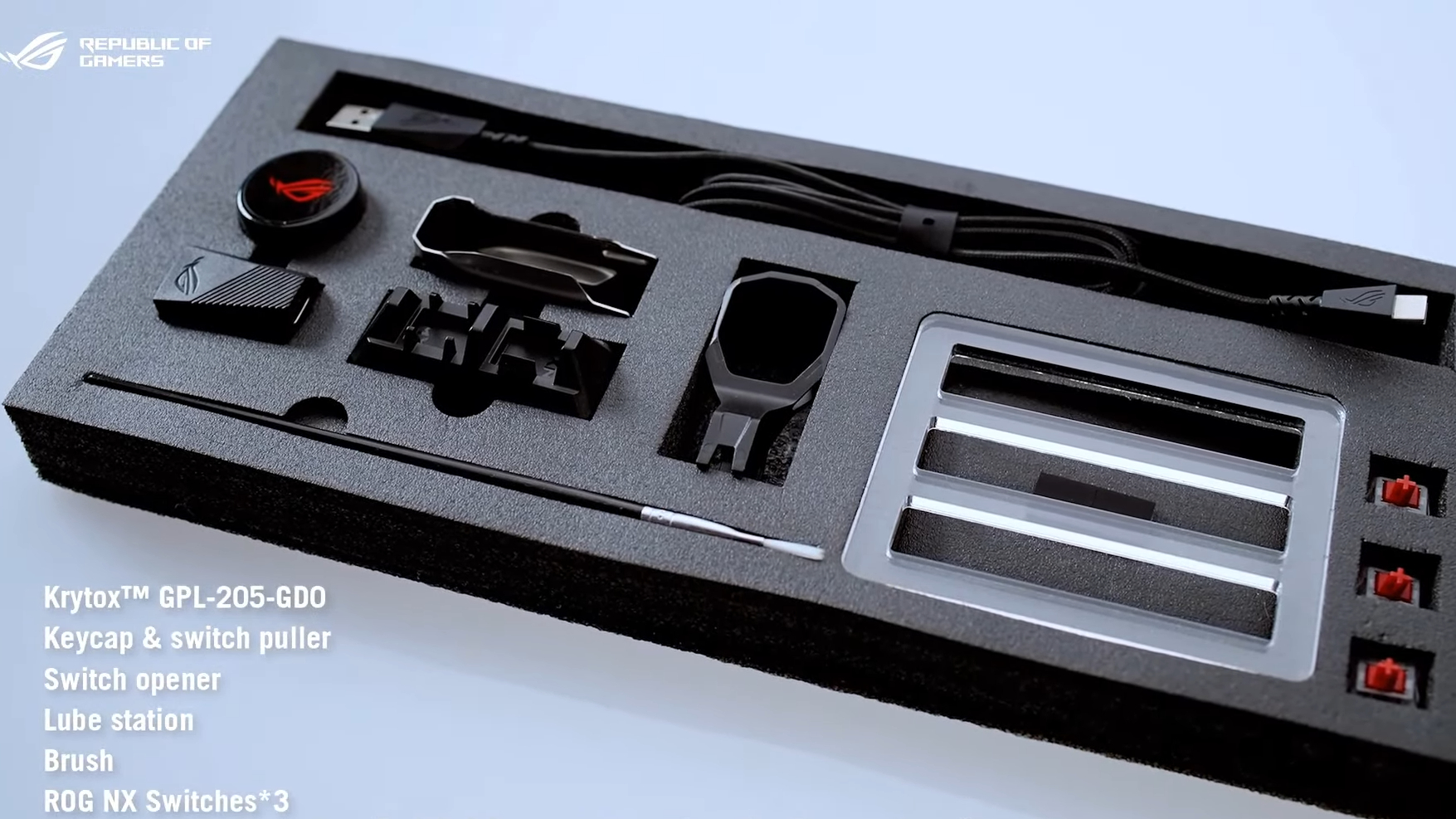 The Azoth also has a built-in LED screen in its upper right corner, which can show custom animations or give you status updates on the wireless connectivity or battery life. A dial to the right of the LED screen lets you change modes or you can do so via Asus's Armoury Crate software.
The Azoth can connect to your PC in one of three ways: via wired USB-C, via 2.4-GHz wireless or via Bluetooth. There are three different Bluetooth profiles so you can switch among multiple computers.
We haven't had a chance to test out the Azoth in person, though we hope to get some hands-on time with it or perhaps to do a review in the near future. With this keyboard, it's clear that features such as switch lubing and case dampening are moving from the high-end, DIY kits to mainstream gaming keyboards. That's a good thing for everyone.
The Quiet Before the Storm? Not Quite.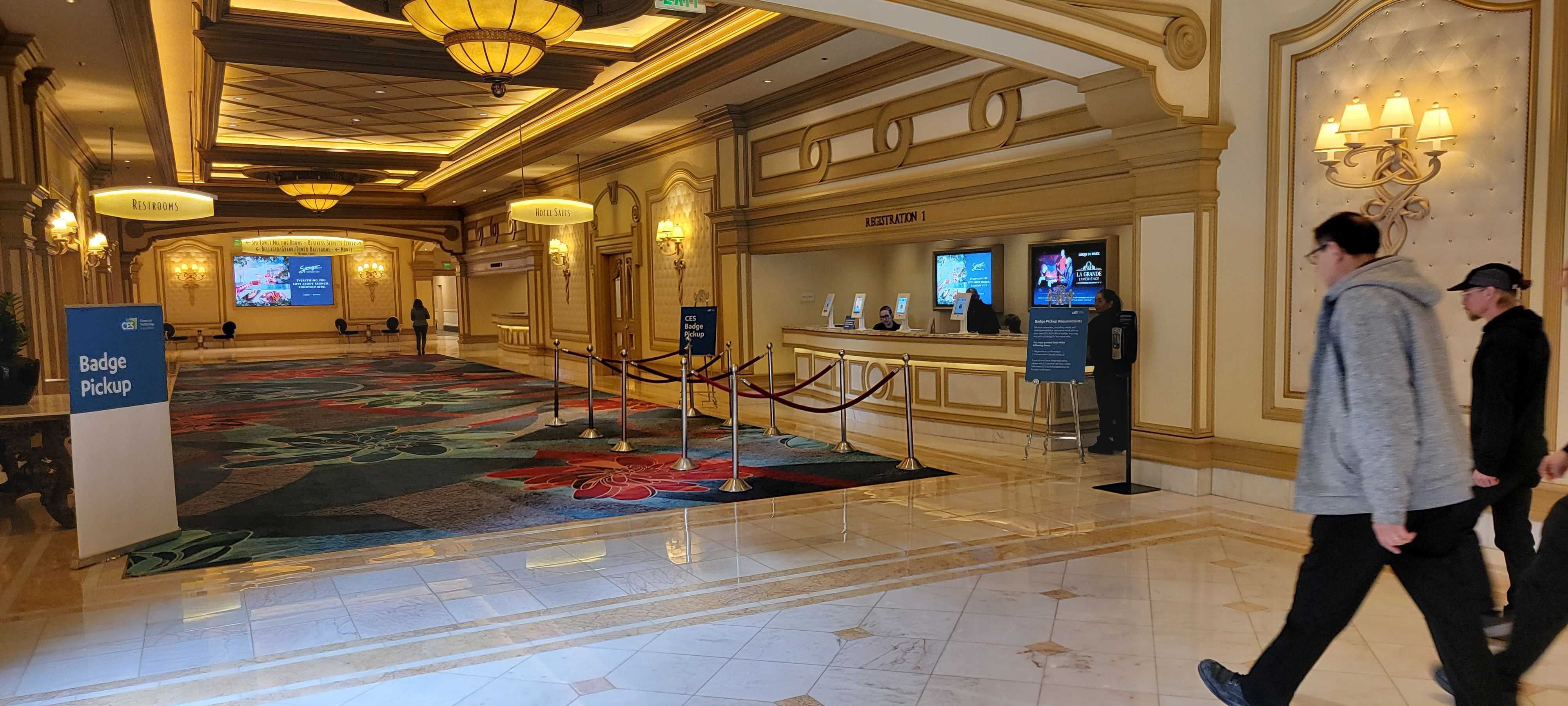 CES's first day of exhibits is Thursday and the official press day is Wednesday so you might expect today (Tuesday) to be a dead time. In fact, when Tom's Hardware Deputy Managing Editor Paul Alcorn went to pick up his badge, he snapped this picture of a basically empty line.
However, today is also a day when a number of major press announcements rolled out that are going to have a real impact on the market and your next PC build. Nvidia  made the RTX 4070 Ti official (opens in new tab), giving it an MSRP of $799 while also announcing a full series of RTX 4000 series cards for laptops (opens in new tab) that range from a 4090 to a 4050. 
Intel also launched its 13th Gen mobile CPUs (opens in new tab) , along with 16 new, locked desktop Raptor Lake chips (opens in new tab) that range from the Core i3-13100 on the low end to Core i9-13900 on the high end.
To take advantage of the new mobile CPUs and GPUs, we've seen laptop announcements from Asus (opens in new tab), Acer (opens in new tab) and Dell / Alienware (opens in new tab).  All of these launches were expected as we usually see Intel and Nvidia roll out chips at CES while PC vendors immediately incorporate the chips into new computers.
What's on tap for the rest of today? At 5 pm PT, CES Unveiled — an expo where companies show their new wares to journalists — starts. We'll be there to take a peek and see if we see anything new and noteworthy. Often, Unveiled isn't very interesting for us, because it doesn't have a lot of PC or enthusiast tech exhibitors. But we'll see.