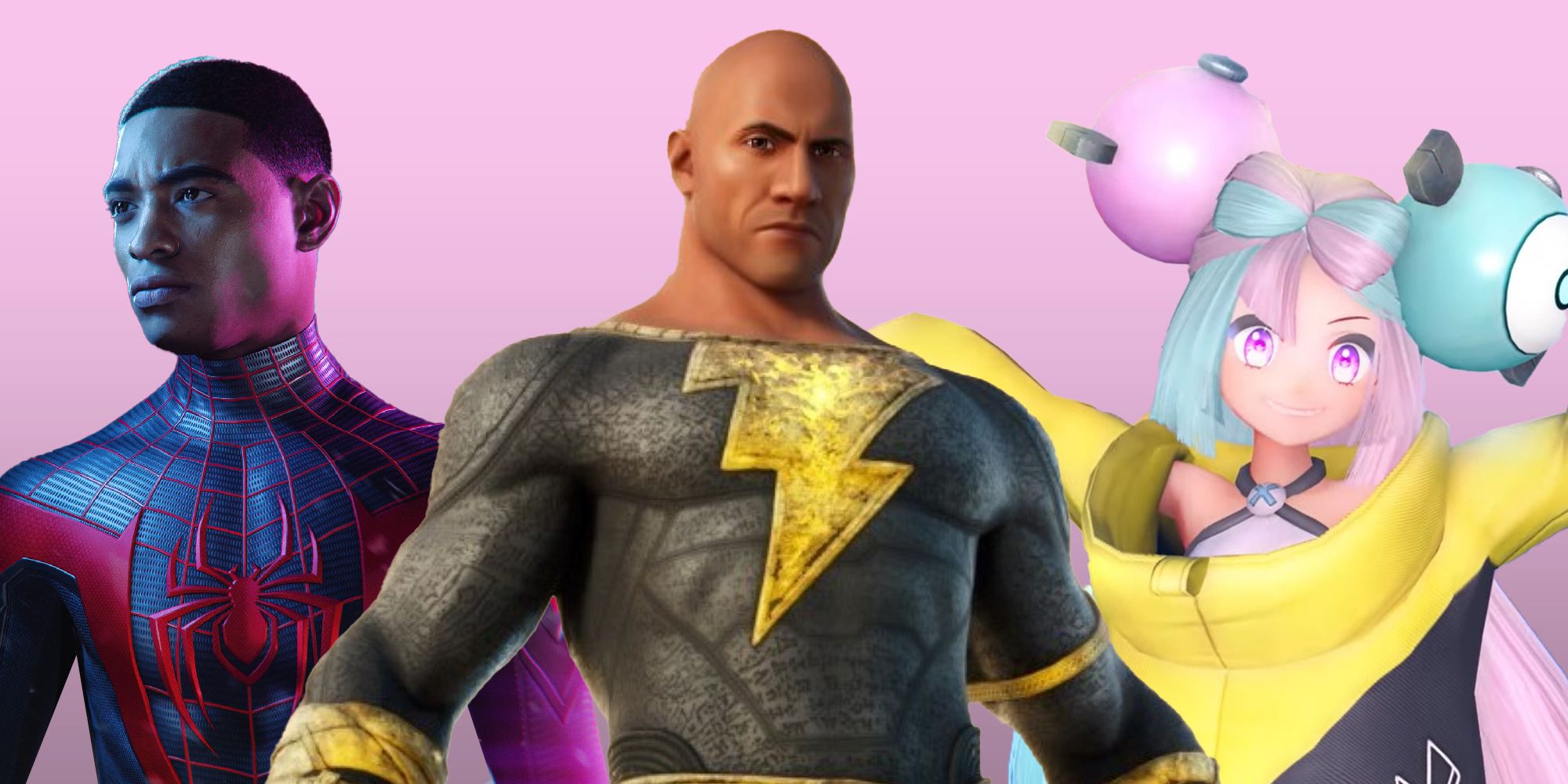 Biggest Video Game News Of The Week (October 8
Black Adam in Fortnite, The First Soldier shutting down, and all of the other biggest stories from the past week in video games.
Between Stadia shutting down, GTA 6 footage leaking, and CD Projekt announcing which games it will be working on for the rest of time in recent weeks, some might have been fooled into thinking the last seven days have been somewhat quiet. In comparison, those people might be right, but that doesn't mean there wasn't plenty going on in video games this past week. The Rock is coming to Fortnite (again), PlayStation is porting another game to PC, and the MultiVersus roster has gotten a little bit bigger.
RELATED: Diary Of A Pokemon First Timer: I Don't Choose You, Pikachu
Adriana Chechik Breaks Her Back At Twitchcon
Twitchcon took place last weekend, and it has been making headlines ever since for all the wrong reasons. Leading that list of bad reasons is Adriana Chechik breaking her back at the event. A video of the streamer jumping into a foam pit quickly went viral after it was revealed the leap broke her back. It's evident pretty quickly that Chechik is hurt, and people rush to help her out. The fall broke Chechik's back in two places, and an update following the surgery she needed has revealed she will need a back brace. Other clips of Lenovo's foam pit users hurting themselves at Twitchcon have also surfaced.
Black Adam Is Coming To Fortnite
Black Adam hits cinemas next week, and to celebrate the anti-hero's arrival, he will also be added to Fortnite. Hero likenesses for Fortnite skins are varied. While some look like their movie counterparts, others, such as Thor, are based on comic book designs. Black Adam's design is very much pulled from the movie, which means he looks just like The Rock. The problem with that is The Rock is already in Fortnite as The Foundation. Fortnite's lore and story are already pretty confusing so good luck to anyone trying to figure out the logistics of its universe now housing two Dwayne Johnsons.
A New Gym Leader And A New Pokemon
The reveals surrounding Pokemon Scarlet & Violet have been coming at us thick and fast with the games now only a little more than a month away. This week, the leader of the Levinica Gym Iono introduced herself, promising that before the end of the week, she would also reveal her partner Pokemon. Everyone, meet Bellibolt. A brand new frog-like Pokemon. The electric-type will be waiting for you in Iono's gym when you play Scarlet & Violet later this year, launching exclusively on Nintendo Switch on November 18.
Spider-Man: Miles Morales Is Coming To PC
November 18 is going to be a pretty busy day. Accompanying Scarlet & Violet's launch will be Spider-Man: Miles Morales's PC port. Promised to be here before the end of the year a while ago, Sony confirmed this week that the PlayStation exclusive will finally arrive on a new platform five weeks from now. It isn't the only game revealed to be coming to more players this week either. Crash Bandicoot 4: It's About Time will be available on Steam from October 18.
Stripe Joins MultiVersus
MultiVersus's first season is currently in full swing, and one of the characters that was revealed as soon as it began has finally been added to the roster. Gremlins' Stripe is now a playable Assassin, and you can check out his full move set before you dive into the game and try him out for the first time. Stripe joins his Gremlins nemesis Gizmo in the game as well as Rick who was also added this season. The only announced character yet to come in season one is Black Adam and while his arrival date hasn't been confirmed, it seems likely he'll join the game shortly after the movie hits cinemas.
Final Fantasy 7: The First Soldier Is Shutting Down
Less than a year after the Final Fantasy 7 mobile game The First Soldier launched, Square Enix has revealed it will be shut down in 2023. The studio cited an inability to deliver the experience it intended as the reason for shuttering the game, but on the bright side, the BR take on FF7 will continue to receive updates until the big day on January 11, 2023. On the even brighter side, it isn't like FF7 fans don't have plenty of other stuff to look forward to. Crisis Core Reunion launches in December, and then Rebirth, Part 2 of the FF7 Remake, is still slated to be here before the end of 2023.
NEXT: It's Been 11 Years, But I Keep Coming Back To Detective Adventure L.A. Noire