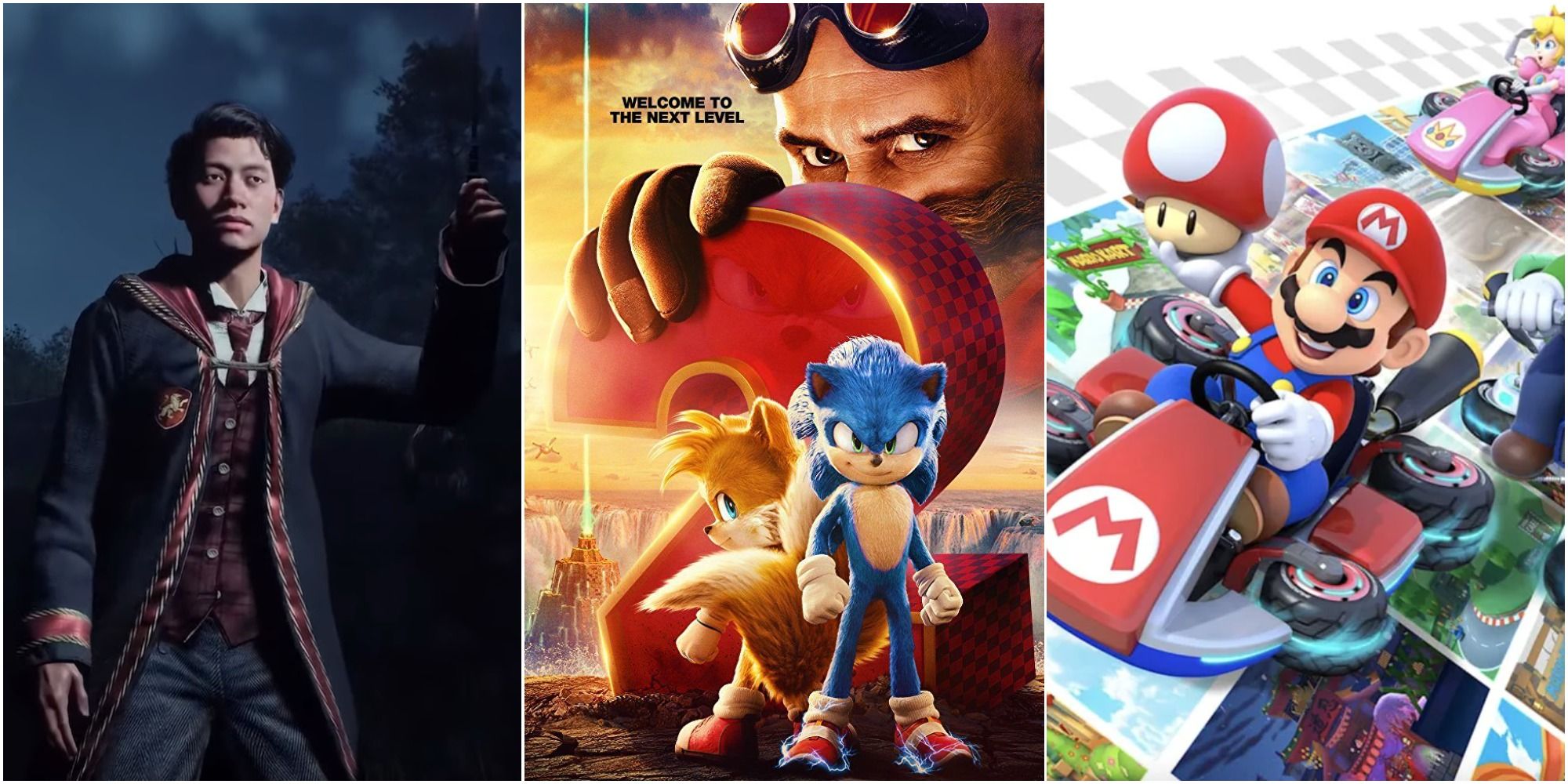 Biggest Video Game News Of The Week (March 12
2022 marches on and the video game industry has been moving right along with it. It feels like it has been such a busy year for games already that even though the past two and a half months have flown by, they have also been absolutely jam-packed with big moments and new games. Elden Ring features in this week's biggest stories yet again despite being on the market for three weeks, Mario Kart 8 Deluxe shows its face five years after launch, and there has been a lot of GTA 5 news this week almost a decade after it arrived. More on all three of those games and a few others below as we recap the biggest video game news of the past seven days.
RELATED: Is Hogwarts Legacy Worth All The Drama?

A Better Look At Hogwarts Legacy
PlayStation owners were a little taken aback at the start of the week when Sony revealed it would be holding another State Of Play just one week after the last one. Even more surprising was the reveal that it would focus solely on Hogwarts Legacy, a title not exclusive to PlayStation. Thursday's presentation featured a lot of fresh information about the Harry Potter game including a lot of gameplay, a holiday 2022 release date, and weird timers that seemed as if they would be tied to microtransactions, but apparently they're not. The game still remains mired in controversy due to its connection to JK Rowling and her comments about trans people. You can find everything you need to know regarding TheGamer's coverage of the game right here.
Gran Turismo 7: Updated And Offline
Gran Turismo 7 launched on PlayStation earlier this month and while it wasn't showered with quite as much praise as Forza Horizon 5, it has still been lauded as a pretty terrific title. That was until people spent some time with it and realized the game's cars require an incredible amount of grind to unlock. To make matters worse, Polyphony rolled out an update this week that appears to have made that grind even more intense. The cherry on top? GT7's servers went down on Thursday, rendering the game almost unplayable for well over 24 hours. So yeah, not a great week for GT7 players.

Next-Gen GTA 5 Is Everything You Want It To Be
After a lengthy delay and a fair bit of discourse, GTA 5's PS5 and Xbox Series X|S upgrades finally arrived this week. A huge update for a game that launched in 2013 and one that probably won't be replaced for a few years even despite one streamer's claim that they have already played GTA 6. Side-by-side comparisons show off how much better Los Santos looks on new consoles, the game loads up twice as fast, and PS Plus subscribers can get the upgraded GTA Online for absolutely nothing. A lot to like about the upgrade and a much-needed win for Rockstar following the disaster that was The Trilogy's launch.
Mario Kart's Booster Course Pass Gets Mixed Reviews
There has been something different to settle down with in the video game world with each passing week and this weekend, it's the turn of Mario Kart 8 Deluxe's DLC. The first eight tracks in the Booster Course Pass will be live and ready to play for anyone who bought them by the time you read this. For the most part, players appear to have good things to say about the tracks, commenting on how great they look. However, Coconut Mall in particular has some people up in arms. The Miis have been replaced with Shy Guys and the escalators have been changed. Small changes? Perhaps, but to people who have been playing these games for years, those small changes matter.

Sonic 2 Gets A Cool New Trailer And An Even Cooler Looking Poster
If you live in the UK, you now have less than two weeks until Sonic the Hedgehog 2 speeds into cinemas. Its three weeks for those of you in the US. Sorry about that. Take it up with Paramount. On the bright side, we all got this week's new trailer at the same time. Both the meme-y one and then the real one 24 hours later. Dr. Robotnik powered by a chaos emerald, mechs inspired by the original games, and a whole lot of Knuckles. What more could you ask for? How about a new Sonic 2 poster inspired by the cover of the Mega Drive game bearing the same name? Oh okay, go on then.
12 Million Of You Are Playing Elden Ring
No, it would not be a complete biggest stories recap without something about Elden Ring. The Souls game continues to dominate headlines and the biggest takeaway from The Lands Between this week might explain why. FromSoftware revealed that 12 million of you have picked up a copy of Elden Ring so far. An absolutely incredible feat and even though FromSoftware hasn't confirmed as much, probably evidence that it is the fastest-selling Souls game of all time. There was also a hint that the work on the game is far from done, suggesting that at some point we will be getting Elden Ring DLC, restarting the hype train all over again.
NEXT: Night City's Soul Belongs To A Turtle
Ash-Greninja Is Returning – Here's Why It's Ash's Best Pokemon
Ash's Greninja is returning to the Anime soon, but what makes Ash-Greninja so special?
Read Next
About The Author