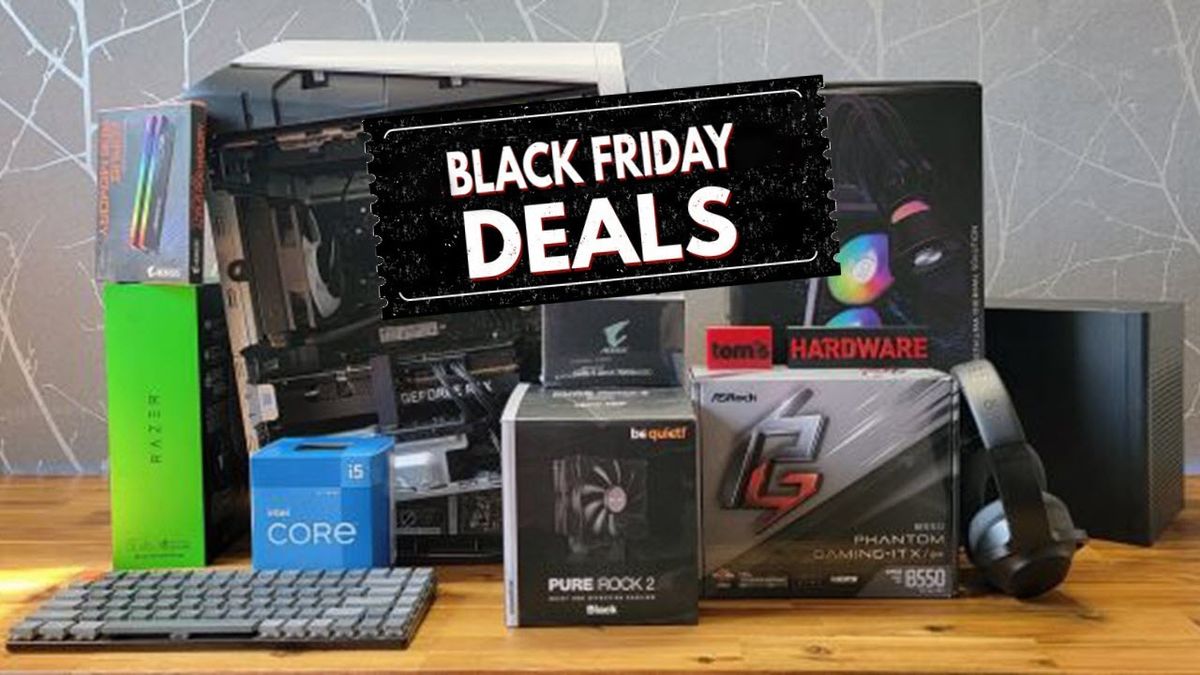 Best Black Friday Deals on PC Hardware: GPU, CPU and PC Sales
Refresh
MSI's GF63 with RTX 3050 Ti Hits $799
If you're shopping for a gaming laptop that's under $1,000 (perhaps one of the best gaming laptops under $1,000), you want to get the best GPU possible. In the sub-$1,000 price range, the best graphics card possible is usually an RTX 3050 Ti, which gives you just enough performance to play 1080p games at very high or ultra settings. However, you usually have to compromise by settling for just 8GB of RAM or an impossibly-small 256GB SSD.
With the Black Friday deals season upon us, we're seeing some great sales on gaming laptops. Case in point: Amazon has an MSI GF63 with RTX 3050 Ti graphics, a 144 Hz display, a Core i5-11400 CPU, 16GB of RAM and a 512GB SSD for just $799 (opens in new tab). That's enough power and capacity for good productivity work and solid 1080p gaming. 
We reviewed an MSI GF63 but with a different GPU, a different screen and less RAM and storage. So we can't draw any performance conclusions from our review configuration, but we can say that build quality was solid for a budget laptop and, at just 0.85 inches thick, and 4.1 pounds, it's very portable for a gaming laptop. THe keyboard was a little flat, but usable.
What we can say is that we've tested many RTX 3050 Ti-powered gaming laptops recently and found that mainstream games such as Grand Theft Auto V ran at 50 to 60 fps in very high settings. More demanding games like Red Dead Redemption 2 were in the 40 fps range at very high settings, but would get smoother if you turn the settings down. 
Aorus FO48U 4K OLED Monitor Now $779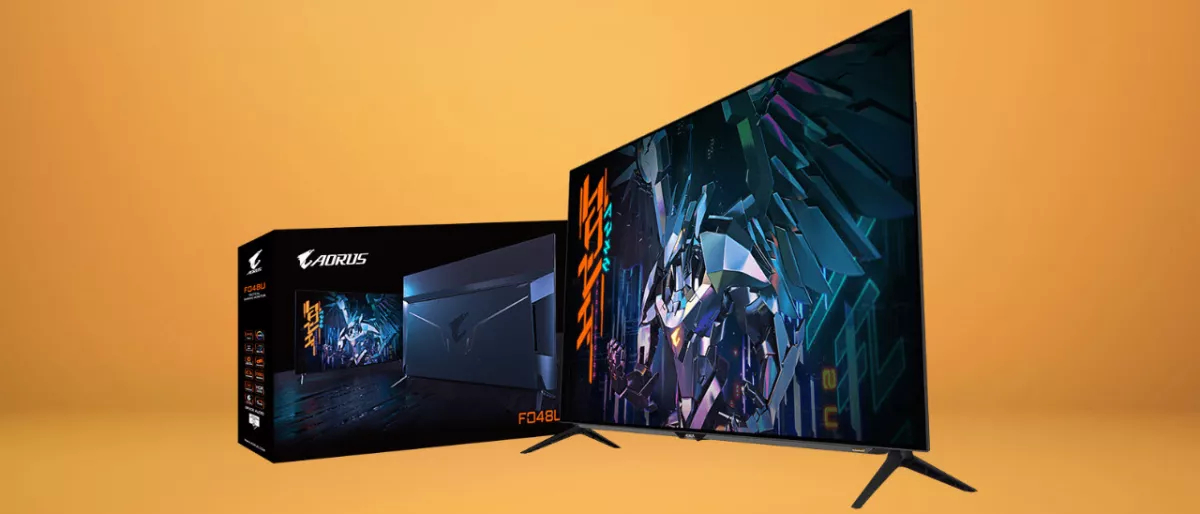 There's nothing quite like the vibrant color and high contrast of an OLED display, but you usually pay a lot for the privilige. The 48-inch Aorus FO48U is a 4K OLED, 120 Hz gaming monitor that normally goes for closer to $900 but right now is on sale for just $779 (opens in new tab) at Amazon.
We reviewed the Aorus FO48U and praised its amazing contrast and color accuracy. On our tests, the massive display reproduced a brilliant 107 percent of the DCI-P3 color gamut. That's one of the most vibrant displays we've ever benchmarked.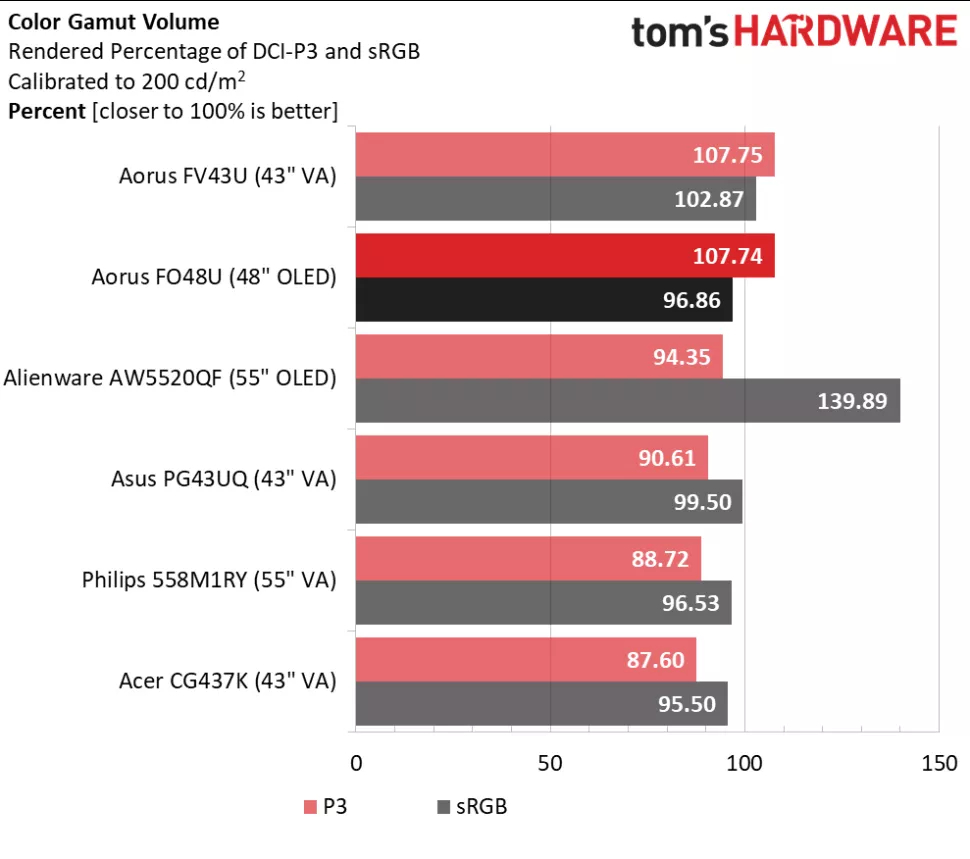 Get a Radeon RX 6700 XT Card for $349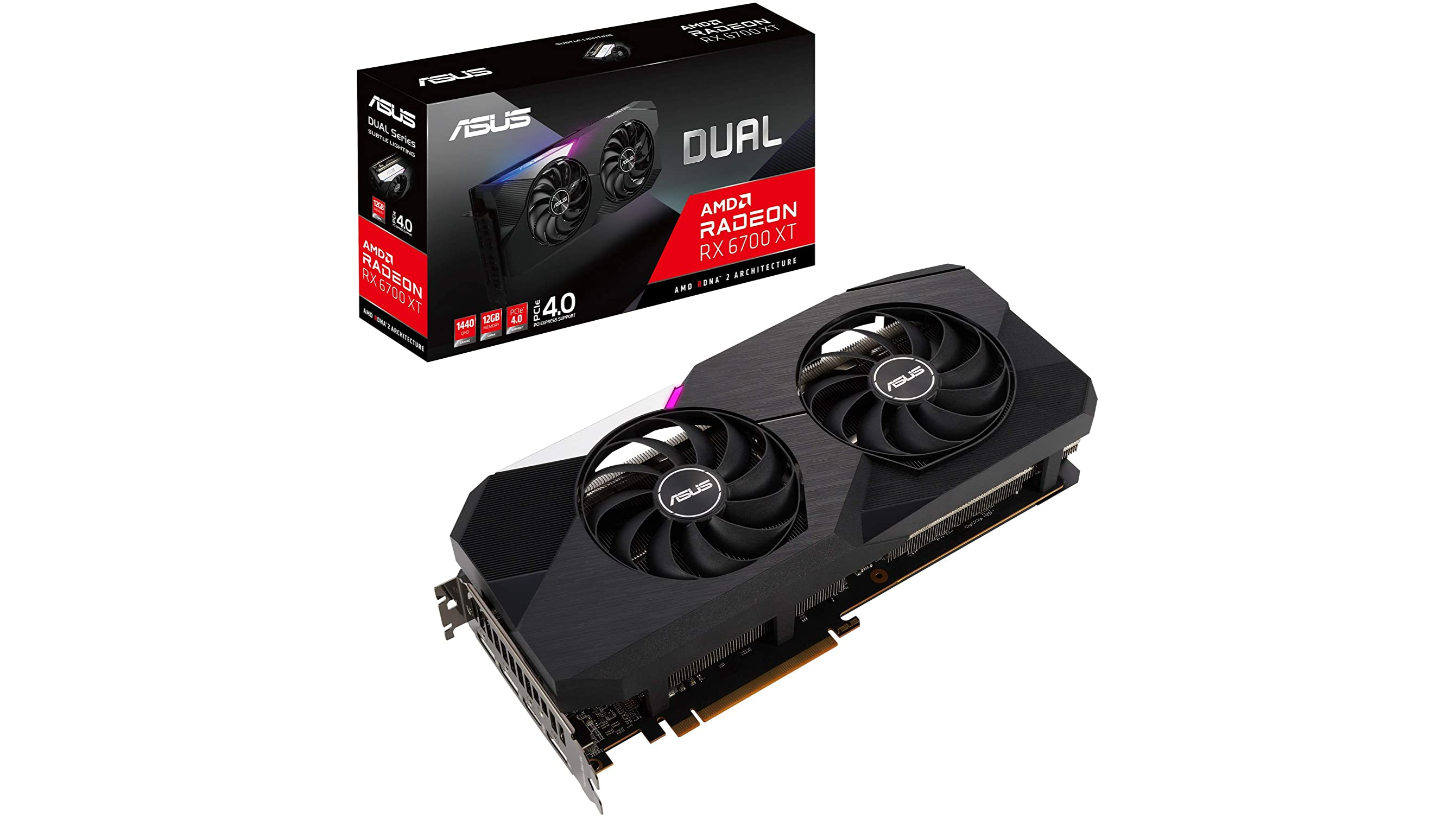 Asus Dual AMD Radeon RX 6700 XT GPU: now $349 @Amazon

(opens in new tab)

(was $389)
AMD's Radeon RX 6700 XT is a really powerful mid-range GPU that's about equivalent to an Nvidia RTX 3070 on our GPU benchmarks hierarchy (opens in new tab). Normally, you'd pay closer to $400 for an RX 6700 XT, but right now Amazon has an AMD dual-fan Radeon RX 6700 XT card for just $349 (opens in new tab), reduced from its previous low of $389.
Asus's card has 12GB of GDDR6 RAM, along with a processor that can operate at up to 2,581 MHz. We reviewed an RX 6700 XT card (not this particular model, but they are all pretty similar in performance) when the model first came out in 2021 and praised its strong 1080p and 1440p gaming performance. The card's launch price was $479 so $349 is a nice drop.
On our tests, the RX 6700 XT averaged around 107 fps when playing our suite of 13 games at 2560 x 1440 resolution and Ultra Settings. That put it well ahead of the RTX 3060 Ti.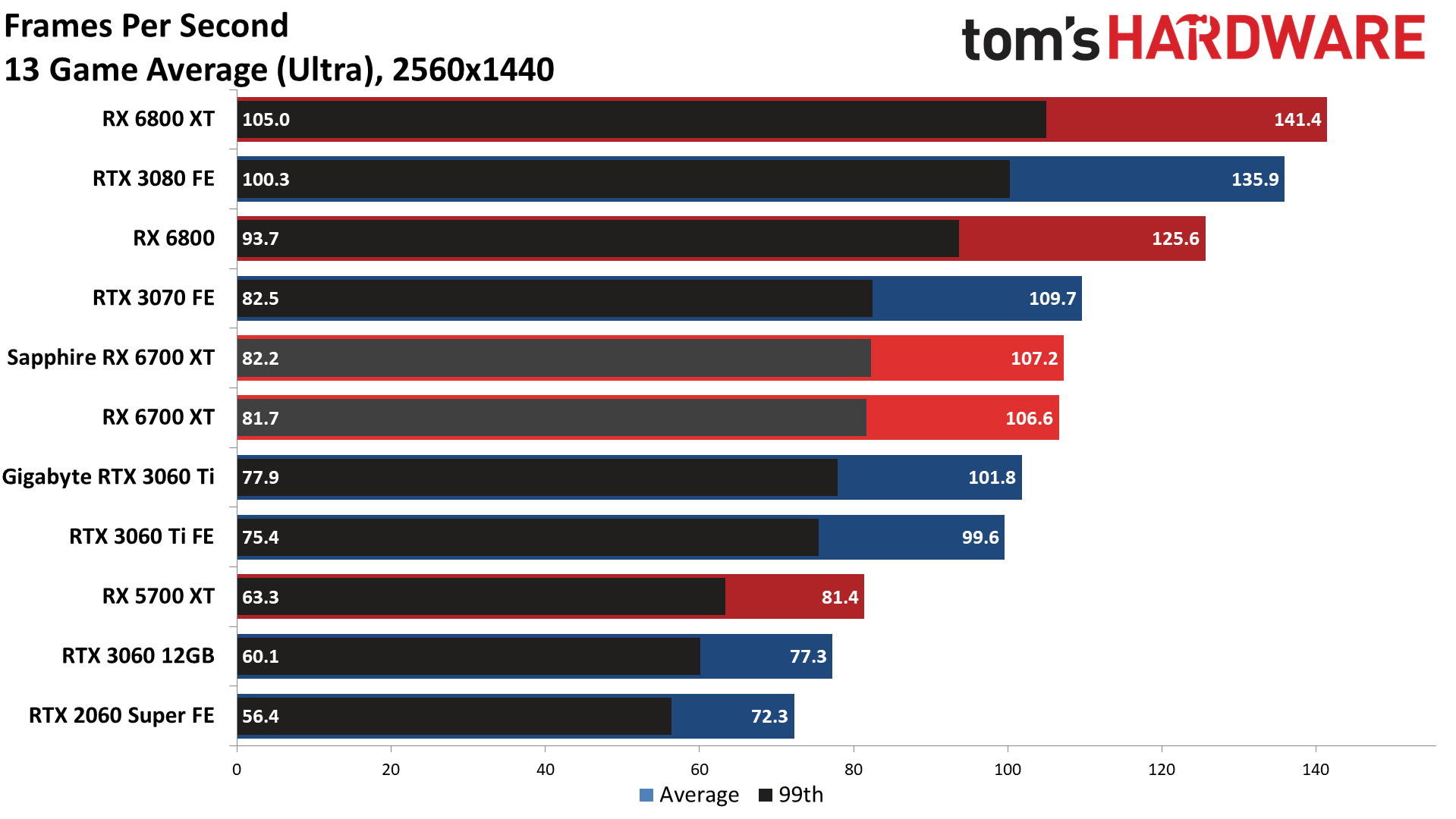 Those numbers are truly impressive and enough to play games at high refresh rates on a 2K (aka QHD) monitor. 
Dell S2721DGF 27-Inch Gaming Monitor Now $269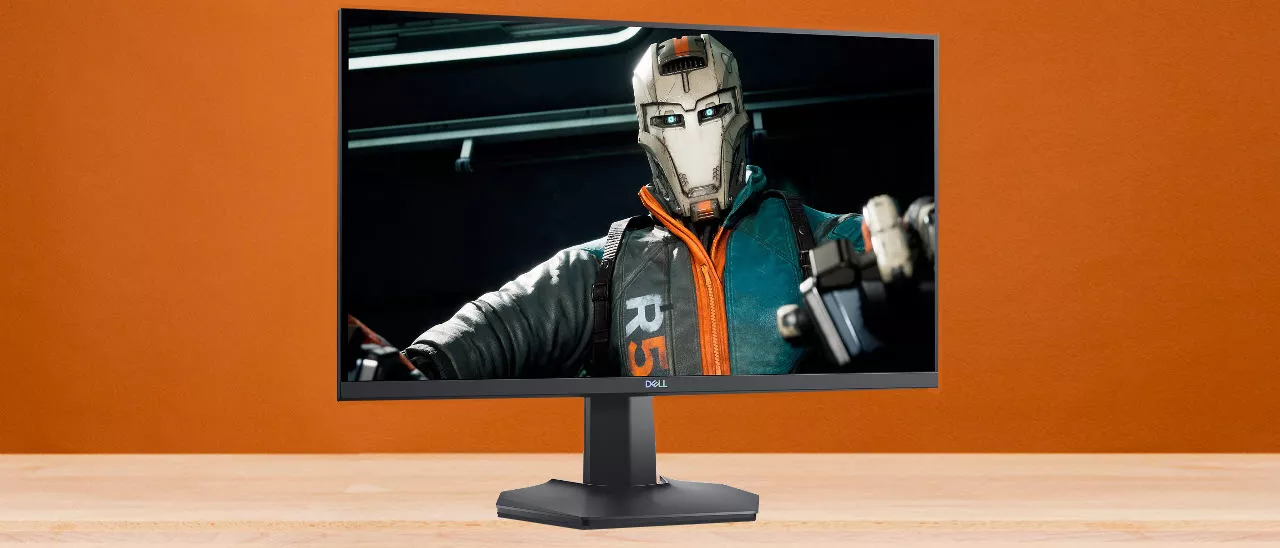 The Dell S2721DGF 27-Inch Gaming Monitor is marked down to its lowest price ever today at the Dell web store. It has a recommended price of $329 but right now is listed at just $269.
This gaming monitor features a 27-inch LED-backlit IPS panel. It has a dense resolution that measures up to 2560 x 1440px. The S2721DGF is also AMD FreeSync Premium Pro certified.
The refresh rate for this gaming monitor can reach as high as 165Hz while the response time can get as low as 1ms. It covers 98% of the DCI-P3 color gamut with a maximum brightness of 400 nits.
There are a few video inputs to choose from including two HDMI ports and one DisplayPort. A 3.5mm jack is available for external audio peripherals. This monitor is supported by a limited 3-year manufacturer's warranty from Dell.
We reviewed the Dell S2721DGF back in 2021 and praised its excellent HDR performance, strong color accuracy and wide DCI-P3 color coverage. On our tests, we found that the S2721DGF can reproduce an impressive 92.8 percent of the DCI-P3 color gamut and 137.7 percent of the sRGB color gamut.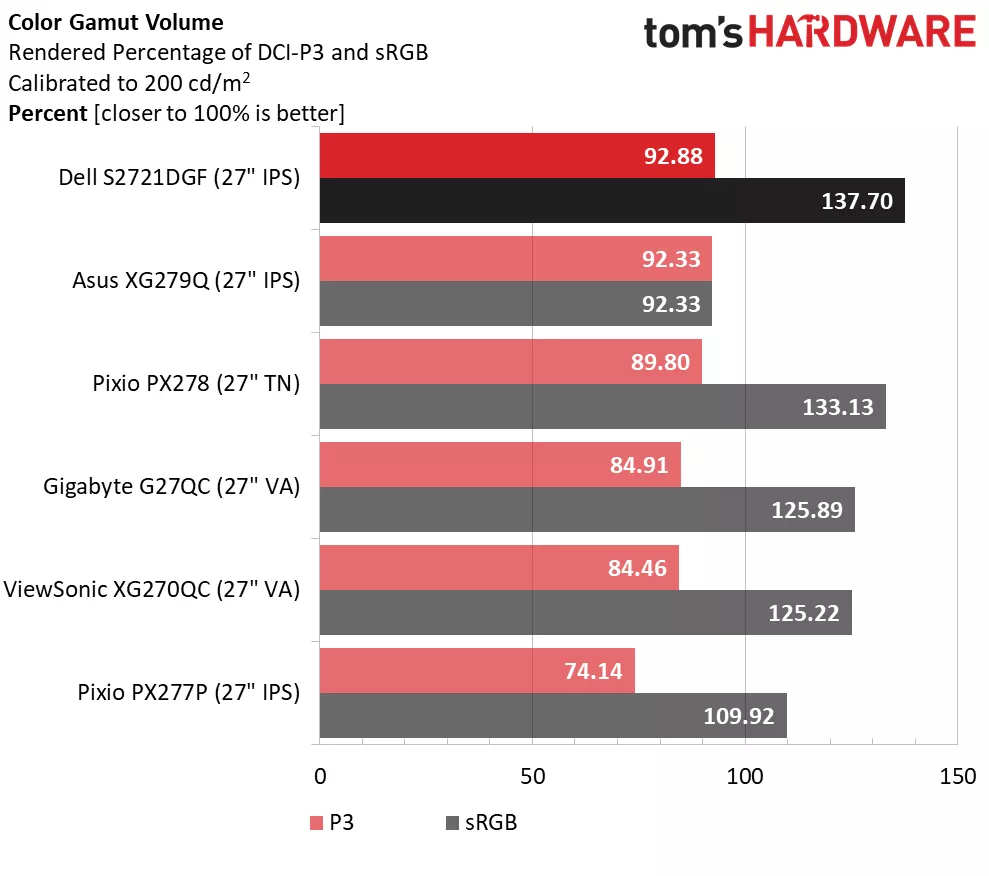 Apple MacBook Air Laptop 2020 Now $799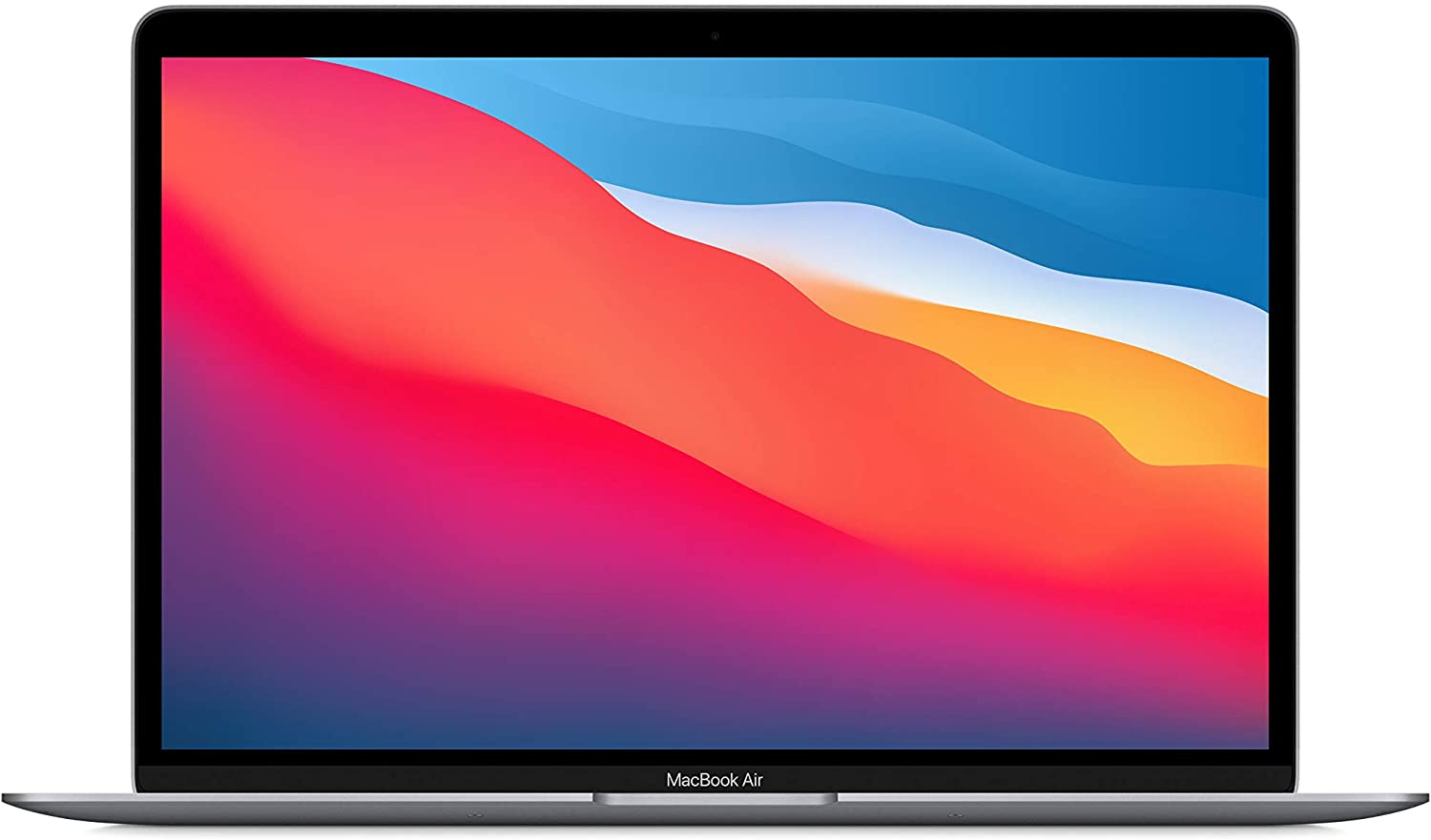 The Apple MacBook Air Laptop 2020 edition is available today at Amazon for $799. This laptop has a recommended price of $999 which means this discount saves users $200. The offer comes with optional free shipping for Amazon Prime members and currently is listed without an expiration date.
This offer applies to all of the colors including Gold, Silver and Space Gray. It uses an Apple 8-core GPU which outputs to a 13-inch IPS panel with a resolution of 2560 x 1600px.
The laptop uses an Apple M1 processor which has 8 cores—4 of which are dedicated as performance cores with the other 4 used as efficiency cores. It can reach a maximum speed of 3.1 GHz. Memory-wise, it ships with 8 GB of RAM and a 256 GB internal SSD.
There are four USB ports to use along with two Thunderbolt ports. It can connect to WiFi networks using 802.11ax wireless connections. According to Apple, the battery can last up to 18 hours.
AMD Ryzen 5 5600 CPU Drops to $129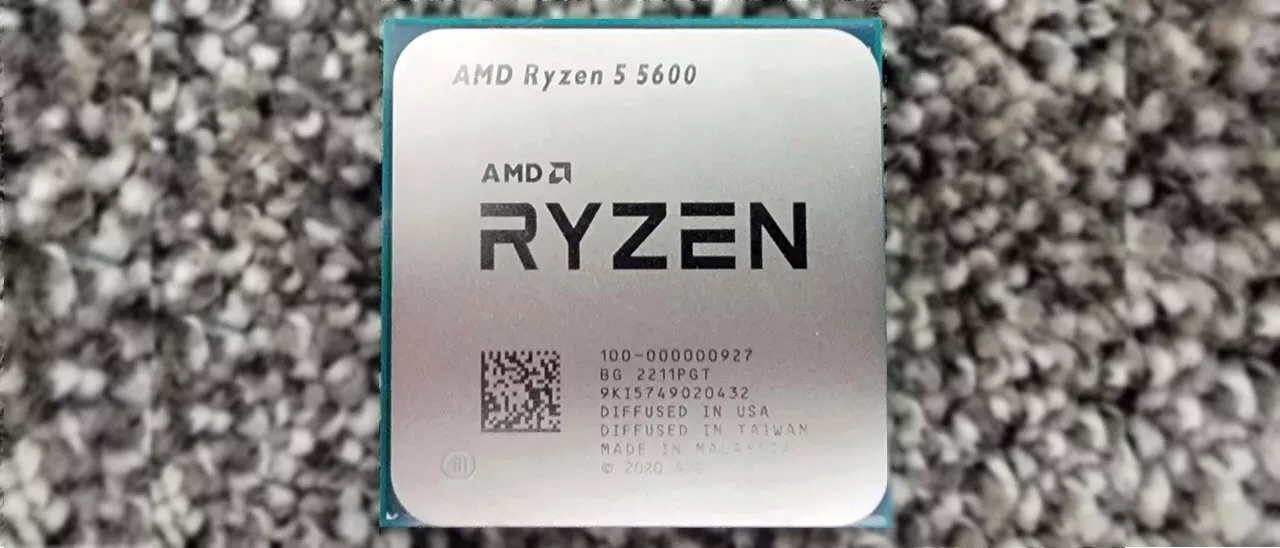 Today at Amazon, you can find the AMD Ryzen 5 5600 processor at one of its best prices. It usually goes for around $149 but right now is discounted to $129. It's listed without an expiration date and also comes with optional free shipping for Amazon Prime members.
This processor first debuted in April of 2022. It has a total of 6 cores and 12 threads with a base speed of 3.5 GHz. With Max Boost enabled, it can reach speeds as high as 4.4 GHz. It can support PCIe 4.0 and can use 128 GB of DDR4-3200 via two memory channels.
We reviewed the Ryzen 5 5600 when it came out (and cost $199) and foud that it was  pretty good for 1080p gaming as it returned an average frame rate of 152 fps on our test suite.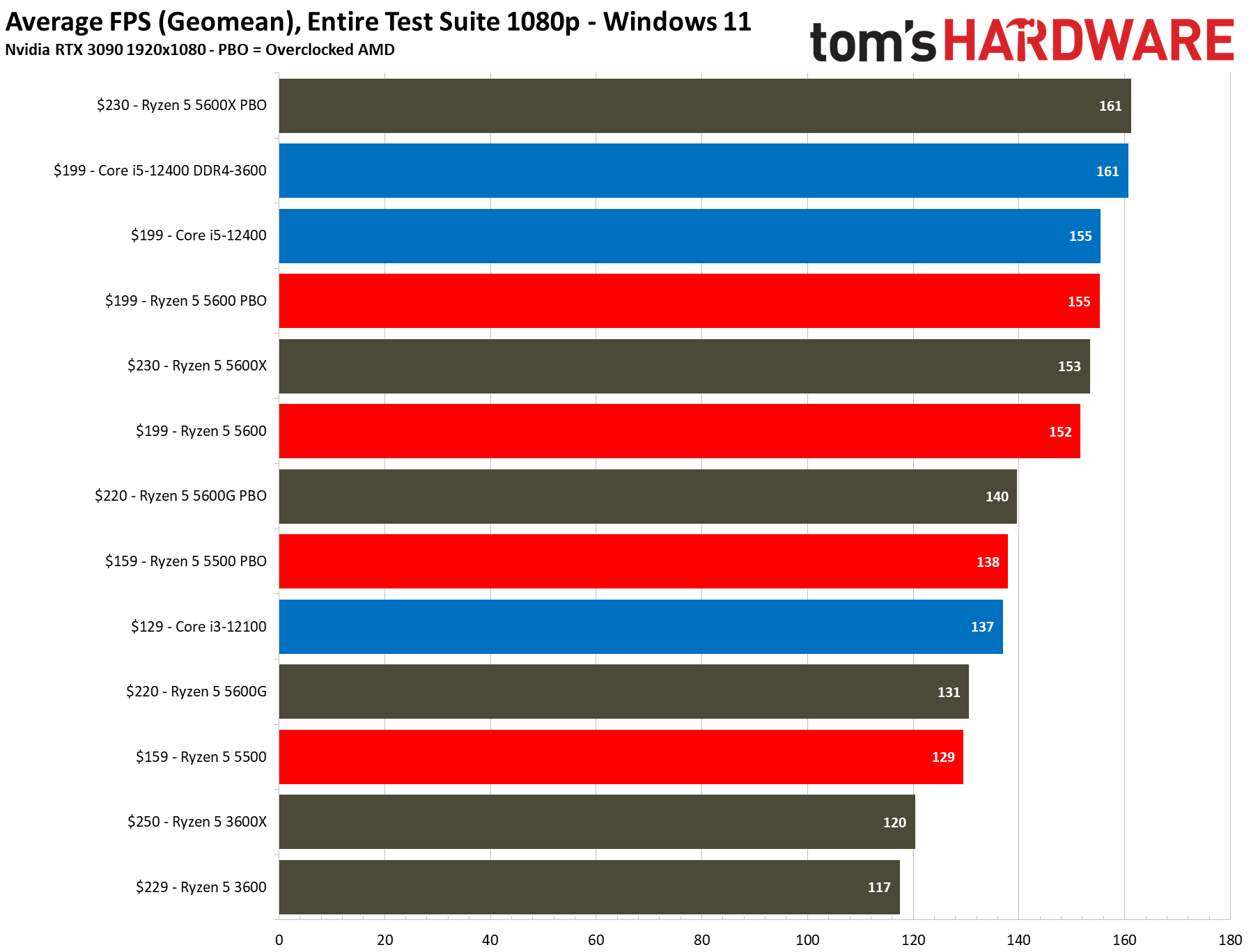 Samsung 970 EVO Plus 2TB SSD Drops to $149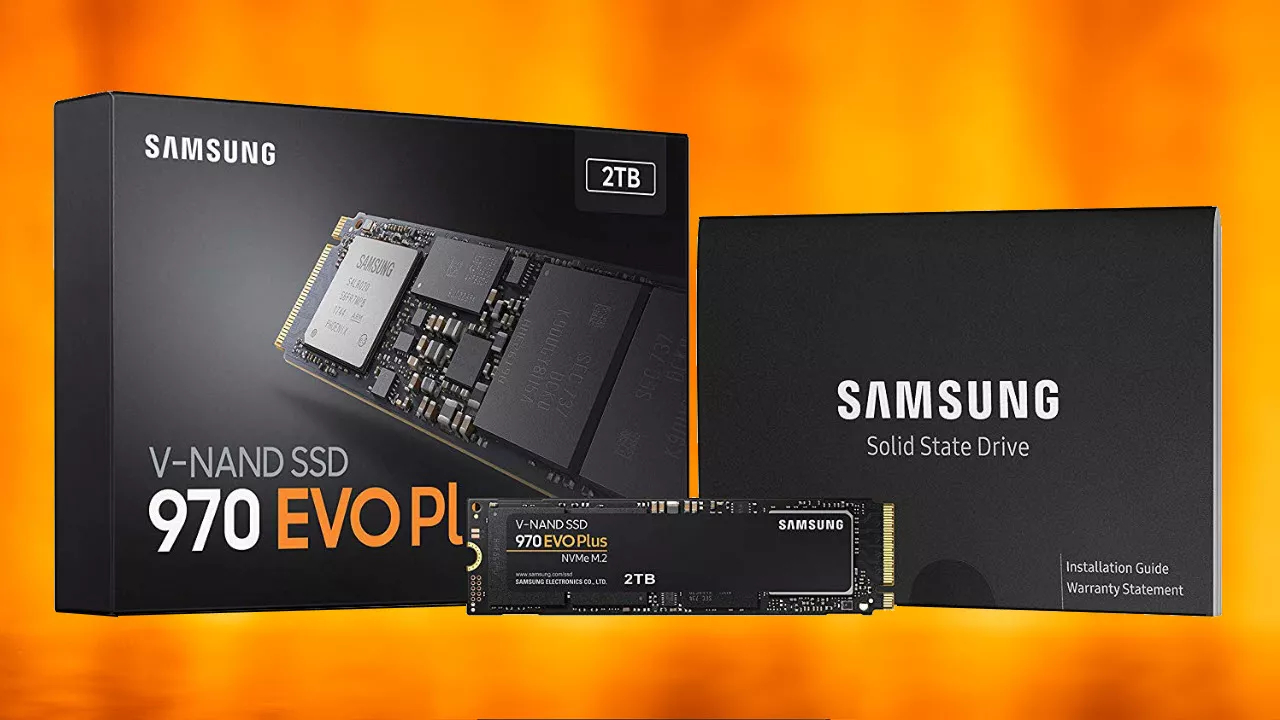 The Samsung 970 EVO Plus 2 TB SSD is available today at Newegg for $149 when using promo code 5BFBYA5297 at checkout. The promo code is part of a limited offer but so far there has been no expiration specified for the discount. The purchase is offered with optional free shipping.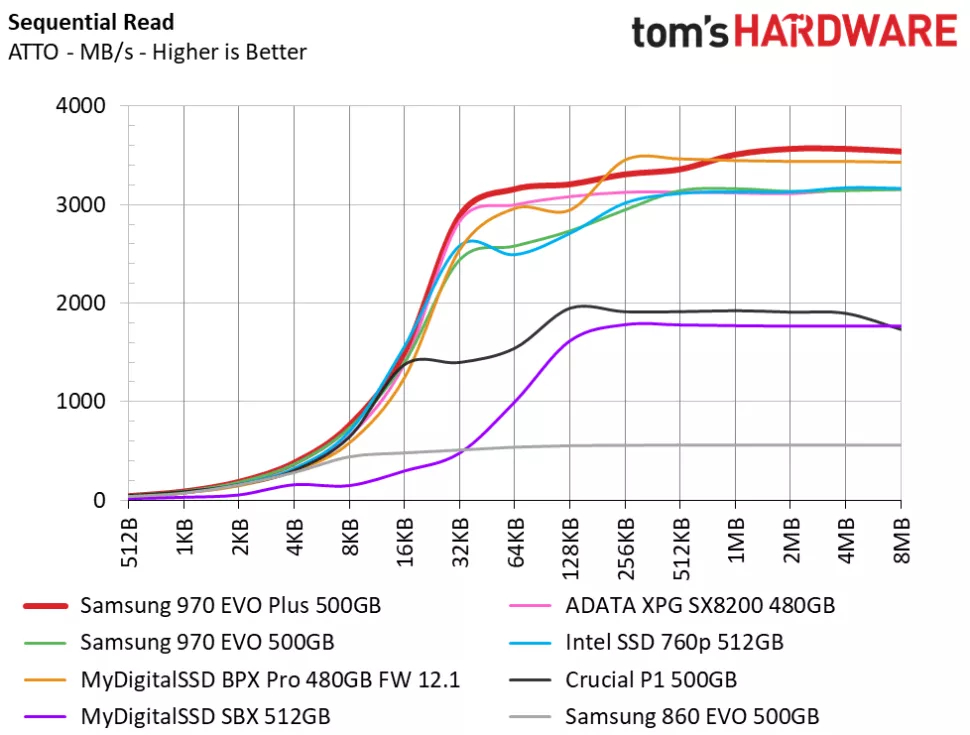 This discount is for the 2 TB model but other capacities are available as well including 250 GB, 500 GB and 1 TB. It has an M.2 2280 form factor and uses Samsung 9x-layer V-NAND TLC. All of the drives in this line use Samsung 9x-layer V-NAND TLC memory and support PCIe 3.0 4x along with NVMe 1.3.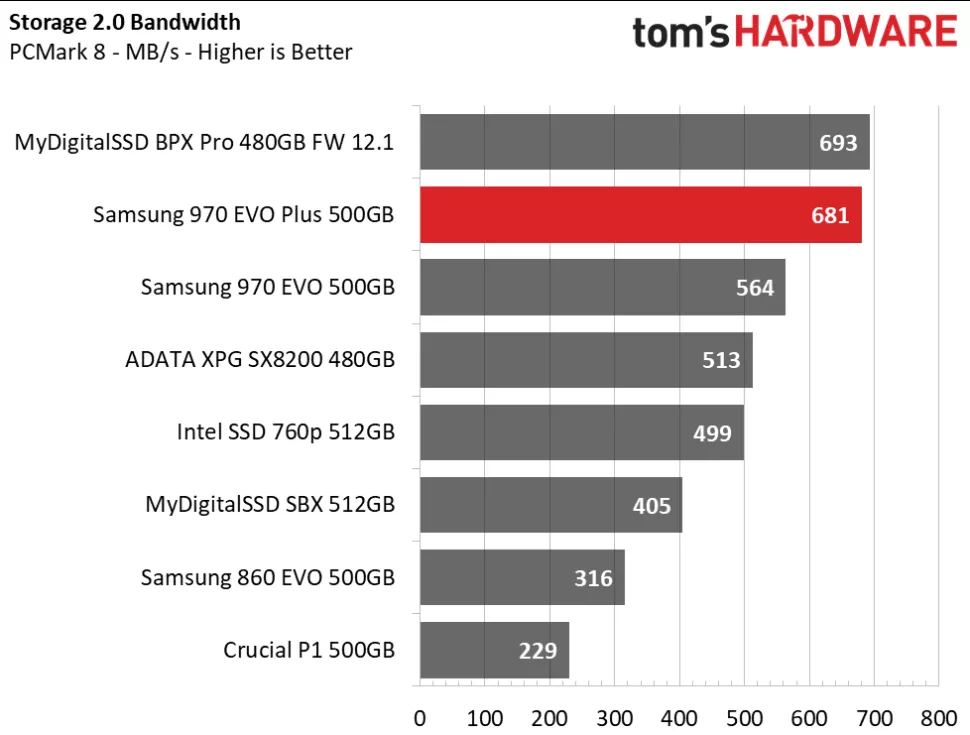 The Samsung 970 EVO Plus uses the Samsung Phoenix microcontroller. According to Samsung, it can reach speeds as high as 3,500 / 3,300 Mbps. We reviewed this SSD when it debuted and overall appreciated its performance which is only heightened by today's discount. It's supported by a 5-year manufacturer's warranty from Samsung that voids should the drive reach 1,200 TBW.