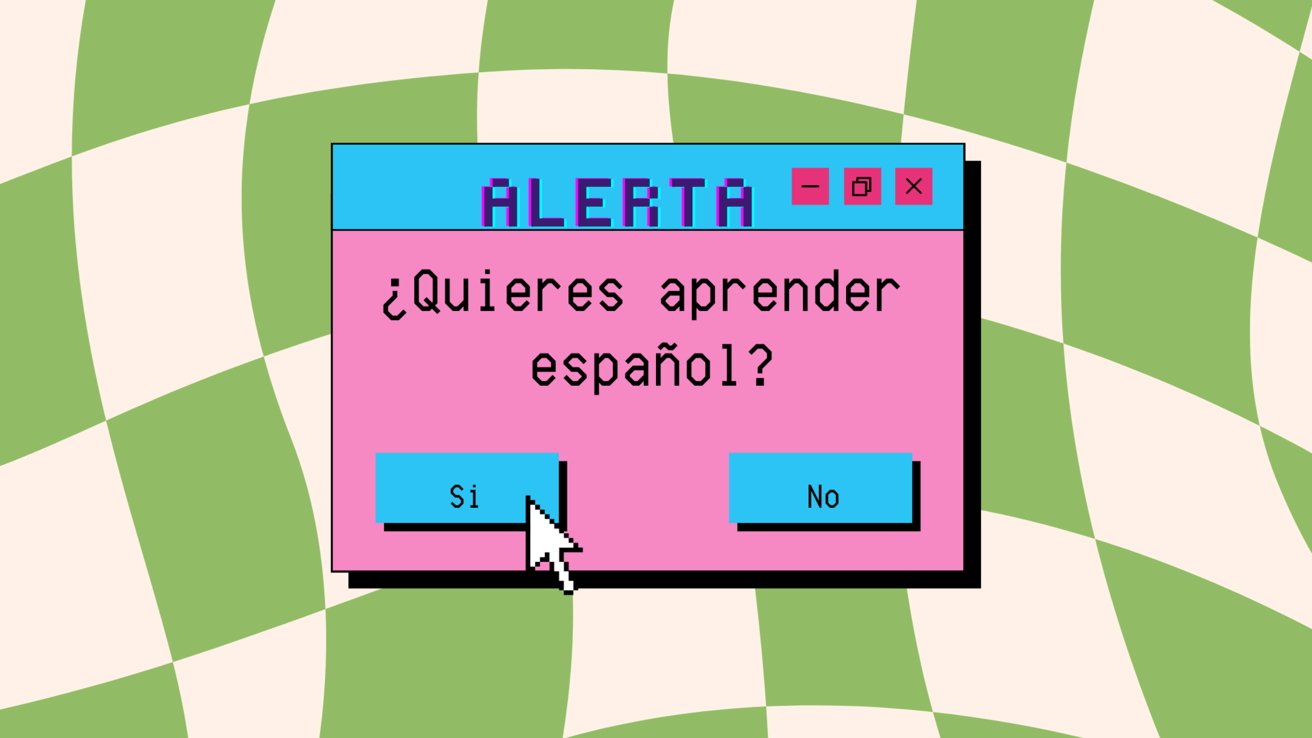 Best apps to learn Spanish on iPhone, iPad, or Mac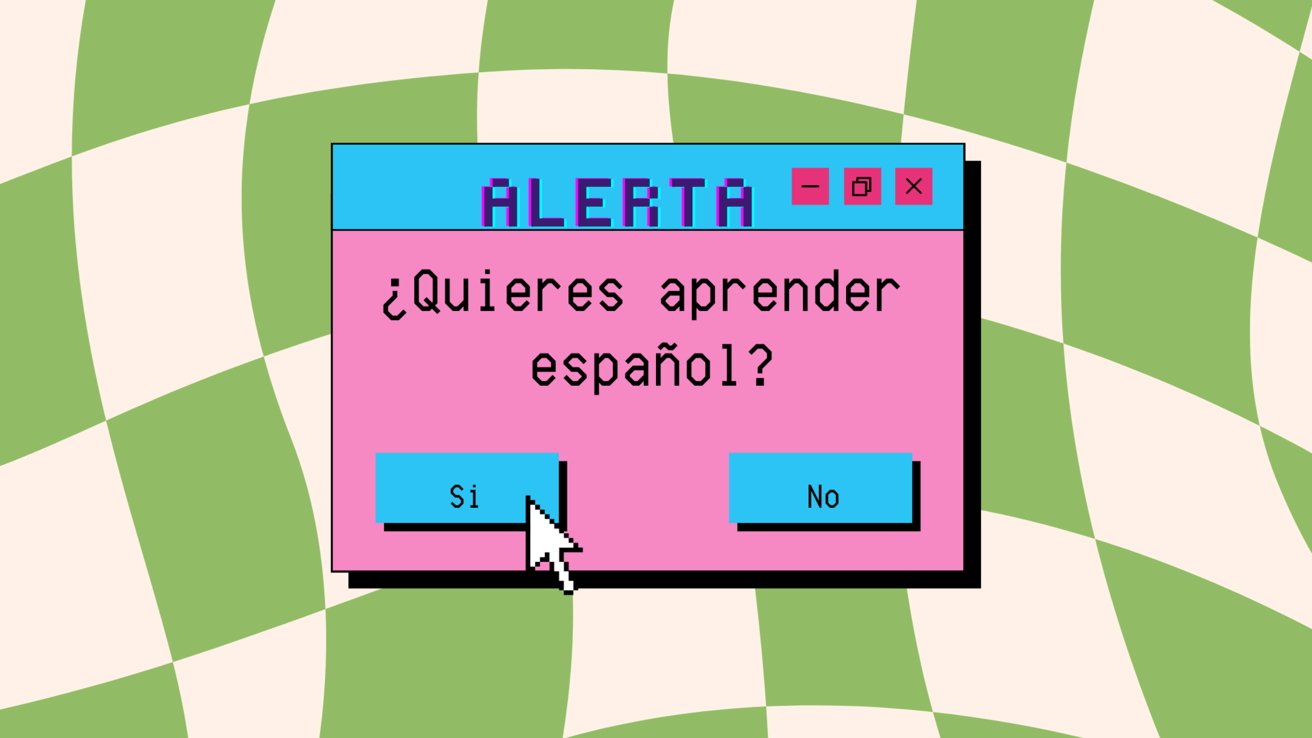 AppleInsider may earn an affiliate commission on purchases made through links on our site.

Learning a new language is now more accessible than ever. These apps and services are best choices for people who want to learn Spanish.
Whether you're planning to surprise your Valentine with a trip to the Dominican Republic and need to brush up on your skills, or just working on late new years resolutions, the following apps are sure to help.
Not only can they help anyone learn Spanish, but this list accommodates any learning style and wallet.
Learning a new language can be intimidating and frustrating. Whether it's trying to find time to learn lessons, the financial strain it would cause to take classes, or a combination of the two and many more.
But in the end, learning a new language is worth the time and effort put into it.
If you're wanting to learn Spanish, you aren't alone. According to a study done in 2015, Spanish was the most taken language class at colleges and universities.
And that isn't a surprise considering all the benefits that come with learning a second language.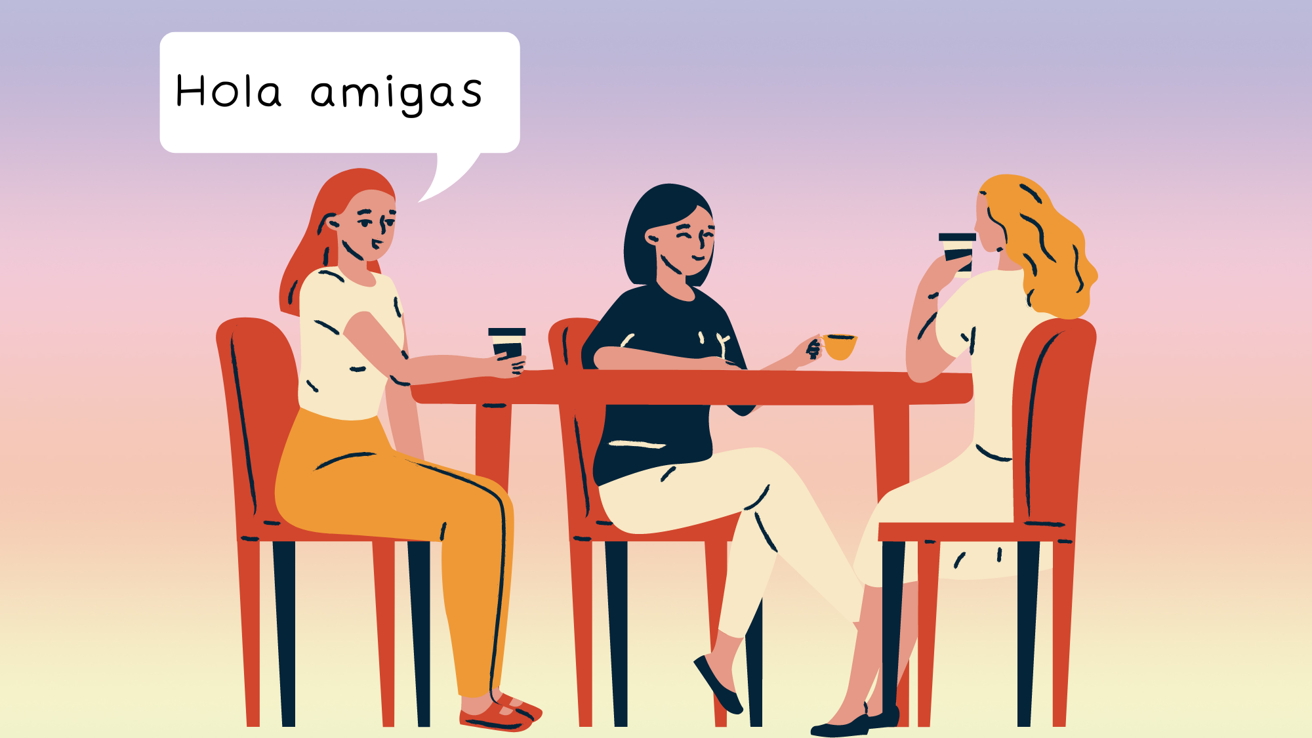 People who know more than one language unlock unique business opportunities and have advantages over people who don't. People all over the world speak Spanish and businesses need people who can communicate with clients who only speak Spanish.
Not only do native Spanish Speakers make up the second-largest population in the world, only beaten by native Mandarin speakers, but the United States has the second-highest population of Spanish speakers
So whether you're learning Spanish to unlock your brain's full potential, learn about different cultures or communicate better at work, here are some apps that are going to help you.
It's important to keep in mind that not everyone's learning style is the same. So while Duolingo's colorful interface and videogame-like qualities work great for some people, Rosetta Stone's simple design might be better for others.
Each app is also going to vary in price range, so the following are listed from the most affordable to the most expensive. But, just because an app is expensive, doesn't mean that the app is going to work best for someone's learning style.
Luckily, each of the following apps is either free to use or includes a free trial.
Duolingo
You may know Duolingo, and its mascot Duo, from their unhinged TikToks, but this app makes learning fun and provides users an easier way to learn languages. And best of all, it's free!
Duolingo is number one in Education on the App Store, and its second most popular course is Spanish for English speakers. The only course more popular is English for Spanish speakers.
The popularity of the course isn't surprising. Duolingo is first on the list because, not only did it receive the editor's choice, but it's also available to anyone with a smartphone, tablet, or computer.
There is no need to buy a subscription unless you'd like to unlock bonus perks, like an ad-free experience, unlimited lives, and a personalized practice plan to address areas of the courses you need more help in.
The app offers fun, interactive modules for people to use on their devices. It makes learning a new language feel like a video game. You can even compete with friends, family, and strangers to get to the top of the leaderboards.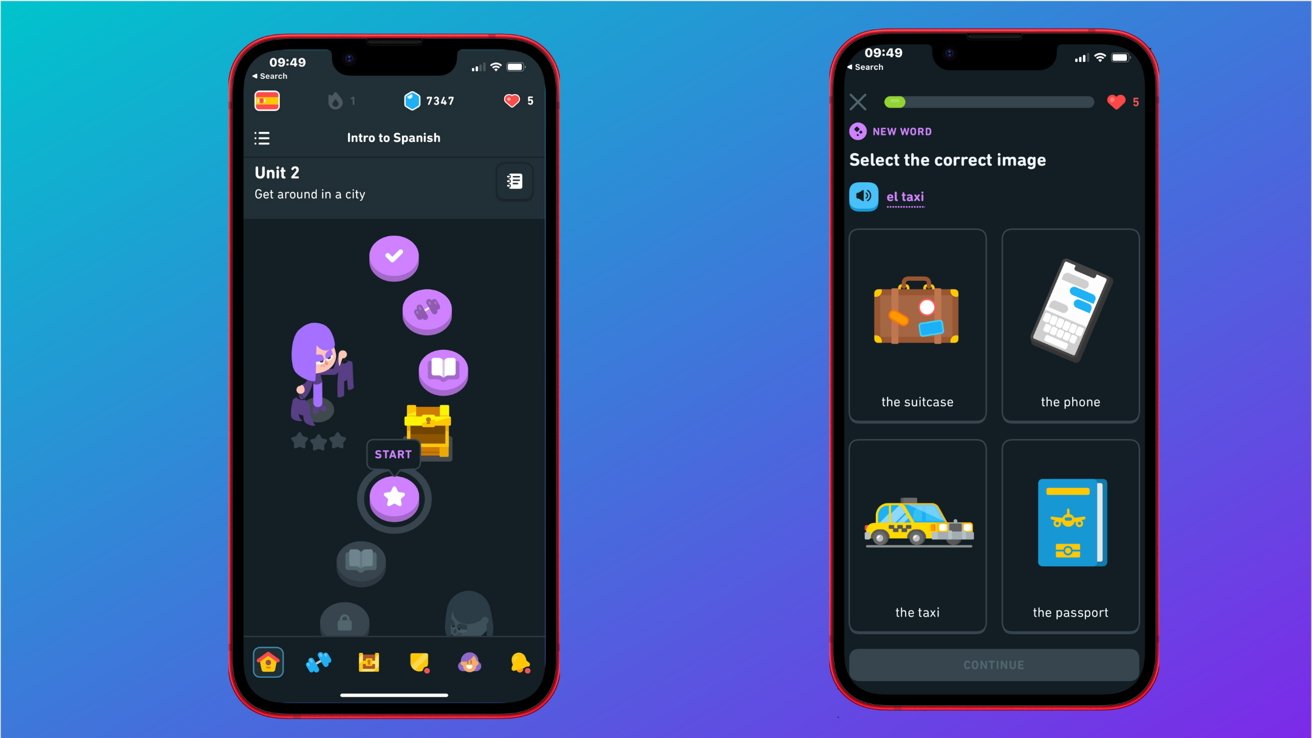 The competitive video game format is best for those who struggle to focus on new activities. The game gives quests and goals to players to incentivize them and adds to the fun nature of the game.
The best thing about the app (besides the price) is its podcast. There are podcasts on Spotify and Apple Podcasts.
The podcast is more for intermediate Spanish learners, but listeners can find transcripts online.
The podcast exposes listeners to different Spanish accents from all over the US, the Caribbean, and Central and South America.
It discusses different Hispanic and Latinx cultures, while also addressing world issues like climate change and sexism. As someone who grew up speaking Spanish, I love listening to this podcast. I'm even learning new words and phrases.
Duolingo can be downloaded here. It takes up 277.8 MB of data and requires iPods and iPhones to have iOS 14.0 or later and for iPads to have iPadOS 14.0 or later.
Those wanting to upgrade their experience with a subscription can pick between an annual family plan for two to six people or an individual plan.
The family plan cost $9.99 a month, or 119.99 for the whole year when purchased through the app, but the whole lump sum slum needs to be paid upfront. An annual subscription for one person through the app is 83.99 and like the family plan, expect to pay everything at once. Without the annual plan, a subscription is $12.99 a month.
Memrise
Another App Store editor's choice, Memrise is one of the more unique apps on this list.
Users learn phrases and words by watching videos of native speakers reciting them in different tones and environments.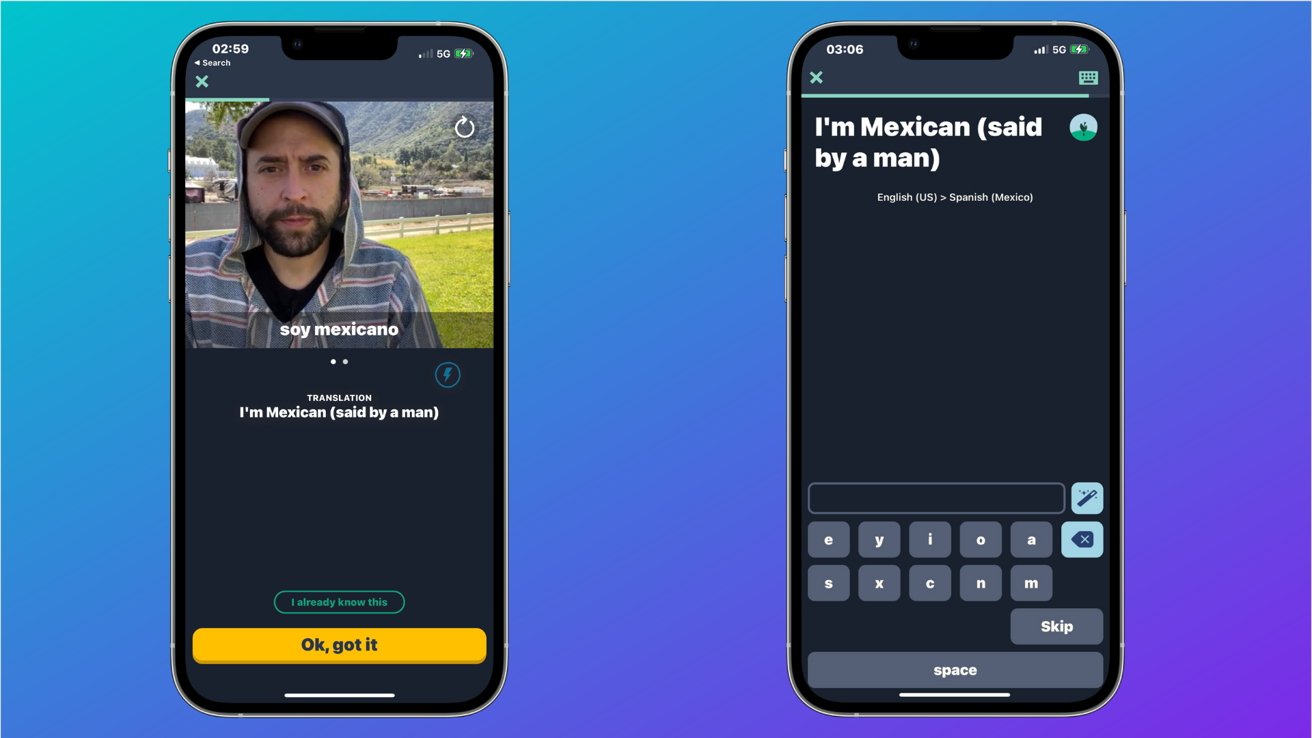 While the app has specific lessons available for free, users can unlock everything for $8.99 a month or $89.99 a year. Users can also choose to pay $119.99 for a lifetime purchase.
The app has fun mini-games where you speak with a bot and play things like Would You Rather or Guess the Film, where you give it hints about a movie you're thinking of in Spanish and it has to guess.
It's nice to see facial expressions and hear different emotions while learning a language. It makes learning a language feel more natural.
To download Memrise onto an iPhone, iPad, or iPod touch, users require 171.1 MB of space. iPhones and iPods require iOS 14.0 or later and for iPads to have iPadOS 14.0 or later.
To unlock all the features and games, users can pay $8.99 for a monthly subscription, $89.99 for an annual subscription, or $119.99 for a lifetime subscription.
Babbel
Babbel feels a bit more like an online classroom. Their lessons are based on real-world conversations and only require users to log in for five minutes a day.
Users take a quiz to "find" their level. It asks users a variety of different questions depending on whether they say they're a beginner, only know some, or a lot about the language.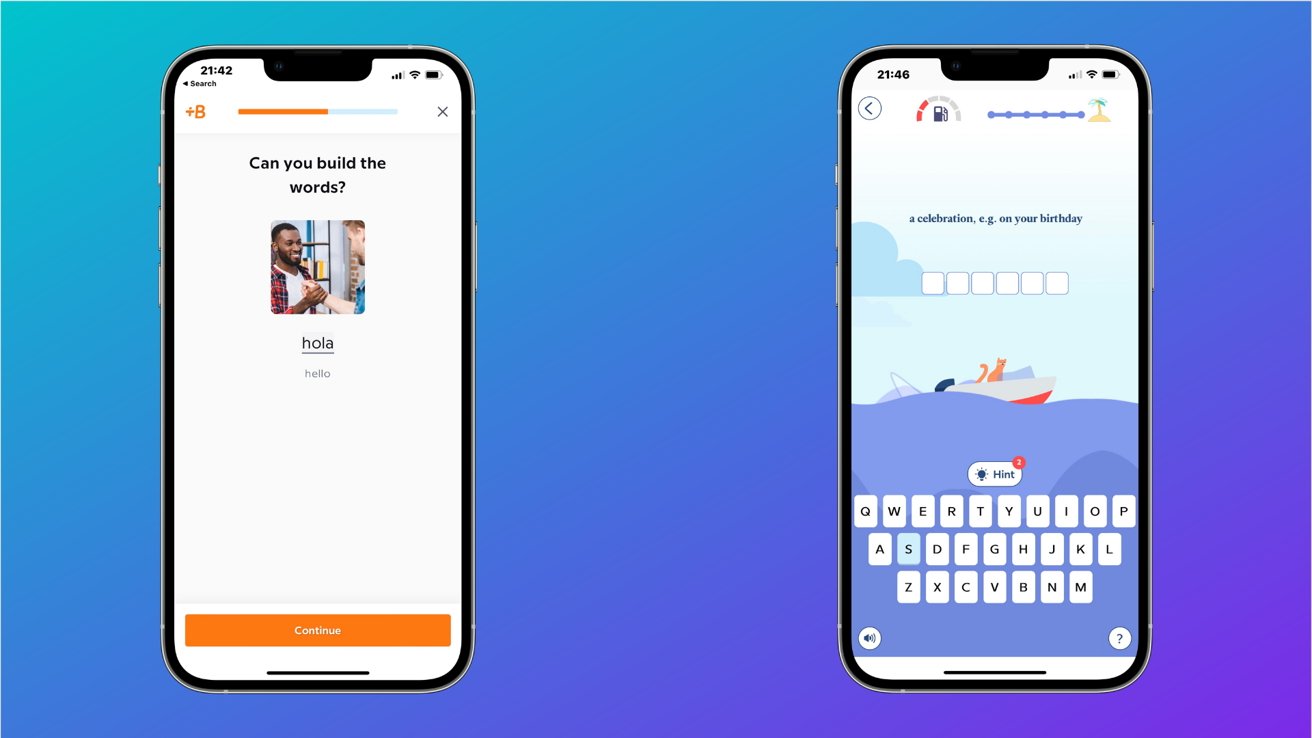 It then categorizes users based on their answers. For example, I am someone who grew up speaking Spanish with friends and family, but I still struggle with more complex conversations involving things like politics. I'm considered to be at the c1-advanced level, their highest level.
Like Pimsleur, Babbel uses the voices of real people to teach users Spanish and expose them to native accents.
Users have to complete exercises to move along with the lesson, similar to Duolingo but it has a more basic design. Future Spanish speakers can reinforce what they've learned with podcasts, mini-games, and virtual classes.
Babbel takes up 82.2 MB of space and requires iPhones and iPod touches to have iOS 13.0 or later and iPads with iPadOS 13.0 or later.
There are different price points for subscription packages. A monthly subscription is $17.99, every three months is $45.99 ($15.33 per month), every six months is $74.99 (12.50 per month), and annually is $89.99 ($7.50 a month).
Rosetta Stone
Rosetta Stone is a classic. Its design gets rid of the extra noise and distractions and it's perfect for people who get easily distracted or overwhelmed.
While the other apps have a ton of features, Rosetta Stone's simplified courses immerse users in the language in a variety of different exercises.
Each unit consists of three courses that focus on different topics, like greetings, shopping, or travel. To move forward, users have to match phrases to correlating photos that depict their meaning, recite words, and fill in the blank.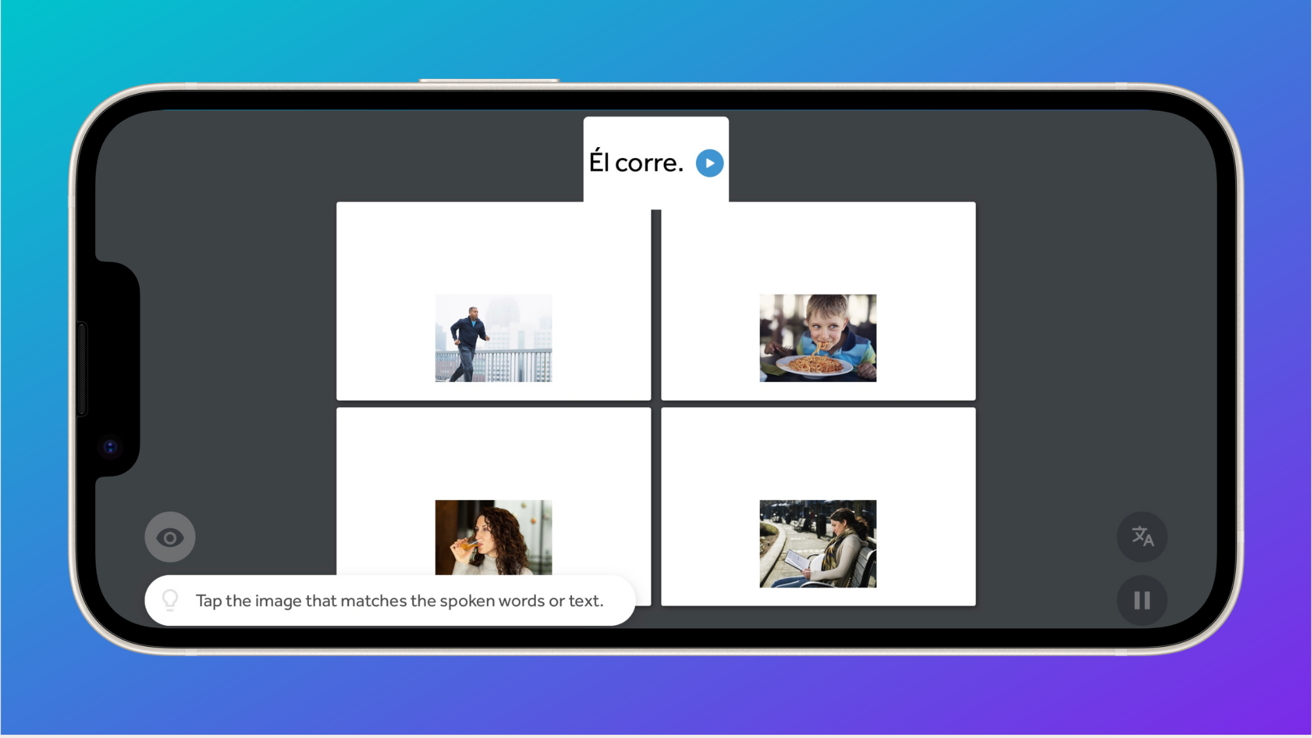 The app also has some exciting features, like Seek and Speak. Users can take photos of objects around the house to figure out what they are and create a conversation. But when we tried it, it didn't accurately pick up what was in the photo.
Aside from Seek and Speak, it also has a phrasebook, stories that can be downloaded, and an audio companion. The audio companion is a slide show of photos while a voice in Spanish tells you what they are.
For example, if a photo of a ball is displayed, the audio companion will say "una pelota."
Purchasing a subscription from the app will carry in prices. A three-month subscription is $44.99 ($9.17 a month) and a twelve-month subscription is $109.99 ($9.17 per month). Users can expect to pay the full sum of their subscriptions.
Anyone who wants access to all the language courses Rosetta Stone has to offer will have to purchase a twelve-month subscription as purchasing the three-month subscription will only give users access to the Spanish course.
There is also the option for a Lifetime Subscription. Users will only have to pay a one-time payment of $199.99 to unlock unlimited language courses for the lifetime of that product.
Lifetime Plus is exactly like the Lifetime Subscription, except users will have to pay $299.99 and gain unlimited access to Rosetta Stone Live for 12 months. Rosetta Stone Live provides users with group tutoring and live lessons.
Pimsleur
Pimsleur is the best app for anyone who is constantly on the go. Instead of having to complete lessons or mini-games, users can just stick their earbuds in and listen to their lessons.
A narrator takes users through the language step by step. Its main focus is being sure people learn how to communicate with others instead of focusing on writing and grammar.
They see to it that listeners understand what they're hearing, then take them step-by-step through the proper grammar and pronunciation needed to effectively speak to people in that language.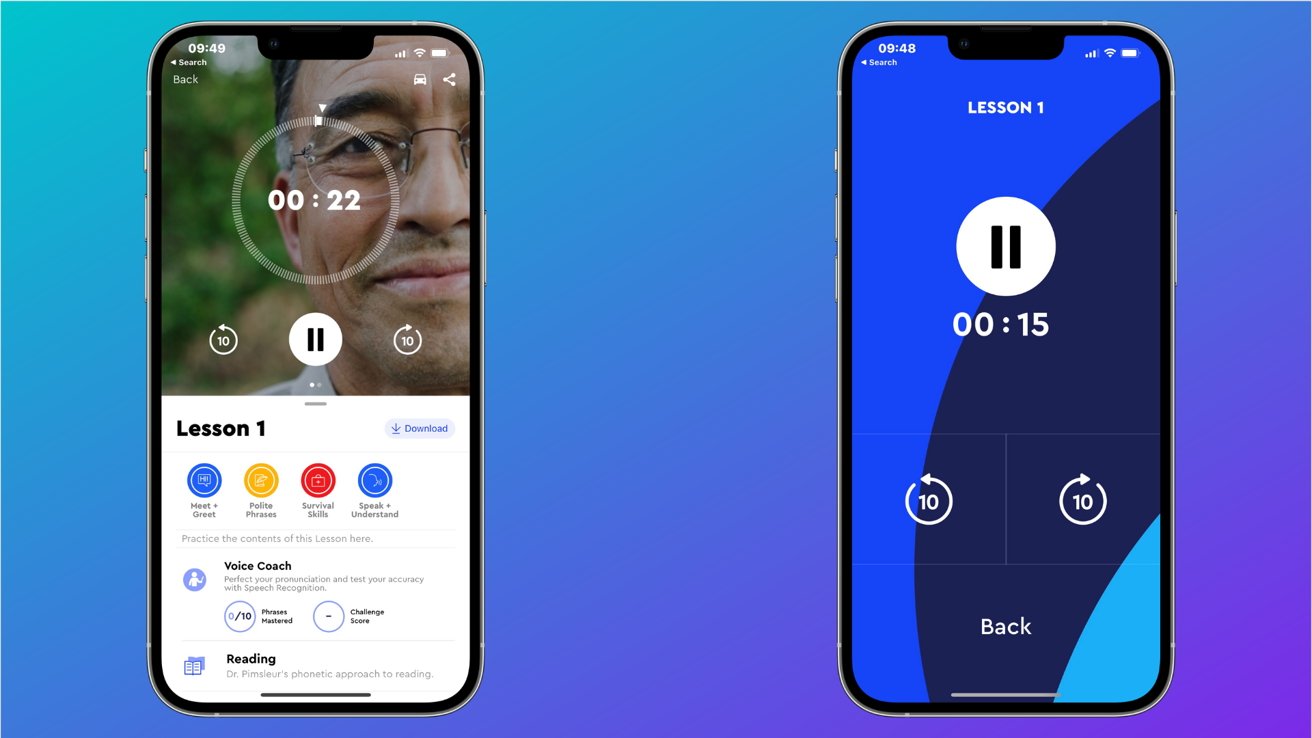 Those who don't have time to sit down and look at an app can easily use this and listen to it on their morning commute or on their way home. The app has a driving mode that is more simplified and makes it easy to skip through lessons, rewind, and fast forward while driving.
Unlike Duolingo, the voices users listen to while learning the language don't sound robotic. The conversations flow and sound natural.
Each lesson is around 30 minutes long. It can be paused and users can continue it later in the day or on their way home.
For those who are more visual learners, there are challenges and quizzes you can do with each lesson. The lessons also include flashcards, a quick match challenge where people have to assign the correct definition to phrases, and other speaking exercises that record spoken phrases to check pronunciation.
To download Pimsleur, devices need to have 74.9 MB available. The app is compatible with iPhones and iPad Touches with iOS 11.0 or later, iPads with iPadOS 11.0 or later, Macs with macOS 11.0 or later, and Macs with the Apple M1 chip or later.
Unfortunately, Pimsleur doesn't have a free version and is the most expensive one on this list. There is a seven-day free trial, from which users can either choose to pay $20.99 a month to unlock everything or pay $159.99 to unlock Spanish Level 1 Premium, which includes 30 lessons that never expire.