Best Android Smartphone 2022: Phones Reviewed & Ranked
There are new phones arriving all the time, especially when it comes to the world of Android. Apple's iPhones will always be popular but handsets running Google's mobile OS provide you with a wealth of choice – and usually much better specs for the same price.
We're now halfway through 2022 and already have many of the year's biggest Android flagships, including the Xiaomi 12, OnePlus 10 Pro, Galaxy S22 series, and Oppo Find X5 Pro.
Last year also brought along some phenomenal handsets which are still well worth buying, with the
Pixel 6 Pro still among our favourites, and a fantastic foldable in the
Samsung Galaxy Z Flip 3.
Here at Tech Advisor we independently test each phone thoroughly so we can bring you the very best options worth considering at any given moment. Here we rank the top ten but keep checking back as we update this list regularly.
Clicking through to our in-depth reviews will help, as we have detailed benchmarks, test photography and more for you to explore.
Best Android phones 2022
1. Samsung Galaxy S22 Ultra – Best Android phone
Pros
Excellent camera
Phenomenal display
Stylus support
Cons
Bulky
Expensive
Slower charging
The Galaxy S22 Ultra doesn't feel like an S22 at all – in fact this is more like a covert revival of Samsung's once-loved Note brand, with a distinct design from its S22 siblings and a built-in slot to store the included S-Pen stylus.
The camera is one of the best in any phone, with a 108Mp main shooter backed up by an ultrawide and two telephoto lenses at different zoom levels – with the zoom performance particularly improved on previous models.
The expansive 6.8in LTPO AMOLED display delivers both high WQHD+ resolution and adaptive refresh rate up to 120Hz, and with S-pen stylus support it comfortably fills the productivity niche of the former Note phones.
Read our full
Samsung Galaxy S22 Ultra review
2. Vivo X80 Pro – Best camera
Pros
(Maybe) the best camera around
Fast wired & wireless charging
IP68-water resistance
Great battery life
Cons
Expensive
No Gorilla Glass
Frustrating software
MSRP:

Unavailable in the US
You may not have heard of Vivo before, but you should definitely be paying attention.
The company is a giant of the Chinese smartphone market, and is slowly expanding its international reach – which is a good thing, because it's been an open secret for the last few years that Vivo probably makes the best cameras in any phone around.
The X80 Pro is no exception, with four phenomenal rear cameras. The 50Mp main lens is phenomenal, but it's the 48Mp ultrawide that really blows away all the competition, and the two zoom lenses add extra options. The tech is really at its best in low light, with hands-down the best night mode available anywhere.
It's a great phone elsewhere too, with a top-class display, fast charging, and excellent battery life. The main frustration is that the company's Android skin is a little awkward, but if you care about the camera and can afford to spend this much, it's hard to do better.
Read our full
Vivo X80 Pro review
3. Samsung Galaxy Z Flip 3 – Best foldable
Pros
Stunning design
Waterproof
Affordable (for a foldable)
Cons
Average camera
Limited battery life
MSRP:

$999 (128GB) | $1,049 (256GB)
Samsung's first few attempts at foldables were fun, but felt like novelties. With the Galaxy Z Flip 3, the Korean tech giant has unequivocally got it right.
A revamped design not only looks much better, but incorporates waterproofing and is more useful thanks to the larger cover display.
Core specs are solid throughout, with a Snapdragon 888 in tow, and the 12Mp main and ultrawide cameras are decent if not exceptional – though you may miss having a telephoto lens.
The big drawback is battery, with the Flip 3 only just lasting a full day's use. But if you can live with that, this is the first foldable that feels absolutely competitive at its price point.
Read our full
Samsung Galaxy Z Flip 3 5G review
4. Google Pixel 6 Pro – Best software
Pros
Pixel camera
Google's best software
Beautiful display
Cons
Divisive design
Big and heavy
Slow charging
Pixel phones have always been about the camera, but the competition is catching up fast – and the 6 Pro's camera, while phenomenal, isn't quite our favourite right now. It's no slouch though, and benefits from big upgrades on the Pixel 5 – now packing a 48Mp main lens along with an ultrawide and a periscopic telephoto, this is the most powerful Pixel camera yet.
The bigger edge to the phone is Google's software though. The 6 Pro runs the best version of Android around, with the clean simplicity of stock Android plus all of Google's excellent Pixel-exclusive upgrades, now powered by the company's new in-house Tensor chip.
You'll have to put up with slow charging (and buy your own charger to boot), and accept the fact that this is a big phone with a divisive design – you may well love it, but there are plenty out there who don't.
Read our full
Google Pixel 6 Pro review
5. Oppo Find X5 Pro – Best high-end all-rounder
Pros
Best screen around
Versatile camera
Unique design
Cons
No periscope zoom
Expensive
MSRP:

Unavailable in the US
The Oppo Find X5 Pro is a phenomenal phone by any measure. The 6.7in 10-bit 120Hz QHD+ panel is one of the best displays in any phone right now and Oppo backs it up with 80W wired and 50W wireless charging, a 5000mAh battery, and a top-tier camera that boasts 50Mp sensors on both the main and ultrawide lenses.
You'll have to live without a periscopic zoom lens – the telephoto here is a measly 2x zoom – but results across all three rear lenses are exceptional. The design is unique too, thanks to a seamlessly sloped camera module built right into the ceramic of the phone's body.
For pure performance, the Find X5 Pro is also hard to beat, with all of the above plus a Snapdragon 8 Gen 1 chip, 256GB storage and 12GB RAM. You just have to be willing to pay the price, as it doesn't come cheap – though the regular
Find X5 is a great option that costs much less.
Read our full
Oppo Find X5 Pro review
6. Xiaomi 12 – Best compact flagship
Pros
Compact design
Strong specs
Great main camera
Cons
No zoom camera
No IP rating
MIUI software quirks
The Xiaomi 12 is a rock-solid performer thanks to the Qualcomm Snapdragon 8 Gen 1 chipset, but it's also pocket-friendly thanks to a screen that's less than 6.3in – small for an Android flagship these days.
It's still a great display too, with 120Hz refresh rate on the AMOLED panel, so there's no compromise in quality. 67W wired charging and 50W wireless charging are among the fastest around, and the 50Mp main camera is also excellent – though we miss the telephoto lens you'll find on its bigger
Xiaomi 12 Pro sibling.
We still don't love Xiaomi's MIUI version of Android, and the lack of an IP rating holds this back a little when compared to rivals, but other than the regular Galaxy S22 this is really the only small-screened Android flagship going, and is well worth a look for that alone.
Read our full
Xiaomi 12 review
7. Samsung Galaxy S22+ – Best for software updates
Pros
Strong camera
Beautiful design
Long-term software updates
Cons
Middling battery life
Worse value than rivals
Don't think of the S22+ as a poor man's S22 Ultra – Samsung has used its Goldilocks model to strike a super balancing act of specs and features that comes with few flaws.
As a result, you get some of the best performance found in an Android phone currently, a glass-bodied design, and the latest Android 12 (dressed in Samsung's own One UI 4.1, at launch) with a commitment to years of software support.
The battery life is a little inconsistent, and some of the camera features will likely benefit from firmware fixes over time, but this remains an excellent example of what we can hope for from 2022's Android flagships.
Read our full
Samsung Galaxy S22+ review
8. OnePlus Nord 2T – Best mid-range
Pros
Phenomenal value
Glass body
Fast 80W charging
Cons
Only 90Hz display
No wireless charging
Only 2 Android updates
MSRP:

Unavailable in the US
OnePlus's first T-branded Nord phone is a worthy follow-up, powered by MediaTek's 5G-capable Dimensity 1300 chipset.
The Nord 2T also totes a 90Hz AMOLED display, a great primary 50Mp main camera, and nippy 80W fast charging.
Software-wise, the company's OxygenOS user experience is also a major highlight – bringing responsive interactivity and a clean interface to the table that lends itself to the phone's powerful, premium feel. The only downside is that the company only promises two Android version updates, and a third year of security fixes.
Read our full
OnePlus Nord 2T review
9. Nothing Phone (1) – Great design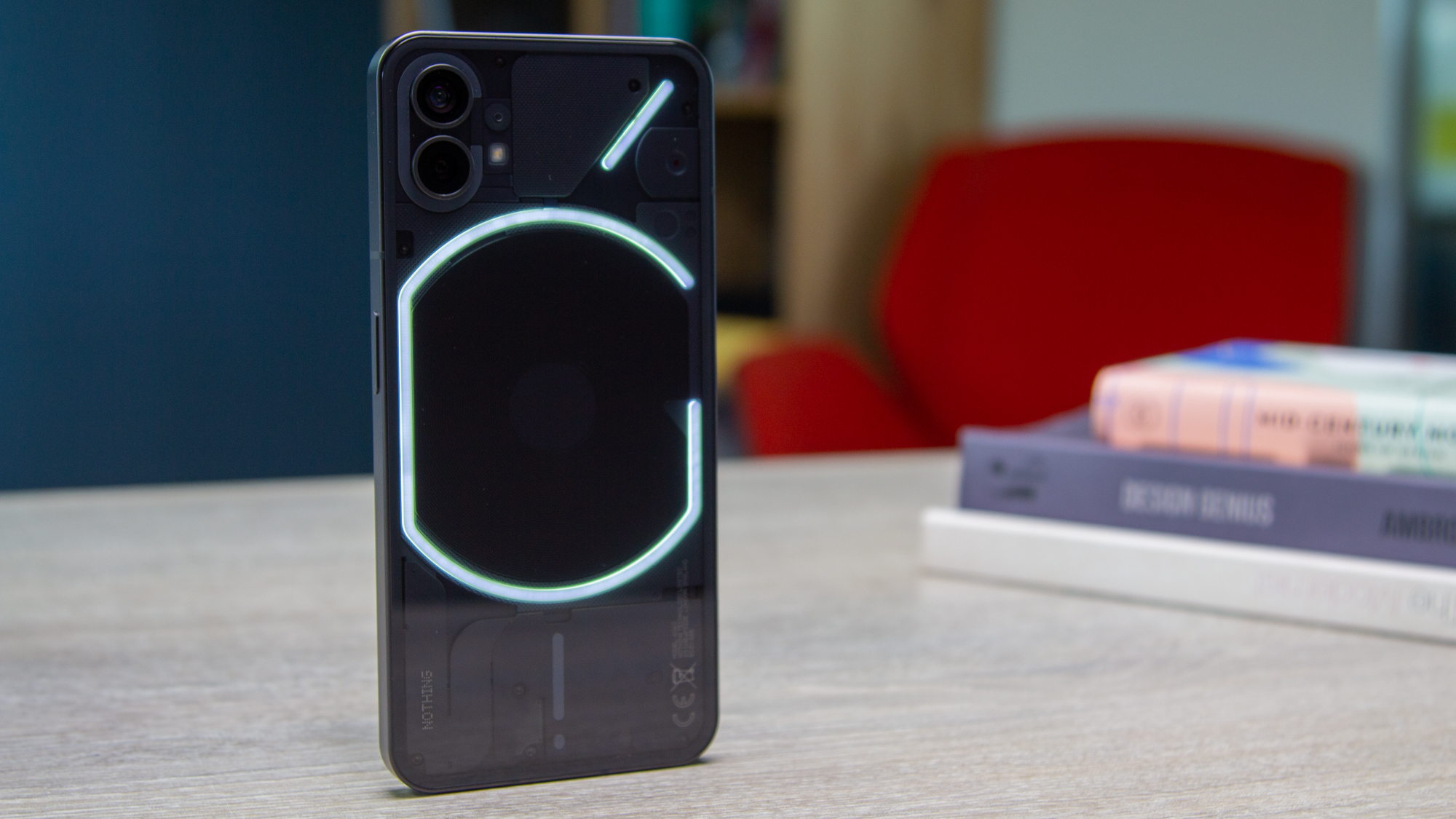 Pros
Unique, eye-catching design
Wireless charging
Affordable
Cons
Average performance
Below average battery life
A little buggy
MSRP:

Unavailable in the US
The Nothing Phone (1) came out of the gate fully hyped, as the first phone from former OnePlus co-founder Carl Pei's new company.
It may not be the grand smartphone revolution we were promised, but it is an excellent affordable Android option. Mid-range specs are paired with flagship features like wireless charging and an IP53 rating, and really the only hardware weakpoint is the battery life.
Then there's the design. The semi-transparent, LED-accented design likely won't be for everyone, but if you want an Android phone that looks different to everyone else's then this would certainly tick that box.
Read our full
Nothing Phone (1) review
10. Realme GT 2 Pro – Best affordable flagship
Pros
Flagship specs
Fast charging
Good value
Cons
No wireless charging
Basic camera
MSRP:

Unavailable in the US
The Realme GT 2 Pro offers a heck of a lot of phone for your money, and more exciting than its (admittedly also solid)
non-Pro sibling.
The Snapdragon 8 Gen 1 chipset is paired with the fastest RAM and storage around, with 65W wired charging and a 120Hz AMOLED display to seal the deal – all essentially flagship specs.
Of course, this isn't a flagship price, so there are omissions elsewhere – no wireless charging or waterproofing for starters, and while the main camera and ultrawide are solid enough, there's no telephoto zoom option.
If performance is your priority then the value here is near-unbeatable however – and the fact that it's all wrapped in a slick, understated design (albeit in plastic) doesn't hurt either.
Read our full
Realme GT 2 Pro review
Your buying guide for the best Android phones in 2022
While you only get to choose from a handful of Apple handsets, there's something for everyone when it comes to Android.
They come from a variety of different manufacturers – in all manner of shapes, sizes and colours – and each has unique selling points, whether it's a sleek, waterproof design, a huge display or an abundance of cameras. Sometimes, you can even find all of those attributes on one phone.
We've done our best to rank the phones in order, taking into account build, value, performance and features. However, make sure you get a phone that's right for your needs – it might not simply be the phone in the top spot.
Important specs to look for are:
Screen quality: resolution, refresh rate (ideally at least 90Hz), and whether it's LCD or OLED
Chipset: does it use the latest Snapdragon 8 Gen 1, a lower 7- or 6-series chip, or even something from rival MediaTek?
RAM: look for at least 8GB, but more is better
Storage: look for at least 128GB, and check if it's expandable or not
Camera: don't just check Mp count – look into the types of lenses available, the sizes of the sensor, and check photo samples in our reviews
Waterproofing: is there an official IP rating or not?
Battery & charging: will it require a daily charge, and how fast is the charging – both wired and potentially wireless
5G: most phones now support 5G, but double-check to be sure
Software: not all Android skins are created equal – our favourites are stock Android, Samsung's One UI, and OnePlus's OxygenOS, but read reviews to get a sense of each operating system's strengths and weaknesses. Check the manufacturer's upgrade promise too, and which software version it ships with – Android 12 is the latest, but it's not available on phones from every manufacturer.
Related stories for further reading