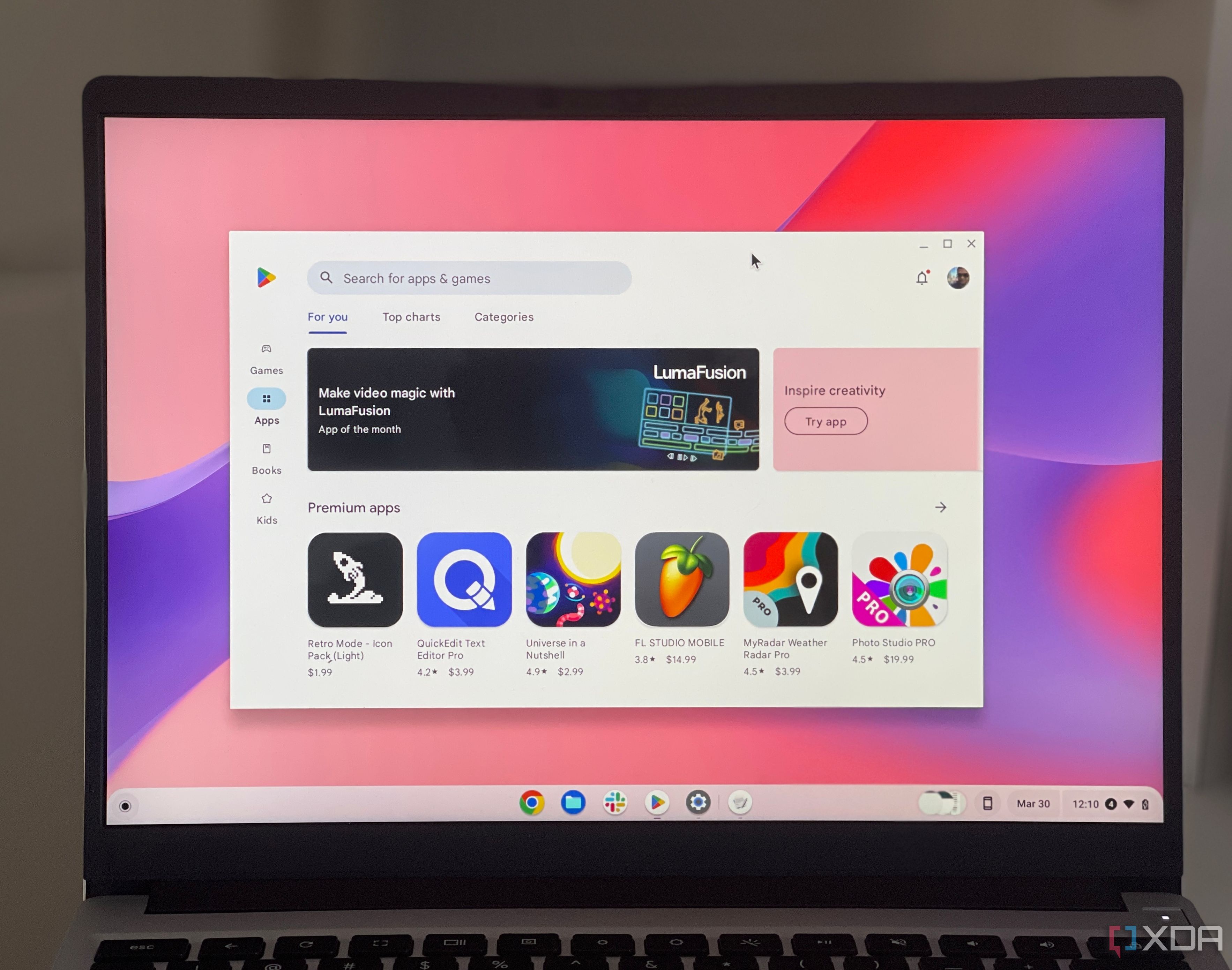 Best Android apps for Chromebooks in 2023
Despite the best Chromebooks being cloud-based machines for web browsing, you can unlock an entirely new level of productivity and entertainment with Android apps. Most Chromebooks are compatible with the feature right out of the box. Launch the Google Play Store, browse for your favorite Android app, and get going.
There are a ton of apps you can use, too. From media apps like VLC player and Netflix to creativity apps like Adobe Lightroom and even a gaming service like Nvidia GeForce Now, we collected some of our favorite Android apps for Chromebooks.
1. Netflix
Topping our list is an app that works great with the best ChromeOS tablets or 2-in-1s where you can flip the screen around for video watching. Netflix needs no introduction. It's home to a lot of great multimedia content, from TV shows, movies, and even documentaries and stand-up comedies. You can, of course, access Netflix from the web in Chrome, but the Android app works better with ChromeOS tablets since it has a touch-friendly interface. You'll need a subscription to use Netflix, obviously, but considering the catalog of content, it'll be worth it. You can even watch some content offline.
Next up is an app that you can use to watch content saved on your Chromebook, including traditional movies saved as MP4 files, MP3 audio files — any multimedia content that you've already saved, really. VLC Media Player is a great app since you don't have to worry about being connected to the internet to use it. Just open the app, use it to browse to where your content is saved, and get started. It's also open-source and has a ton of plugins you can install for extra functionality, like basic video editing.
3. LumaFusion
Third on the list is a newcomer to ChromeOS: LumaFusion. It costs $30, but it packs plenty of value if you're a video editor using a Chromebook. Similar to iMovie and even a paid piece of software like Final Cut Pro, you can use this Android app on your Chromebook to professionally edit videos. You'll get a nifty timeline, the ability to add effects and titles, split clips, add custom graphics, and more. The app is also touchscreen friendly if you're on a ChromeOS tablet.
4. Adobe Photoshop Express
Adobe Photoshop Express is a great app for those who love to edit photos on a Chromebook. The app isn't as powerful as the full version of Photoshop (which isn't compatible with ChromeOS), but it gives you quick access to common photography tools. Examples include creating layouts with different images, applying cool filters, dehazing bad images, adding text and stickers to your creations, reducing noise in a specific image, and so much more.
5. Nvidia GeForce Now Cloud Gaming
Have one of the new cloud gaming Chromebooks? This is the app for you. Subscribe to Nvidia GeForce Now or use the free tier, and you can play your PC games from platforms like Steam and EA on your Chromebook through the power of the cloud. You'll need to be connected to stable high-speed internet for this to work, but thanks to this app, your Chromebook can instantly be transformed into a gaming machine.
6. WhatsApp
There's a chance that you're already using this app on your Android phone, or even your iPhone, but WhatsApp is available on ChromeOS, too. This is one of the world's most popular messaging services for keeping in touch with your favorite family and friends who use the service. You even can make video calls on your Chromebook. Since iPhones don't play nice with ChromeOS and you can't iMessage on a Chromebook, this is a great app to consider if your contacts also use the service.
7. Tayasui Sketches
If you're on a Chromebook with a touchscreen that supports a stylus or pen, you'll want to consider Tayasui Sketches. It's essentially a virtual sketchbook with support for various types of pens and brushes. You can use watercolors and wet brushes, up to 20 different artistic tools, add layers to a photo, and tweak the user interface of the app to suit your own needs. The sky is the limit when it comes to drawing in this app.
8. Pocket Casts
Like listening to podcasts? Check out Pocket Casts. This app has a really great user interface that collects and aggregates all the podcasts you might want to listen to in a central hub. If you're interested in finding more podcasts, there's also a nifty search feature that has a lot of filtering options. There's even a neat feature that'll skip through introductions, so you can jump right into the action. And, similar to the other apps we've suggested so far, the user interface is tablet-friendly.
9. Duet Display
If you want to use your Chromebook screen or ChromeOS tablet screen as a second display for a Mac or a PC, this is the app to use. You'll need to sign up for an account, and the basic account tier has a 20-minute limit, but this is an excellent way to cast your screen to another device, like a monitor or other tablet. All connectivity happens locally on your own Wi-Fi network, so this works great when you're in the office or at home and need extra space to work and have a Chromebook lying around.
10. Text Editor
Last on our list is a great Android-based text editor for Chromebooks, appropriately called Text Editor. There's not much to it. It's essentially like the NotePad app on Windows. It lets you type out documents and save them as .TXT files. Simple as that.
Check out other great ChromeOS apps
While our guide has opted to focus on Android apps, there are still many great apps you can use on ChromeOS. We collected some of these in our list of the best apps for Chromebooks. And, I dived deeper into my favorite ChromeOS apps in a separate piece, many of which I've mentioned here. There are so many ways to enjoy a Chromebook in 2023, and Android apps are only the start.