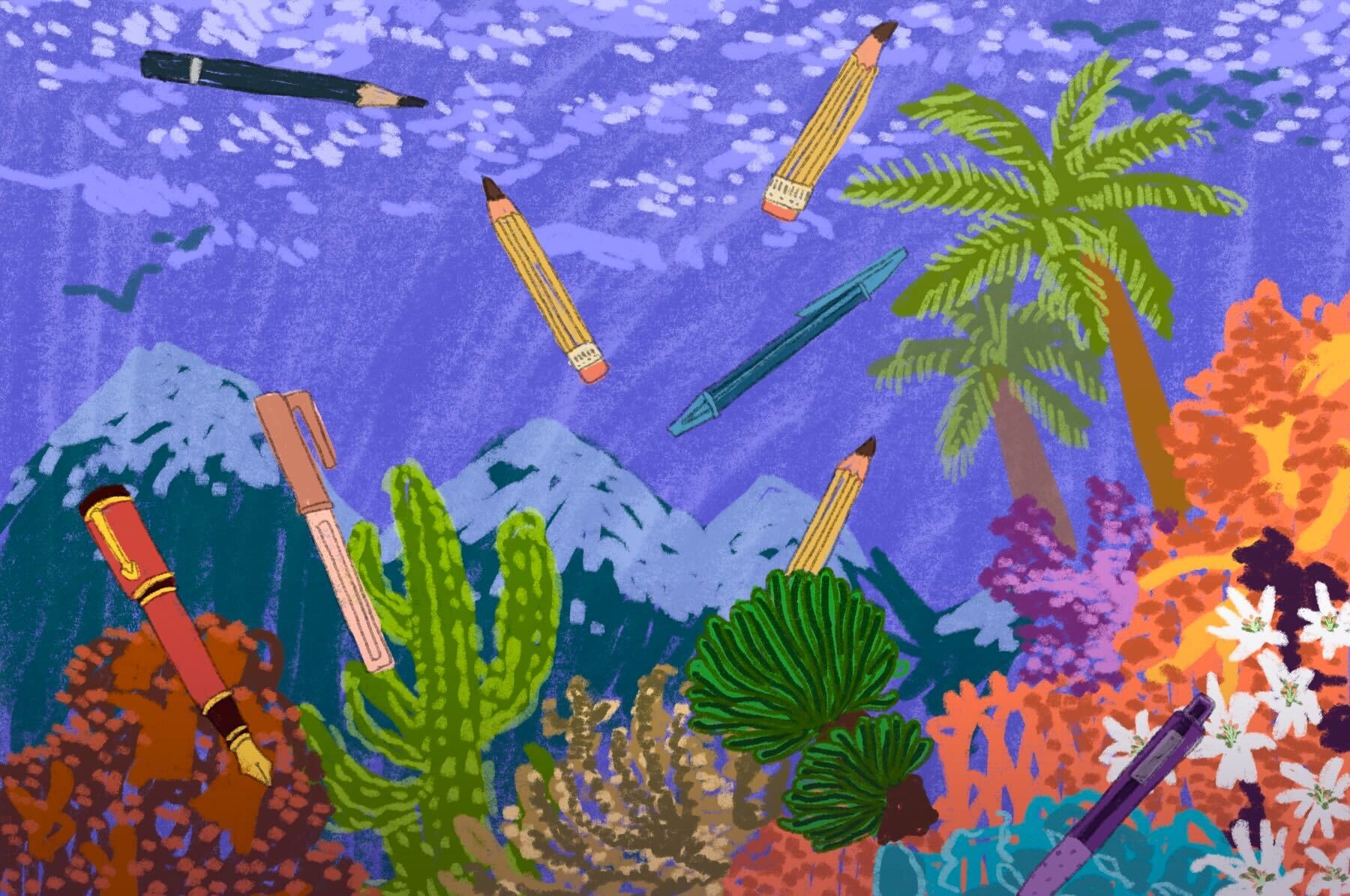 5 Best Free Writing Software Tools (and One Paid) for Every Writer
Ask yourself, why do you write? Maybe you enjoy the torment of staring down a blank page, waiting for your next masterpiece. More likely, it's for an internship or some self-serious professor. You know the one.
No matter the reason, you probably wish there was a program to transfer your brilliant ideas from your brain to the page. Alas, while such software doesn't exist, you can find plenty of free writing software to help you on your literary journey. To make it easy for you, I've included five of my favorite options below, plus one paid, along with tips on how to get the most out of each.
Pros: Encompasses most aspects of publishing for authors; high-quality lessons.
Cons: Can't use book editor offline. No desktop or mobile app.
One thing every author wants is just to be able to write. Not an author? You can skip to the next section. But if you are, you need Reedsy, the Swiss army knife of free writing software. On a basic level, Reedsy offers five services: the book editor, the marketplace, learning, prompts, and discovery. They also have a blog, which adds extra information to their incredible resources.
So, what does each service do?
The sleek Reedsy Book Editor handles the legwork of formatting your manuscript, especially if you plan to self-publish. On top of that, importing and exporting to the editor takes just a few clicks. To keep you on track, the book editor allows you to configure goals by word count and deadline, taking into account the days you write. (The only catch is that you have to write it yourself. Darn.)
Maybe you want to write but need some help. Reedsy Learning delivers free yet priceless 10-day courses on everything from character development to cover design. Reedsy sends as many as you want, whenever you want, straight to your inbox every morning. All you have to do is sign up.
Now for the not-so-free part:
Write short stories? Reedsy Prompts holds weekly writing contests centered around a theme or prompt. While it's free to enter, you must pay for official consideration for the financial first-place prize.
When you've finally finished your manuscript, Reedsy Marketplace provides the free service of connecting you with reputable professionals for every step of your publishing journey. Of course, once you've selected and queried someone, you have to pay them.
Reedsy Discovery is a cheap way for new authors to get readers and reviewers. For $50, you can submit your book for consideration. If your reviewer likes it, you get a quality review. (Book reviewers out there? Apply now for a chance to earn money by reading.)
Pros: Minimalist. Keeps writing crisp and clean.
Cons: Limited feedback. Confining for long-winded writers. No save function.
Hemingway Editor encourages writers to adopt Hemingway's easy-to-read style. It's little surprise given the way he revolutionized 20th-century American literature. (He also won a Nobel Prize.)
The editor keeps sentences functional using several of Hemingway's strategies. Through goals, it praises readers for limiting adverbs and passive voice. It suggests alternatives to clunky phrases. Beyond that, it highlights hard-to-read sentences in yellow or red, depending on length. As a bonus, it assesses a text's readability, word count and reading time.
There are two ways to use Hemingway Editor: write in its minimalist interface or upload your own text. For this article, I did the former. Writing in the editor feels like a high-tech typewriter with its bookish font. You can dismiss the sidebar in the "write" mode and summon it when finished. Hemingway Editor also comes equipped with basic formatting to apply with a click.
Oppressive at first, the editor eliminates authors' preferred empty fluff and labyrinthine sentences. There may be a learning curve for those used to flowery writing, but it's worth it for clear, concise prose. Plus, the change in scenery will free up your mind to run wild with ideas.
Pros: Minimalist, intuitive, incredibly effective.
Cons: As dangerous as its name implies.
Alternatives: Tomato Typewriter for Android and iOS (completely and totally free)
Full disclosure: I wrote this section in the Most Dangerous Writing App.
Using it is easy: Set a word count or time limit and choose whether or not you want a prompt. Hit start.
And then don't stop for anything.
If you spend too long brainstorming without typing or too long deleting so you can edit, your writing will blur a heart-pounding red. If you don't resume typing, it's all gone. Poof. Just like that. No way to recover any of it.
That's the entire app. Even though it was taken over by Squiblr.io, this free writing software remains easy to use if you're up to the anxiety-inducing challenge. It truly is the most dangerous writing app on the web while also being more user-friendly than Write or Die. While there aren't any bells and whistles like formatting, that's by design. It's supposed to be minimalist, just a sans serif font on a blank background, your cursor poised to respond to each keystroke.
I admit to using this on several homework assignments, essays and even articles for publication. It keeps my mind sharp and clear as I continue to write. Use this to break through writer's block and overthinking in the most nerve-wracking way possible. Afterward, you can go back and edit it however you want.
Now write.
Pros: Versatile, quality suggestions.
Cons: Writers need the paid version to view premium suggestions.
Alternative: LanguageTool (free for English and other languages)
To be fair, you probably have Grammarly. And its browser extension. Maybe its Microsoft Word integration, too. If you don't? Get it. Right now.
Any time you're writing professionally, you need to sound flawless. Whether you're looking for good grades or great impressions, Grammarly can and will get you there. It's the free writing software for all your editing needs — impeccable grammar, sparkling clarity, riveting engagement, razor-sharp delivery. Exceedingly adaptable, Grammarly adjusts its suggestions based on a chosen audience and formality. You can use it on everything from short emails proofread by the extension (with a tone checker!) to lengthy term papers uploaded to the website.
Grammarly's main downside is that the site paywalls the very suggestions that elevate your writing from adequate to spectacular. However, the web editor helpfully lists out error categories and their frequency on the side. Sifting through the offending text in gold underline thus allows you to identify and fix your mistakes. Time-consuming as it may be, the result of this rigorous process visibly reads better and teaches you proper writing practices.
Pros: Intuitive, perfect for collaboration, stores version history, can work offline or on mobile.
Cons: Lacks some features of Microsoft Word; doesn't preserve all Word formatting.
Every user of Google Docs has a love-hate relationship with the ubiquitous free writing software. But we use it nonetheless because nothing quite compares to collaboration.
We all work well within its mostly intuitive, familiar interface while ignoring elements that we hardly use or don't understand. Add-ons, automatic cloud syncing, and revision history give it a slight edge for people seeking a lighter word processor. While far from perfect, its ever-increasing compatibility with Microsoft Word only makes it more appealing today compared to back in high school.
Pros: Good formatting, markup for touchscreens, has desktop and mobile apps, the professional gold standard.
Cons: Features aren't always intuitive; need to pay for voice dictation.
Depending on your university, this writing software may be free for you, so it's best to cover all of its cool features and professional formatting.
If you don't want to look like a Microsoft Word novice, experiment with the basic formatting. Extra spacing before or after paragraphs glares from the page, especially when gaps in MLA headers appear unusually wide. For bibliographies, hanging indents can be found by expanding the "Paragraph" section. You can change everything under the sun — or on the screen — or let a template do it for you.
Chances are that if you haven't clicked every button, you've probably overlooked helpful features. Getting distracted? Use focus mode. Learning another language? Add proofreading for it and use the built-in translation tools to check yourself. Another feature people don't take advantage of is collaboration. Like with Google Docs, you can share a document, collaborate in real-time, track changes and leave comments.
In my experience, the best thing you can do with Microsoft Word is to use headers. You can skip between sections, select and copy a header's contents, or drag them to rearrange within the Navigation pane. Interactive headings are most handy on documents so long the scroll bar becomes useless — for example, in your lecture notes or 200-page works in progress.
With Microsoft 365, there are two extra Word features worth mentioning. Although it probably isn't worth almost a hundred dollars a year, voice dictation adds the most value. Sit in the front of your lecture hall and let Word do the rest. Across platforms, you can also access the editor, which seems like a hapless Grammarly.
Conclusion
Among free writing software, there's something for every writer, even if your problem is that you can't write. Speaking from personal experience, I wouldn't be the writer I am today if not for all six of these software programs. So whatever you're looking for, whatever you need, I hope you find it here and use it to tell your story.