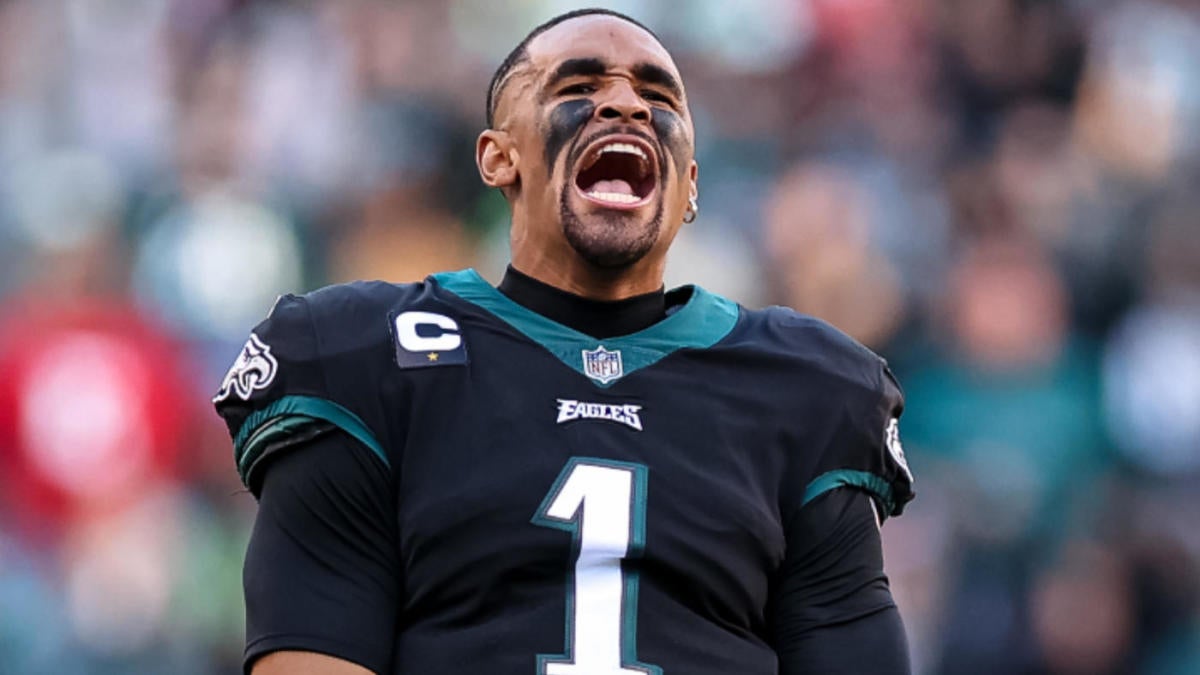 2023 NFL playoffs picks: Eagles top 49ers in NFC title game thriller, Bengals edge Chiefs in AFC Championship
Maybe it was just me, but did anyone else experience deja vu over the weekend?
The 49ers, Chiefs and Bengals all won during a divisional round that ended with the Cowboys running the dumbest play possible. That's exactly what happened last year, too? Right? OK. Just wanted to make sure it wasn't just me. 
Last year, we got a QB draw from the Cowboys with 14 seconds left when they had no timeouts. This year, they ran a play that was 700 times worse. 
Next year, I won't be surprised if they let a cat line up quarterback for the final play. 
I'm going to stop talking about the Cowboys now though, because I'm doing picks for the conference title games and they're not playing. 
If you read my picks regularly, then you may know that my family consists of all Bengals fans. My dad (Jim Breech) is the all-time leader scorer for the Bengals, so if you ever notice any homerism on my part, it's his fault. 
The downside of everyone in my family being a Bengals fan is that they text me every week telling me to pick the Bengals and then when I don't, they send me poop emojis. I hate poop emojis.  
Since they clearly want me to pick the Bengals this week, I decided to do some research to see if it makes sense to pick them in this spot, and I have to say, my family is not going to like this research at all. 
The Chiefs and Eagles both opened as favorites this week and one reason to like them is because they both played on Saturday in the divisional round. Teams that play on Saturday — which means they get one extra day of rest — have gone 17-9 in the conference title round over the past 13 years. To add to that, at least one team that played on Saturday in the divisional round has won at least one of the conference title games in 15 of the past 17 years, which means it's highly unlikely that the Bengals and 49ers both win. 
The one day advantage doesn't sound like much, but just think about it like this: While the 49ers were busy fighting for their lives in a one-score win over the Cowboys on Sunday night, the Eagles were sitting around tweeting out adorable videos of Jason Kelce's kid, who is clearly the biggest Eagles fan alive.
Not only are the Eagles and Chiefs more rested, but they'll both be playing at home this week, which is definitely a huge advantage in the conference title round. 
In seven of the past nine years, the home team has won the NFC Championship Game, and in what can only be described as a perfect coincidence, the home team has also won seven of the past nine conference title games in the AFC (Advantage: Eagles and Chiefs). That being said, this might not actually be an advantage for the Chiefs though, since they were on the losing end of both of those AFC losses with one of them coming last year against this same Bengals team. 
Those were fun stats, but am I actually going to take them into account or am I going to go rogue?
Let's get to the picks and find out. 
Conference title game picks
(2) San Francisco (15-4) at (1) Philadelphia (15-3)
3 p.m. ET (Fox)
Featured Game | Philadelphia Eagles vs. San Francisco 49ers
I have no idea how it happened, but the 49ers have somehow made it to the NFC title game with a rookie quarterback. Getting to a conference title game is hard enough, but getting to one with a rookie quarterback is almost impossible. It's like asking a 16-year-old to go out and win the Indy 500 three hours after they get their driver's license. 
When Brock Purdy takes the field on Sunday, he'll become just the fifth rookie QB in NFL history to start in a conference title game (Shaun King, Ben Roethlisberger, Joe Flacco and Mark Sanchez are the others). If history is any indication, things could get ugly for Purdy against the Eagles. Not only did those four other rookies go 0-4 in their starts, but they also combined to throw nine interceptions compared to just four touchdowns. 
I picked against the 49ers last week because I thought Purdy would struggle, and he did. If Dak Prescott doesn't choke by throwing two interceptions and if George Kittle doesn't bail Purdy out with one of the best playoff catches of the year, then the 49ers might have lost. 
Purdy struggled against a good Cowboys defense last week and this week, he'll be facing an Eagles defense that's even better. The Eagles have already racked up the THIRD-MOST sacks in NFL history for a single-season (75) and they could pass the 1985 Bears for the second-most if they pick up six more sacks on Sunday. If your defense does anything better than the 1985 Bears, that automatically makes your defense awesome. 
As for Purdy, there's a reason that rookies tend to struggle in the playoffs and that's because A. the pressure goes up every week and B. You're playing better teams. This week, there's going to be even more pressure on Purdy and the 49ers will be playing the best team they've seen since he took over as the starting QB. 
Now, based on the 49ers' game-plan in the divisional round, I'm pretty sure that Kyle Shanahan is very well aware what kind of pressure a rookie can face in the playoffs, which is why he did his best to take that pressure off of Purdy and why he'll likely do something similar this week. 
Although the Eagles have been one of the best defenses in the NFL this year at stopping the pass and sacking the quarterback, that might not help them against the 49ers. The 49ers are a run-first team and as long as they can run the ball, they have a chance to win regardless of how Purdy plays. If he plays well, that's definitely a plus, but even if he struggles, they can still win. Against the Cowboys, the 49ers won even though Purdy threw for less than 215 yards while also throwing zero touchdowns. 
The Eagles defense surrendered 4.6 yards per carry against the run this year, which was the ninth-worst number in the NFL. If the 49ers average 4.6 yards per carry in a game, they almost always beat you. They've won six straight games when hitting that number and they're 11-3 in their past 14. 
With the 49ers offense likely relying on the run against Philly, it's hard to see San Francisco winning if this game turns into a shootout. The good news for the 49ers though is that their defense doesn't allow shootouts to happen. The 49ers surrendered the fewest points in the NFL this year and there were only four games where a team scored more than 20 points on them. 
The 49ers are 3-3 this season when surrendering 19 points or more, but when they surrender less than 19, they went 12-1. Basically, if this turns into a shootout, that would almost certainly favor the Eagles. The matchup to watch on Sunday is going to be the immovable force of the 49ers defense facing the unstoppable object that is the Eagles offense. During the regular season, the Eagles scored the third-most points in the NFL while also ranking third in total yards. On the flip side, the 49ers will be going into the game with a defense that surrendered the fewest points in the NFL and the fewest total yards.
I don't think Jalen Hurts is going to have a huge game against the 49ers, but I like his chances against San Francisco's defense more than I like Purdy's chances against Philadelphia's defense. 
Hurts and Purdy have played against each other one time before this week and that came in 2019 in a game that got kind of crazy. 
That box score is from a college game where Hurts' Oklahoma team beat Purdy's Iowa State team 42-41. I don't expect Purdy to total six touchdowns on Sunday and I don't think Hurts will lead the Eagles to 42 points, but like their college battle, I do think we'll see a game that goes down to the wire that ends with Hurts coming out on top. 
And since no Eagles pick is complete without a video of the Philadelphia Symphony Orchestra performing "Fly, Eagles, Fly," here is the Philadelphia Symphony Orchestra performing "Fly, Eagles, Fly."
The prediction here is that the Eagles will be flying to their second Super Bowl in five years. 
THE PICK: Eagles 23-20 over 49ers
Record picking 49ers games this season: 13-6 
Record picking Eagles games this season: 11-7
(3) Cincinnati (14-4) at (1) Kansas City (15-3)
6:30 p.m. ET (CBS) 
Featured Game | Kansas City Chiefs vs. Cincinnati Bengals
When this game kicks off on Sunday, it will mark the fourth time in 393 days that these two teams have faced each other. Their most recent meeting came on Dec. 2 in a 27-24 home win by the Bengals. 
Despite that win by Cincinnati, and despite the fact the Bengals have beaten the Chiefs three straight times, and despite the fact that Patrick Mahomes is dealing with an injured ankle, the Chiefs opened as the favorite in this game (Although it took less than 24 hours for bettors to make the Bengals the favorite). 
The biggest factor on Sunday is definitely going to be Mahomes' ankle. I'm not a doctor, but I might as well be after spending the past two hours getting a medical degree online. Sure, it only cost $12, and yes, it's probably not legit, and no, I'm still not qualified to talk about Mahomes' ankle, but I will say this: I don't think he's going to be anywhere near 100% this week. 
The problem there for the Chiefs is that Mahomes does some of his best work outside of the pocket, especially in the postseason. Over the past five years, NFL quarterbacks have combined to throw 37 touchdown passes from outside the pocket in the playoffs and Mahomes has FIFTEEN of those. To put that in perspective, no other quarterback even has five.  
If Mahomes isn't healthy enough to move around, that's going to create a lot of issues for Chiefs. I mean, Mahomes has struggled against the Bengals when he's healthy, so it's hard to see him doing much better when he's not healthy. The last time we saw Mahomes try to play in a big game with an injury came in Super Bowl LV and we all know how that turned out (If you don't remember how that turned out, that's the Super Bowl where the Chiefs lost to the Buccaneers 31-9 in a game where Mahomes threw two picks while also getting sacked three times). 
After shutting down the Bills' offense, the Bengals defense is going to have a lot of confidence going into this game and that confidence is only going to shoot up if they notice that Mahomes is gimpy. 
If the Chiefs are going to win this game, they're likely going to need a huge performance from their defense, which will be going up against Cincinnati's patchwork offensive line. Although the line held up against the Bills, that was partly because the Bills are bad at rushing the passer, but that won't be the case with Kansas City. This week, the Bengals revamped offensive line is going to have to deal with Chris Jones and a Chief defense that ranked second in the NFL in sacks this year. 
As I pointed out last week, the Bengals are 0-3 this year when Burrow gets sacked five or more times, but 14-1 when he's sacked fewer than five times, which means they just need to make sure that the revamped offensive line is functioning well enough so that Burrow doesn't spend the entire game running for his life. 
The one thing to keep in mind though is that the Bengals had a bad offensive line last year and they still beat the Chiefs in the AFC title game. No matter who's out there on Sunday, the line will almost certainly be better than what the Bengals had last season. 
In an ideal world, I'd get to personally evaluate Mahomes' injured ankle before I make a pick for this game, but I'm starting to feel like that's not going to happen, so I'm just going to have to suck it up and make my pick.
Since 2014, there have been a total of 13 AFC or NFC title games that have been rematches from the regular season and in those 13 games, the team that won during the regular season has gone 10-3 in the title game rematch. 
Burrow is 3-0 against Mahomes with all three games being decided by exactly three points and the Bengals are going for their third straight playoff win. Also, Burrow has never lost in January (7-0), he's never lost a road playoff game (3-0) and I think we all know where I'm going with this pick. 
The pick: Bengals 27-24 over Chiefs
Record picking CIN-KC games over the past 12 months: 3-0
Record picking Bengals games this season: 14-4
Record picking Chiefs games this season: 17-1
Last Week 
Best pick: If you've been betting on my AFC playoff picks this year, then you might be richer than Jeff Bezos right now, because I've been on a roll. During the divisional round, I predicted that the Chiefs would beat the Jaguars by exactly seven points and guess what happed? The Chiefs beat the Jaguars by exactly seven.  
I also predicted that the Bengals would score exactly 27 points and beat the Bills and guess what happened? The Bengals scored exactly 27 points and beat the Bills. After going 2-0 on the week, I'm now 5-0 picking AFC playoff games this year and I'm starting to think that maybe I should only pick AFC playoff games next season.  
Worst pick: Over the past 27 years, there's no team that has choked in the playoffs more often than the Dallas Cowboys, and yet, for some reason, I still picked them to win last week. If there's one thing the Cowboys can't do, it's win big playoff games, and if there's one thing Mike McCarthy can't do, it's win any playoff games against the 49ers (He's 0-4 all-time against San Francisco, which is tied for the most losses against a single opponent in NFL playoff history). We all knew the choke was coming, except for me, because I picked the Cowboys to win. 
Of course, the most embarrassing part here is that taking the Cowboys wasn't even my worst pick of the week. That honor goes to Giants-Eagles. Somehow, I talked myself into taking the Giants in what will easily go down as the worst NFL pick made by any sportswriter ever. Eagles fans were flummoxed by my pick, and rightfully so. 
To answer Janet's question, a bird pooped on my car the day before I made the pick and I clearly held it against the Eagles. That's the only reasonable explanation I can come up with. That being said, I won't have to worry about my car getting pooped on by a bird this week, because apparently, my mode of transportation is a bus that's taking me to Loserville. 
The joke's on you Eagles fans because I'm taking your team to win this week and if I'm going to Loserville, they're going with me. 
In related news, my NFC picks have been totally garbage during the playoffs so 49ers fans might want to go ahead and start looking for hotels in Arizona. 
Alright guys, unless I decide to do a Pro Bowl pick — and I probably won't — I'll be on a one-week hiatus, which means you should circle Feb. 7 on your calendar (or tattoo it on your lower back), because that's when my Super Bowl LVII pick will be rolling out. If you can't wait that long, then I suggest following me on Facebook, Twitter or even Instagram. 
If you want don't want to wait until Feb. 7 to hear from me, you can sign for the daily NFL newsletter that I write for CBSSports.com. Just click this link and enter your email and then BAM, I'll be in your inbox five days per week. 
Picks record
Straight up in divisional round: 2-2
SU overall in playoffs: 7-3 (5-0 picking AFC games, 2-3 picking NFC)
Against the spread in divisional round: 2-2
ATS overall in playoffs: 5-5 (4-1 picking AFC games, 1-4 picking NFC)
Final 2022 regular season record
Straight-up: 165-105-1 
Against the spread: 129-133-9
---
You can find John Breech on Facebook or Twitter and if he's not doing one of those things, he's either cleaning bird poop off the windshield of his car or deleting poop emojis from his phone that his family sent him because they think it's funny. 
require.config("baseUrl":"https://sportsfly.cbsistatic.com/fly-0395/bundles/sportsmediajs/js-build","config":"version":"fly/components/accordion":"1.0","fly/components/alert":"1.0","fly/components/base":"1.0","fly/components/carousel":"1.0","fly/components/dropdown":"1.0","fly/components/fixate":"1.0","fly/components/form-validate":"1.0","fly/components/image-gallery":"1.0","fly/components/iframe-messenger":"1.0","fly/components/load-more":"1.0","fly/components/load-more-article":"1.0","fly/components/load-more-scroll":"1.0","fly/components/loading":"1.0","fly/components/modal":"1.0","fly/components/modal-iframe":"1.0","fly/components/network-bar":"1.0","fly/components/poll":"1.0","fly/components/search-player":"1.0","fly/components/social-button":"1.0","fly/components/social-counts":"1.0","fly/components/social-links":"1.0","fly/components/tabs":"1.0","fly/components/video":"1.0","fly/libs/easy-xdm":"2.4.17.1","fly/libs/jquery.cookie":"1.2","fly/libs/jquery.throttle-debounce":"1.1","fly/libs/jquery.widget":"1.9.2","fly/libs/omniture.s-code":"1.0","fly/utils/jquery-mobile-init":"1.0","fly/libs/jquery.mobile":"1.3.2","fly/libs/backbone":"1.0.0","fly/libs/underscore":"1.5.1","fly/libs/jquery.easing":"1.3","fly/managers/ad":"2.0","fly/managers/components":"1.0","fly/managers/cookie":"1.0","fly/managers/debug":"1.0","fly/managers/geo":"1.0","fly/managers/gpt":"4.3","fly/managers/history":"2.0","fly/managers/madison":"1.0","fly/managers/social-authentication":"1.0","fly/utils/data-prefix":"1.0","fly/utils/data-selector":"1.0","fly/utils/function-natives":"1.0","fly/utils/guid":"1.0","fly/utils/log":"1.0","fly/utils/object-helper":"1.0","fly/utils/string-helper":"1.0","fly/utils/string-vars":"1.0","fly/utils/url-helper":"1.0","libs/jshashtable":"2.1","libs/select2":"3.5.1","libs/jsonp":"2.4.0","libs/jquery/mobile":"1.4.5","libs/modernizr.custom":"2.6.2","libs/velocity":"1.2.2","libs/dataTables":"1.10.6","libs/dataTables.fixedColumns":"3.0.4","libs/dataTables.fixedHeader":"2.1.2","libs/dateformat":"1.0.3","libs/waypoints/infinite":"3.1.1","libs/waypoints/inview":"3.1.1","libs/waypoints/jquery.waypoints":"3.1.1","libs/waypoints/sticky":"3.1.1","libs/jquery/dotdotdot":"1.6.1","libs/jquery/flexslider":"2.1","libs/jquery/lazyload":"1.9.3","libs/jquery/maskedinput":"1.3.1","libs/jquery/marquee":"1.3.1","libs/jquery/numberformatter":"1.2.3","libs/jquery/placeholder":"0.2.4","libs/jquery/scrollbar":"0.1.6","libs/jquery/tablesorter":"2.0.5","libs/jquery/touchswipe":"1.6.18","libs/jquery/ui/jquery.ui.core":"1.11.4","libs/jquery/ui/jquery.ui.draggable":"1.11.4","libs/jquery/ui/jquery.ui.mouse":"1.11.4","libs/jquery/ui/jquery.ui.position":"1.11.4","libs/jquery/ui/jquery.ui.slider":"1.11.4","libs/jquery/ui/jquery.ui.sortable":"1.11.4","libs/jquery/ui/jquery.ui.touch-punch":"0.2.3","libs/jquery/ui/jquery.ui.autocomplete":"1.11.4","libs/jquery/ui/jquery.ui.accordion":"1.11.4","libs/jquery/ui/jquery.ui.tabs":"1.11.4","libs/jquery/ui/jquery.ui.menu":"1.11.4","libs/jquery/ui/jquery.ui.dialog":"1.11.4","libs/jquery/ui/jquery.ui.resizable":"1.11.4","libs/jquery/ui/jquery.ui.button":"1.11.4","libs/jquery/ui/jquery.ui.tooltip":"1.11.4","libs/jquery/ui/jquery.ui.effects":"1.11.4","libs/jquery/ui/jquery.ui.datepicker":"1.11.4","shim":"liveconnection/managers/connection":"deps":["liveconnection/libs/sockjs-0.3.4"],"liveconnection/libs/sockjs-0.3.4":"exports":"SockJS","libs/setValueFromArray":"exports":"set","libs/getValueFromArray":"exports":"get","fly/libs/jquery.mobile-1.3.2":["version!fly/utils/jquery-mobile-init"],"libs/backbone.marionette":"deps":["jquery","version!fly/libs/underscore","version!fly/libs/backbone"],"exports":"Marionette","fly/libs/underscore-1.5.1":"exports":"_","fly/libs/backbone-1.0.0":"deps":["version!fly/libs/underscore","jquery"],"exports":"Backbone","libs/jquery/ui/jquery.ui.tabs-1.11.4":["jquery","version!libs/jquery/ui/jquery.ui.core","version!fly/libs/jquery.widget"],"libs/jquery/flexslider-2.1":["jquery"],"libs/dataTables.fixedColumns-3.0.4":["jquery","version!libs/dataTables"],"libs/dataTables.fixedHeader-2.1.2":["jquery","version!libs/dataTables"],"https://sports.cbsimg.net/js/CBSi/app/VideoPlayer/AdobePass-min.js":["https://sports.cbsimg.net/js/CBSi/util/Utils-min.js"],"map":"*":"adobe-pass":"https://sports.cbsimg.net/js/CBSi/app/VideoPlayer/AdobePass-min.js","facebook":"https://connect.facebook.net/en_US/sdk.js","facebook-debug":"https://connect.facebook.net/en_US/all/debug.js","google":"https://apis.google.com/js/plusone.js","google-platform":"https://apis.google.com/js/client:platform.js","google-csa":"https://www.google.com/adsense/search/async-ads.js","google-javascript-api":"https://www.google.com/jsapi","google-client-api":"https://apis.google.com/js/api:client.js","gpt":"https://securepubads.g.doubleclick.net/tag/js/gpt.js","hlsjs":"https://cdnjs.cloudflare.com/ajax/libs/hls.js/1.0.7/hls.js","recaptcha":"https://www.google.com/recaptcha/api.js?onload=loadRecaptcha&render=explicit","recaptcha_ajax":"https://www.google.com/recaptcha/api/js/recaptcha_ajax.js","supreme-golf":"https://sgapps-staging.supremegolf.com/search/assets/js/bundle.js","taboola":"https://cdn.taboola.com/libtrc/cbsinteractive-cbssports/loader.js","twitter":"https://platform.twitter.com/widgets.js","video-avia":"https://vidtech.cbsinteractive.com/avia-js/2.4.0/player/avia.min.js","video-avia-ui":"https://vidtech.cbsinteractive.com/avia-js/2.4.0/plugins/ui/avia.ui.min.js","video-avia-gam":"https://vidtech.cbsinteractive.com/avia-js/2.4.0/plugins/gam/avia.gam.min.js","video-avia-hls":"https://vidtech.cbsinteractive.com/avia-js/2.4.0/plugins/hls/avia.hls.min.js","video-avia-playlist":"https://vidtech.cbsinteractive.com/avia-js/2.4.0/plugins/playlist/avia.playlist.min.js","video-ima3":"https://imasdk.googleapis.com/js/sdkloader/ima3.js","video-ima3-dai":"https://imasdk.googleapis.com/js/sdkloader/ima3_dai.js","video-utils":"https://sports.cbsimg.net/js/CBSi/util/Utils-min.js","video-vast-tracking":"https://vidtech.cbsinteractive.com/sb55/vast-js/vtg-vast-client.js","waitSeconds":300);