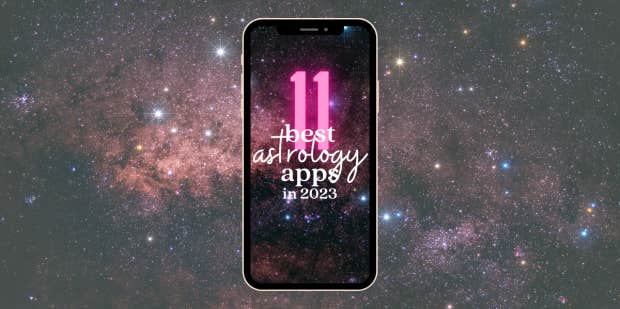 11 Best Astrology Apps In 2023
The best astrology apps can remove some of life's mysteries by giving us a heads-up when challenges or opportunities are lurking in the shadows.
From reading your daily horoscope to finding your best zodiac compatibility, astrology helps you with it all. Who would pass up the opportunity to get more clarity on where life is taking them? 
"The beauty of an astrology app is that you can tap on your cell phone to find all sorts of information," explains YourTango's Senior Editor for Horoscopes and Spirituality and astrologer, numerologist, tarotist and theologian Aria Gmitter, M.F.A.
Whether you're an expert or an amateur, you need at least one astrology app on your phone to help you see what the universe is planning for you.
However, not all astrology apps are created equally. According to writer and spiritual astrologist Kate Rose, a lot of apps "are sensationalized (only telling you the good or dramatic) or they are standard in their interpretations and meanings."
So what separates the best astrology apps from the sub-par ones?
The best astrology apps "don't just explain but also teach," says Rose.
Of course, even the best astrology apps can only go so far, so Gmitter suggests reaching out to a professional astrologer before making any big astrology-based moves.
Here's a roundup of all the horoscope and astrology apps worthy of their place on your home screen.  
Best astrology apps in 2023  
Best for beginners: TimePassages
Best for advanced astrology lovers: Astro Gold
Best free app: Time Nomad
Best paid app: Chani
Best for horoscopes: Astrology Zone
Best for personalized readings: Sanctuary
Best for zodiac compatibility: The Pattern
Best for electional astrology: Nebula
Most popular: Co-Star
Best website for transits: The Astrology King
Best overall website:
1. Best astrology app for beginners: TimePassages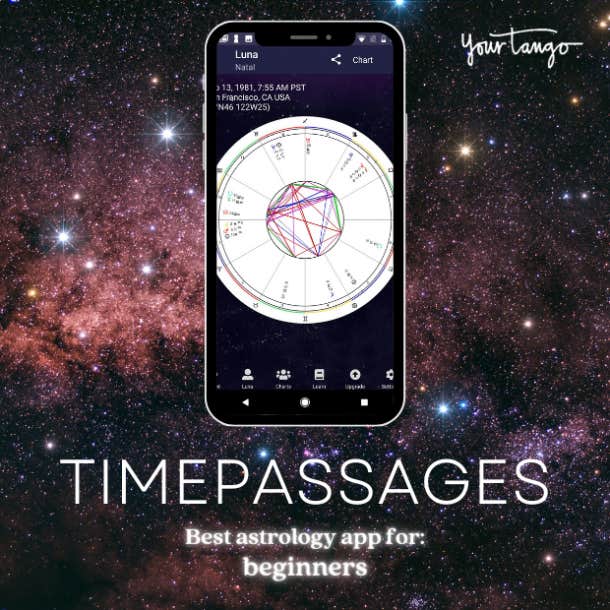 If you're new to the world of astrology, TimePassages is a crash course in everything Sun, Moon, and Rising. In fact, according to TikTok and YouTube creator Astrokit, it's a "10 out of 10."
Calculate your signs, analyze your birth chart, and get free daily horoscopes with TimePassages. The app also features a comprehensive astrology glossary so you can learn the language of the planets. 
"One caveat is that the app only gives the same information on those," says Gmitter, "So to go in-depth, if you don't know how to interpret a chart, you would want to consult an astrologer."
Free with in-app purchases. Available on iOS and Android.
2. Best astrology app for advanced astrology lovers: Astro Gold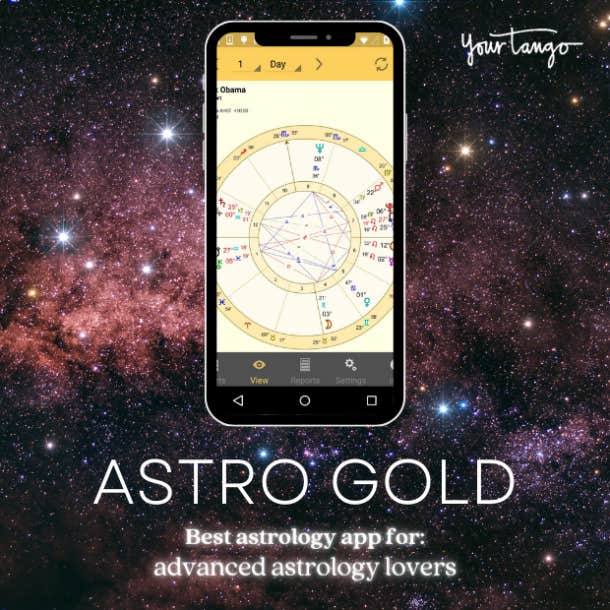 If you're well-versed in the world of astrology, Astro Gold is the app for you. 
Professional astrologers and advanced astrology buffs can use this app to cast all types of charts such as return charts, synastry charts, and transit charts. 
"Astro Gold also provides insightful transit interpretations," says Gmitter.
While there isn't a free version of this app, the "price tag is well worth it for folks who already know what they're doing," says Redditor @zerodecorum.
Available for purchase on iOS and Android.
3. Best free astrology app: Time Nomad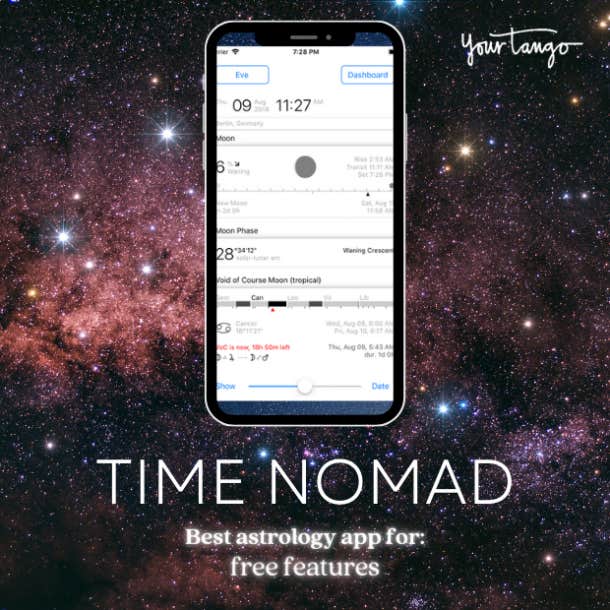 Professional and amateur astrologists can use this app to analyze multiple signs at once.
The app is specifically designed to keep you in touch with the ever-changing configuration of planets, minor bodies, asteroids, and fixed stars by providing you with clear, concise information and prediction techniques.
Visual learners will love the diagrams and heptagrams that make learning easy.
Available for free on iOS.
4. Best paid astrology app: Chani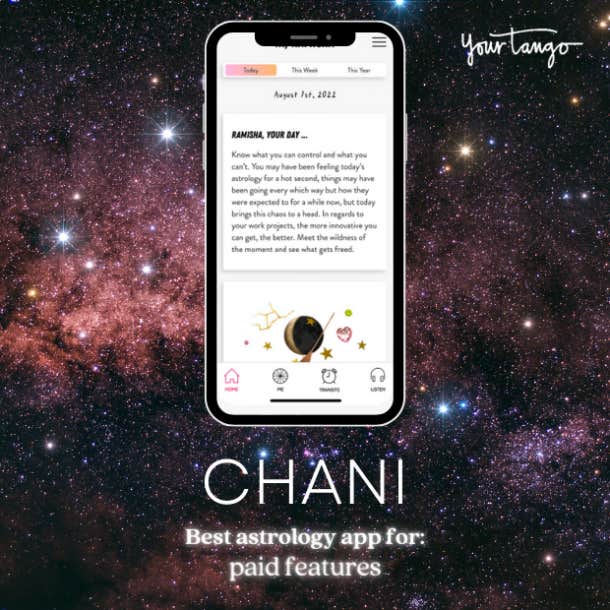 Developed by famous astrologer Chani Nicholas, the Chani app is "hands-down the best," according to @zerodecorum, because it gives "clear, specific information that is easy to digest for beginners and advanced students."
As Rose pointed out, what the truly great astrology apps do best is teach, and "Chani is great at explaining the 'why' behind certain planetary phenomena so that you can learn as you consume horoscopes/birth chart details," explains @zerodecorum.
While there are useful free features in the app such as daily readings, those dedicated to astrology will appreciate the premium version that also includes journal prompts, guided meditations, and altar suggestions.
Free with in-app purchases. Available on iOS.
5. Best astrology app for horoscopes: Astrology Zone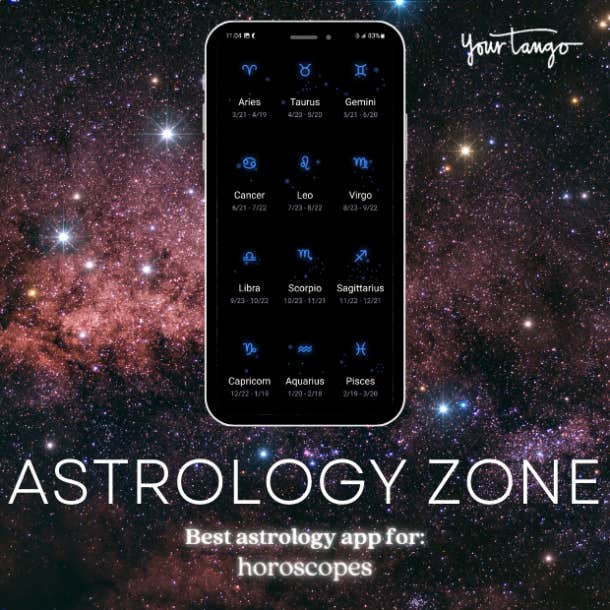 If you're just looking for your horoscope, without all the OTT data mining, you need this app.
Developed by renowned astrologer Susan Miller, there's a brief daily horoscope for all zodiac signs, as well as a more detailed weekly one. You can also get a super in-depth daily horoscope by creating a premium account.
Free with in-app purchases. Available on iOS and Android.
6. Best astrology app for personalized readings: Sanctuary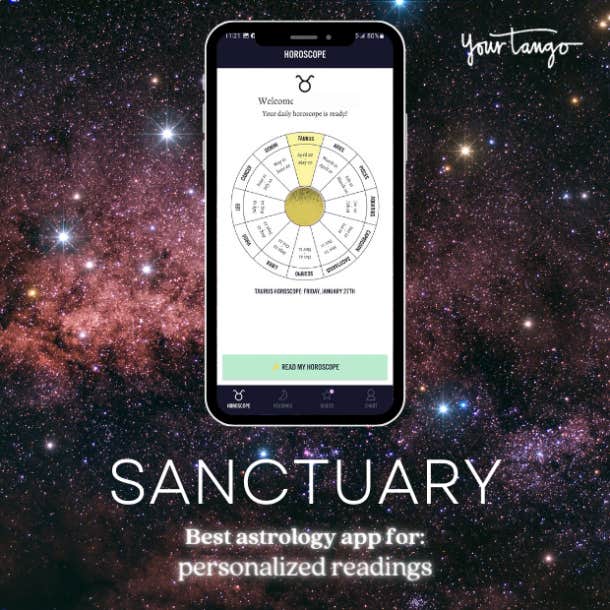 When your Google searches and daily horoscopes aren't cutting it, a one-on-one astrology lesson might be just what you need.
Sanctuary offers on-demand personalized readings with real astrologers in a built-in chat feature. You can also explore your interactive birth chart and get a detailed horoscope, tailored to you. 
Free with in-app purchases. Available on iOS and Android.
7. Best astrology app for zodiac compatibility: The Pattern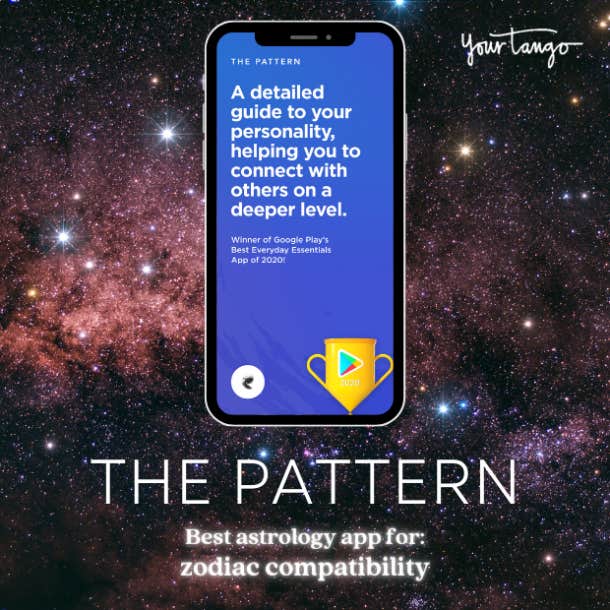 "This is really a great one for delving more deeply into yourself and the connections you have with people," says Rose.
Test your own and your crush's compatibility with this astrology social networking app. You create a custom profile and add your friends and lovers in order to gauge your romantic and platonic compatibility.
The app allows you to track your emotional cycles so you can get a better insight into your habits and patterns. You can even start chats with strangers if you're in search of a new bond.  
What really stands out about The Pattern, Rose explains, is that it's "honest in the great features about a relationship or friendship but also in what challenges would be present too."
Free with in-app purchases. Available on iOS and Android.
8. Most popular astrology app: Co-Star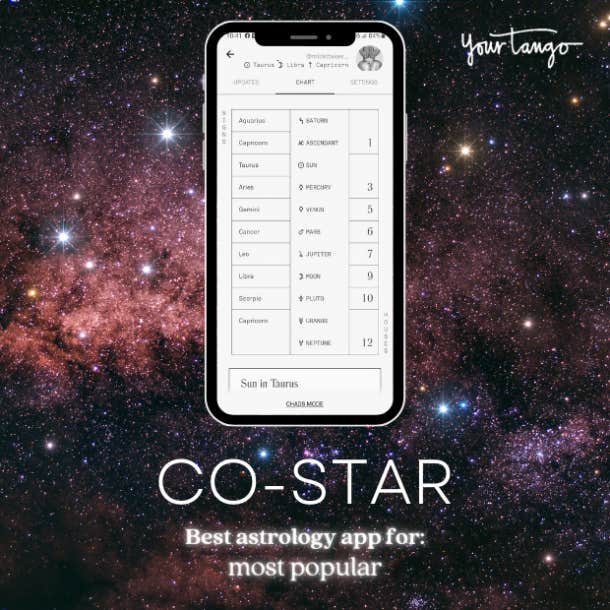 Co-Star is included in this list solely because of its popularity. However, many people warn that Co-Star isn't actually very useful.
Related Stories From YourTango:
"Co-Star is an extremely inaccurate app," says Astrokit.
Using data mined from NASA, the app is powered by artificial intelligence that is personalized to you. You can allow the app to deliver little tidbits of blunt advice to your home screen to keep you in check every day. 
Though Astrokit goes so far as to suggest deleting the app altogether, we don't blame you for downloading it to see what all the fuss is about.
Free with in-app purchases. Available on iOS and Android.
9. Best astrology app for electional astrology: Nebula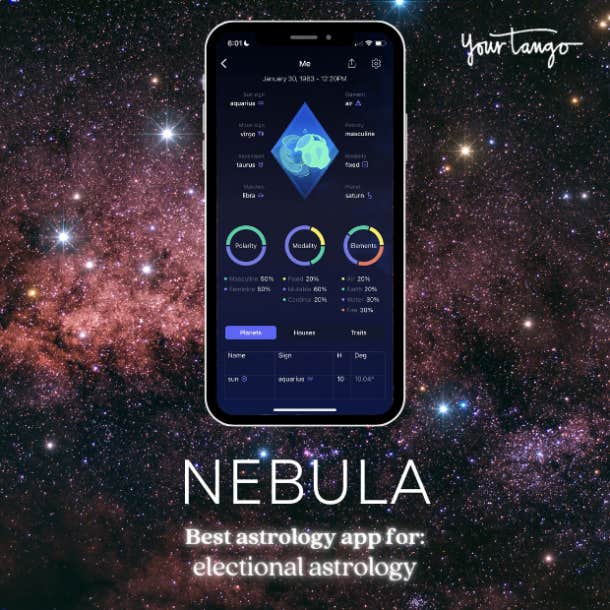 "Sometimes you just want a quick 'yes' or 'no' answer to an important question," says Gmitter, such as "Should I call out sick from work today? Should I not answer the phone when my ex texts? That's what electional astrology is for, and Nebula is an app specifically designed for it."
Nebula stands out from other astrology apps because of it's hyper-specificity as opposed to more general horoscopes and even transit charts.
Free with in-app purchases. Available on iOS and Android.
10. Best astrology website for transits: The Astrology King
Though not an app, Rose recommends The Astrology King for timely astrological events.
"The readings are always relevant for what is currently going on and goes into the pattern and truth behind the events," Rose explains.
Where The Astrology King goes above and beyond is providing more personalized horoscopes, as "This astrologer also specifically works with the different decans in astrology which is present within each sign helping the reader to understand themselves and their experiences better," explains Rose.
11. Best overall astrology website: Astro-Seek
While not yet available in an app version, Astro-Seek.com is worth mentioning because it's "heads and tails above the competition, with more advanced software and free charts than the other sites," explains professional astrologer Leslie Hale.
The information available on Astro-Seek.com is vast, including birth and transit charts and interpretations and astrocartography maps. The site even "offers info on many branches of astrology" including Sidereal and Vedic astrology, says Hale.
Alice Kelly is YourTango's Deputy News and Entertainment Editor. Based in Brooklyn, New York, her work covers all things social justice, pop culture, and human interest. Keep up with her Twitter for more.