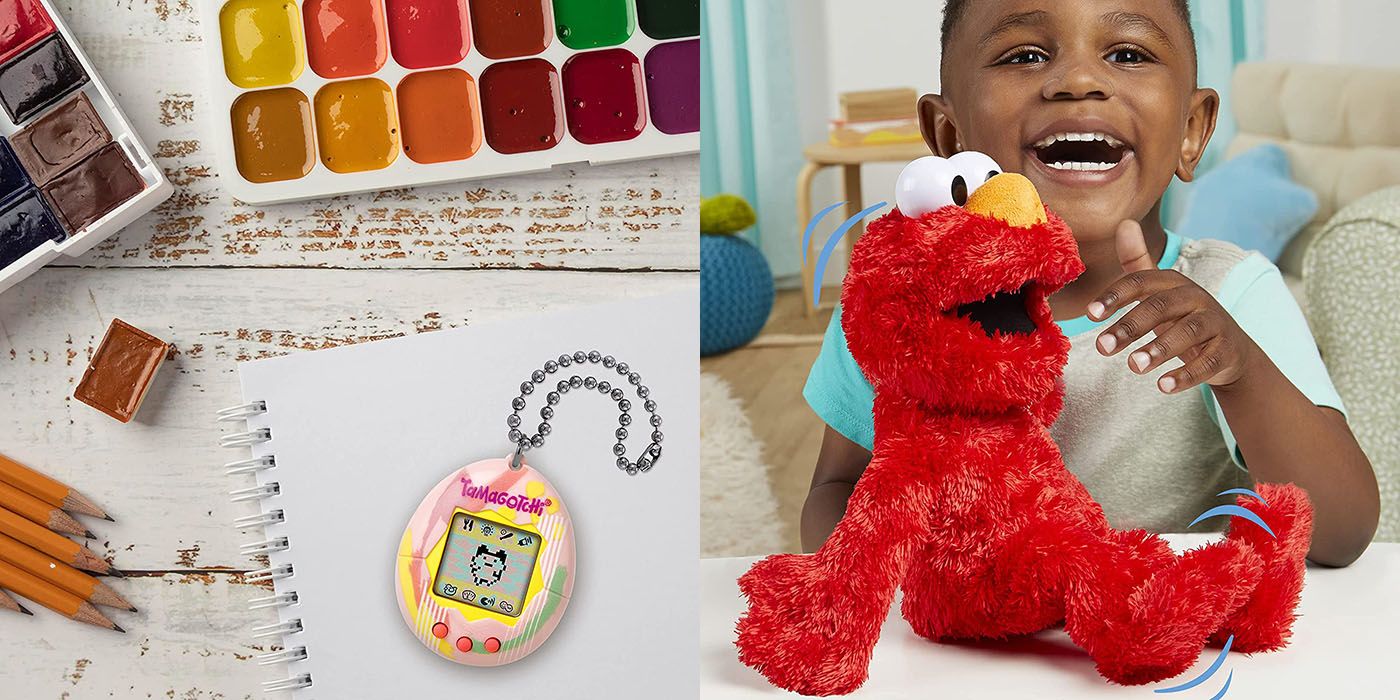 10 Fun '90s Games That You Can Still Buy Today
The 1990s was a fun decade for so many reasons, from the onset of various technologies to the fashion, music, TV shows, and other trends. For kids, the '90s was also a time when some groundbreaking games were introduced. By today's standards, some of these games would be considered low-tech, while others would never fly had they been pitched today.
Even though some of these games petered out in popularity once the new millennium hit, some of them can still be purchased on Amazon, in original, renewed, or even updated form. And the benefits are even better with Amazon Prime membership, offering faster shipping for those last-minute gifts!
Tamagotchi
List Price: $29.99
Comes in 44 different designs
Before there were compact video game systems and smartphones young ones could carry in their pocket, there was the Tamagotchi. The super-simple, egg-shaped keychain toy that was introduced in 1996 contains a tiny, electronic pet that owners "care for." There are just three buttons to use to do things like feed it, provide medicine when needed, and dote on it, with the pet's outcome dependant on how well it's taken care of.
Nowadays, kids of '90s children, or even nostalgic adults, can get their hands on an original Tamagotchi to relive their youth. Available in dozens of styles, it comes with a standard CR2032 battery.
Super Mario 64 Video Game (Renewed)
List Price: $40.99
Comes with the Amazon Renewed guarantee
The Nintendo 64 gaming console was introduced way back in 1996, and to say it was a hit would be a massive understatement. It was Nintendo's biggest console for a long time and was found in many a household in the 1990s. One of the biggest game launches back then was Super Mario 64, the first Super Mario game to include 3D gameplay and begin the story of Bowser trying to capture Princess Peach and Mario coming to her rescue.
Those who still own a Nintendo 64 console and love to sit back for a night of retro gaming will delight in knowing that Super Mario 64 for the Nintendo DS is actually still available for purchase in original cartridge form from Amazon's Renewed program.
Don't Wake Daddy
List Price: $19.99
It might not have been one of the best board games for kids, but Don't Wake Daddy is hilarious. Don't Wake Daddy has a ridiculous premise: kids try to sneak into the refrigerator in the middle of the night to get snacks. The object of the game is to avoid waking up a sleeping daddy in a bed in the middle of the game board.
Spin the wheel and move the indicated number of places. Land on a specific color and players might have to make noises that could cause dad to stir. At some point, once the clock is done, dad will spring up from his bed and the person who woke him must go back to the start. Despite the game being from way back in 1992, it is still purchasable today. Expect plenty of laughs and enjoy with from two to four players.
Taboo
List Price: $16.99
Deal Price: $14.92
Technically introduced in 1989, Taboo became a popular board game for families, including kids aged 13 and up, by the '90s. The idea of the game is to get a partner to guess the word on a card through the use of word clues that do not include five "taboo" words, which are listed on the card.
Decades later, the game is still available for purchase. The newest version includes a squeaker someone can activate should the clue-giver use one of the forbidden words. It's a great party game that'll have people frantically trying to come up with clues and get their partner to guess the right word before the time runs out.
Game Boy (Renewed)
List Price: $178.41
Comes with the Amazon Renewed Guarantee
Rated as being in excellent condition
Battery capacity exceeds 80% of the new equivalent
Comes in a generic box
If kids today saw the handheld gaming device kids of the '90s used, they would be in awe. Not because of how high-tech they were, but how low-tech and simplistic. One of the most popular at the time, and one of the only options, was the Nintendo Game Boy. It featured a dot-matrix screen, adjustable dial, directional pad, and start and select buttons. Insert a game cartridge and play, listening via a single speaker. One of the games fans loved to play was Tetris, which even allowed for connecting two together (via a wire, of course) for competitive play with a friend.
The original Game Boy has long been out of circulation, replaced by more feature-rich handheld gaming systems like the Nintendo Switch. But it can be purchased through the Amazon Renewed program for collectors or those who want to introduce their kids to what gaming was like "back in the day."
Girl Talk
List Price: $21.99
Deal Price: $18.79
Dubbed a game of truth or dare, Girl Talk is another late '80s board game that became popularized in the '90s. Played by teenage girls, it took inspiration from the game Truth or Dare where players have to either answer a question or complete a dare. The latter usually included typical teenage girl things of that era like prank-calling a boy they liked or doing a silly dance.
A sleepover staple, there's a newer version of Girl Talk available with the same premise and design. However, the question cards have been modernized for a new generation, with truth cards like "How many selfies do you take a day?" and dares that now include things like sending a video of the person completing the dare to someone of the group's choosing.
Mortal Kombat
List Price: $25.74
Available for Nintendo Switch, PlayStation 4, PlayStation 5, Xbox
The Mortal Kombat video game that is available today is much different from the one that was introduced back in 1992. A science fantasy-themed fighting game, it featured what parents thought at the time was excessive violence, most notably with the fatality moves.
Even though Mortal Kombat is one of the modern video games that went back to their retro styles, today's version of Mortal Kombat, Mortal Kombat 11, is far more gruesome and graphic, especially given the advances made in video game development, graphics, and screen resolution since. While the original version might be one that younger kids played, the newer is far more suitable for adults and older teens.
Tickle Me Elmo
List Price: $44.99
Deal Price: $31.99
Reaching heights of the '80s Cabbage Patch Dolls in the '90s, the Tickle Me Elmo was on every kid's wish list. The sight of the adorable Sesame Street character shaking, vibrating, and giggling had preschoolers and adults, alike, adoring it. The toy caused many a fight in stores and was even being bought and resold in the early days of the world wide web for massive mark-ups.
Later versions of Tickle Me Elmo garnered similar reactions, showing that Elmo never goes out of style. Today, there are several ones available for purchase that can do much more, including speak, sit and stand, react to different touches, and even roll on the floor, laughing hysterically.
Tip Top Origami Fortune Teller
List Price: $7.99
Also known as a cootie catcher, chatterbox, salt cellar, whirlybird, or paku-paku, any child who grew up in the '90s was asked to play this game at some point or another, usually during class time when a friend was trying to sneakily ask questions while the teacher wasn't looking.
The gist of this origami game is to add eight secret messages inside eight flaps, each of which, on the outside, has the names of colors and numbers. The person moves their fingers in kind with the choices the player makes to reveal their "future" in the end, which usually involves the answer to a pressing question, like whether or not Billy has a crush on them. Back in the '90s, these were homemade. But nowadays, nostalgic folks can grab pre-made ones like the Dover Original Papercraft book of both instructions and fortune teller foldables, so even the game master will be surprised by the responses.
Bop It
List Price: $16.99
Deal Price: $13.39
Introduced in 1996, Bop It was, at the time, a very advanced, voice-activated game that saw players having to follow a series of audio commands to either bop it (press a button), twist it (twist the lever), or pull it (pull the handle). It was a great way to test and improve reaction time and dexterity while also having fun. By the end, each player is given their score in the form of a specific tone that indicates the number of points.
Believe it or not, a newer version of Bop It is still being made to this day. It looks a bit different, but the concept remains the same. And players can still have tons of fun whether playing solo or with a group.
MORE: 10 Fun '80s Toys That You Can Still Buy Today