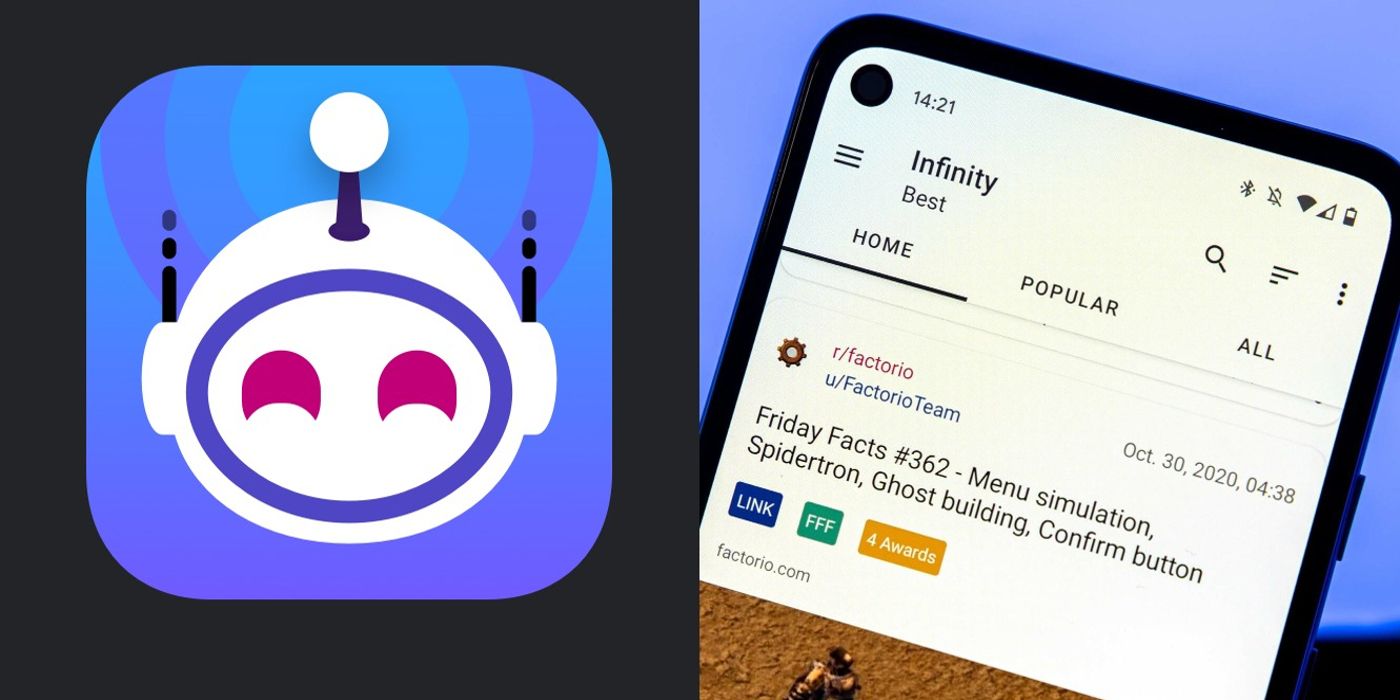 10 Best Free Reddit Mobile Apps
The release of the new iPhone 14 Pro comes equipped with Apollo, a free-to-use Reddit app that allows users to access the website through the new interactive Dynamic Island digital readout. As Reddit continues to proliferate as one of the biggest online communities in 2022 and beyond, consumers are finding new technological avenues to access the beloved "front page of the internet," and Apollo is just one way to do so.
The app joins a solid collection of free mobile third-party Reddit apps that offer a wide range of fashion and function, be it user interfacing, readability, traffic filtering, and more, all of which are worthy alternatives to the official Reddit app.
Apollo
Available For iOS
As alluded to, Apollo is the best overall free mobile Reddit app specifically designed for phones and tablets using iOS. Clean, clear, and very easy to navigate, the app's smooth functionality allows users to easily sort through subreddits by utilizing the Jump Bar, access their entire media library through the Media Viewer option, and even divide content into a tabbed Main Post Section, Home Section, and Popular Section.
Also equipped with the Safari Viewer, which offers effortless browsing access to links and articles, not to mention the all-important Dark Mode to help one's eyesight and the supportable iPhone SharePlay function, it's easy to see why Apple included Apollo on the iPhone 14 Pro.
Infinity
Available For Android
If Apollo is the best overall free Reddit app for iOS, then most would agree that Infinity is its Android counterpart. One of the main gripes of the official Reddit app is the glacial operating speed and host of annoying ads, which Infinity rectifies considerably. The app is not only smoother, faster, and completely devoid of ads, but its gorgeous user interface and host of interactive features will keep Redditors from ever thinking of an alternative.
The open-source free mobile app allows users to customize the interface to their liking, supports the cool Material You apps, and even features a convenient Lazy Mode that automatically scrolls through various posts and subreddits. While the video function could use some work, the privacy app lock option will give Redditors an added sense of security. As such, no Android user should live without the free app.
Sync
Available For Android
Before Infinity added a few irresistible features that made many Redditors switch over, Sync was the definitive free Android app that built its reputation on top-tier performance. Still a must-have, Sync rarely crashes, glitches, or slows down via technological bugs that tend to doom most free apps, making it ideal for Redditors on the go.
Beyond the app's high performance, which increases video quality over Infinity considerably, Sync's easily navigable interface boasts a customizable text toolkit that can be accessed when composing Reddit posts. Users can also quickly change accounts between commenting and messaging and can access multiple subs at once with the multi-window support option.
Slide
Available For Android, iOS
One of the few free mobile apps available via Android and iOS, Slide is a great option for using Reddit when offline. Aside from its lightning speed, the app utilizes cache so that users can operate Reddit in offline mode, making it ideal for following insanely long threads on the move.
With a beautifully burnished and unique card-like interface, Slide gives new users four thematic visual options and a customizable display view to choose from, making the app feel as personal and intimate as possible. With zero ads, a Sepia lighting mode that makes reading easy at day or nighttime, and the ability to switch accounts while writing comments, Slide is a no-brainer download for Redditors on Android or iOS.
Boost
Available For Android
Those who enjoy the UI of the official Reddit app but dislike the preponderance of ads and slow running time would be wise to check out Boost, the most familiar alternative that functions far more efficiently. The basic and easy-to-use free Android app has an attractive Trending Page for the latest news and posts and allows users to select different viewing modes per subreddit.
With thousands of customizable color combinations, a left-handed mode, and more, Boost enables users to exclusively consume content through large picture cards, swipeable slide shows, image galleries, and compact lists, all of which are configurable to a person's liking.
Narwhal
Available For iOS
Narwhal is another blazing-fast and very simple-to-use free Reddit app for iOS that many people believe is just as effective as Apollo and Slide. Listed at #19 on the 50 Essential iOS apps to download by Cult Of Mac in 2018, Narwhal is tidy, timely, and features a basic right and left swiping option in place of hiding, saving, and voting buttons.
The result allows users to see an additional post or two on the screen, as opposed to the single post seen in the official Reddit app. Between its convenient gesture-based functions, light and dark mode for reading at all times of the day, and a noticeable lack of promoted posts many third-party apps tend to feature, Narwhal is a great free Reddit alternative for iPhone users.
Readder
Available For iOS
For those specifically interested in tracking subreddits as fast and closely as possible, Readder is a terrific free mobile app available on iOS. Users will be able to sort through their countless subreddit tabs in seconds flat thanks to a compact UI and lightning-quick connectivity.
Users on Readder can view their feeds, preview pictures, articles, and movies, and easily follow discussions and post comments. While the premium pay version includes night mode, password protection, and multiple account options, the free version is simply too fast and organized to pass up.
Comet
Available For iOS
Comet is a free third-party app for iOS that marries minimalism with high functionality to become one of the most impressive alternatives to the official Reddit app. For those overwhelmed by visual clutter and information overload, Comet is an ideal find as it pares the interface down to a basic yet highly efficient way of communicating.
With over 30 customizable settings to make a user's experience as smooth as possible, Comet uses a "Mac-OS-compliant design and navigation, zero corporate meddling, and advanced alien technology" (per Apple Store) to create the most advanced mobile Reddit experience. Users can manage accounts and subreddits, filter specific content, access their media library with the app open, and more to enjoy a simple yet sophisticated Reddit engagement. Even better, the Apple product bares the brand's signature privacy labels for full transparency.
Joey
Available For Android
Joey is an awesome free Android Reddit app that has earned a sterling reputation for its readability. Although its performance is nothing to sneeze at and its exclusive In-built Reddit Video Downloader is unique as they come (especially since it includes sound), Joey is tailor-made for those who enjoy long-term reading on Reddit.
With a sleek UI design, Joey allows users to swipe to switch posts and subs, access tabbed hyperlinks, or arrange text in a vertical column layout for easier readability. While the free version of Joey features a modicum of ads, the countless customizable features will make users forget about them in a hurry. It even serves as a valuable free reading app for kids.
Relay
Available For Android
Known for boasting the best overall user interface of any free mobile Reddit app, Relay is a must-have for Android owners. The app looks great, operates just as well, and since it's been around longer than most, has had ample time to iron out whatever kinks and bugs that may have plagued it in the past. Even better, the ads are minimal and non-invasive compared to the official Reddit app.
Relay's most popular function includes the UX for swiping between the Reddit posts and the corresponding comments, which is extremely easy and fast to toggle. With Inline pictures and videos, a host of features like the "Remove Unread" option, convertible GIF files, and more, Relay is designed to be the most pleasurable free mobile app to read a single subreddit at a time.
NEXT: 10 Best Androids Apps That Nobody Knows About