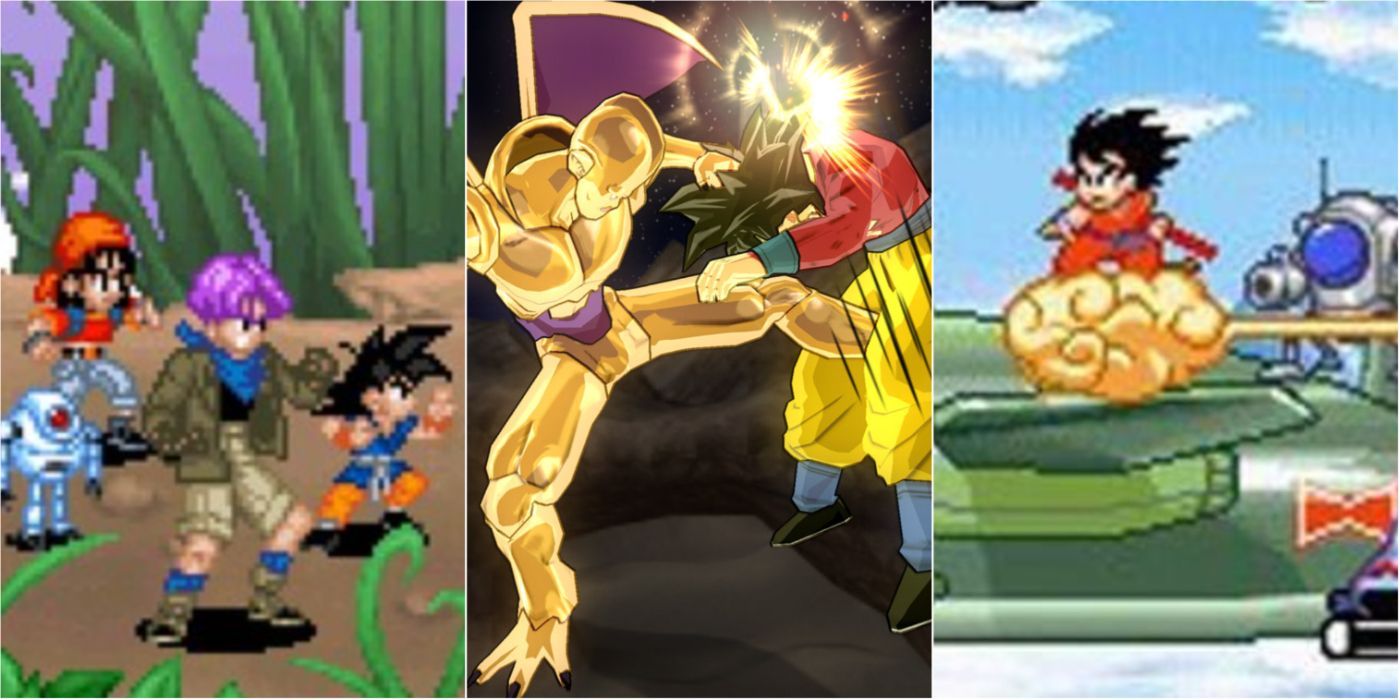 10 Best Dragon Ball Games From The 2000s, Ranked By Metacritic
Akira Toriyama's Dragon Ball is one of the most popular anime series of its kind, and after more than 35 years, there's still no end in sight for Goku and the rest of Earth's heroes. Dragon Ball has dominated the anime and manga industries, but this success has also helped the series find new life in gaming.
RELATED: 10 Best Dragon Ball Games On Nintendo Consoles, Ranked
There's always been a strong relationship between video games and anime, but there are dozens of Dragon Ball titles that have been released through the years. The 2000s were a pivotal decade for video games as a whole, but they also included some especially interesting Dragon Ball releases.
10

Dragon Ball GT: Transformation Translates The Polarizing Anime Into A Handheld Beat-'Em-Up (Score: 69)
Dragon Ball GT still has a contentious reputation within the fandom, but the 2000s indulged in the sequel series as a way to bring fresh blood to the video games that had endlessly recycled Dragon Ball Z material. Dragon Ball GT: Transformation is a beat-'em-up sidescroller for Nintendo's Game Boy Advance handheld that covers everything in the series up to the conclusion of Baby's attack.
The game is a serviceable action title with a striking art design, but it's fairly forgettable as far as beat-'em-up games are concerned. There are also some very strange liberties taken with some of the game's more generic enemies.
9

Dragon Ball Z: Shin Budokai Brings The Popular Fighting Series Over To The PSP (Score: 70)
Dragon Ball's Budokai fighting series were omnipresent throughout the 2000s, and the existence of handheld gaming counterparts facilitated portable versions of beloved home console hits. Dragon Ball Z: Shin Budokai is a PlayStation Portable release that is built upon the Budokai 3 engine, but it's a new game instead of a port.
Shin Budokai narrows in on the 12th movie, Fusion Reborn, for its story and character roster, which isn't sparse with 18 playable characters. Shin Budokai is impressive for a PSP fighting game, but it's still somewhat bare bones in comparison to the other titles in the Budokai series.
8

Super Dragon Ball Z Evokes The Look Of The Manga Through Cel-Shaded Aesthetics (Score: 72)
Dragon Ball Z's Budokai and Budokai Tenkaichi series had hit somewhat diminishing returns during the 2000s, and titles like Super Dragon Ball Z attempted to act as an antidote. Super Dragon Ball Z is a PlayStation 2 title that turns to traditional fighting mechanics that were prevalent in arcades during the 1990s.
RELATED: 10 Best Dragon Ball Games On PlayStation Consoles, Ranked
This gameplay comes together with destructible environments and powerful clashes of energy that effectively simulate the look and feel of the series. One of the most striking details about Super Dragon Ball Z is its cel-shaded aesthetic that's influenced by Toriyama's original manga rather than the corresponding anime.
7

Dragon Ball Z: Budokai Tenkaichi Brings The Anime's Exhilarating Power Struggles To Life (Score: 72)
Dragon Ball Z: Budokai Tenkaichi has an extremely similar name to the Dragon Ball Z: Budokai series, but they're completely separate entities, and the former followed the latter and were developed by Spike rather than Dimps. Beginning as a PlayStation 2 series that eventually had its sequels on the Wii, Budokai Tenkaichi puts an emphasis on excess.
The first game in the series has 64 playable characters, which is more than double most of the Budokai titles. The Budokai Tenkaichi games make their mark through fast-paced and complex controls that are able to particularly excel when it comes to energy blast power struggles and other heightened battle elements.
6

Dragon Ball Z: Burst Limit Attempts To Provide Fresh Immersion To Dragon Ball Events (Score: 72)
Helping close out the decade on the XBOX 360 and PlayStation 3, Dragon Ball Z: Burst Limit is a fighting game with good intentions. Unfortunately, a lot of its material blends together.
Burst Limit banks on an innovative concept where certain "Drama Piece" cut scenes are triggered once certain conditions are met to affect gameplay in immersive ways, but it's a flat idea that doesn't do much. Nevertheless, the game is the start of an encouraging trend towards titles that feel like Dragon Ball games as opposed to fighting or adventure games that are set in the Dragon Ball universe.
5

Dragon Ball Z: Supersonic Warriors Is A Game Boy Advance Fighter With A Focus On Teams (Score: 73)
Developer Arc System Works have made a name for themselves in the fighting genre. Released for the Game Boy Advance, Dragon Ball Z: Supersonic Warriors is a complex fighting game that emphasizes team elements, a heavy range of melee and energy attacks, and unique special abilities for its eclectic cast of characters.
RELATED: The 10 Best Handheld Dragon Ball Video Games
Supersonic Warriors is rich in unlockable content with a heavy replay factor that actually puts an incentive on playing as all 13 characters (which include some rarities like Dr. Gero and Captain Ginyu). The game's DS sequel, while even bigger, lacks the same polish.
4

Dragon Ball Z: Budokai Tenkaichi 3 Has A Cast Of Characters In The Hundreds And Online Play (Score: 73)
There are three Budokai Tenkaichi video games in as many years, and the final entry is when the sheer amount of content begins to become more of a curse than a blessing. Budokai Tenkaichi 3 once again expands its character roster, but this time there are many figures on the list of more than 160 individuals that feel useless or like they're a gimmick.
The franchise's story mode also peaks in the second game, and Budokai Tenkaichi 3 feels lackluster in comparison. Budokai Tenkaichi 3 tries to find new life by offering online multiplayer for the first time in the series, but it's still a work in progress.
3

Dragon Ball Z: Budokai Tenkaichi 2 Is The Franchise's Peak With A Ridiculous Roster (Score: 73)
Dragon Ball Z: Budokai Tenkaichi established an excellent foundation for a new anime fighting series, and it only took a year for its successor to hit consoles. Fighting sequels can go in completely new directions or just deliver more of the same in a way that makes its predecessor feel irrelevant.
Budokai Tenkaichi 2 nearly doubles the roster of the first Budokai Tenkaichi with more than 100 characters to control, which easily made it the biggest Dragon Ball game at the time. While the Wii version of the game is quite average, the PlayStation 2 counterpart is considered by some to be the best fighting game of 2006.
2

Dragon Ball: Advanced Adventure Is A Lengthy Love Letter To Goku's Original Journey (Score: 75)
The original Dragon Ball doesn't always receive the same amount of love as its more mature successor. However, the series' tight and evolving storytelling makes for a compelling video game. Despite being a Game Boy Advance title, Dragon Ball: Advanced Adventure is a massive experience that covers the entirety of the original Dragon Ball with a roster of up to 30 characters to unlock and develop.
There's deep, sophisticated gameplay within the combat of this beat-'em-up title that's able to expand even more in its robust multiplayer options. It's a comprehensive game that proudly celebrates what makes the original Dragon Ball so great.
1

Dragon Ball Z: Budokai 3 Ends The Series On A High Note And Includes GT Representation (Score: 77)
Dimps' Dragon Ball Z: Budokai series was many gamers' introduction to Dragon Ball fighting games, and its final release, Budokai 3, is head and shoulders above its predecessors. Budokai 3 actively revises and improves weaker gameplay mechanics rather than focusing purely on aesthetics and a flashy roster.
Combat feels genuinely grand in nature, and the game's story covers not only the full series and feature films, but also the events of Dragon Ball GT. This builds to a roster of more than 40 characters that properly represent the franchise.
NEXT: The Best Dragon Ball Games From The 16-Bit Era