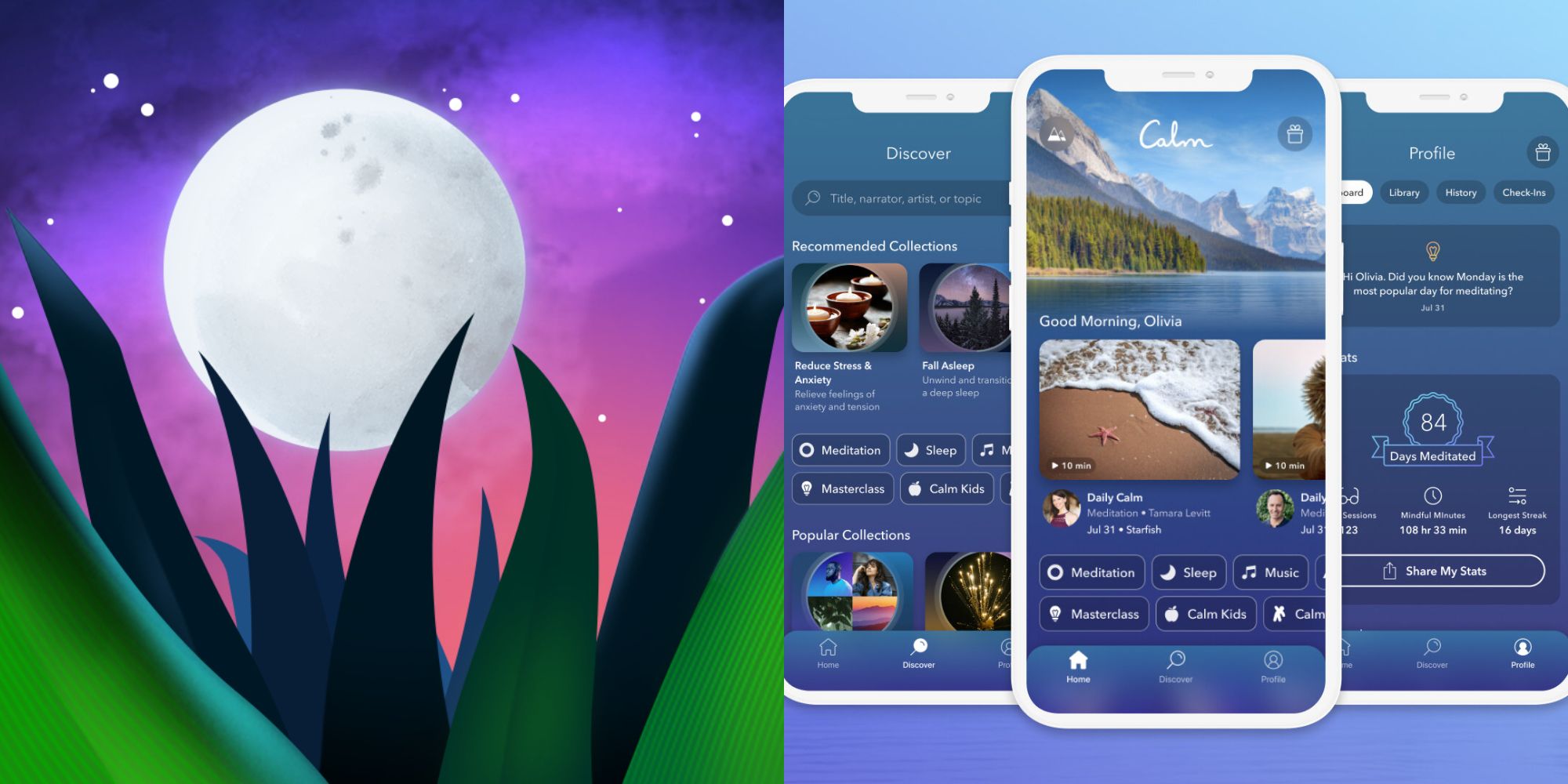 10 Best Apps To Help You Sleep
With the start of the new year, many consumers are looking for ways to help them stick to their new habits, including finding new ways to get better quality sleep or find ways to fall asleep easier. For those struggling with insomnia, many apps can help people fall asleep faster, so they can get the most rest per night.
Many of these apps include a premium version that requires a one-time payment or subscription, but plenty are entirely free to use and have the same quality user experience as the apps at a price. While establishing a sleep routine can be difficult, these apps give consumers a place to start.
Relax Melodies: Sleep Sounds
Free (Optional In-app Purchases)
Relax Melodies focuses on sounds and how they affect the brain regarding different sleep states and helps users get to the exact sleep state they need for the night.
Related: 10 Best Apps For Audiobooks, According To Reddit
The free version of the app offers a vast catalog of sounds that help create the perfect condition for sleep or relaxation not only for adults but for the whole family, as the app has sounds meant for babies who are struggling to sleep through the night. There is also a community tab where people can share the sound mixes that help them fall asleep with others who may benefit from the same combinations.
Calm
$69.99 Per Year
Plenty of apps will help people keep their New Year's resolutions and this can include working on creating better sleep patterns. Calm is one of the most well-known relaxation apps with a vast selection of methods to explore for those looking to fall asleep quickly. The app offers a seven-day free trial, so users can decide if it suits them before purchasing a more extended subscription.
The app has original sleep stories read by calming voices and has included celebrities like Harry Styles in their library, and aims to give the feeling of being read a bedtime story as a child. The app also has daily calming practices, guided meditation, and music to help users find their perfect sleep sounds.
Endel
$59.99 Per Year
Endel is an innovative app that creates an environment inside the bedroom that matches the environment outside to create optimal sleep throughout the year, according to the Endel website.
The app also has options to continuously play sounds throughout the day that aid in productivity and focus, so when it is time to sleep, no external worries affect users' ability to relax. The autoplay function also aids in the sleep cycle so that users can maximize the time they are asleep and feel more refreshed and not groggy.
Sleep Cycle
Free (Premium Options Available)
Sleep Cycle is considered one of the best little-known iPhone apps that helps users get the best sleep, identify when their sleep is being disturbed, and try to find solutions to the issue.
According to the Sleep Cycles website, the app listens to sleepers as they rest and records moments of snoring, restlessness, or when they awaken to establish what is causing sleep to be interrupted. The only downside to the app is users have to remember to turn it on before they go to sleep, or it will not track and can affect the overall data presented.
Stellar Sleep
Free
Backed by sleep science, Stellar Sleep has a mission to help as many people find as much sleep as possible with their sleep quiz that helps them establish sleeping habits that will last a lifetime. The app focuses on the effects of not sleeping and how daily life can be improved with better quality.
Related: The 10 Best Free Nutrition Apps
By having users take a quiz before they enter the app, they know they are getting a sleep plan that isn't generic and focuses on individual needs. With a more psychological approach to sleep, Stellar Sleep doesn't focus on outside factors, but the one's within the brain and tries to alleviate frustration around rest.
Headspace
$69.99 Per Year
Headspace is known as one of the best meditation apps available for Android, but the app is available for many different devices, including iOS, and has a section dedicated to sleep.
According to the Headspace website, the app allows users to set notifications reminding them to put down their phone before bed to achieve better sleep and breathing techniques that help people fall asleep, which is many sleepers' biggest struggle. The app also helps with relaxation and meditation during the day, which can help users' mental health and improve sleep quality.
Pillow
Free (Premium Options Available)
Pillow is an automatic sleep tracker that is great for Apple Watch users and those who need to recharge with a nap from time to time. The Apple Watch version of the app automatically tracks sleep and tells users when they are restless and how they can improve sleep.
Related: 10 Best Android Apps That Nobody Knows About
The phone app tracks sleep and sounds but can play soothing sounds to help users fall asleep. After a few nights of sleep, the app will report the quality of sleep users to get and how they sleep. It also suggests the best time for users to sleep and wake up, so their day is more routine.
SleepScore
$59.99 Per Year
SleepScore provides users with a detailed sleep analysis that they can apply to their sleeping habits and improve their sleep quality over time. The app provides helpful tips for users, so they don't have to guess where they should start building new habits, like when to stop scrolling through Lizzo's TikTok.
The progress tracker allows users to see which days were their best and worst nights of sleep so that they can assess outside factors on those days and how to regulate sleep better. The app includes Smart Alarms that use the data to determine the best times to sleep and wake up, whether earlier or later than the user is already.
Pzizz
$69.00 Per Year
Pzizz has several features that help users fall and stay asleep, whether for naps or a night of rest. The app has offline capabilities so that users can have a quality sleep even when traveling on planes or in areas that may not have access to Wi-Fi or the internet.
Pzizz has fade-out timers, so if users need silence once they are asleep, the app automatically shuts it off, rather than playing all night and potentially waking users up. With multiple sleep options, users get the best experience with each sleep they encounter and feel their best when waking up.
Noisli
Free (Premium Options Available)
Noisli uses noise to lull listeners to sleep with a selection of sounds that mimic white noise to a crackling fire, to an airplane; there is something for everyone. But the app doesn't only use sound to get users relaxed enough to fall into a deep sleep; it also uses light that counteracts blue light, which usually keeps people awake and creates a more relaxing experience.
This app is excellent for people who can't sleep in silence because they are in an unfamiliar environment or feel anxious from the lack of sound. Noisli offers one of the cheapest premium experiences at only $10 monthly.
MORE: 10 Free Apps No iPhone User Should Live Without